The balljoint (aka "ball joint" or "ball-joint") permits the front axle to swivel and the wheels to turn left-right. It bolts to the bottom of the Lower control arm, and the moving taper parts fits into the steering Knuckle Arm. Then this assembly is bolted to the Strut.
Overview
The ball joint bolts to the end of the lower control arm, and the steering knuckle fits over it.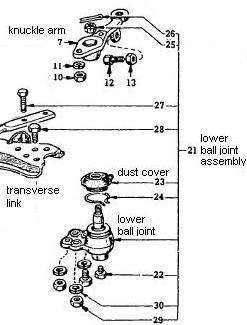 Album click to view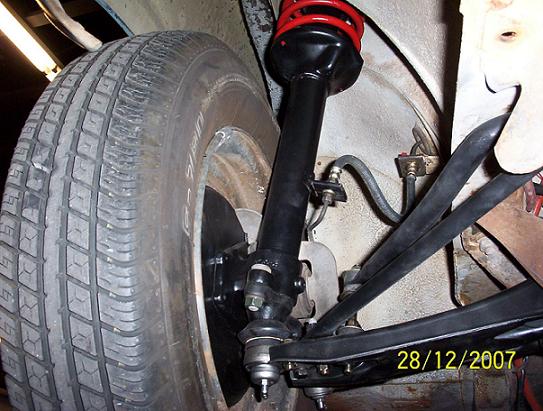 Album click to view
Also See: Front Axle
Maintenance
The balljoint requires periodic lube. At every oil change, pump a little chassis grease into it. Pump just enough till you see the dust cover (grease seal) move.
Removal
Unbolt the steering knuckle from the strut
Remove the castellated nut
Separate the Balljoint from the knuckle using a method below
Unbolt the Balljoint from the Tranverse Link (lower control arm)
Separation Methods
1. With the hammer method, you don't hit the ball joint, you hit the knuckle arm the it fits into! This is the preferred way for many experienced mechanics. But for regular blokes, there is too much danger of damaging a nearby component.
Representative (Nissan Silvia pictured)
2. The pickle fork tool is easy, but usually ruins the rubber seal. No big deal, as you can buy the seals separately.
Place between balljoint and steering knuckle and give it a sharp blow with a hammer.
3. The puller (breaker) is perhaps the best way for novices.
Pics
Part Numbers
http://www.rockauto.com/catalog/x,carcode,1208483,parttype,10070
ACDelco 45D2044 or 88911542 $22
Raybestos 5051044