On Datsuns equipped with an electric Automatic Choke, a relay is used so that the choke heater is activated only when the engine is running.
Basic Wiring
For cars without a choke relay, you can simply hook the choke up to the Hot side of the ballast resistor or any other IGN switched wire. The downside is if you can't get the engine started right away, the choke heats up while you are trying - on cold days you may never get it started. So using a engine-activated relay (like Datsun did) is a better idea.
Overview
Datsuns originally equipped with Automatic Choke and Alternator with external Voltage Regulator use a normally unconnected Choke Relay -- the choke is only powered when the engine is running and the alternator is charging. It ties into the CHG Lamp: when lamp goes out, choke relay powers the choke heater.
The relay is designed to solve this problem: if you listen to the radio for a couple of minutes before starting the engine, and mistakenly put it to IGN, then the choke has already heated up and the car won't start on a cold day. To prevent this scenario, the relay only powers the choke when the engine is running. The alternator provides a signal when the engine is running. The signal is from the Neutral Sense wire (N wire), which supplies charging voltage.
Choke Relay
4-terminal Relays only control the choke
6-terminal Relays control the choke and the dash Brake warning lamp
Key ON, Alternator not charging: 
* dash Brake lamp ON
* choke heater OFF

Key ON, Alternator charging
* dash Brake lamp OFF
* choke heater ON

On On Datsuns with factory wiring harness alternator with external voltage regulator, the choke and IGN feed is connected to the relay's Normally Open connections. So when you turn key to IGN, the open circuit prevents the choke from heating up. Once alternator starts charging, it closes the circuit and choke starts heating.
On Datsuns with factory wiring harness for Internally Regulated (IR) alternator, the choke and IGN feed is connected to the relay's Normally Closed connections. Thus IGN ON powers the choke, but at the same time the Relay clicks on and pulls the choke connection open. This is the opposite of non-IR choke relays.
non-IR: Relay clicks when the engine starts running
IR type: Clicks when key is turned to IGN

B110 Choke Wiring
The 1972-1973 auto choke is powered by a separate 10A fuse. On a 1973 this also supplies the Anti-diesel valve.
The switched side of the relay connects the IGN wire to the choke wire.
L (Blue): to 10A fuse then to IGN switch
R (Red): to choke

Album click to view
The relay coil is activated by these two wires:
Black: ground
Yellow: N wire of alternator (turns on relay)

Red - to choke
Yellow - to "N" wire of regulator/alternator
Blue (L) - to Fuse 10A in fuse box IGN side 
* (also to Anti-diesel valve on 1973 carburetor)
Black - to ground/earth

Location of Choke relay: To left of radiator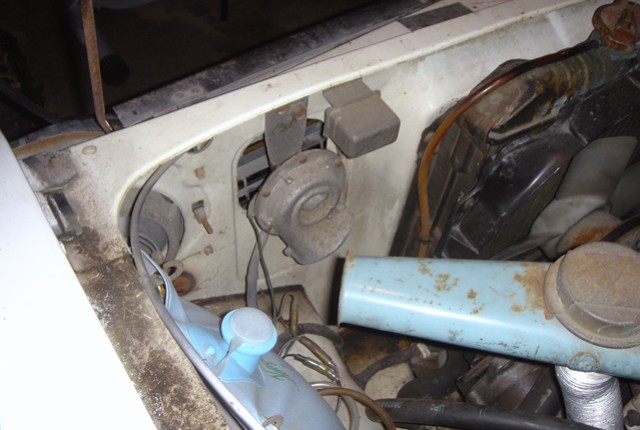 Album click to view
Relay-less 1200
If fitting an auto-choke carburetor to a 1200 car that came with manual choke, there is not relay nor relay wiring. In this case, connect the Choke directly to IGN.
Connect choke to the Ballast Resistor '+' side.
Relay Bypass
If the relay is broken or missing, keep in mind that it is not required. Instead of using the relay, you can connect the Choke to IGN.
Use the relay connector in the harness (with relay unplugged). Jump Blue wire to Red wire.
Part Numbers
RELAY ASSY-AUTO CHOKE
* 1971-1981 4-pin
* 1981-1994 5-pin
7106-     25235-P0100 USA
7510-7803 25235-P0100 Hitachi
          25235-P0110 NILES
7804-8109 25235-P0101 > 25235-P0100
8110-     25230-C9900 JIDECO
8110-     25230-C9905 NILES

5-pin C99 Relay#5-pin

4-pin P01 spade connectors, Normally Open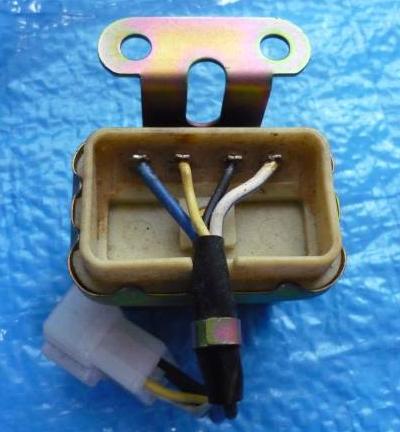 Album click to view
Album click to view
25235-P0101 ASSY-RELAY,HEATER,AUTO CHOKE $68.68
superseded 25235-P0100 ASSY-RELAY,HEATER,AUTO CHOKE 0671- USA
25235-P0110 NILES brand
* Same as Datsun 510
* Same as Datsun 521 pickup
* Same as 1973 Datsun 620 pickup
* Same as 1974 Datsun 710 
240Z Pump Relay
* F.D Furuhashi/Elecman SRK12-1
* Beck/Arnley 203-0015

Album click to view
Alternatives
The B310 relay is much cheaper, but has six connectors. 2 would remain unused if you used that switch which has a different connector. 25230-89915. Use the NO connections to replace a B110 relay, and leave the terminals unconnected
B210 relay is similar, but uses B210 style (round) connector 25235-H6200/B5235-H6200
6-PIN RELAY 25235-N6000/25235-N6010

Datsun 710 1975-1977 auto choke

Generic 12V normally-open Relay could be used
Location of 1976-1994 relay: Behind battery, bolted to right strut tower

Album click to view
B210 Choke Wiring
Japan
1973-1975 did not use electric choke
1976-1977 uses same relay as 1200 North America, except Blue wire is now colored White/Blue
Post click for topic
1976-1977
Choke relay is located in front of RH strut tower, near the coil, under the larger box
Brake hydraulic-loss light is not used (so uses the simple 4-terminal relay). A parking brake lamp is located just above the column
North America
1974 B210 North America uses 4-pin round connector.
B210 with IR (1978) uses 6 connections wired oppositely to prior type (not shown)
1976 North America B210 has brake light, and uses 6-pin relay (one pin is Not Connected) with semi-rectangular connector.
1976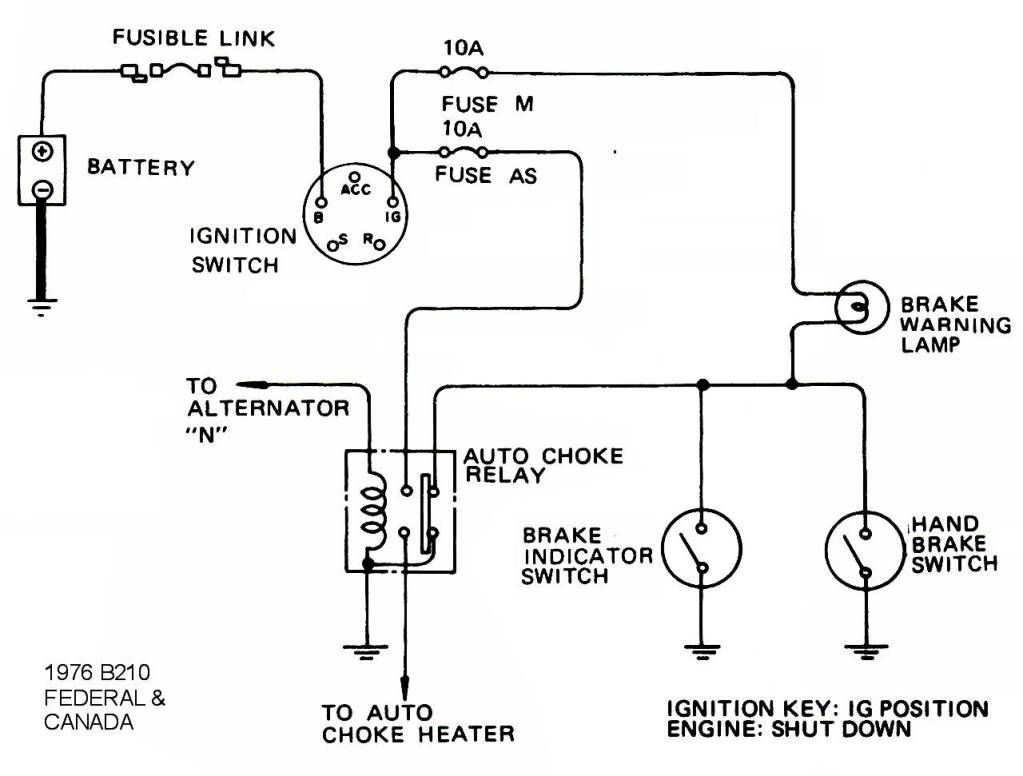 Choke Wiring is logically same as B110, except this late B210 system uses dual-pupose relay which also controls the Brake warning lamps.
B310 Choke Wiring
B310 uses a combo relay, six connectors with both normally open and normally closed pairs. Turning on the ignition switch activates the relay, pulling power away from the choke heater. When the engine starts, the relay turns off, resuming flow of power to the choke.

NA B310 uses internally-regulated Hitachi LR Alternator with L terminal in place of N terminal.

The relay controls
Normally Closed (de-activated when relay is ON):

Choke Heater
Fan relay
Warm-up Relay 1

Normally Open (activated when relay is ON:
Album click to view
Locations
The choke relay is mounted in the relay box on the rigth side strut tower.
The check test connector is located under the dash near the fuse box.
25230-89915 RELAY ASSY-AUTO CHOKE $24.57 USD
B5230-89985
240Z ignition relay

6-pin spade connectors, Normally Connected + Normally Open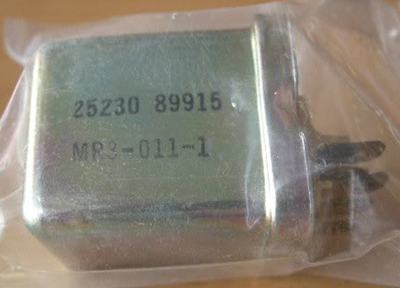 Album click to view
¤