Mudguards (guards) are called fenders by Nissan. The stock steel fenders are thin and light. A nice compromise. All 1200 fenders fit coupe, sedan, van/wagon and pickup/ute to March 1978. Fenders for USA differ by having larger side light holes.
Overview
Fenders (Guards/Wings), also fit




USA - larger holes for side lamps


Care
Foremost, take care when working on the engine. Leaning into the fender will cause a dent.

Album click to view
The fenders tend to rust in two spots: Front lower corner and bottom rear. So wash these spots of dirt, grass and other matter occasionally.

Album click to view
Album click to view
Album click to view
If rolling the fender lip, you might consider sealing the crease:

Album click to view
Album click to view
Removal and Installation
Bolts: There are ten (10) bolts per fender: 2 at front (behind grille), 4 along top edge (visible with hood open), and 2 at the back edge (visible with door open). Also two bolting the apron to the fender. Total of 20 per car, 10 per side.
Open the front doors to gain access to the two bolts on the rear edge of each fender.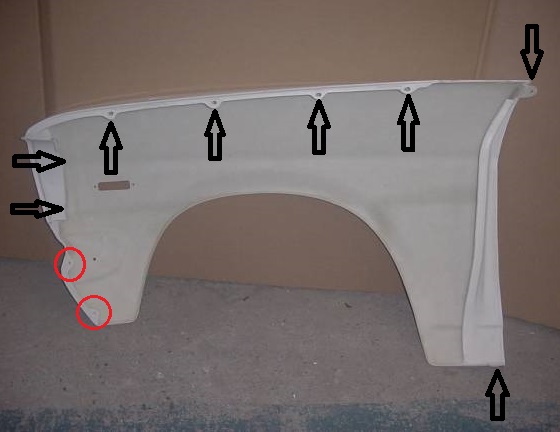 album
Black: 01111-00022 BOLT-HEX WITH WASHER (fixing fender) (16)
Red: 77720-89908 SCREW-with plain washer -8007 (4)
     63140-78500 NUT -8007 (4)

Also replace the two sealing foam strips:
63810-H1001 SEALER-COWL TOP (L=250MM)
63811-H1000 SEALER-FRONT FENDER

Part Numbers
See main article: Front Body Panel Part Numbers

Front Fender Panel and associated parts.
JDM
63100-H1003 ASS'Y-FENDER, front (R.H.)
63101-H1003 ASS'Y-FENDER, front (L.H.)
77720-89908 SCREW-FENDER 7510-8503 (16)

63810-H1001 SEALER-cowl top [fender] (L=250mm)
63811-H1000 SEALER-front fender [vertical strip]


USA
63100-H1900 ASSY-FENDER,FRONT,RH USA
63101-H1900 ASSY-FENDER,FRONT,LH USA
01111-00022 BOLT-HEX WITH WASHER FENDER FIX (16)
08915-43610 WASHER-PLAIN FENDER FIX (16)

JDM Late Truck
63100-G1030 FENDER-FRONT, RH 7804-8012
63100-G1230 FENDER-FRONT, RH 8101-8408
63100-G1231 FENDER-FRONT, RH 8408-8910
63100-G1060 FENDER-FRONT, RH 8910-
63101-G1030 FENDER-FRONT, LH 7804-8012
63101-G1230 FENDER-FRONT, LH 8101-8408
63101-G1231 FENDER-FRONT, LH 8408-8910
63101-G1060 FENDER-FRONT, LH 8910-
01436-00093 SCREW-FENDER 8910- (16)
63810-G1000 SEALING RUBBER-FENDER [top] 7510-8105
63810-G1900 SEALING RUBBER-FENDER [top] 8106-

Fibreglas
The Datsun Competition fibreglass fenders were reportedly heavier than the stock steel fenders. Advantage is that they can be more easily repaired after each race.
There have been some thin aftermarkets, too thin for street usage really, but light.

See Body panels
Suppliers
Nissan Australia
Nissan Japan
Nissan Europe
NOT Nissan USA
Ocassionally for sale on eBay
Showcar BodyParts -- fibreglas and steel

ProdBodies formerly Japco - fibreglas hood, fenders, flares, door, trunk, spoiler, air dam