The 4-way hazard lightsᵂ flash all of a vehicle's left and right turn signals simultaneously and in phase. The hazards were OPTIONAL in Australia. The hazard switch is generally on top of the Steering Column shell cover, but was a on the side of the shell in the PB110.
Overview
Also see 
* Instruments_and_Controls#Hazard_Warning_Switch
* Steering_Column#Steering_Column_Cover
* Parking Lights

1-button switch — Late Sunny Truck & late USA (hazards only switch)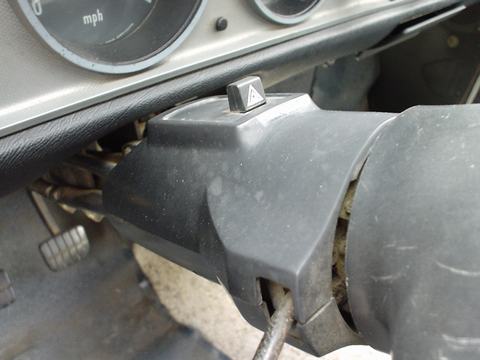 Album click to view
3-button switch (hazards, Parking right & Parking left)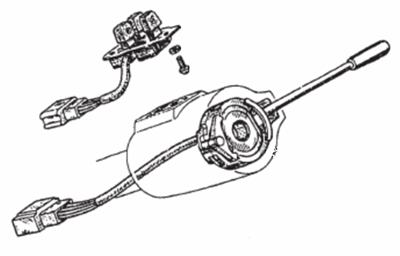 Album click to view
Instruction Manual illustrating how parking switch selectively controls exterior lights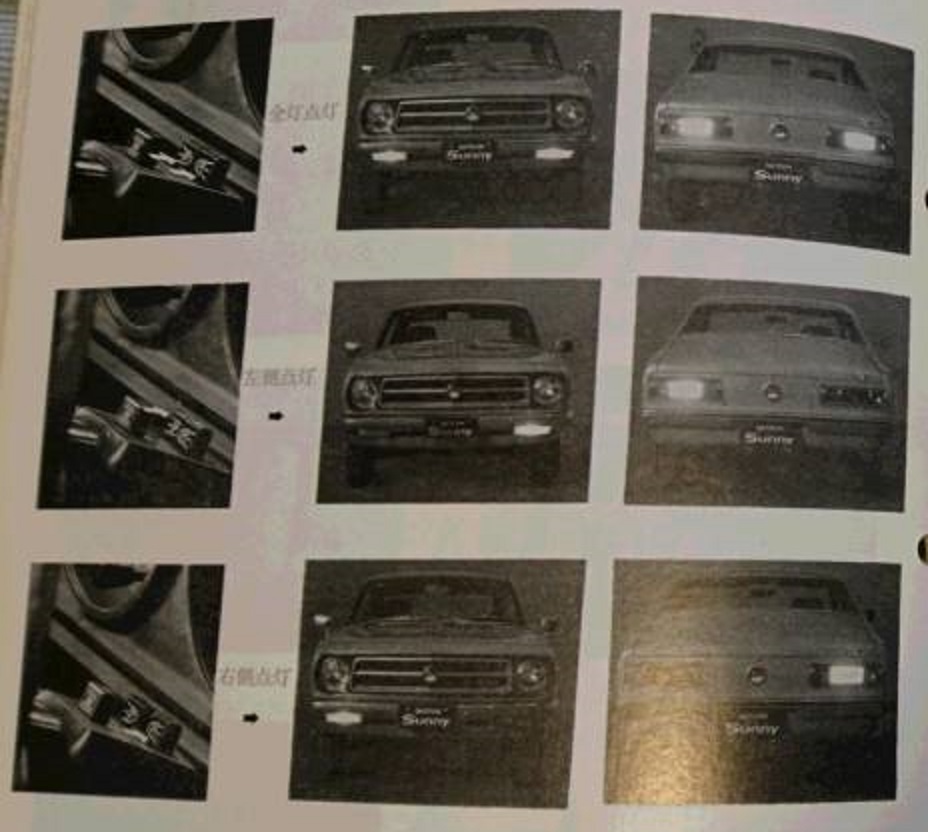 Post click for topic
Fastens to the Steering Column Cover with three screws

Album click to view
PB110
PB110 hazard/parking lights switch
25880-H2500 SWITCH COMP-hazard & parking


This Datsun 510 hazard switch looks exactly like the PB110 unit.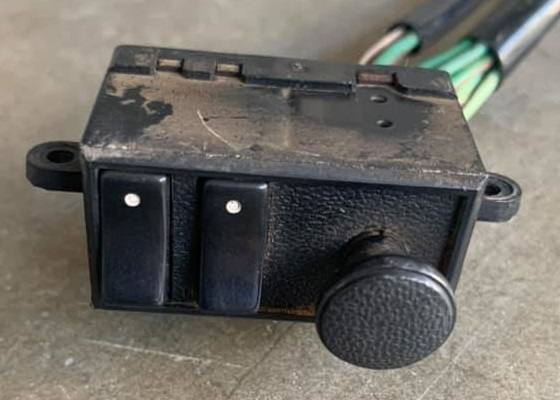 Album click to view
Althhough the wiring may or may not differ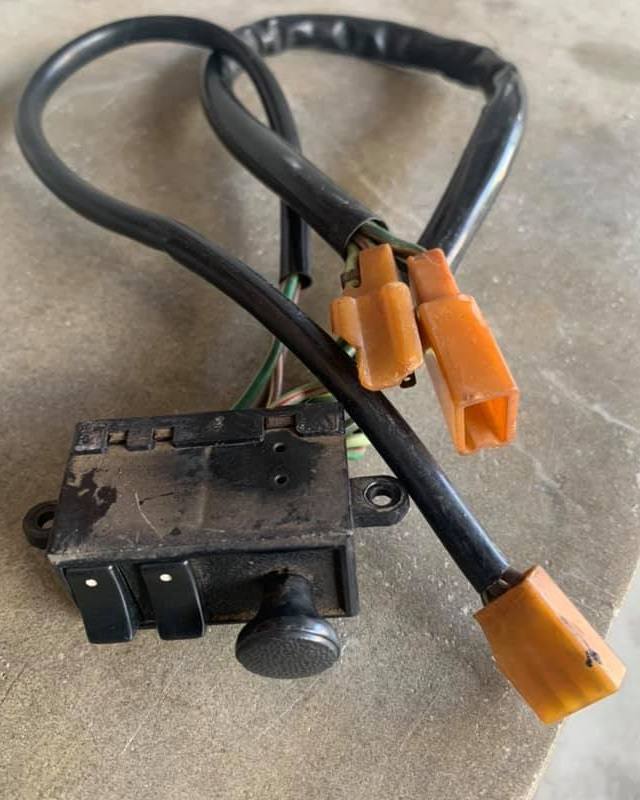 Album click to view
JDM DATSUN 510
25880-89900 SWITCH ASS'Y-hazard & parking Sedan
25880-89905 SWITCH ASS'Y-hazard & parking Sedan (from '72 model)
reference: C-233 page 41-4 1973.7

Switch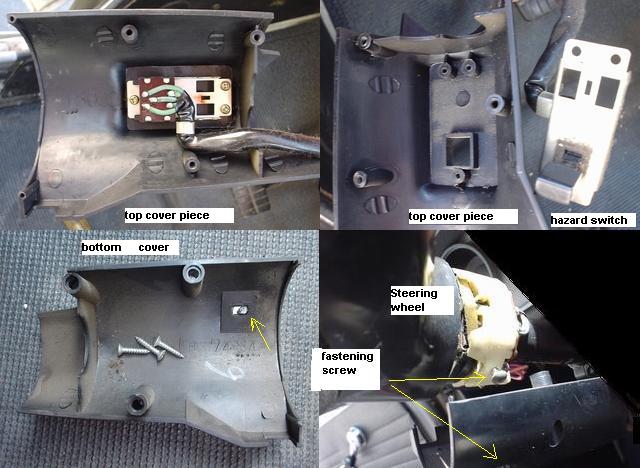 Album click to view
USA
25290-H4600 COMP-SWITCH HAZARD 0172-
* replaced 25290-H1900 COMP-SWITCH HAZARD
   
* 08513-30812 SCREW FIXING HAZARD SWITCH (3)
* 08915-13310 WASHER-SPRING (3)

JDM
* 25290-H1001 SWITCH ASSY-hazard & parking B110 
  [also used by B120 -7803]
  
  
  3-button Hazard & Parking Switch
* 85-13308-12 SCREW (3)
* 89-15133-1 WASHER-lock (3)

* 25880-H2500 SWITCH COMP-hazard & parking PB110
  
   

B120 Pickup
Early 
* 25290-H1001 SWITCH ASSY-HAZARD & PARKING -7803
  [also used by sedan/coupe/van]
* 08513-30812 Screw, fixing

Facelift (brown?)
* 25290-G1060 SWITCH ASSY-HAZARD & PARKING 7804-8608
* 25290-G1260 SWITCH ASSY-HAZARD & PARKING 8608-8910
* 08513-30812 Screw, fixing

* #25290-95W00 SWITCH ASSY-HAZARD & PARKING 8910- [grey, single button]

25290-H1001
Album click to view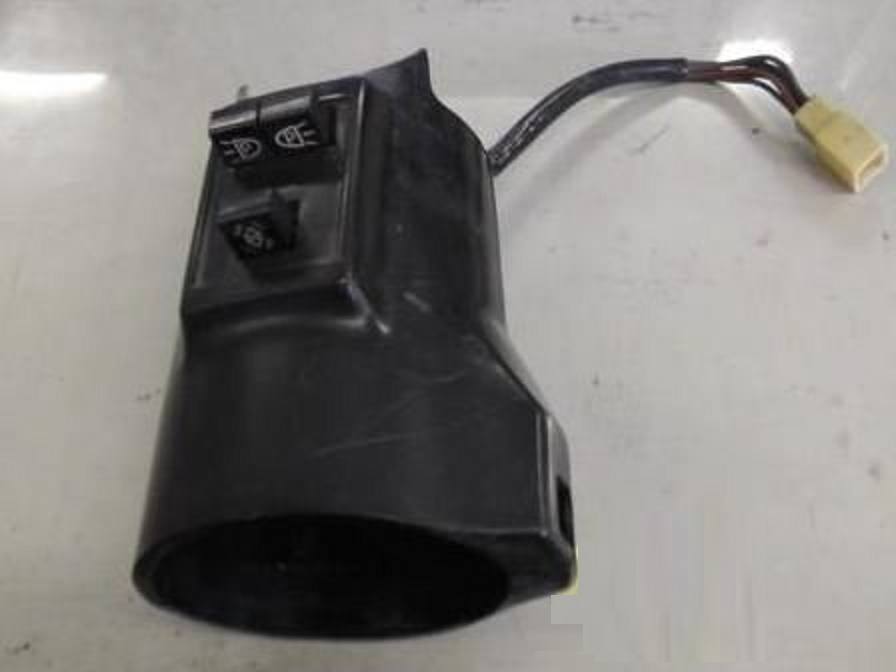 Album click to view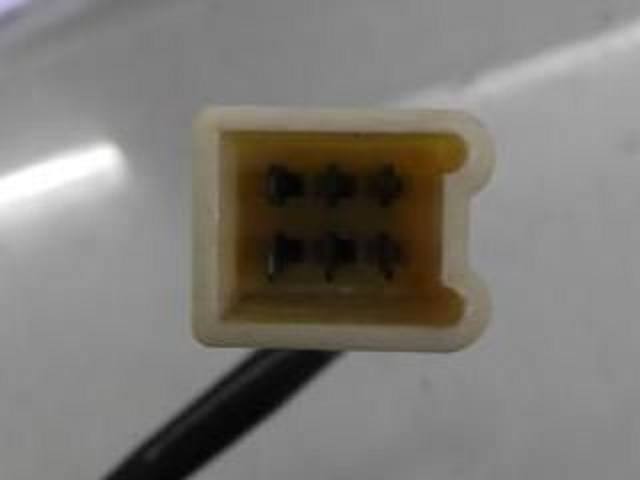 Album click to view
Album click to view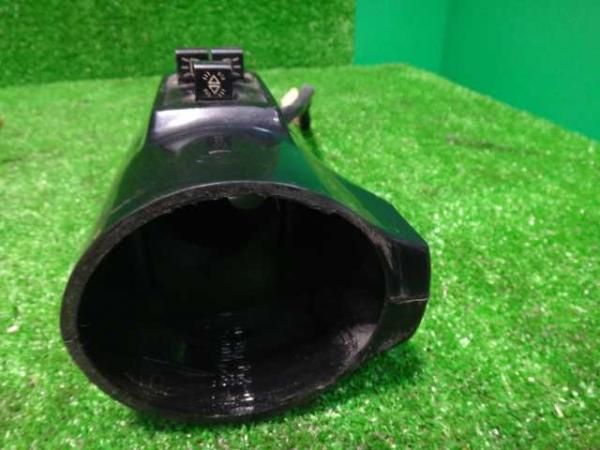 H25 PB110 hazard & parking (or 510?)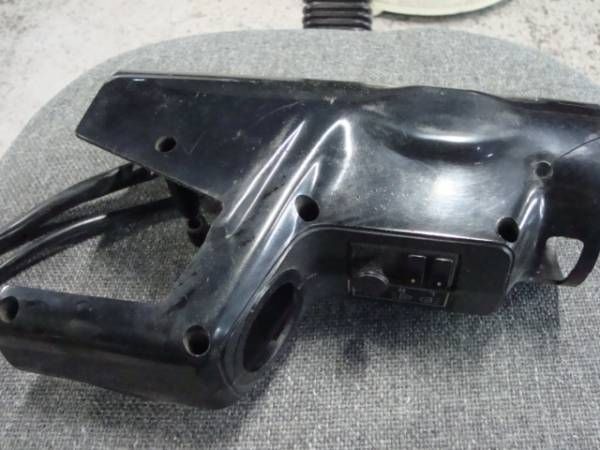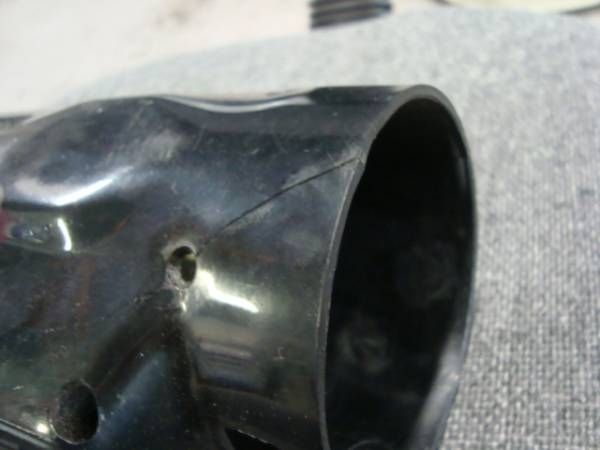 25290-95W00
Late Model, single black Hazard button (no parking light buttons, as in earlier JDM switches)

Album click to view
25290-95W00 SWITCH ASSY-HAZARD & PARKING 8910-
* 08513-30812 Tapping screw, Pan head M3x8 (3)

パーキングスイッチ ハザード パーキング スイッチ
¤