Head porting means to re-shape the cylinder head inlets/outlets for better flow. Either to smooth out the original castings for improved power, or to enlarge them for higher RPM.
See also: CCing

Overview
There are two types of porting:
Porting for maximum HP. The downside is that power shifts to high RPM (power at low RPM is reduced). The full length of the ports are enlarged. If your goal is maximum HP, better to get the best head to start with (GX with A14 valves or Nissan Competition head)
Porting to maximum the head efficiency. By doing 1) #Port Matching and 2) Bowl Cleanup you ensure the head is working well (and there is no downside, all RPM is improved)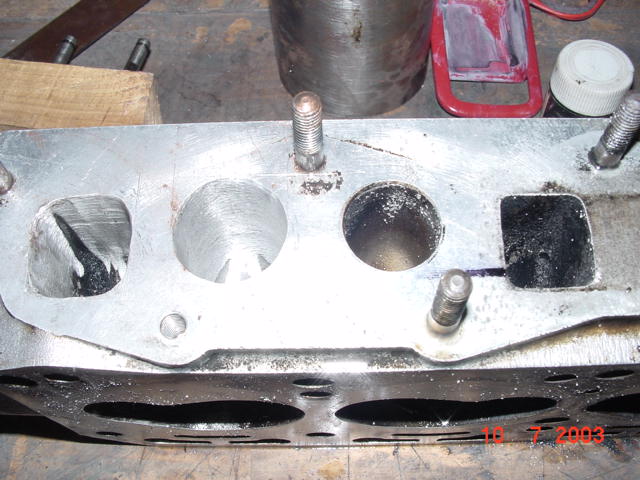 Album click to view
Quote by sagemanone:

---

Port and polish will yeild power gains and 3 or 5 angle valve grinds help also hand grinding the sharp lips in the valve pocket helps the flow into the combustion chamber. Any reputable high performance machine shop should be able to do any of the work to your head you ask them to do if you ask them for spacific items to be done. If they seem puzzled or can't answer ALL your questions real easily take your head and run the other way. Don't be discouraged and don't be afraid to try to be creative . I heard of guys cutting down L16 valves after modifying the ports and installing the matching seats in an A14 to get marvelous increases in flow .So let your pocket book and imagination guide you.
One other thing ,Look for the factory goodies like the GX option stuff that could be ordered like the GX duel SU intake ( Iam looking for one myself) And NISMO still has some neat stuff they sell right out of a catalog . Iam hoping to put a list togather that will be on My web page as to the sources for all the places for the parts we Datsun A/nuts need . I hope to Launch that web page soon and you will all be invited!!!

---
All Datsun A-series engines come from the factory with a 3-angle valve job (even though most V8s didn't have this good feature). So certainly don't do anything less!
| | | | | |
| --- | --- | --- | --- | --- |
| Ports | Size (mm) | Exhaust | Raised | Note |
| round | 28 | 27x26 | no | 1971 A12 |
| round | 28 | ? | lowered | 1977 GFU |
| Oval - Small | 28x30 | ? | no | 1973 A13 |
| Oval - Medium | 28x32 | 28x26 | no | A14E, A15E |
| Oval - Regular | 28x34 | 28x26 | no | Many A14s |
| Oval - Large (GX) | 30x35 - 36 | 27x29 or 28x26 | Yes | A12GX (1971-1973) |
Quote by azza_bijan:

---

Go for the high comp. head (not dished out). These have 9.5:1 compression. A15s in AUS are mainly high comp Don't enlarge the ports matching to the inlet, they are already large enough. Enlarge around the exhaust valve area and out and get some cut down 1600 valves to fit. The exhaust porting hugely boosts better flow and power. If you are rich or race, do the inlets. I got my head done for $300AUS. Then get good manifolds (handmade steel inlets $200AUS are as cheap as new aluminiums but are port matched to the head and work heaps better).
"high comp" means closed chamber heads, which yields maximum HP. The "dished out" heads are the open chamber type, which reduce emissions with the downside of slightly lower HP and more temperamental timing issues (including dieseling run-on problems). Either type can be used with high compression.
Closed Chamber (heart-shaped) VS Open Chamber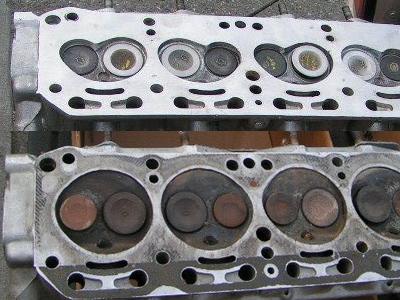 Album click to view
9.5:1 compression is achieved by using lesser dish in the piston, which the H89 engine uses. Datsun also used closed chamber heads on 8.5:1 engines, by fitting pistons with a larger dish. See Compression Ratio for more information.
BIG port, semi-open chamber by Reg Cook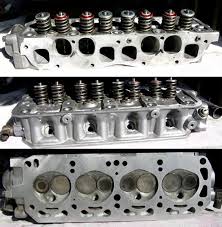 Album click to view
Port Matching
The goal of port matching is to smooth the transition of the head and manifold. It's not to increase flow for higher rpm, but rather to prevent loss from different sizes. For example where head is smaller than manifold. Use a gasket matching the larger port (trim it to match), then use Dyekem Blue to paint to the piece using the gasket as a stencil.
Use a Dremel tool and remove only enough material to match. You can also use a round hasp file, take your time and it'll come out OK. With a Dremel, use a carbide bit for the rough cuts, a sand paper cone to clean it up (or, a butter cutter may also work for both).
GX port 2mm higher than A14/A15 oval port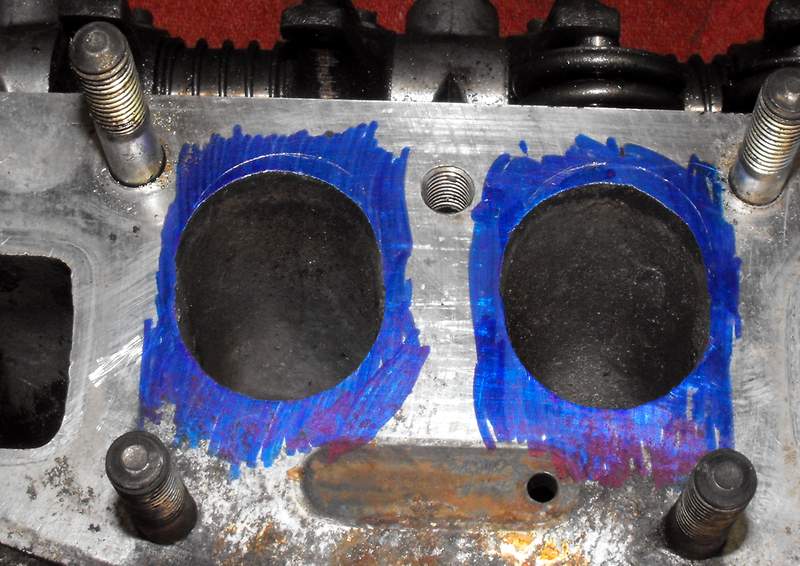 Album click to view
Rallytwit: As for port matching just make sure you take a little at a time, the GX intake should have a larger port than the H89 head ... Start by getting rid if the step and just get a smooth transition. I'm not a porting expert by any means but I'd say maybe all of an inch into the head at most.
Sometimes the inlet manifold is smaller than the head ports -- especially after a full port job has been done to the head. In this case, grind the manifold out to match:

Album click to view
Bowl Cleanup
A 5-angle valve job is said to be as efficient as a fully smoothed seat (stock is 3-angle valve job). In any case, make sure the valve seat to intake bowl transition doesn't have any sharp edges/mismatches.
Tapered valve guide | Short-side radius smoothed out

Album click to view
Album click to view
Tools
Flow
Professional porters use a Flow Bench to measure the airflow of the unmodified cylinder head, then after smoothing or enlarging the port, measure the flow again. This is to ensure the modifications actually work. Not only should the airflow improve, but the air/fuel charge swirl must not be retained.
It is entirely possible to enlarge the ports, yet ruin the airflow of the head
Example 1
dattoman's cylinder head
measured at 25" water pressure
A14 regular oval port head with 38/33 (oversize) valves

NOTE: Measurements taken for lifts up to .600 inch. Standard cam is .315" lift x 1.44 rocker ratio = .454 inch. Note that flow of this head doesn't improve much after .500" or so. So this is appropriate for a valve lift about .500". To obtain this high valve lift, 1.65 (high-ratio) rocker arms may be used with a stock lift cam (8mm cam lift) for a lift at valve of .519".
Notice too that airflow has increased even at stock lifts, so a high lift is not strictly necessary for improved horsepower. But higher lift will give additional power.
UNMODIFIED PORTS w/oversize valves
LIFT(inch) .100  .200  .300  .400  .500  .600
INTAKE CFM 52.89 91.62 118.3 118.6 124   126.8
EXAUST CFM 43.03 71.71  93.5 111.1 124.2 129.6

AFTER MODIFICATION
LIFT(inch) .100  .200  .300  .400  .500  .600
INTAKE CFM 59.14 103.3 129.7 135   140.6 141.2
EXAUST CFM 52.37 80.92 103.4 122.8 129.2 130.9

This flow chart also notes the Swirl, which is good at all lifts, indicating the engine will most likely run good at all speeds and throttle openings. Some engines (for example, the Street Hemi) has massive flow but poor swirl and didn't run well at partial throttle -- which is OK for the drag strip but not good for street driving.
Example 2
rally1200's cylinder head
measured at 32" water pressure
A14 standard head

Measured at 32" water pressure -- so it's not directly comparable to CFM ratings measured at 25"
NOTE: Flow measurements were done for lifts up to .460", which is approximately the maximum of the stock cam profile (standard lift)
UNMODIFIED PORTS w/oversize valves
LIFT(inch) .100  .200  .300  .400  .460
INTAKE CFM 52.1  96.82 115.8 121.8 119.3
EXAUST CFM 42.2  69.1   86.2  96.7 101.1

AFTER MODIFICATION
LIFT(inch) .100  .200  .300  .400  .460
INTAKE CFM 52.37 97.82 133.4 150   154.4
EXAUST CFM 46.39 76.33 93.51 106.4 113.1

Album click to view
Porting For Maximum Flow
kale: had it on the dyno to tune the carbies and was making circa 110hp at the treads
kale A14/A15 port: "flows enough for 160hp" via 42mm in. 33mm exh. smaller 7mm stems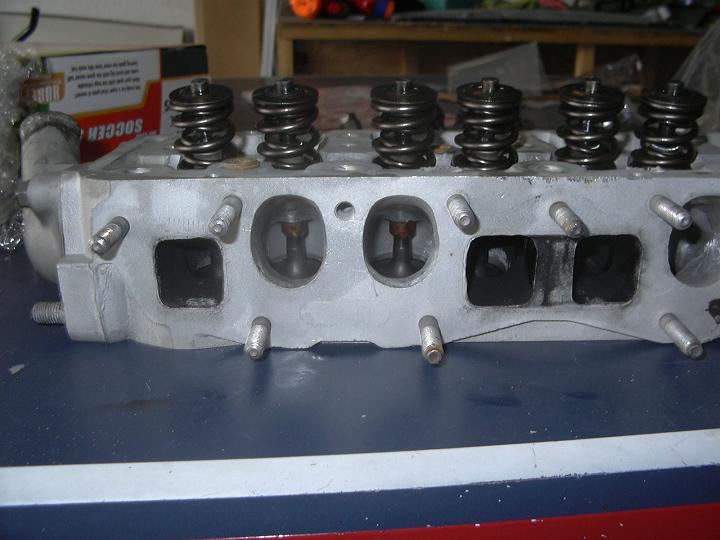 Album click to view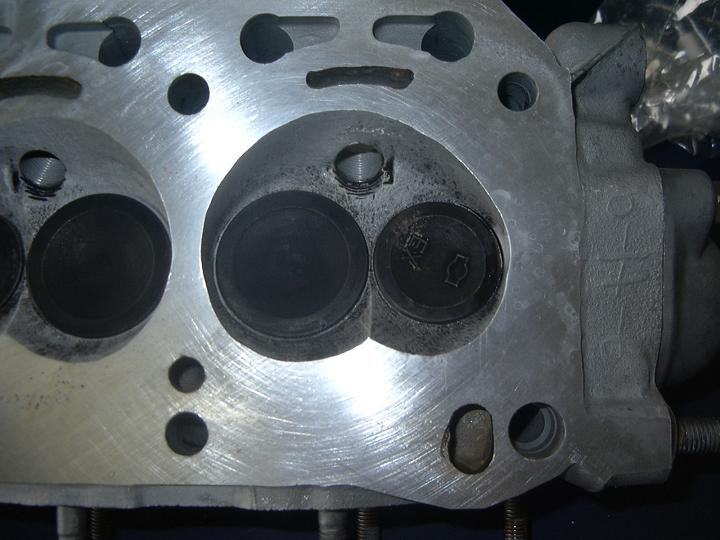 Album click to view
Profile
H89 (A14/A15 oval port) casting thickness

Album click to view
Album click to view
A14 oval port head cross profile:

Album click to view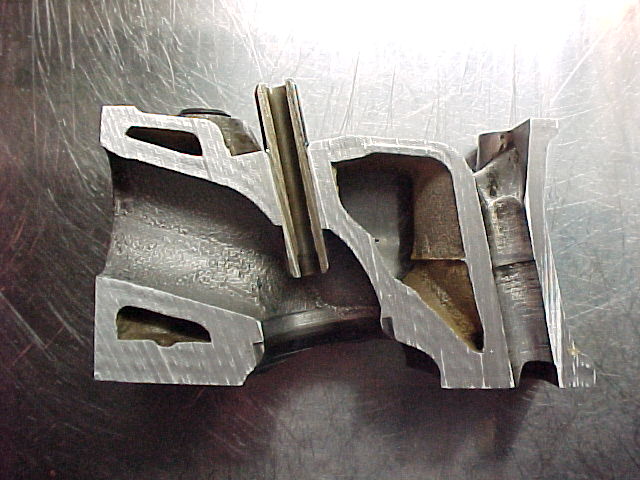 Album click to view
Photo Index
Click any thumbnail to see it full size in our
Club Photo Album
. Read details or post a comment!
¤