Datsun B110 headlights are fused through the fuse box. No relays are used. Original Specs for headlights are 50/40 watt (standard large round headlights). From the fuse box "Battery" side (always hot, not dependent on ignition key position), through a 15-amp fuse the circuit goes to the Light Switch. From the Light Switch it goes to the Dimmer switch on the column. From here -- depending on the position of the Dimmer lever position -- it goes to either the low (DIM) beam of the headlights or the high (MAIN) beam of the headlights.
Also see: Headlight Specifications
Overview
The headlights are grounded via the main wiring harness.
Completing the headlight features is the "High Beam" light in the instrument panel. This is connected to the high-beam circuit to light up a visual indicator on the dash when the high beams are on.
So the headlight circuit has these components:
Two identical Headlights

(Standard 12V "large round" type used by all makes of older vehicles)

15A Fuse in Fuse Box
Dimmer Switch (T/S & Light Switch on steering column)
High-beam indicator lamp in instrument panel
Wiring and connectors
Relays are NOT used
Earthing
The headlights are grounded via the main engine room wiring harness. The harness includes a body ground point (at the horn relay) and an engine ground (at the alternator E terminal).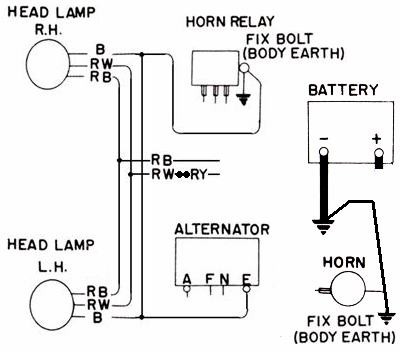 Album click to view
Unlike some earlier Datsuns, the 1200 does not use a switchable earth in the headlight circuit.
Datsun 510 and early 620 use switchable ground. See 620 Headlight Wiring
Headlight Socket
Headlight socket
| | | |
| --- | --- | --- |
| B | Ground | body connection |
| RW | (high beam) to one RW terminal of Dimmer Switch | only powered if Dimmer lever is forward |
| RB | (low beam) to RB terminal of Dimmer switch | only powered if Dimmer lever is back |
Light Switch
RHD and LHD use the same Lighting Switch with a 6-spade-connector. But for LHD applications the wiring harness only connects to four pins.
4-connector Headlight Switch is powered. The Fusebox feeds it
6-connector Headlight Switch is non-powered. The T/S switch inputs power to it.
RHD
6-connectors wired. Note that low beams will work in POS 1, while high beams only work in POS 2 (knob pulled all the way out).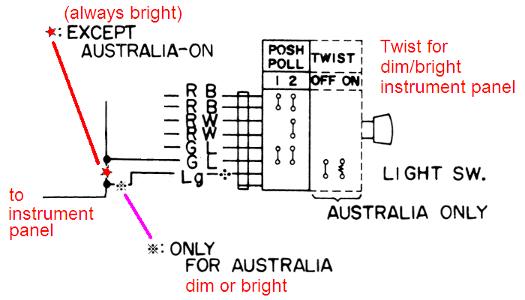 Album click to view
With the knob pushed in, no circuits are connected.
With knob pulled out to Position one (POSH) you are simply smashing
With knob pulled out to Position two (POLL) you are just common
With knob TWISTED (Australia Only), the dash lights are bright or dim
Australia has an extra wire coming off the side of the switch (for a total of seven wires).
LHD
4-connectors wired up -- all Left-hand drive markets.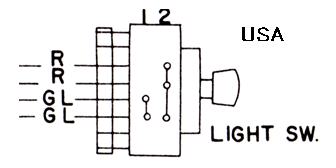 Album click to view
With the knob pushed in, no circuits are connected.
With knob pulled out to Position one, the parking lamps are activated
With knob pulled out to Position two, parking + headlights are activated
Position Connections
OFF
no connections
Pull stop 1 (halfway out)

GL to GL (parking lights)

Pull stop 2 (all the way out)

GL to GL (parking lights)
R to R (headlights)
Light Switch connector
R
Headlight hot feed Input

from R wire of fuse box ('L' terminal)

R
Headlight circuit hot Output

To RY wire of Dimmer Switch

n/a
no connection
n/a
no connection
GL
parking lights hot feed

from GL wire of fuse box ('PT' terminal)

GL
parking lights circuit output

to GL wire of headlights
to GL wire of running (parking) lights
to GL wire of Instrument panel
Low/High Beam Circuit - 4-pole
For simple 4-connector light switch ONLY
Album click to view
With the T/S lever pulled back, power goes to Low beams
With the T/S lever pushed forward, power goes to High beams
Dimmer Switch (in T/S & Light Switch unit on steering column, only headlight section of switch listed here)
RY
Headlight hot feed

From R wire of Light Switch

RB
headlight low-beam
RW
headlight high-beam

To RW wire of headlights
To RY wire of "MB" light\* in Instrument panel
\* Labeled "Beam" for 1971. The other side of this light is grounded.
Low/High Beam Circuit - 6-pole
For 6-connector headlight switch ONLY.
Power from the Fuse Box Light circuit goes directly to the T/S switch. From there it is passed along to the Headlight switch and finally to the headlights. The headlight switch has seperate inputs for High and Low beams.
B:  earth/ground
RW: high beam
RB: low beam
RY: power input for T/S Switch
R: Lighting fuse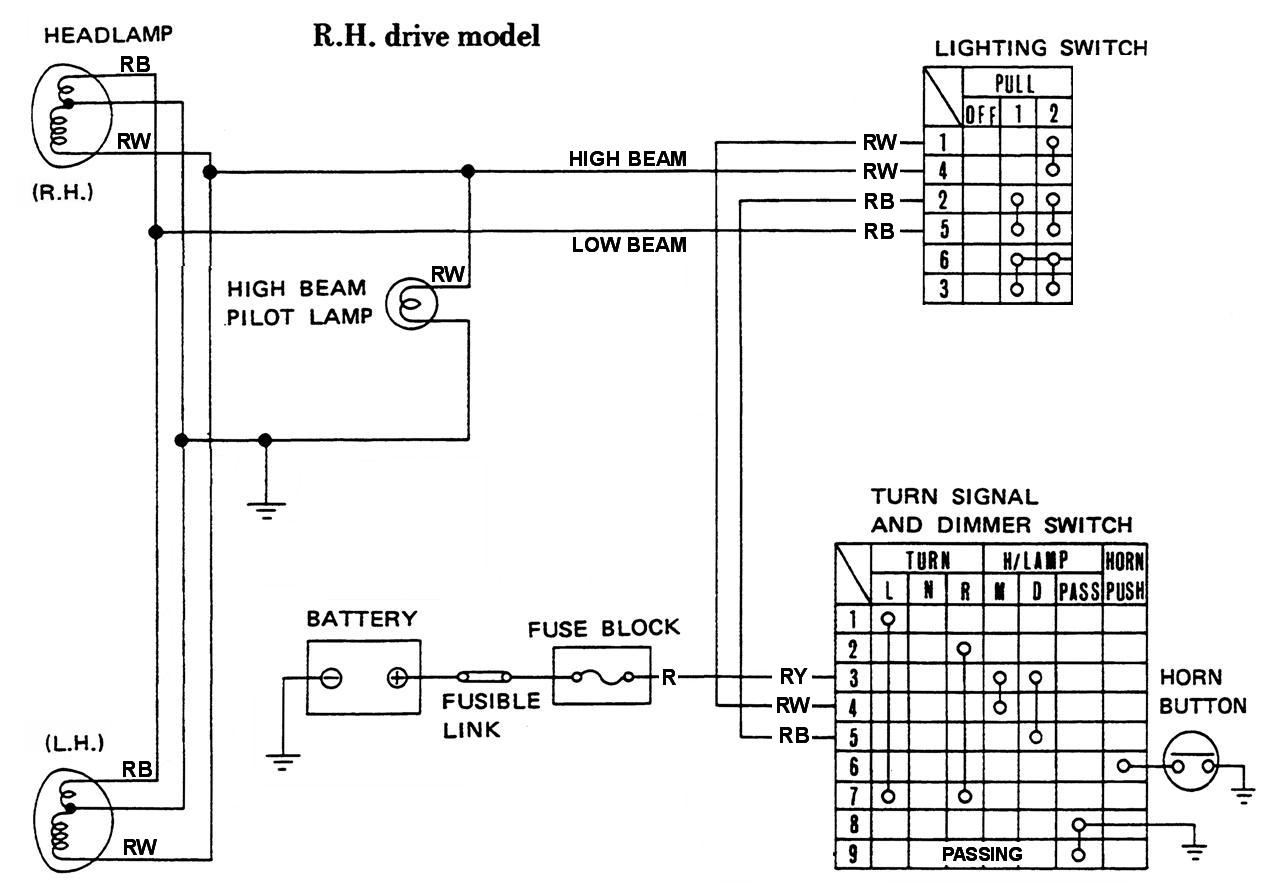 Album click to view
Passing Light Switch
A passing light feature was an option for B110.
Relay
Datsun 1200 doesn't use a headlight relay, instead full power goes through the lighting switch and the dash harness. But a serious peformance issue is that the main wiring goes through a 20-gauge Fusible Link.
Headlights want a 14 gauge wire for the full voltage to reach the lights. If using high-power H4 lights, you might even go with yet even larger 12 gauge wire. There is no need to go any larger. The good news is that apparently Nissan already fitted 12-gauge wire! with 14-gauge for the low beams. So no need to replace the headlight sockets and wires, instead just add a relay to bypass the Fusible Link and feed in power through an extra Fuse.
Most cars use a headlight relay, to keep high power from going through the headlight and dimmer switches. You may add a relay to the Datsun 1200 to improve the power to the headlights. Some club members report the headlights are much brighter when wired up this way.
Album click to view
You can get 14-gauge connectors and wires, the fuses and lengths of wire from a wrecking yard. Or buy the parts new, which is easier.
POST relay kit less expensive than used parts

Post click for topic
Harness Kit
If you have more money than time, a Relay wiring kit is really easy:
Take the new harness:
Connect HOT wire
Ground/earth the relays
Plug into existing headlight connector
Plug harness into headlights
Comes with the proper fuses and will bypass the stock Fusible Link
You're Done! Only $129 USD Painless Wiring Headlight Harness with relays
DIY
Do it yourself. I recommend 14-gauge wire for Halogen, but you can use 12-gauge wire for H4 high-power headlights. 14-gauge can handle 24-32 amps for 10 foot (3 meter) length, which is plenty as Halogen H6204 high beams (two bulbs) draw only 12 amp maximum at 15V. The extra capacity will keep the voltage drop minimal. If the length of + and - wire is 10 ft total, expect 12A draw voltage drop to be 0.6V at 12V with 14 gauge wire and 0.4v with 12 gauge wire.
14-gauge wire for the HOT side (RED or whatever color you want)
14-gauge wire BLACK for the earth/ground side
Headlight connectors with 14-gauge leads
Two fuses (or circuit breakers?):

15 amp for high beam Halogen 65W bulb x2 (up to 150W total)
20 amp for H4s (up to 200W total)
10amp for low beam (up to 100W per side)
Connect two short lengths of red wires to the BAT + or ALT + (your choice)
Fix fuses to these two short HOT wires, to protect the rest of the new wiring
Then more HOT to the Relays (D). Keep the wires as short as is feasible
more HOT wire from relays to the headlight connectors

High-beam relay (B) to the new headlight connector 56a High-beam
Low-beam relay (B) to the new headlight connector 56b Low-beam

Fix BLACK from new headlight connectors to a body ground or engine block
Fix BLACK from Battery cable terminal to body ground (not needed if your Battery cable is already 12-gauge)
connect small wires (20 gauge is fine) from one of the original headlight connectors to relays. Just leave the other connector alone.

One wire from 56b to the low-beam relay switch trigger (C)
another wire from 56a to the high-beam relay switch trigger (C)

connect small black wire to ground both relays switch (E)

can ground it:

to body, or
to engine block, or
or to 31 of original headlight connector

To prevent corrosion, seal all the wire connection ends with a sealer (shrink-wrap)
¤