The Heater fan is powered by the 15A 'W' fuse in the Fuse Box. The 'W' fuse is for Wiper/Washer/Heater.
Overview
fuse box heater circuit

Album click to view
Resistor
If the resistor is burnt out, the fan will only operate at High speed. You can replace it or, in a pinch, reconnect the two burnt ends using a small nut & bolt.
Heater Resistor (inside view) 27015-H3100 $12 USD

Album click to view
Look similar, possible interchange?
27015-H5000 B210, Late 620, F10 -1276 
27100-M0200 Early 620
27100-M3060 F10 0177-

Heater resistor (outside view)

Album click to view
Post click for topic
Post click for topic
Post click for topic
Regular Wiring
When IG is on, heater fan motor is always "Hot". But the motor is not grounded until the heater switch is pulled out.
wiring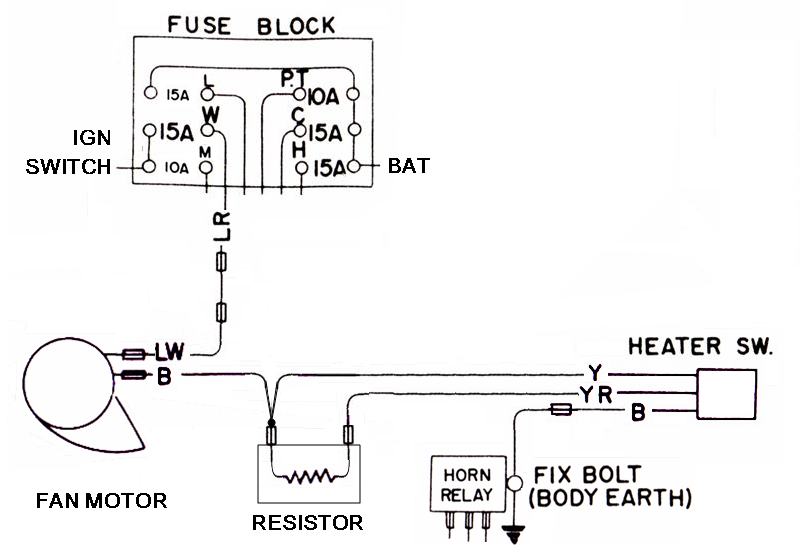 Fan switch Position No. 1 is OFF
Fan switch Position No. 2 is low-speed via Resistor
Fan switch Position No. 3 is high-speed bypassing Resistor

Heater wire loom with B wire and Y, YR, wires:


(the blue wire is not part of the heater circuit)
fan switch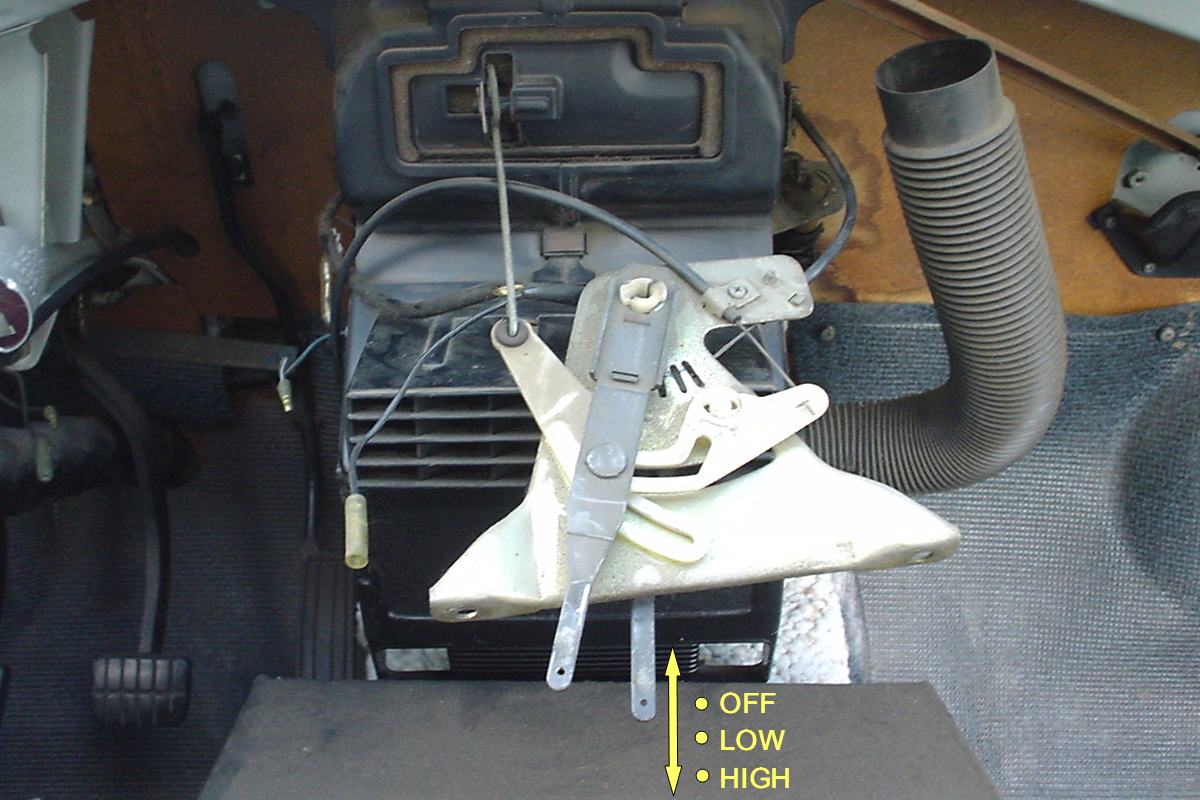 1972 USA
For 1972 USA models, the heater and switch operated differently. Now the motor fan is directly connected to Ground via B wire, and HOT is switched via a new type switch.
Fan
B: ground
?: High speed
?: Low speed

Switch
LW: 12V from Fuse Box "W" (Wiper/Washer/Heater) via LR wire
?: High speed
?: Low speed
Illuminated
Some 1200s have illuminated dashboard controls, like the B210.
1973 USA
The wiring is opposite of other 1200s and also includes to lamps for illumination.
When key is at IGN, fan switch is "Hot". Position #1 is OFF. Position #2 connects to the fan resistor (in the fan enclosure) for low-speed mode. Position #3 connects directly to the motor for high-speed operation.
USA 1973 wiring

PROBLEM: The wiring diagram does not show how the fan Black wire is earthed.
Fan (Heater)
B: Ground?
n: Low speed
n: high speed