The famous E15ET distributor type was used by other E-series engines too. The D4P has no visible ignition ignitor parts, and no provision for vacuum advance. Rather it has a crank angle sensor of the type used by certain 1980s and 1990s Nissan engines.
Overview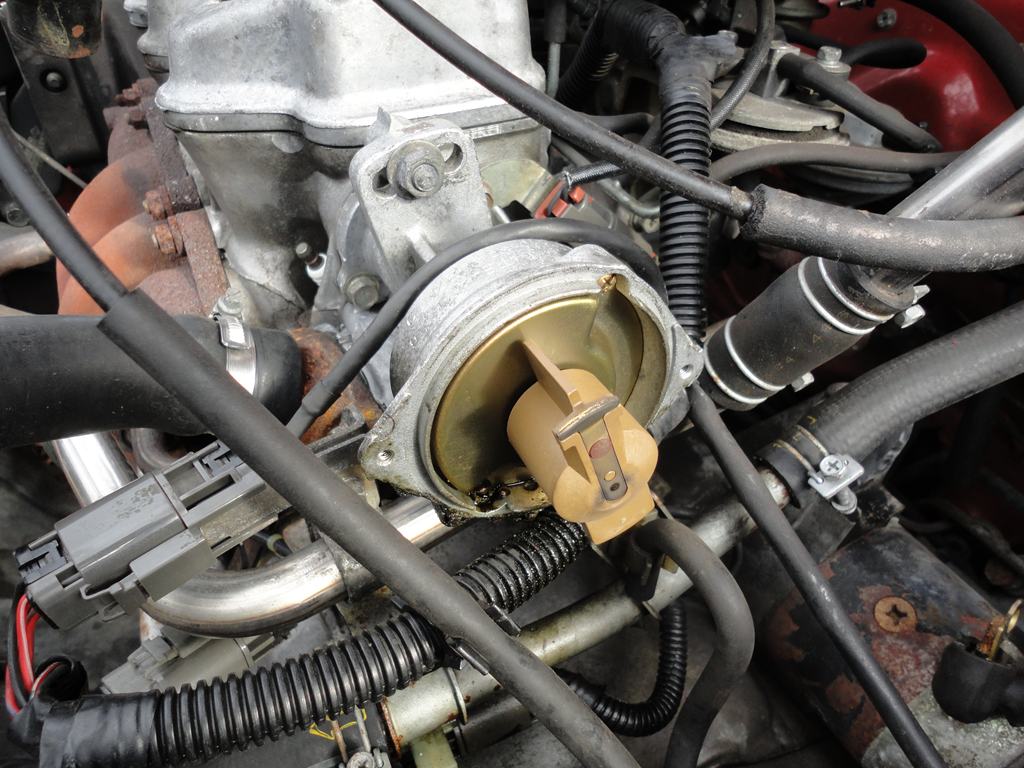 Upload click to view
Has a square wiring connector on the outside down at the bottom
No points, no stator, no ignitor
No weights or cams means no mechanical advance
No provision for vacuum advance. Totally round distributor body.
Second source: Mitsubishi T4T84471
Bolt-on rotor
is used as a trigger for ECU-based electronic spark control
Upload click to view
Under the cover plate is a trigger wheel for the ECU.

Upload click to view
Photo: Mitsubishi T4T84471 6626, Nissan 22100-27M15 from USA 1987 KPB12
The crank angle sensor is a thin aluminum disc, which is actually perforated 360 times. In this photo you can make out the screw under the disc, seen through the perforations.

Upload click to view
retouched photo (marked to show degrees)
Note the second (inner) row of perforations. These are the Cam position marks.
CAS
A.k.a. Crankshaft Position Sensor (CPS).
MITSUBISHI Crank Angle Sensor J912 (NISSAN 22100-53J11)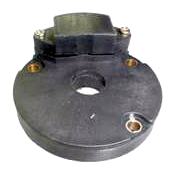 Upload click to view
For the various Nissan, Ford and Subaru models that use this part, see Nissan Optical CAS.
Mitsubishi Engines
The J912 sensor appears not to be used by any Mitsubishi engine, but is similar to the J918 and J928 sensors.
See Nissan Optical CAS

Using With A-series
D4P can be used as a trigger for ECU-based electronic spark control and for fuel injection.
For details on modifying it to fit into an A-series engine, follow the same steps (sans wiring) as needed for the E15 distributor swap
* Swap A-series distributor gear onto E-series shaft
* Fabricate a hold-down clamp to bolt it into the A-series

See main article: E15 Electronic Distributor Swap
Control Box
The stock Nissan E16I (TBI) or E15ET (EGI) ECU can be used with an A-series engine. Use it with all the stock Fuel Injection parts from the donor Pulsar N12 or Sunny/Sentra B11.
Nissan optical CAS/CPS unit can be used to trigger MegaSquirt ECU for electronic spark control of coil packs. MegaSquirt II with the latest firmware download can use the stock Nissan trigger wheels, while other brands of ECU generally require a swap to a special low resolution trigger wheel.
It may also be used for sequential fuel injection.
see Nissan Optical CAS

Part Numbers for E-series Engines
Also see E-Series_Distributor
Hitachi D4P: B11, B12, N12 USA
22100-27M00 DISTRIBUTOR ASSY N12 E15ET D4P82-06
22100-27M02 DISTRIBUTOR ASSY N12 E15ET D4P82-06B
22100-27M04 DISTRIBUTOR ASSY N12 E15ET D4P82-06C W/VENT
22100-27M01 DISTRIBUTOR ASSY N12 E15ET D4P83-03
22100-27M03 DISTRIBUTOR ASSY N12 E15ET, B12 E16I D4P83-03B
22100-27M05 DISTRIBUTOR ASSY N12 E15ET, B12 E16I D4P83-03B W/VENT
22100-36A00 DISTRIBUTOR ASSY N12 E16S D4P83-03
22100-36A01 DISTRIBUTOR ASSY N12.E16S,B11.E16S,B12.E16S D4P83-03D
22100-36A02 DISTRIBUTOR ASSY N12.E16S,B11.E16S,B12.E16S D4P83-03E W/VENT
22100-27M15 1987 KPB12 FED E16I.AT
22100-27M16 DISTRIBUTOR ASSY N12.E16I MITSUBISHI
22100-27M17 DISTRIBUTOR ASSY N12.E16I MITSUBISHI

22162-17M01 CAP ASSY-DISTRIBUTOR
22162-17M02 CAP ASSY-DISTRIBUTOR
22157-17M01,22157-17M02 ROTOR-HEAD 

22163- NOT APPLICABLE - STATOR
22115- NOT APPLICABLE - SIGNAL ROTO ASSY [Reluctor]
22136- NOT APPLICABLE - PLATE ASSY-BREAKER
(22173) wiring
22159-14S00,22159-36A00, HARNESS ASSY-DISTRIBUTOR 
22159-14S01,22159-12P01, HARNESS ASSY-DISTRIBUTOR 
22159-35M00 HARNESS ASSY-DISTRIBUTOR 
22159-17M00 HARNESS ASSY-DISTRIBUTOR 
22159-P8001 HARNESS ASSY-DISTRIBUTOR
22159-P8002 HARNESS ASSY-DISTRIBUTOR 
22108- NOT APPLICABLE - SHAFT ASSY [weight & spring shaft]
22020- NOT APPLICABLE - TRANSISTOR IGNITION UNIT 
22132- NOT APPLICABLE - CAM SET

FJ Engine
22100 DISTRIBUTOR ASSY

D4P for FJ20 engine

Album click to view
Album click to view

Album click to view
Album click to view
R30 Skyline (8108-9003)
22100-R2000 8110-8206 FJ20E HARNESS L=410 MM <> 22100-R2003
22100-R2007 8206-8308 FJ20# HARNESS L=580 MM マイナー マ デ
22100-R2201 8308-8601 FJ20# HITACHI マイナー ゴ センヨウ <> 22100-R2202
22100-R2202 8601-8612 FJ20# HITACHI <> 22100-R2203
22100-R2203 8612-     FJ20# HITACHI

S110 Silvia (7903-8308)
22100-R2000 8204-8205 <> 22100-R2003
22100-R2001 8206-8306 <> 22100-R2002
22100-R2002 8307- <> 22100-R2004

S12 Silvia (8308-8805)
22100-R2203 FJ20/FJ20T 

¤