The Idler Arm is part of the Steering Linkage, and is the counterpoint to the Steering Gear Arm.
Overview
The Idler Arm bolts to the subframe rail on opposite side from the steering gearbox.

Steering_Linkage: #1 Idler Arm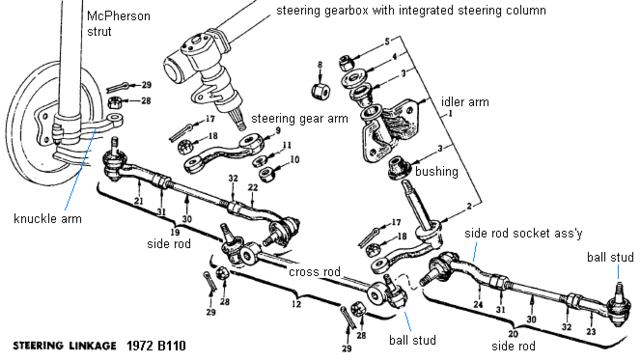 Album click to view
The bolts go through the Front Side Member (front chassis rail).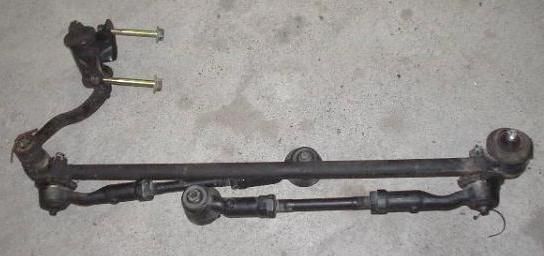 It fastens to the chassis via two long bolts.

Album click to view
RHD
RHD Idler Arm is the same for all 1200s: ute/wagon/sedan/coupe -- even the 1994 Sunny Truck uses the same part number.
48530-H1000 1970-1994

Album click to view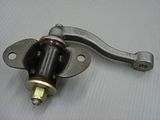 LHD
LHD assembly part number differs from RHD. All the sub-parts (including the arm crank) are the same. However, the bracket looks like the RHD part turned upside down.

Album click to view
Idler Arm LHD
* 48530-H1600 ASSY-IDLER STEERING [LHD]
* RockAuto.com
* TRW 18778 through 7/72

Bushing
The same bushing set is used by RHD and LHD.
Nissan Retail Price: $8.25 (2016 prices)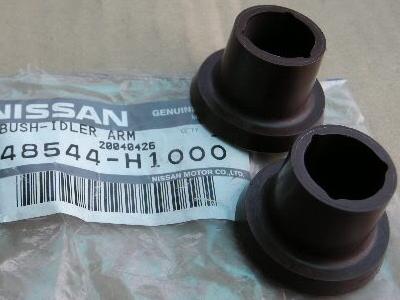 Album click to view
Idler Arm Bushing 
* 48544-H1000 BUSH-IDLER
* Beck/Arnley 1013851 (2 per idler arm) at http://rockauto.com
Fits:
** Mitsubishi/Chrysler 1983-1993 various models
** Nissan B110, B310, S110, 1979-1981 S130, A10, 1980-1982 720, 1977-1980 810

Idler Arm Repair Kit (includes 2 bushes, washer & lock nut)
* Raybestos 4501067
* ACDelco 45C1067 or 88911321 $8.41
Rockauto.com

Album click to view
Comparison
48530-21000 RHD 
PB110(L14)
PB210(L14),GB210(L16)
510/610 Bluebird 
710 Violet
S10 Silvia


ステアリング アイドラ アーム