O2 (oxygen) sensors can be used to troubleshoot the fuel/air mixture. This uses an Oxygen sensor (Lambda sensor) to display to you how the actual a/f ratio of the engine as it is running. This is good for carbureted cars too, so you can see which way you need to adjust or jet the carb.
Overview
For O2 sensor use in EFI systems, see Fuel Injection

Most O2 Sensor read only rich vs lean. That's enough for EFI control, or for a rich/lean (red/green) gauge.
For an actual air/fuel ratio number you need a wideband O2 Sensor, also called an "Air Fuel Ratio Sensor".
Testing
You can test the O2 sensor while the car is running. Basically, you can tap in to the existing wire for the sensor. You can get a high-impedance ohmmeter at radio shack for under $40, but the specs need to be 20 Mega ohms resistance (most are not this high). Regular Ohmmeters will short out the sensor.
Rich/Lean Gauge
Rich/Lean gauge will tell you if the running engine is lean compared to 14.7:1 ratio. Or rich. They were designed for catalytic converters, tune for 14.7:1 so the cats work perfectly and don't get fouled. A regular O2 Sensor won't tell you if you are at 12:1 or 16:1 -- it won't tell you if you are making the most power (12:1 to 13:1 a/f ratio). Only that you are over or under 14.7:1.
Sensor cost from $20 up for new. For installation, just weld a threaded 'bung' to your exhaust pipe. It should be at the collector or start of the exhaust pipe, as close to the engine as possible:
How to: welding 02 sensor fitting to exhaust pipe

Air Fuel Ratio Sensor
NOTE: Wideband Sensor doesn't work with most ECU
* Haltech can use it via the Haltech Wideband Controller add-on
* MegaSquirt can use it via the LC-1 or other controllers 
  MegaSquirt-I software has some support for Wide Band EGO sensors
  MegaSquirt-II software has full support for Wide Band sensors
  Separate controller is needed - see MegaManual

LSU4.2
Bosch LSU4.2 sensor was made famous by the aftermarket A/F Gauge companies.
* You can use with dash wideband A/F Gauge
* Haltech can use LSU4.2 with the add-on Haltech CAN wideband kit
* Bosch LSU4.2 5-wire Air Fuel Ratio Sensor (wideband 02 sensor)
* $84 diyautotune.com
* $64 Amazon

But actually LSU4.2 are also used by OEMs like Ford, GM, VW, etc. with various connectors. They are listed as an O2 Sensor with the key words wide band or Air Fuel Ratio. Some examples:
Bosch 17014
* VW Golf 2000-2001 1.8T 
* RockAuto.com $64
* Autozone $64

Denso 234-9002
* 2001-2003 Toyota Tacoma 2WD.2RZ-FE, upstream automatic transmission
* $91 Amazon 
* $108 RockAuto.com

$64 Bosch LSU4.2 5-wire Air Fuel Ratio Sensor (wideband 02 sensor)

LSU4.9
LSU4.2 is already last generation. All OEMs now use the more robust Bosch LSU4.9, but the controller, ECU or gauge needs to support it.
The cable has a resistor in it, so do not cut the cable shorter.
4.9 sensor come in varying cable lengths and varying connector styles. The connector the controller uses is important.
Bosch 017xxx where xxx indicates cable type/length

Bosch 17025
* $49 Amazon
* 3-foot cable
* Flat pin connector

Bosch 17098, ACDELCO 2133936, DENSO 2345139
* BMW 2003-2014 X3, Z4, 525/528/530, 325/328/330/335, 128, 1M
* 2007 BMW 328XI Upstream; For cylinders 1-3
* $112 RockAuto.com
* $120 Amazon

Air Fuel Ratio Gauge
A/F Ratio gauge allows you to tune your carburetor or EFI yourself. Choose 12.6:1 for maximum power, and 15.5:1 for crusing fuel economy. Ensure your engine never leans out. If you run catalytic converters, tune for 14.7:1 so the cats work perfectly and don't get fouled.

Album click to view
Also See: Carburetor Tuning

Innovate Gauge

$259
Innovate Motorsports 3802 G-Series Air/Fuel Gauge Kit
includes:
* G5 Air/Fuel Gauge
* LC-1 wideband controller & cable
* wideband O2 sensor
* bung/plug
* LogWorks engine-tuning software

$104
G5 Air/Fuel Gauge Only

$189
LC-1 wideband controller includes O2 sensor & cable

Spartan Gauge
$70 Spartan2 wideband controller
(or kit for $40) 
* Controller for the Bosch LSU 4.9
* Linear Output allows easy interfacing with gauges
* Narrowband Output allows you to install a Wideband O2 
  Sensor in place of your Narrowband O2 sensor

$49 Amazon (LSU4.9)

$12 bung kit

$50 14point7 digital AFR gauge
* 52 mm


$110 Speedhut A/F ratio gauge
* 52 mm analog with warning range
* choice of dial colors and night color lamp


Test Meter
LOWTECH: I just got a portable Air/Fuel ratio meter from www.innovatemotorsports.com. I used it to jet my Weber 32/36 last week! It uses a wide band O2 sensor to measure your mixture in real time. You just need to weld in a sensor bung in your exhaust just after the collector(the meter comes with a bung and a plug) This is one of the few affordable meters that's supposed to be really accurate.
About $300 USD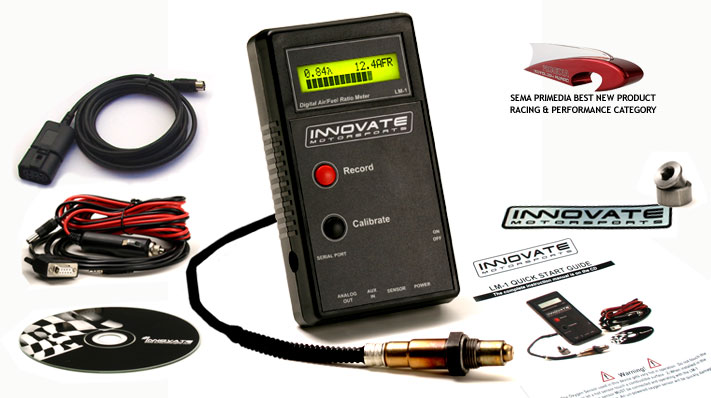 ¤