Nissan Skyline model R31 was built in Japan 8508-9005. It was fitted with a Four Cylinder CA engine, or six-cylinder RB engines, or a Diesel. Australia-built R31 1986-1990 was sold as Skyline (six-cylinder) or Pintara (four-cylinder). Some parts can be used, or modified for use, on a Datsun 1200.
Overview
Ti

Album click to view
Australia Skyline 4S (4-dr sedan)

WIKI go to Wikipedia
Australia Skyline GXE wagon

WIKI go to Wikipedia
Australia Pintara Wagon

WIKI go to Wikipedia
Australia Pintara Sedan

WIKI go to Wikipedia
Japan Skyline K (coupe)

WIKI go to Wikipedia
Engine
JAPAN
F CA18S
H RB20E/RB20ET SOHC
R RB20DE/RB20DET DOHC
S RD28 diesel

AUSTRALIA 
R31 Skyline: Holden RB30E 
R31 Pintara: CA20E (NAPSX)

SOUTH AFRICA built
CA20S
RB20E
RB30E


Wheels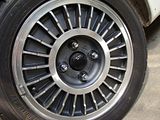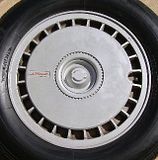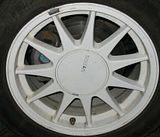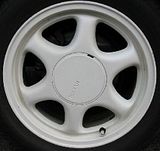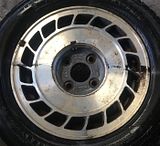 Front Brakes
R31 featured 4-lug x 114.3 PCD wheels.
* R31 integrated hub
* R31 disc-over-hub RB20DT.(K+4K) 4-lug 40206-59S01 <> 40206-59S02

250 mm
Standard wheel on R31 is 14". Shouldn't be any problem running 14" wheels over these brakes. A few 13" alloys will fit, though no steel 13" will fit, even with grinding.
integrated-hub type

Though these are relatively small brakes, they are vented so will stand up to repeated braking, or mountain driving. The caliper bolts are 3.5 inch apart, which is not a common dimension for upgrading the calipers. Also see S13 Brakes for another 250mm brake swap.
These require a AUS R31 strut or a JAP R31 non-RB20DET strut (e.g. Japan HR31, FR31 and SR31 have these brakes -- only the RR31 turbo has the larger brakes).
R31 on B10

250 mm diameter, 22 mm thick
40207-41L25 HUB & ROTOR [integral hub] <> 40207-41L27
* R31 except RB20DT
* C32 Laurel 8410-8610 ALL
* C32 Laurel CA18#+RB20E VG20ET+RD28
* F31 Leopard some


274 mm
The large R31 floating rotor 274 mm brakes require a 15" wheel. Stock was 6x15".
disc-over-hub type (similar to S13 Brakes)

These require a Japan RB20DET strut with its 100mm caliper spacing, although theoretically other Nissan 100mm struts might possibly be used with caliper spacers for the hub depth difference. Best to get the strut & brakes as an assembly.
274 mm diameter
40206-59S01 ROTOR-DISC BRAKE, FRONT <> 40206-59S02
* R31 4K.RB20DT [4-door hardtop]
* R31 K.RB20DT [Coupe]
* C32 RB20DET *VG20ET ANTI-SKID
* F31 VG30D.ULTIMA 
* USA Infiniti M30 1989-1993

Rear Brakes
Pintara rear discs in the 259 mm option may be used on the front of Datsun 1000.
1986-1990 AUS Pintara wagon & sedan
See Main Article: Datsun 1000 disc brakes#259mm Brakes

R31 JAPAN
1985 43206-41L01 266 mm <> 43206-41L00
1986 43206-45L01 292 mm <> 43206-58S01 ventilation type
1987 43206-62L01 266 mm

Strut
R31 uses a standard Nissan 2.0" strut, so will bolt to the usual SAP.
Some say you need to buy/fabricate a spacer with shear ring as the locating hole is a different size where it meets the steering arm. R31 struts have a 54mm hole on the bottom which matches a 54 mm lip on the R31 steering arm. The W50 steering arms have a 40mm hole but no protruding lip. However, stock A10/B310 struts do not have shear relief so it may not be necessary.
Of course you need to fit stock 1200 springs as R31 spring are large diameter.
The R31 strut tubes are similar to 280Z struts in that they are short right from the factory. The advantage is that R31 has the strut tube offset to the inside, allowing slightly wider tires inside the wheelwell. This is countered by a short-offset hub, so choosing an appropriate wheel offset is still required. They are low-scrub struts, keeping SAI to a minimum.
Datsport sells a performance version with adjustable small-diameter coilovers. http://www.datsport.com/strut-dsk250C.html

R31 Handbrake Lever
R31 Handbrake Lever in 1200
See main article: BW78 Rear Axle Swap


Diff
JAPAN R31
H190: CA18S Sedan, Hardtop, Wagon
CA200: Wagon RB20T [4.11, 8601-]
R200: RB20, RD28 Sedan, Hardtop [IRS]

AUS R31 Borg Warner
* 9-bolt octagonal cover
* has rear disc brakes with finned calipers
BW78: Pintara, 25-spline axles
BW78: Skyline, 28-spline axles

AUS
There is some confusion as the Japan-built R31 used a similar looking diff, the CA200. Aussie R31 used the BW78.
CA200: 8-bolt cover
BW78: 9-bolt cover

See main article: Borg Warner 78

Rear Discs - see R31 Rear Disc Brake Swap

Swaps - see BW78 Rear Axle Swap

CA200
JAPAN R31 Wagon with RB20T SOHC Turbo 1986-1990 
* (build dates 8601-9005)
CA200: Wagon RB20T [4.11 (CA41), 8601-]
* Drum brakes
* 5-link with coil springs
* 4-lug, 28-spline(?) axles

CASE-DIFFERENTIAL 
* 2-pinion
* M12 ring gear bolts
* Fits: CA41,CA43,CA46,CA48,RC35,RC37,RC39,RC41,RC43,RC46 
38421-12S00 8601-8708
38420-P9400 8708 <2> 38420-12S10

CA41 37/9=4.111
38100-F3400 8601-8604
38100-F3401 8604- $677 USD

SHAFT ASSY-REAR AXLE
38162-42L00 
* R31 with CA18S
* R31 Wagon
* C32 some
* GC22 Vanette 8605 2WD

DRUM-BRAKE,REAR
43206-U4800

43010 CASE ASSY-REAR AXLE
43005-84S55 HOUSING W/GEAR <2> 43005-84S56

38423 GEAR-SIDE
38423-C6100
* (G)C22,D22,E23,E24,F22,F23,R31,WD21,160,250,

Alternative for swaps: GC22 Vanette - CA200 w/LSD
Gearbox
Japan-built R31 used FS5W71C 5-speed transmission.
32707-58S10 Sleeve, Speedometer Pinion 19T for CA18
* same as C22 with A12 engine

Speedometer cable with the larger end will work for Datsun 1200. 810 (200B) cable will work.