Starting with 1972 USA models and 1976 Australian models, Transmission Controlled Vacuum Advance System (TCVAS) disables spark advance except in Top Gear. Since this "retarded" spark timing reduces performance, to prevent cold-engine driving problems this system is bypassed in cold temperatures. This means vacuum advance works normally at cold temperatures. On the highway (in top gear) full power is always available.
Applications
USA
1972-1973 B110
1974-1978 B210

AUSTRALIA
1976-1978 B120

Overview
Vacuum advance in all models uses a hose from the Distributor to the 'port' on the carburetor.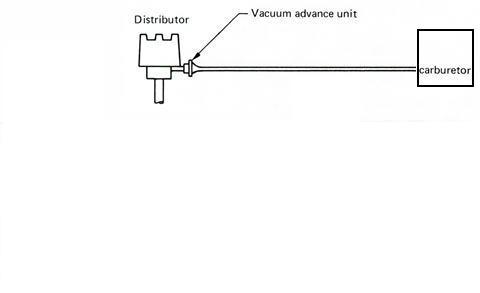 Album click to view
In the TCVAS system, however, there is a valve inserted into the hose to affect the vacuum.
Album click to view
The vacuum valve is electrically controlled. With 12V supplied, vacuum is bled off. From a performance standpoint, this is fairly foolproof because if a wire is disconnected it works with normal advance. Only when correctly wired does it affect vacuum advance.
The good news is that a malfunction in the TCVAS will:
not affect the Ignition Timing procedure
not affect idle-speed setting
Components
Vacuum Hose 14956-H3901 with special orifice-restriction between carb and tee-connector connected to the vacuum advance hose. This has a precision orifice (jet) in it to control flow of air
Electrical Thermo switch 22110-N0901 in cabin, under dash mounted high on the right-side kick panel. This is a little round button-shaped unit. It is a simple on/off thermostat which turns "On" as temperature raises past 41-55 degrees. It turns "Off" when temperature falls below 34 degrees
Electrical "Top Switch" screwed into the side of the transmission (left side, near the bell housing). It is closed in top gear (allowing regular advance), open in all other gears and neutral (disabling advance)
Electrical Vacuum Cutting Valve Solenoid 14955-H3900. When energized, it bleeds off the vacuum advance
CAUTION: Using a normal hose from the carb to the T-connector results in a small vacuum leak. Only use the special orifice-restricted hose.
The thermo switch is located inside the passenger compartment (Location: Under dash, right side of car):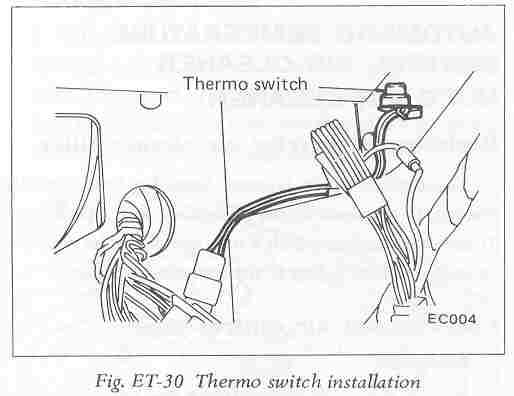 Album click to view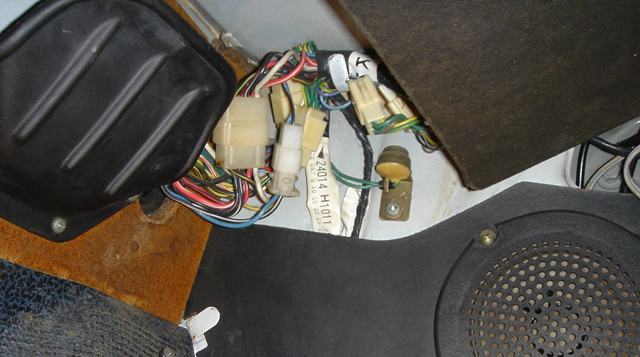 Album click to view
The thermostatic switch:
* Conducts between 41F and 55 F as temperature rises
  Ohmmeter should indicates 0 above 55 degrees
* Disconnects below 34F as temperature falls
  Ohmmeter should indicate infinity (~) below 34 degrees

Tip: To prevent advance cut-out, leave heater off and roll down the windows.
Solenoid Location on B110: just aft of carburetor, bolted to the intake manifold.

Solenoid location on 1978 B210 USA

Post click for topic
Water Temperature Thermostat
Australia used water temps, instead of air temps. TCVAS was disabled when engine coolant temperature was low, using this thermostat.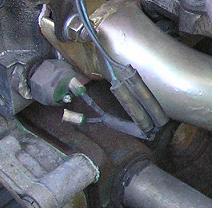 Album click to view
TCVAS relay 25230-H1604 RELAY ASSY-WATER TEMPERATURE F/WATER TEMP used on 1985 models

Post click for topic
Plug Wiring
* B - Black
* Y - Yellow
* LR - Blue wire with Red stripe

Schematic
Both vacuum and electricity are used.
Album click to view
Album click to view
In cold weather, vacuum advance is normal
Until car warms up...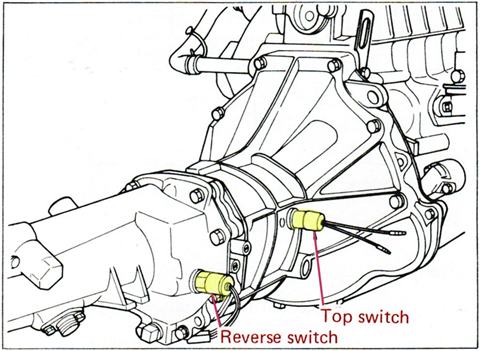 Album click to view
56-series 4-speed (LHD)
Top Switch (emission controlled models) </b When current flows to the Vacuum Cutting Solenoid, it cuts the vacuum advance.
If the Solenoid wire is disconnected, e.g. by vibration or by corrosion, vacuum advance works normally.
The Top Switch is normally closed, thus causing the solenoid valve to open, bleeding off the vacuum advance signal. Only in top gear (4th) does it become electrically open, causing the valve to deactivate, no longer bleeding the vacuum advance hose.
If you neglect to connect the top switch,
vacuum advance works normally.

So this is nearly a foolproof system. If any electrical component goes bad or is not connected, normal operation occurs. Only when every electric circuit is working does it cut vacuum advance.
Vacuum Hoses
Vacuum advance in all models uses a hose from the 'port' on the carburetor to the Distributor.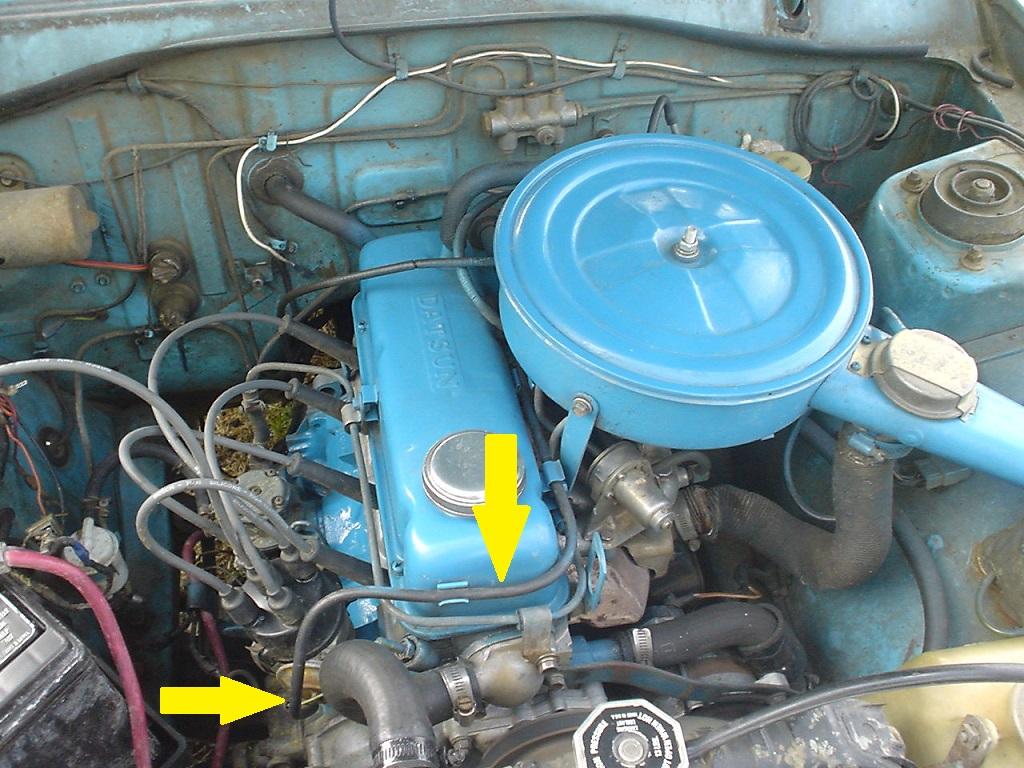 Album click to view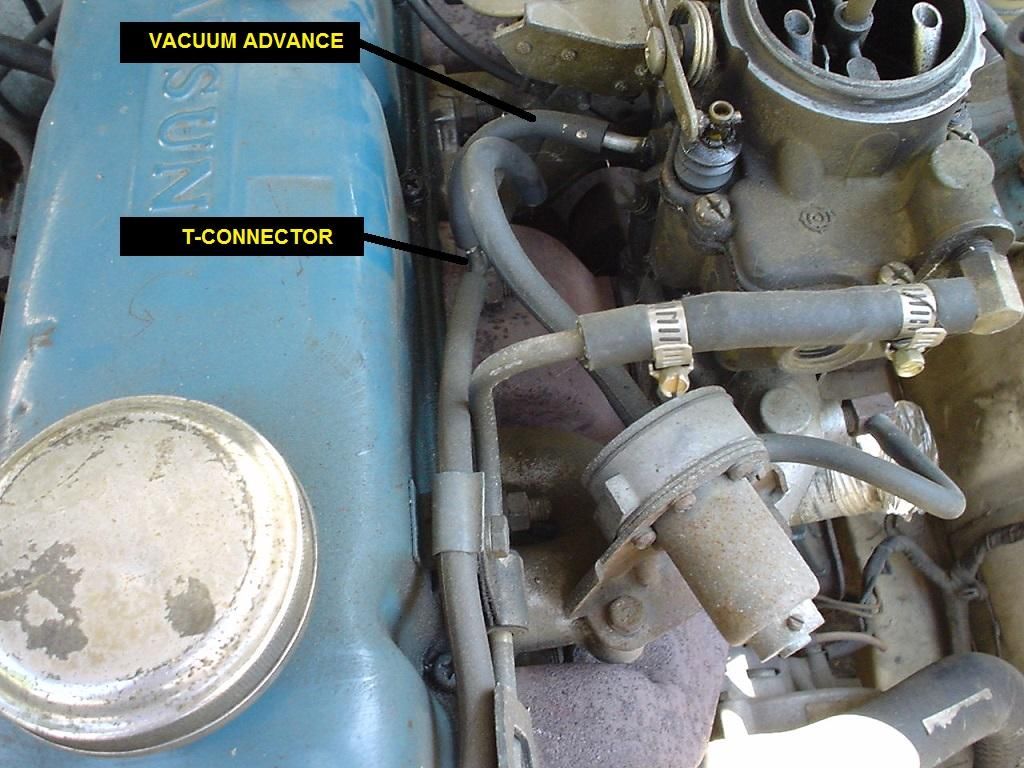 TCVAS adds to this, by adding a 'T' in the line. The 'T' carries vacuum to the Vacuum Cutting Valve Solenoid, which when electrically powered dumps the vacuum to the atmosphere. This effectively 'cuts' vacuum advance, while the small orifice prevents a vacuum leak. The orifice is in the special hose going from carburetor spark-port to the 'T'.
Album click to view
Album click to view
The source of air to the Valve is both:
underside of air cleaner
Flow guide valve
Album click to view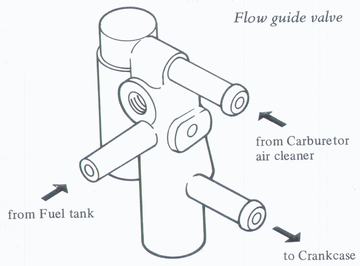 Album click to view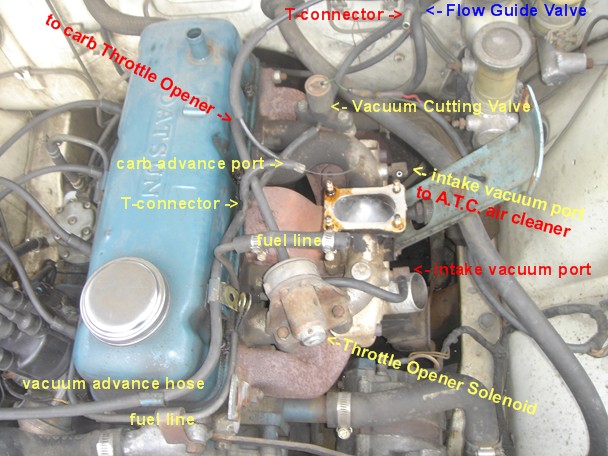 Album click to view
Disabling
For racing or farm use (where emission controls are not required), simply connect the distributor Vacuum Advance directly to the carburetor. This will allow full spark advance.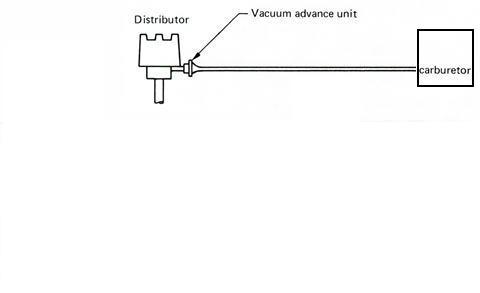 Album click to view
Testing
You can temporarily bypass TCVAS to see if it clears up a poor-running engine. See section above. You will likely find the car runs the same with TCVAS disabled. If so, re-enable it to help with clean air.
If the engine runs remarkably better with TCVAS bypassed, the cause may be:
incorrect hose connections
broken distributor vacuum advance module
temp switch stuck closed
Spark Delay
Manual transmission models used TCVAS. For the B210 (e.g. 1978), auto-equipped cars got a spark delay valve inserted into the vacuum advance hose.
TCS
1979 Datsun 620 pickup for USA uses TCS (Transmission Controlled Spark), which is identical to B110 TCVAS except there is no bypass for cold temperature.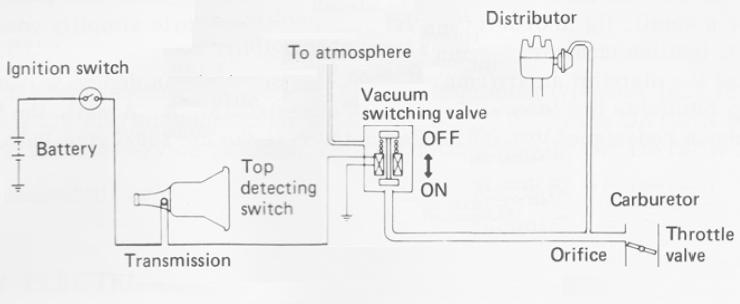 Album click to view
Only used with manual transmission. Also used on 1978 Cab & Chassis models.
Also see: Top Switch
TVCAS with Dual Control
TVCAS was also used with Dual Control Vacuum Advance, as on the 1979 B310 with fuel economy engine.
The TVCAS portion of this system works exactly as in B110: A valve that bleeds the vacuum advance hose when in Top Gear.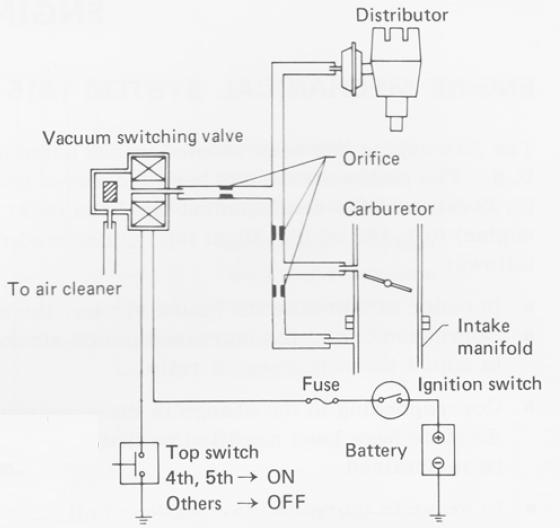 Album click to view
Differences from B110
* Top is 4th or 5th gear
* no temperature switch 

¤