Introduced August 1961, the Datsun 320ᵂ light truck was commonly called the "1200" due to having 1200 badges. This denoted the size of the E1 engine, and not the model name (320) or market name which was "Datsun" in Japan. The 320 truck is closely related to the Bluebird 310 sedan and is unrelated to the Sunny family of subcompact vehicles like the B110 "Datsun 1200".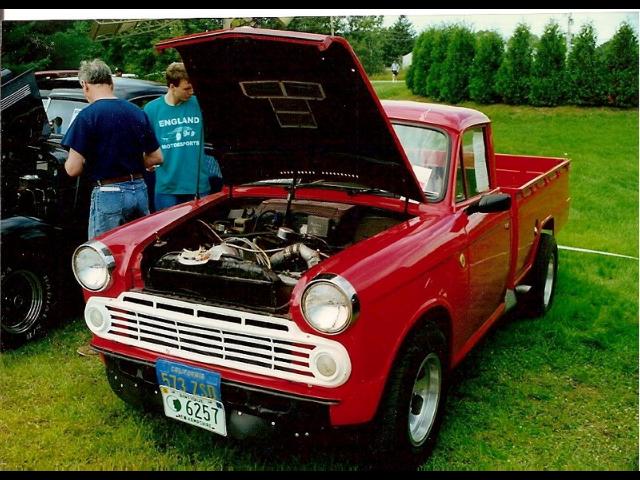 Album click to view
Overview
The 320 Pickup was sold in Japan as the Datsun Truckᵂ, Nissan's eighth Datsun (light) truck model series. It was followed on by the 520 series in 1965. The 520 was marketed in North America as a 1966 model.
The size is very similar to the B110. Length and width are nearly identical, but it is much taller due to its 1950's design.
Top speed: 105 kph (non-USA models)
Weight: 955 kg
Wheelbase: 2470 mm
Bed: 6' x 4'8"
Load Rating: 
 -U: 500 lbs (1/4 ton)
 -N: 1000 lbs (1/2 ton)
 -P: 2000 lbs (1 ton)

For 1964 and 1965 there was a ute (Coupe Utility) version, the N320 (right-hand version) and NL320 (left-hand drive). It was marketed in the USA as the "Datsun Sports pickup".
#320 Sports

Datsun 320 Pickup with custom flat-tray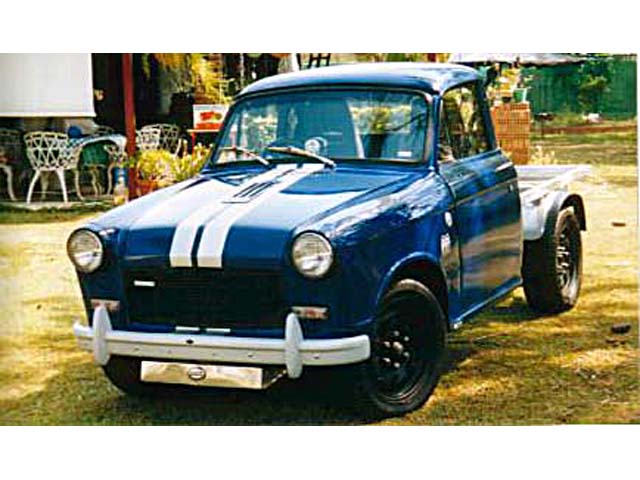 Album click to view
Serial Numbers
Numbers are on:
the data plate to top center of the firewall
stamped on the frame near the left side front tire
1961/1962/1963 are (L-)320-year digit-serial
e.g. L-320-2-01505B

1964/1965 are year-(L) 320-serial
e.g. 4-L 320-60214

320 export models for USA had:
the year stamped on the chassis plate, unlike later Datsuns which had a special build plate on the door jamb.
The chassis plate may have a year stamp that differs from the Car Number year digit
NL serial numbers appear to start with Car Number "60xxx"
USA 320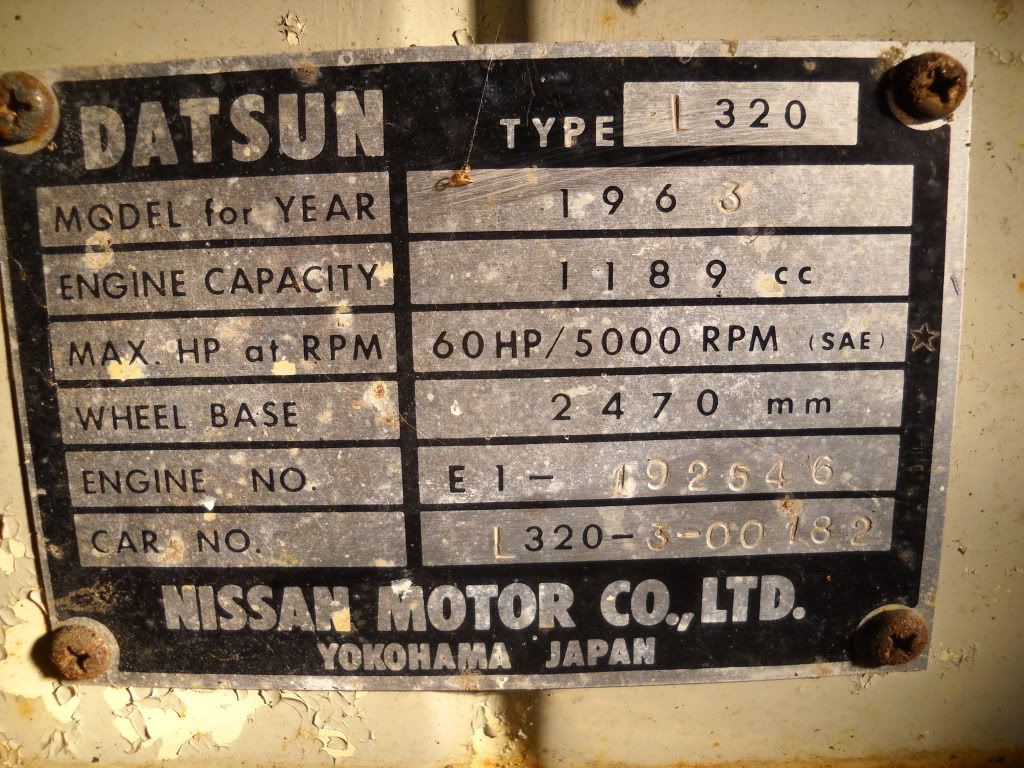 Engine
The E1 displaced 1.2 liter (1189 cc) from a 73 mm (2.9 in) bore and 71 mm (2.8 in) stroke. The E1 was produced from 1958 through the late 1960s. Those installed in 320 pickups were rated at 60HP.
Engine stamp 'E1'

Post click for topic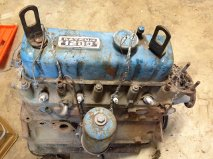 Post click for topic
The E1 was the 1200cc version of the original Datsun "Stone" 1000cc engine in the Datsun 1000 Bluebird 1958 model.
E1 old-school piston design - see E1 Piston

The first E engine produced 48 hp (35.8 kW) and 60.7 ft·lbf (82.3 Nm) from a single carburetor. A later E-1 version added dual carbs and better cam timing for 60 hp (44.7 kW) and 67.3 ft·lbf (91.2 Nm).
The first E1 truck to make 60 HP was the 1961 221, but "Datsun 1200" badges were not added until the Datsun 320.
Applications:
E
1958 Datsun Bluebird 211
1959 Datsun Bluebird 310
1959 Datsun Truck 222
1960 Datsun Fairlady SP212

E-1 
1960 Datsun Bluebird 311
1962 Datsun Bluebird 312
1964 Datsun Bluebird 410
1961 Datsun Fairlady SP213
1961 Datsun Pickup 223
1962-1965 Datsun Pickup 320
1968-1969 Datsun Cabstar A320

Engine Swaps
The Datsun J13 will bolt right up to the stock 320 transmission, the only piece you will most likely have to swap is the bellhousing adapter plate. This is the plate that is between the flywheel and the block. The E1 and the J13 have the same block bolt pattern, so the plate from the E1 will go right up to the J13 and then you can bolt up the J13 to the 320 4 speed. You may have to use the E1 flywheel and starter.
Electronic Ignition
You can use an 1978-1980 L20B Electronic Ignition distributor in your E1 engine, after the following modifications:
remove the L-series drive-end and put the E1 drivegear on the L20B distributor
modify the hold-down bracket by making the adjustment slot wider
Remove and re-index the distributor drive gear (which is in the engine block)
Grille Comparo
1955 120 brochure☁

1956 122

1957 123 - round parking lamps

1958 124 - no parking lamps on front

1958 220 - small parking lamps on front, fender-top blinkers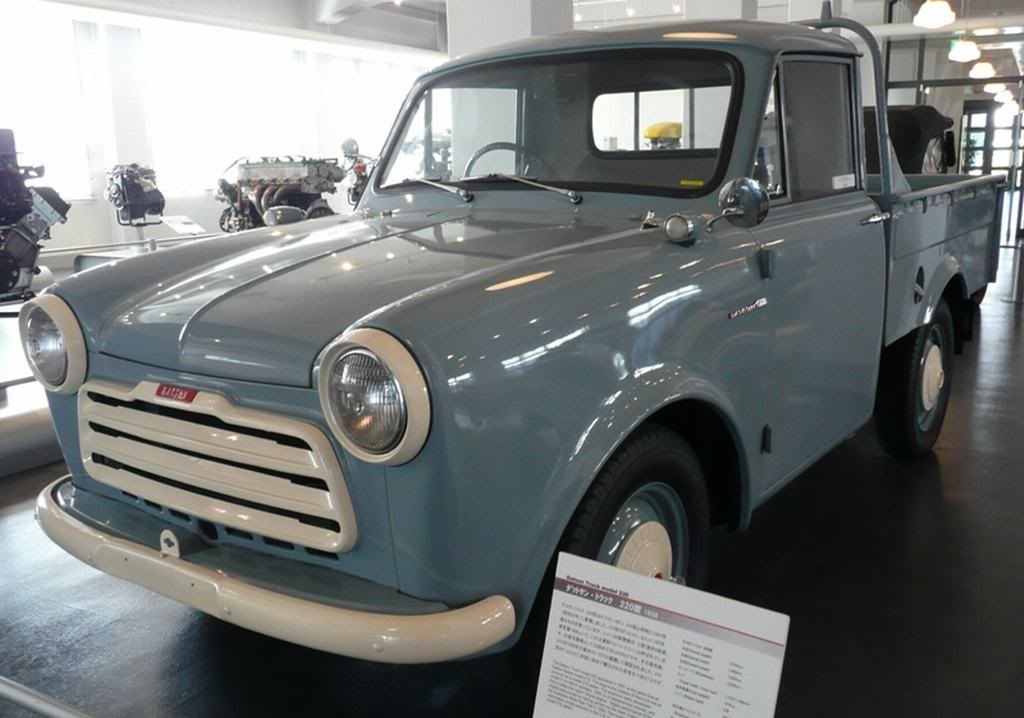 1959 125 - round parking lamps

1959 221 early - truck grille (nine slot)

1959 U221 Double Cab Pickup

WIKI click for photo
1959 221 late - sedan grille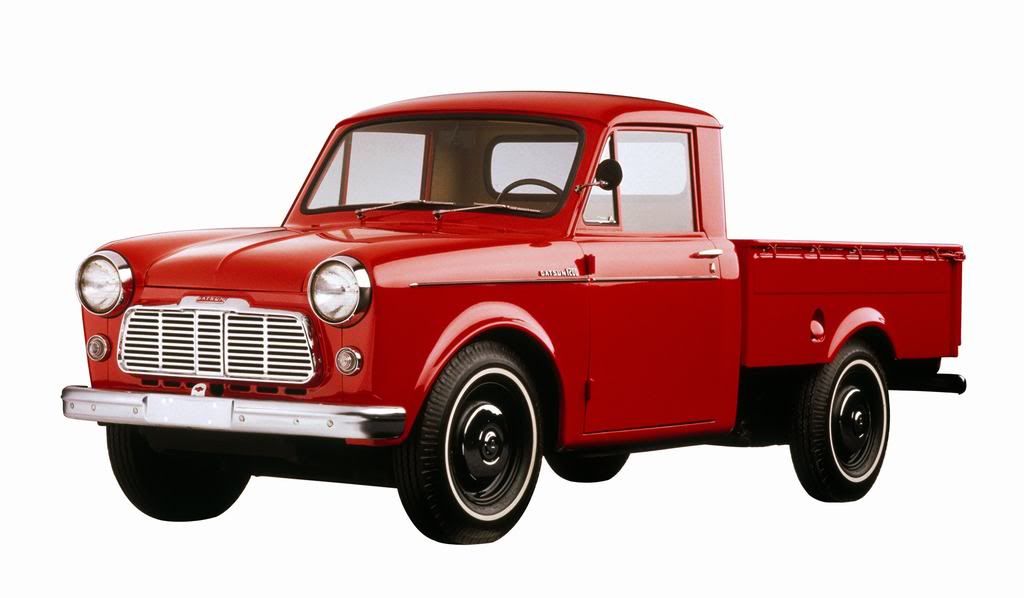 1960 126
1960 222 - no change to grille (front of bed side comes down below tires)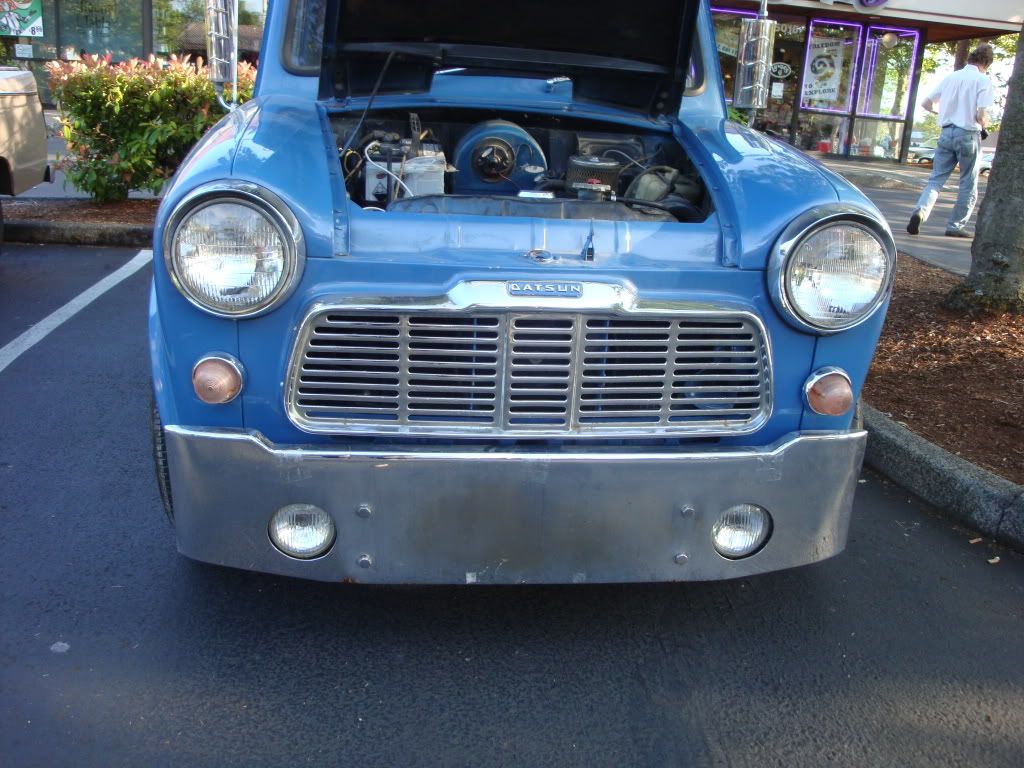 1961 223

1963 320 - D mark in center of grille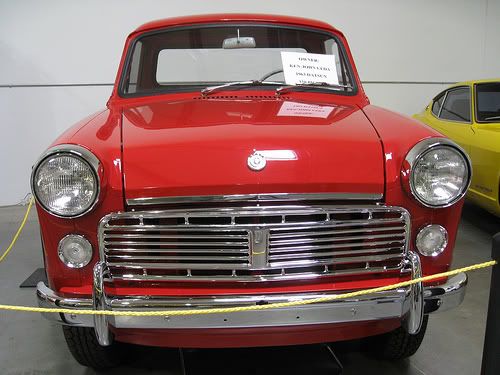 1964 - wide grille, rectanguloid parking lamps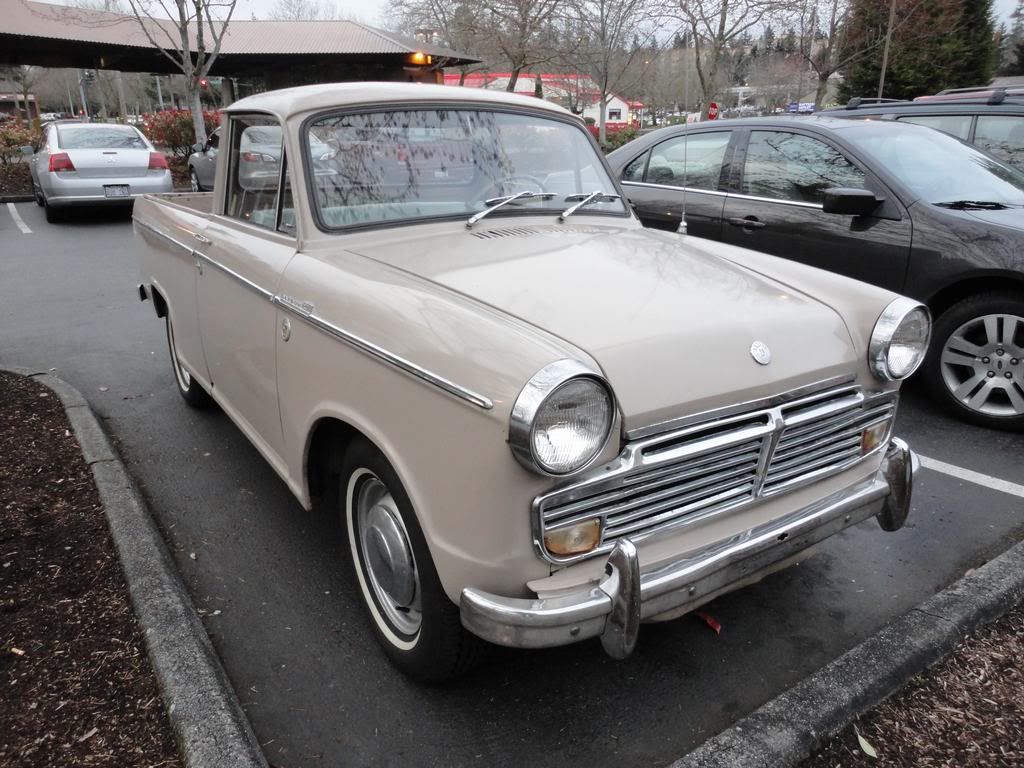 1965 - wide grille, round indicators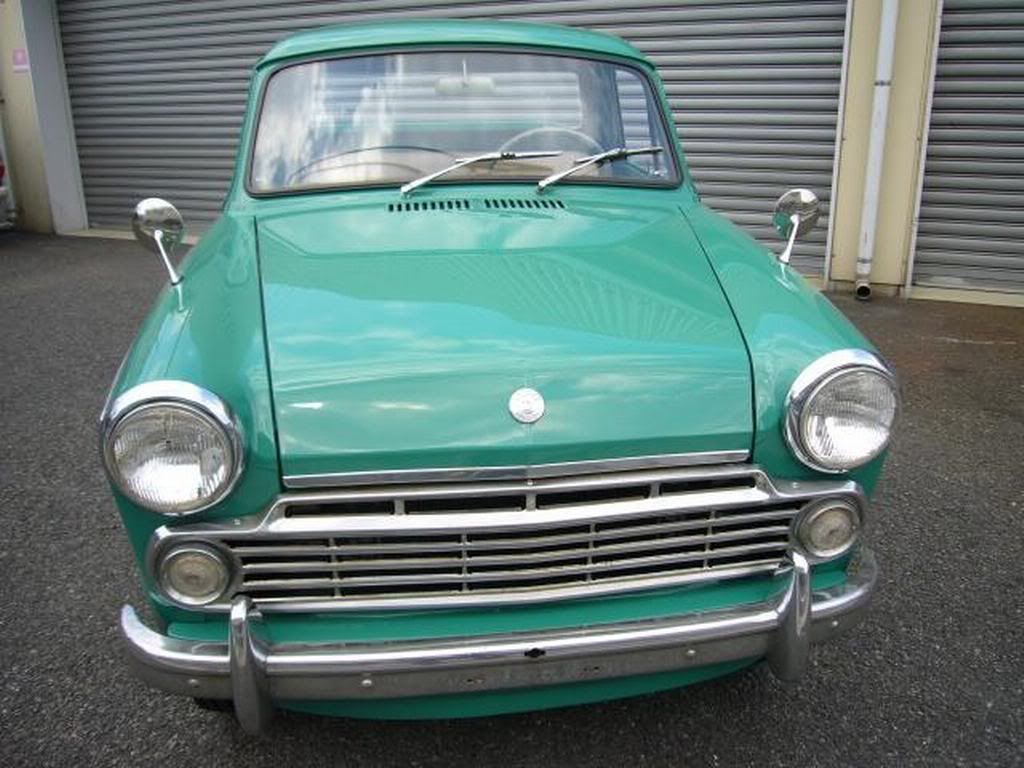 320 Truck
新鋭 55 馬力 (State-of-the-art 55 hp) "The Machine" Datsun Truck

Album click to view
Album click to view
Album click to view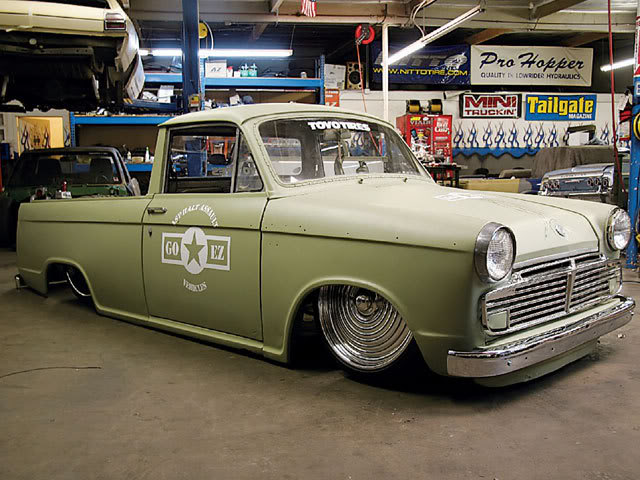 Post click for topic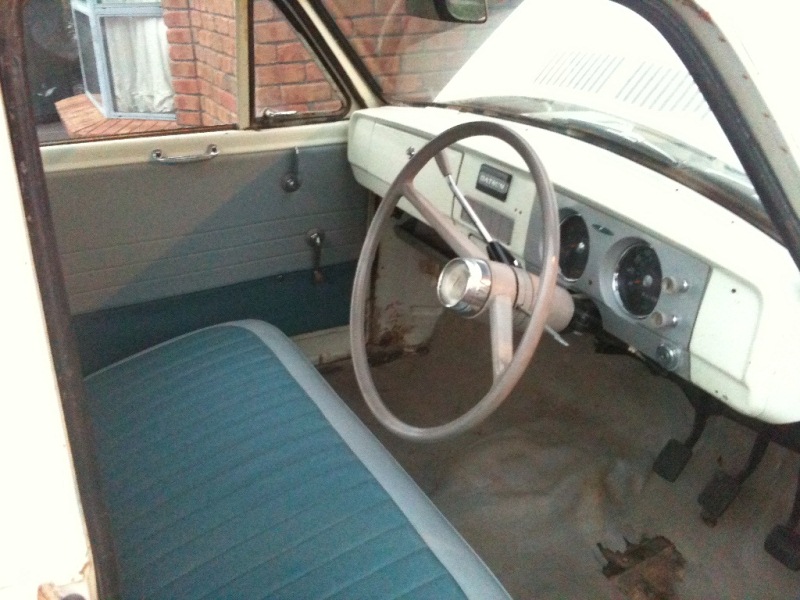 Post click for topic
Post click for topic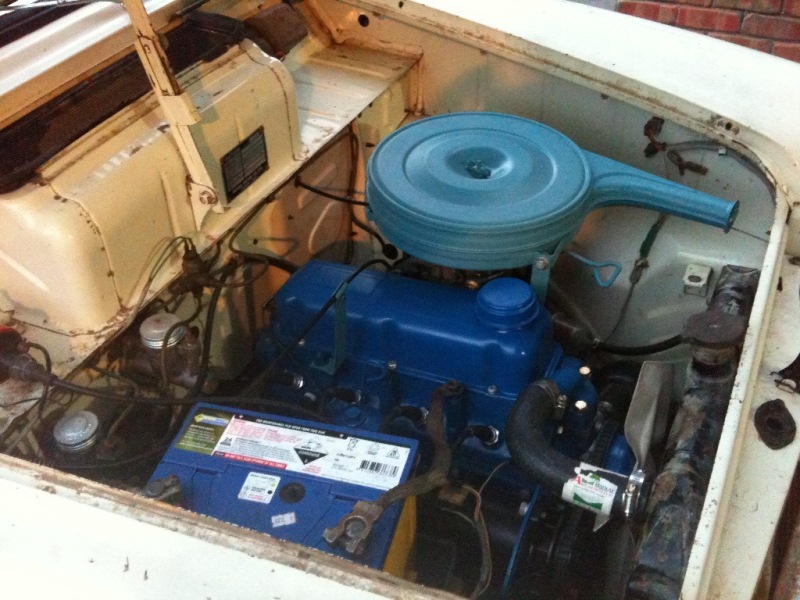 Post click for topic
Post click for topic
Post click for topic
Post click for topic
Post click for topic
Post click for topic
Post click for topic
320 Pickup
Datsun U320 double-seat Pickup (ットサン ダブル シート ピックアップ) was officially marketed as the "Pickup" and sometimes called the "double cab" in Japan.
Album click to view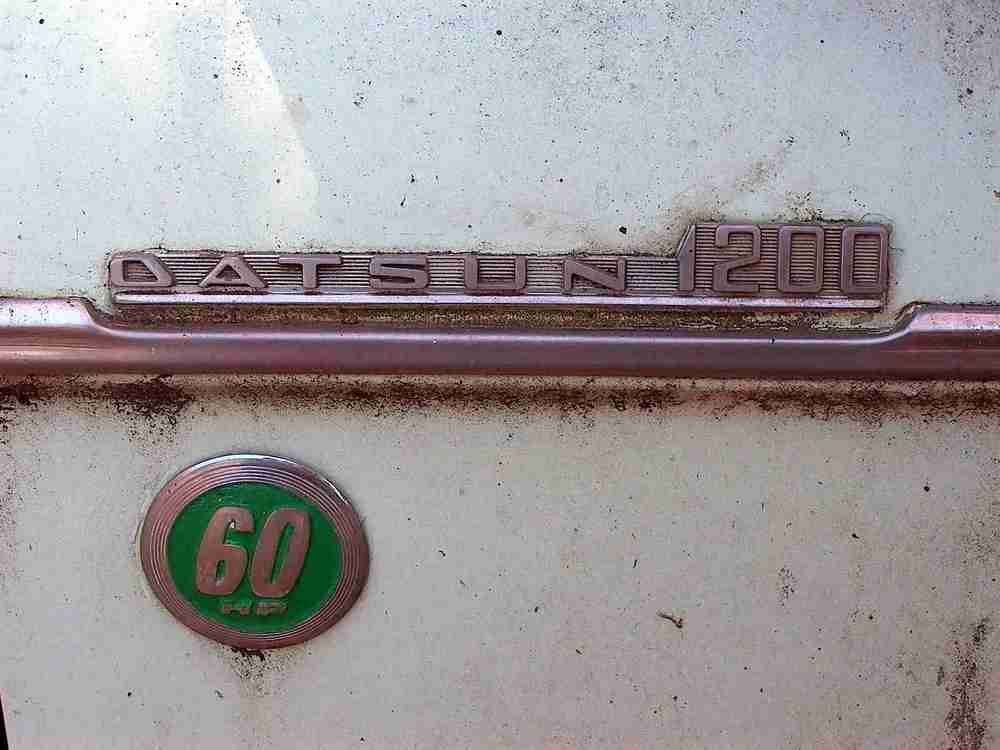 Album click to view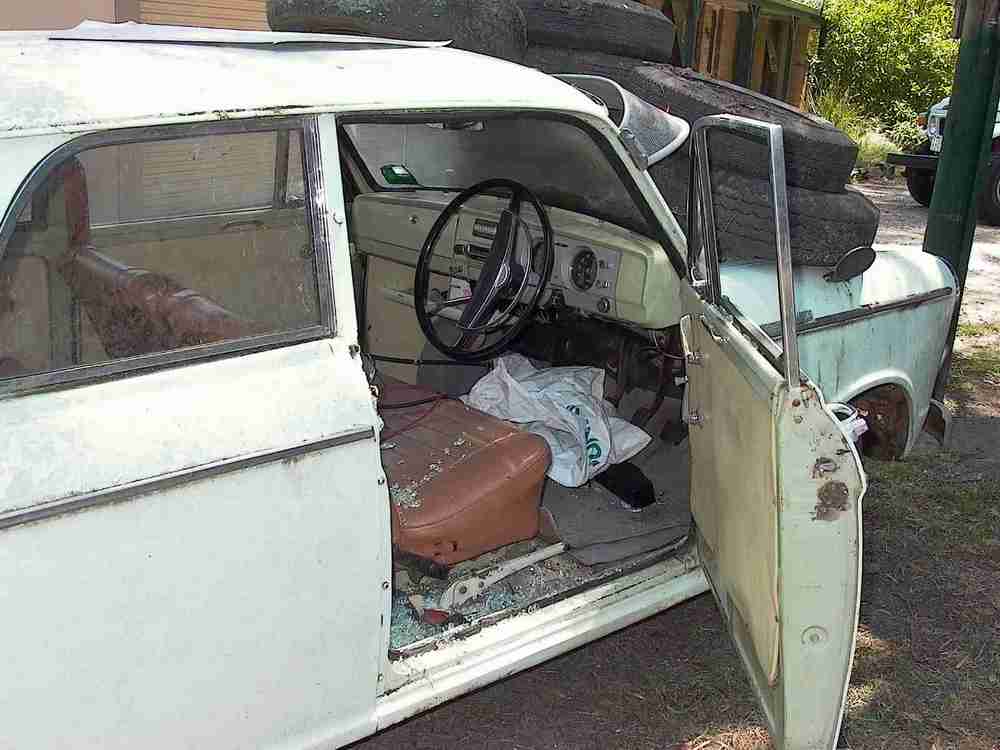 Album click to view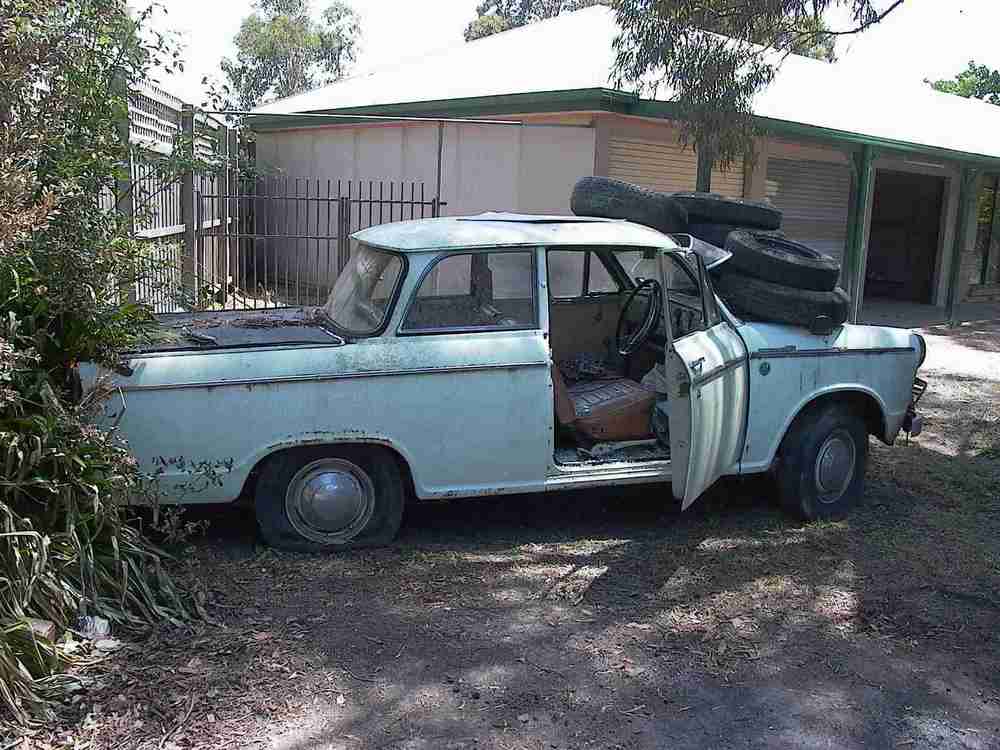 Album click to view
320 Van
V320 is called the "Van" in Japan, but "Wagon" in some countries.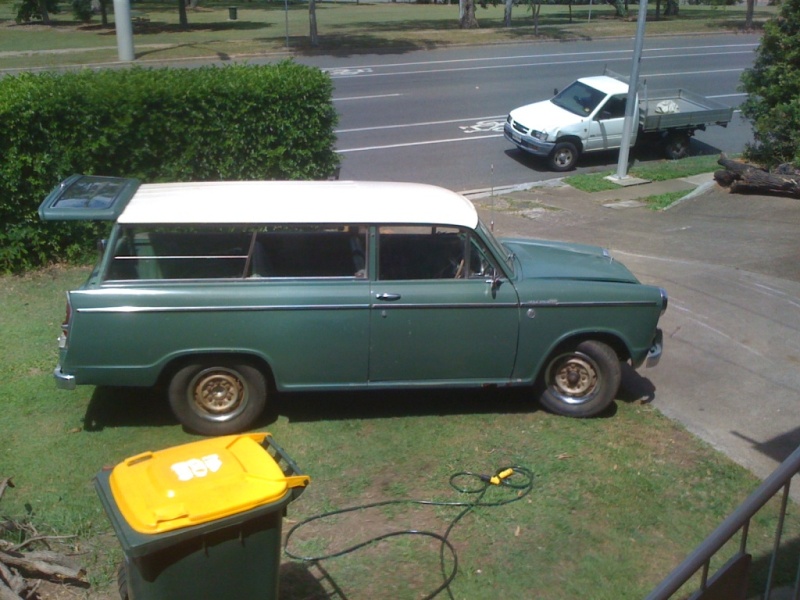 Post click for topic
320 Sports
N320 (RHD) and NL320 (LHD) Coupe Utility versions of the 320 truck were made 1963-1965.
Album click to view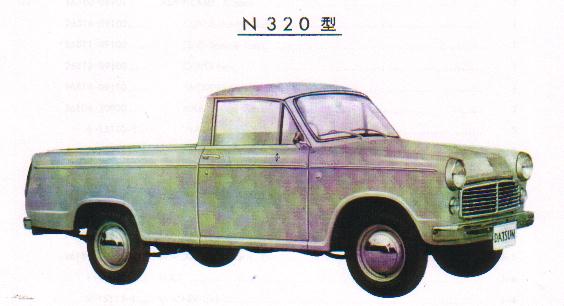 Album click to view
It has a full-frame chassis (so not a unibody) with a one-piece body with integral tray/bed.
Discussion: POST Datsun 1200 N320 Ute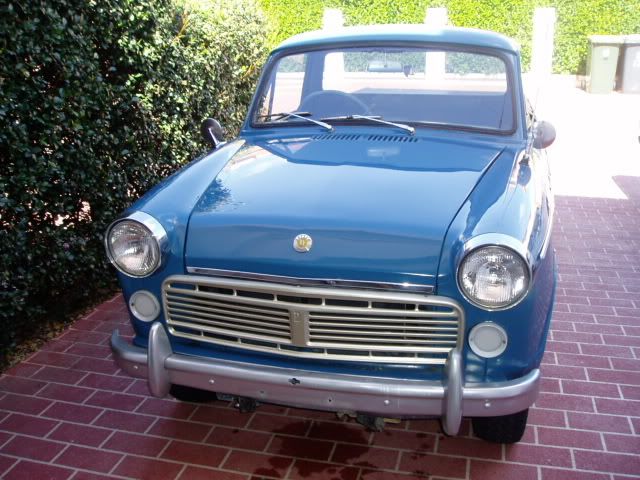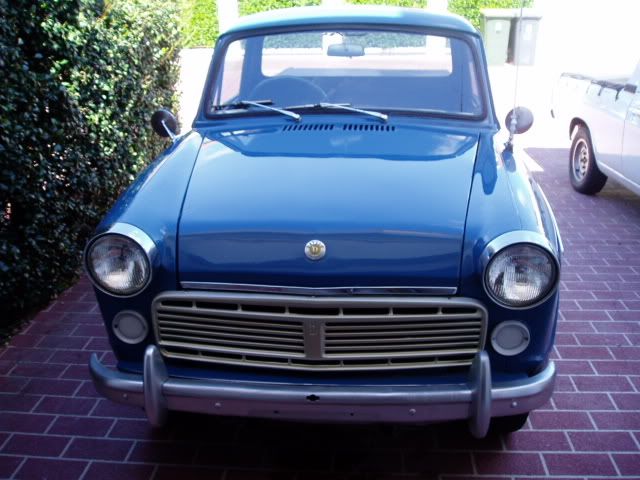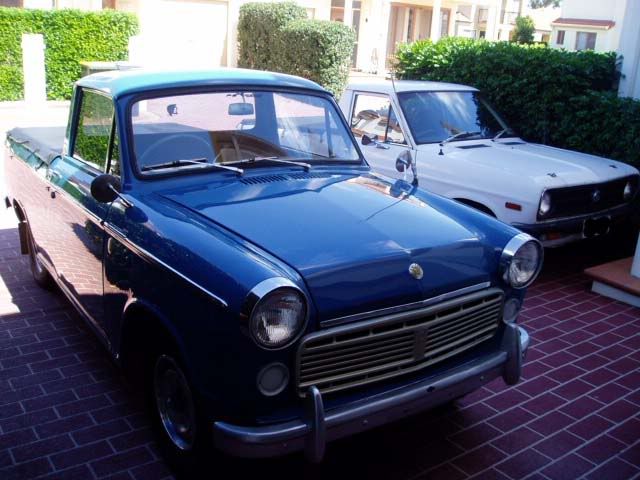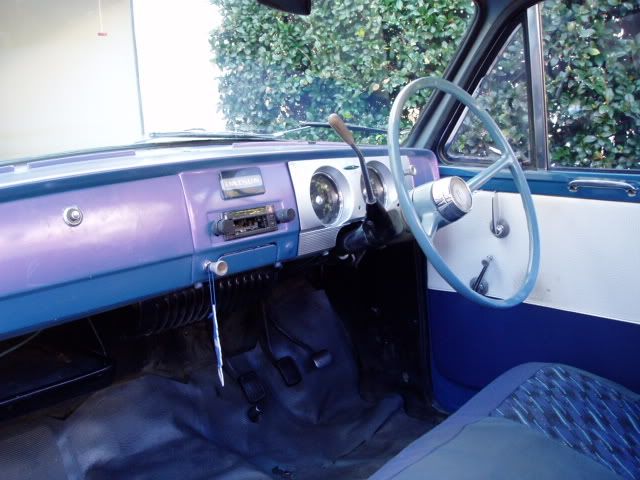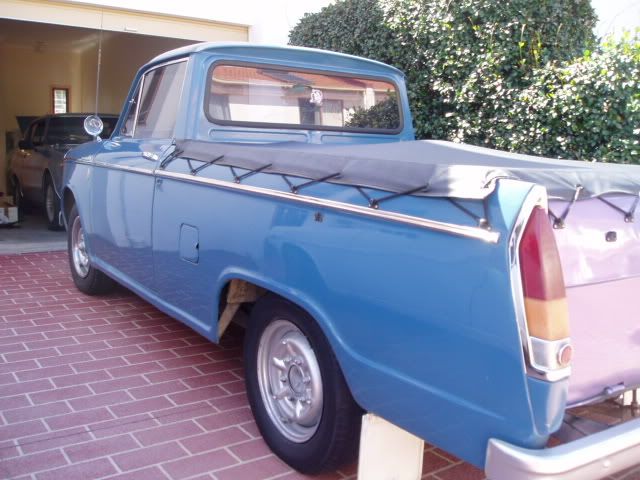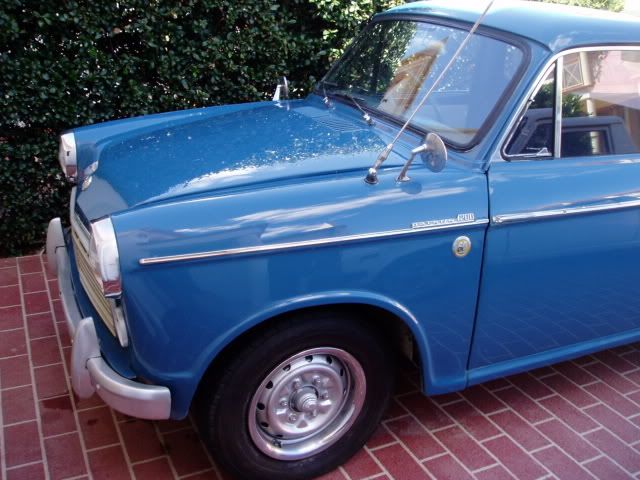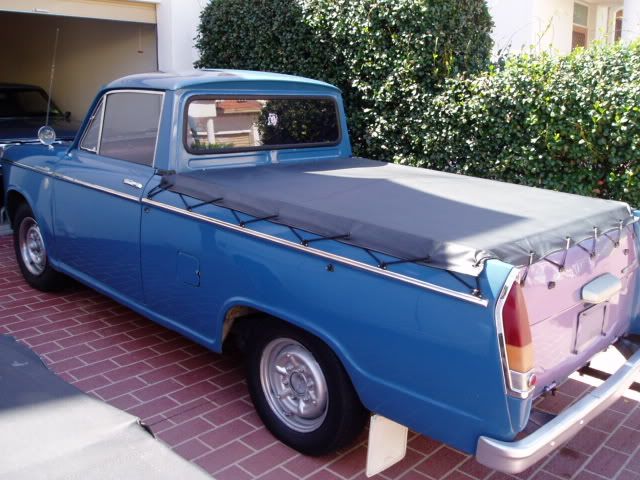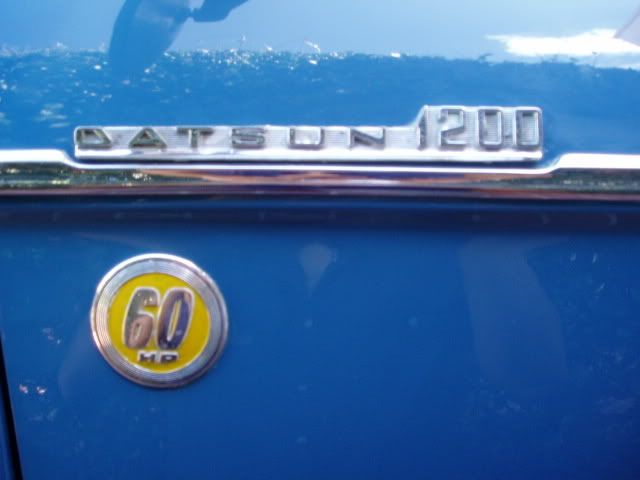 Sales
North America
320 Pickup - ~8232 sold 1961-1965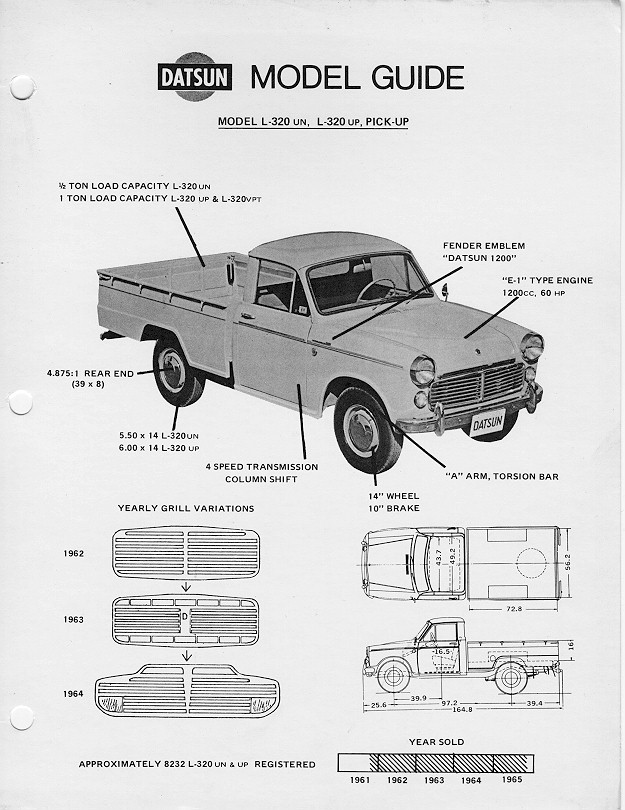 320 Sport Truck - ~1000 sold 1963-1965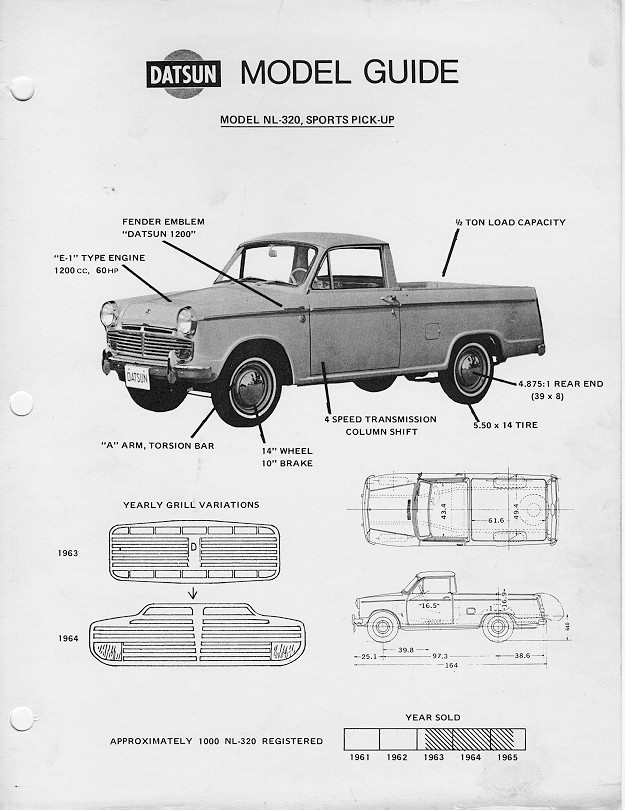 Pendles
Album click to view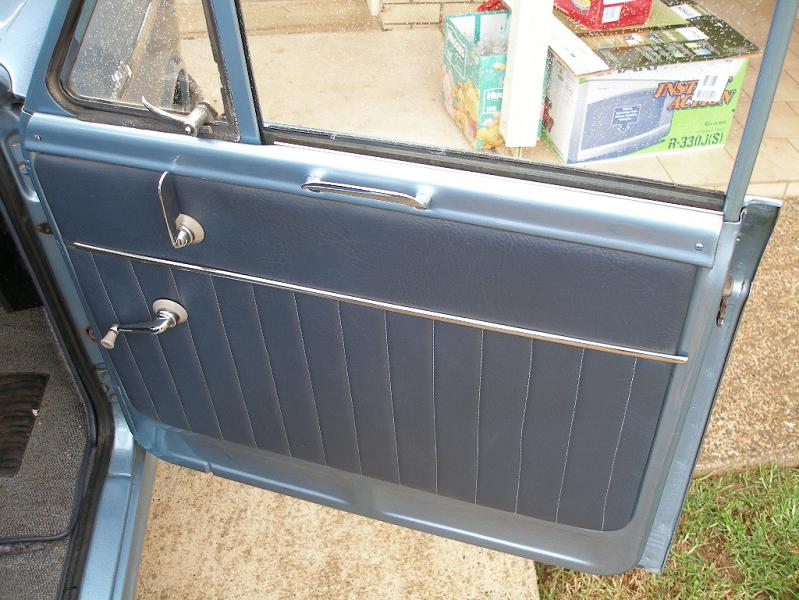 Album click to view
Bench Seat is narrower than Datsun 1200 ute

Album click to view
Album click to view
flat-tray conversion 320

Album click to view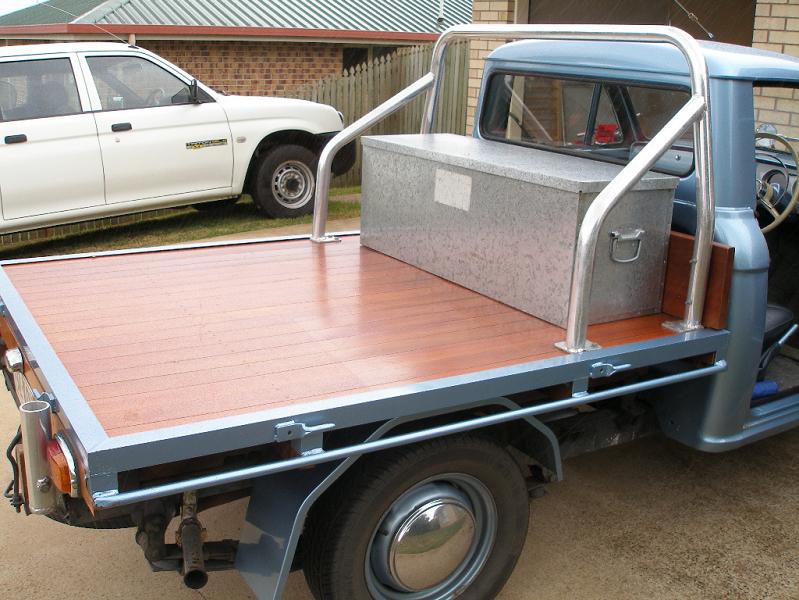 Album click to view
Album click to view
Album click to view
J15 1500 engine swapped for the old E1 "1200" engine

Album click to view
Album click to view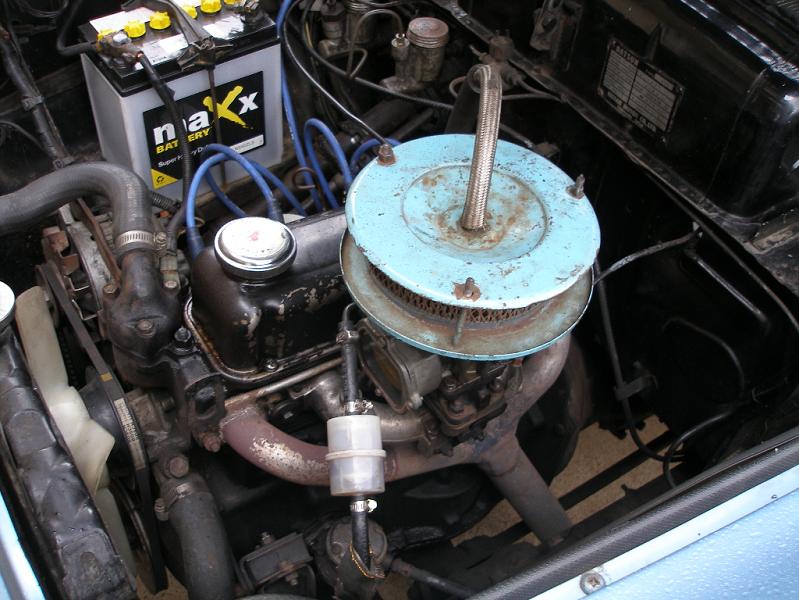 Album click to view
¤