The Datsun 1200 car was made by Nissan Nissan Motor Co., Ltd.ᵂ. Why "1200"? Because it had an engine size of approximately 1200cc. In Japan it was known as "Datsun Sunny 1200". The car was Nissan chassis code B110. It was sold in Japan 1970-1972, North America in Model years 1971-1973, New Zealand through 1974, and South Africa to 1976.
Overview
The Datsun 1200 was made by Nissan Motor Co. Ltd. It was the second generation of the Datsun Sunny.
First B110 off the line, January 1970 日産サニー2代目発売B110ᴳ

Album click to view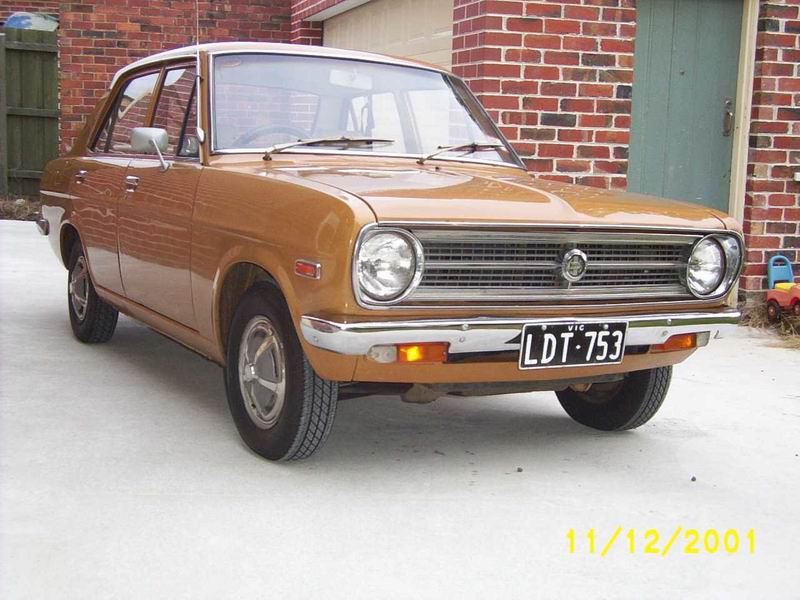 Album click to view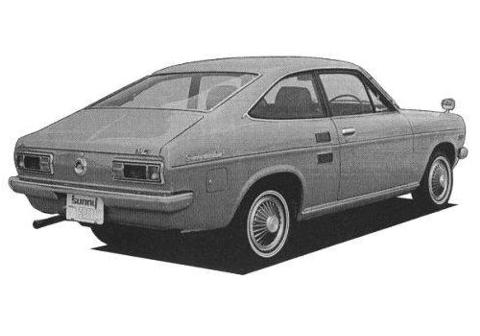 Album click to view
Datsun 1200 was produced in these Body Styles:
2-dr Coupe (fastback). See main article: KB110

2-dr Sedan. See main article: B110R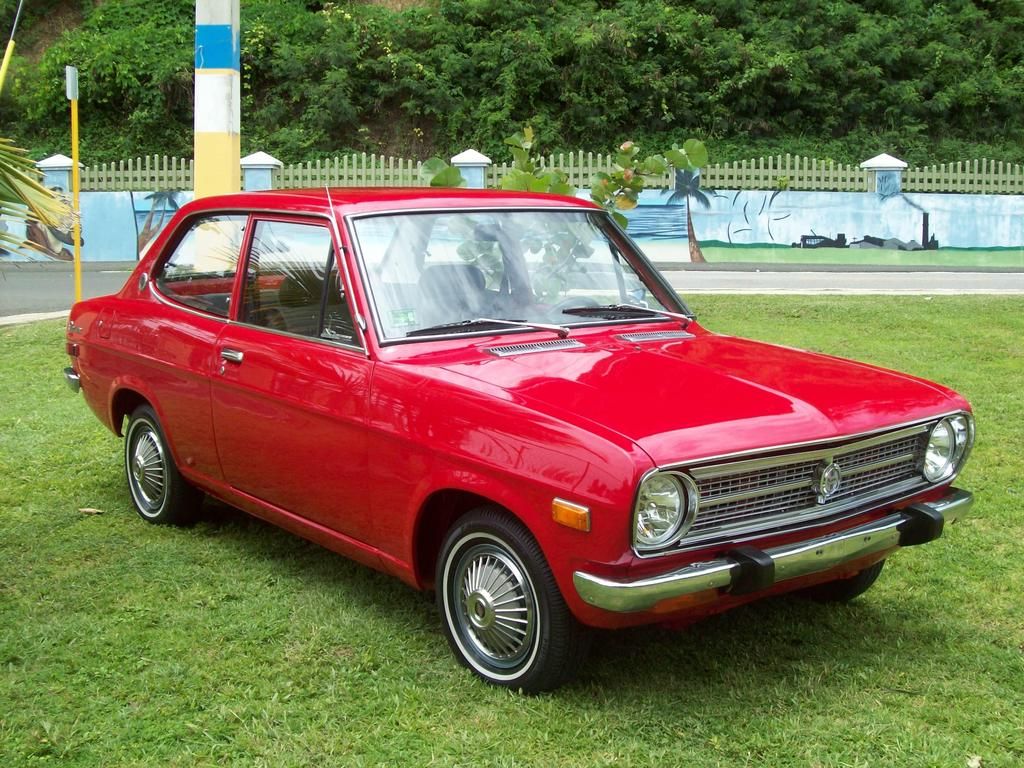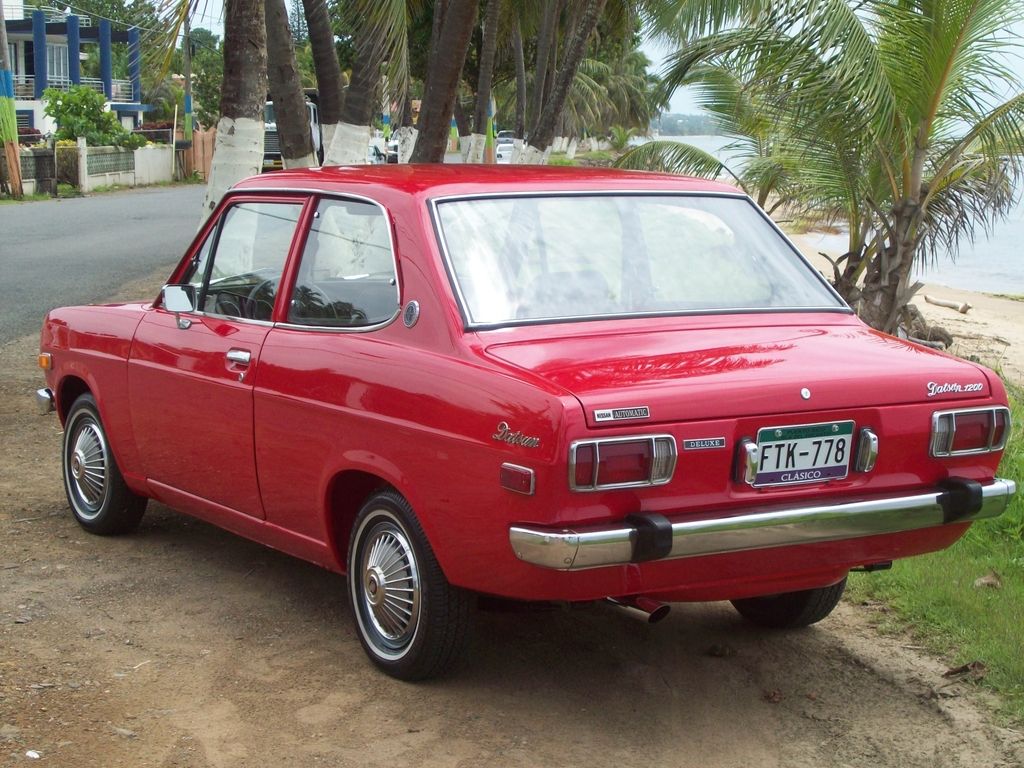 4-dr Sedan. See main article: 4-door sedan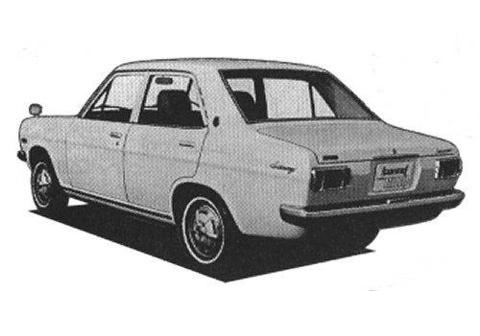 2-dr Wagon/Van. See main article: VB110R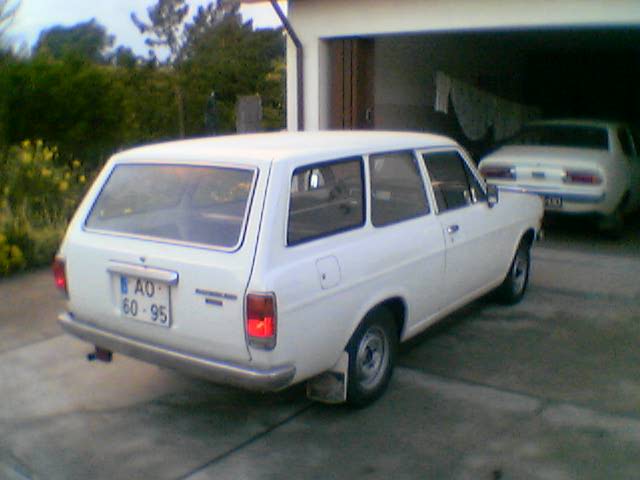 4-dr Wagon/Van (a.k.a. 5-dr Wagon). See main article: VB110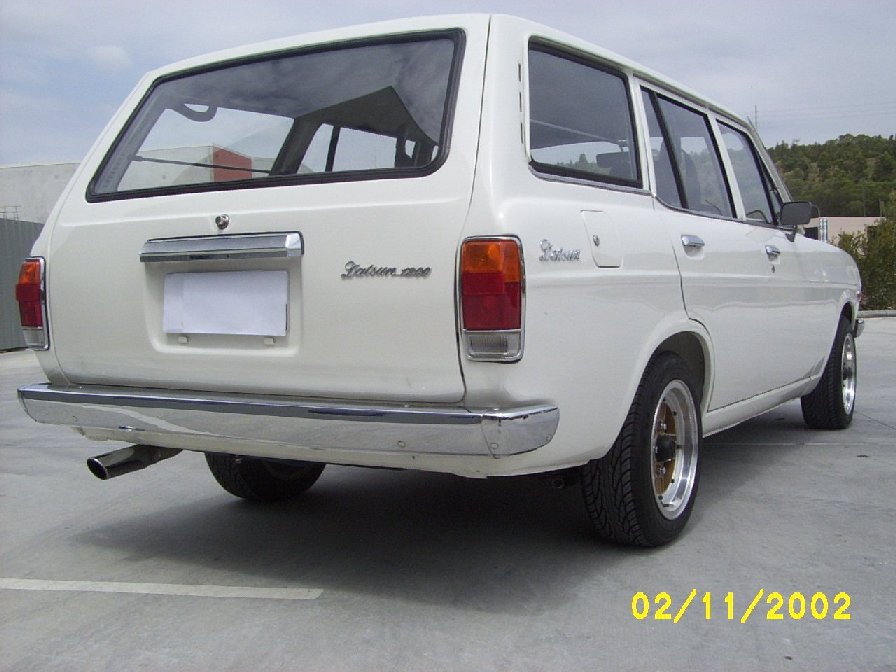 2-dr Utility (aka truck, pickup, 'ute', camioneta or bakkie). See main article: B120

Market Names: Sunny, B110, 1200
The Sunny name was chosen by a contest in 1966. 8 million entries were received and the name was announced 19 February 1966 at the Sendagaya Tokyo Metropolitan Gymnasium.
19 February 1966 presentation of Sunny car name — 1st-Generation Sunny (Datsun 1000)

Album click to view
B110 is the 2nd-generation Sunny and has different names in different markets:
* Japan & Asia markets: Datsun Sunny 1200
* Australia: Datsun 1200
* North America: Datsun 1200
* Finland: Datsun Finn

"Sunny" is the name used in Japan and some other countries for all Subcompactᵂ B-series vehicles, including:
* 1967-1970 B10 (Datsun 1000)
* 1970-1975 B110: (Datsun 1200/Sunny)
* 1973-1980 B210: (Datsun B210/120Y)
* 1971-2007 B120 and its derivatives B121/B122/GB122/B140 (Sunny trucks) 
* 1979-1982 B310: (210/Sunny/120Y/130Y/140Y/150Y)
* 1983-present front-wheel drive Nissan Sunnyᵂ (B11-B15)

Nissan's Sunny was the perennial rival for Toyota Corolla. In some years Sunny sold more, other years Corolla. Sunny was generally always a bit lighter, but Corolla had more engine options.
For a more detailed history of the Sunny family, see the History section at http://RatDat.com or Nissan Sunnyᵂ at wikipedia.org.
For a more detailed history of Nissan/Datsun, see the History section at http://www.nissanfanseite.de or Nissanᵂ at wikipedia.org.
Model Years Produced
The "Datsun 1200" line has been produced from Model year 1971 to 2007 (as the B140 variant). 1970-1973 in Japan was the regular run for the Coupe, Sedan and Wagon production.
| | |
| --- | --- |
| Datsun 1200 type | Model Years |
| Sedans, Coupes and Wagons (B110) | 1971, 1972, 1973 |
| Datsun 1200 Ute/Truck (B120) | 1971-1986 |
| Datsun Sunny Truck/ute (B122) | 1987-1994 |
| Datsun 1400/(Nissan B140) | 1980-2007 |
NOTES:
1200s were sold by Nissan New Zealand as "1974" models (assembly ended 1974 June)
South Africa: Datsun 1200 GX coupes (with twin SUs) may have been produced into 1975.
quote: Chris Snyders from South Africa says that Datsun 1200 GX coupes (with twin SUs) were locally produced in large numbers from 1972 to 1975. The Datsun 1200 4 door deluxe (2 barrel Hitachi) and the 4 door GX (SUs) were also produced. All versions came with a 4.1:1 diff ratio. Chris still has his A12, but has replaced it with an A15. Chris says that the Datsun 1200 ute (called a 'bakkie' in South Africa) were produced in South Africa from 1971 onwards. The name was changed to 120Y in 1976, and they had a slight facelift in 1982, with the engine being swapped for an A14. Since then, there have been more minor changes: 5 speed gearbox, 3.9:1 diff, higher roof, bucket seats, etc. The Nissan 1400 bakkie is still in production today, and sells at a rate of about 2500 per month.
quote:

---

...Datsun 1200s were sold in Portugal in the years 1972 - 1974. The models available were the 2-door sedan, 4-door sedan, 4-door deluxe, 4-door GX and the wagon.

---
quote:

---

... tells me that the Datsun 1200 ute was sold as a Roadstar in New Zealand upto about 1988, with an A15 and a 5 speed gearbox.

---
Another opinion: The Datsun 1200 truck or utility (ute) was sold as the Roadstar and Sportstar in New Zealand from 1981 to 1983, with the A12 and 4 speed gearbox.
1972 Minor Facelift
In 1972, Japan Domestic Market models received a minor facelift. It was given a facelift with new taillights, grille & trim on the sedan & new dash & interiors on both the Coupe & Sedan. Note that the new hood, commonly called a "GX" hood, was actually used for all trim, including Deluxe, GL, GX and apparently Standard too.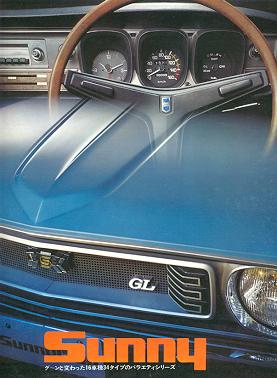 Sunny Model Line
The "Sunny" models started in 1966 with the B10 "Datsun Sunny 1000". The "Sunny" name was a trademark owned by Sony, so Nissan had to make a deal to get access to the name. Why go to all the trouble? Because "Sunny" was picked by consumers in a Japan-wide contest!
Quote: 1966 was also the year that the very first Datsun Sunny arrived. The B10 model was a simple but well engineered car that was received well in both home and export markets. It provided just the right combination of comfort, performance and economy for a small car and in Japan heralded the beginning of what was to be known as the "my car" era, a time when everybody could have their own personal car. The name "Sunny" was actually chosen by the general public after Nissan ran newspaper ads inviting people to name the new model to be launched soon. Nissan received nearly eight and a half million reply postcards in a month! The name Sunny was finally chosen because it fitted the cars image of "bright, lively and youthful".
Next came a larger model, all the better to compete with Corolla:
Quote:

---

B110 - January 1970 Commonly known as the Datsun 1200, this was the second generation Sunny in Japan. The new Sunny sported MacPherson strut front suspension and the A series engine had grown to 1171cc. The body had attractive, simple styling and the car was a great sucess worldwide. the B110 range included both two and four door sedans, a coupe and a wagon. The wagon actually came in three versions ...a standard four door wagon, a two door wagon and a van (although the latter only in a few countries). The van version had the rearmost side windows panneled in and was based on the three door wagon. The B110 always came with the A12 engine and although there were many different specifications the cars remained relatively unchanged throughout production. Initially in Japan, the cars could be had in Standard, GL and Deluxe trim and then in April 1970 the GX models were introduced with higher specification trim and black back panels and a broad stripe down the side. In January 1972 the GL and GX cars recieved a redesigned hood as well as new grilles and tail lights. The last B110 version intoduced was the GX-5 which arrived in August 1972. The GX-5 had improved interiors, sports stripes and most importantly a five speed transmittion. The GX-5 is the most sought after model these days and can command high prices.

---
The biggest change was to front-wheel-drive starting in 1983 with the B12 model. Regular Sunny Production ended in Japan in September 2004 with the last model, the B15 (Sunny Super Saloon). Sunny production continues in Mexico with the B12 "Tsuru" Sentra. The last model sold in USA was the B14 Sentra with QR25DE power. The replacement is the Tiida (called Versa in USA).
NOTE: Since the focus of this Encyclopedia in on Datsun 1200, 
we won't discuss its front-wheel-drive descendents in very much detail.

The "Datsun 1200" production continued with a truck form in South Africa -- with 1400cc power -- and so is Nissan chassis code Nissan B140, named the Nissan 1400 LDV but commonly called the "Nissan bakkie". Production of the LDV stopped in November 2007.
The Sunny line in Japan was part of the Nissan Service Line (日産 サ行). The Service Line dealers got the Sunny, Sunny Truck, Silvia, Skyline and other models. The Vanette and Pulsar however was sold by the Line C (日産 ハ行) dealers.
Sunny Excellent (PB110)
Quote: PB110 - April 1971 In addition to the standard Datsun Sunny B110 there was also a different L series engined version. This model came a year after the A series cars and consisted of four door sedans and coupes with revised styling and L14 engines. These were sold as the "Sunny Excellent" in Japan and are readily identified by the presence of side marker lights mounted in the front edge of the fenders. Three main specifications were available, GL, GX and Deluxe. All models feature different interiors to the normal B110 sold worldwide and have unique grilles and tail lights.
For more information on the PB110, see the PB110 Excellent Series article.
Racing History
For more information on Datsun 1200 racing history, see the B110 Racing History in Japan article.
Local Production
Australia
New Zealand
Knock-down sedans were assembled in New Zealand starting 1970 August June by Nissan Motor Distributors (NZ) Ltd. Assembly continued until 1974. Wagon production commenced 1972 September. Assembly started at Campbell Industries in Thames and the wagon was in Waitara. Also a plant in Mt Roskill, Auckland was used for the last few months.
South Africa
Key Dates
1970 Jan production begins
1970 Apr GX models debut
1971 Feb 1200 pickup B120 debut
1971 Apr Sunny Excellent (PB110) 4-door debuts
1972 Jan "minor change" (Facelift)
1972 Aug GX-5 model added
1972 Oct Nissan Rotary engined Sunny shown at Tokyo Motor Show
1973 Mar B110 production ends (B120 pickup production continues)
1987 Production of B120 camioneta begins in Ecuador
1994 Mar Sunny 1200 pickup production ends
1999 Ecuador Production of B120 ends
2007 Nov B140 pickup production ends in South Africa
Sales Dates
Japan
Japan Sales starting
B10: April 1966 (1967 model) a.k.a. Datsun 1000
B110: January 1970 (1971 model) a.k.a. Datsun 1200
B210: May 1973 (1974 model) a.k.a 120Y or "B-210" (US)
B310: October 1977 (1978 model) a.k.a Sunny (Australia) or 210 (US)
B11: October 1981 (1981 model) a.k.a. Sentra fwd Sunny
Reference: Sunny Model Changes: Nissan Japan document Ff_fy01e14.pdf
North America
1970 Apr 1: Nissan announces plans to import 2000 Datsun 1200s starting in June to USA, with shipments to Canada in May. Sales will start in September.
1970 June 30: First advertisement appears in Canada newspaper billing the 1200 the "first of the '71s" at $1925 CDN and inviting test drives.
1970 July 14: models will appear in USA dealerships "after August 1st"
1970 August 23: "Introducing the Li'l Something Datsun 1200" 2-door Sedan newspaper advertisements appear
1970 August 28: "See these 1200's at your nearby Southern California Datsun Dealer"
1970 August 30: 1200 "On display" at Ocala Datsun Sales (Florida)
1970 September 9, "In stock for immediate delivery the fabulous new 1971 Datsun 1200 Coupes & Sedans" -- Trencher Motors, No. Shore Ltd. Glen Cove, Long Island, New York
1970 Septemeber 24
NOTE: In some states, early models like the January 1970 1200 were registered as a "1970" or even a "1969" model. This appears to have been a determination of the government, and not of Nissan or the Datsun dealer. See Model year.
1971 October 28 1972 Datsun 1200 ads appear in newspapers
1972 December 28 ads for 1973 Datsun 1200s appear in newspapers
1973 Sep 18 EPA released B210 fuel economy results
1973 Sep 20 Datsun B-210 newspaper ads start appearing
Sales Figures
In North America (US and Canada), there were an average of 44,000 Datsun 1200s sold each year for three years.
 * Coupe: total sales 89,541 
 * 2-dr Sedan: 43,761
 * Also see: Sales

Album click to view
Album click to view
Finland (see http://www.automotiveforums.com/t11554.html)
 * standard coupe 2-door: 217 
 * 2-door: perhaps 1000

Nissan History re: Datsun 1200
For more detailed information about Nissan Motor Co., Ltd., see Nissan motorsᵂ

Nissan was incorporated in the 1934 and from day one owned the Datsun name, having inherited it from DAT. Although Nissan famously made the "Datsun Light Car", the mostly made trucks until the late 1950s (previously truck sales were the majority of the Japanese market). In the late 1970s Nissan management in all its wisdom decided to 'leverage' the Nissan name and tossed the Datsun brand name in the trashcan. The name drop was complete in 1984. There is some evidence this was a bad move ... Nissan have never recovered their status of #1.
The Datsun name was thereafter only used for a JDM line of pickup trucks, up to around 2002 or so as previous discussed here in this club.
The name "nissan" was the stock market symbol for the zaibatsu (combine) holding company's name: Nippon Sangyo (translation: Japan Industries). In 1934 Nippon Sangyo created Nissan by merging some of its holdings together. The Datsun name is earlier still, having been the "2nd gen" product of DAT Motors (the renamed Kaishinsha company), one of the two original auto manufacturers licensed in Japan in 1911.
Nissan was created by merging Tobata Casting (auto parts) with DAT Motors (car maker). At the same time DAT's factory was sold to Isuzu. DAT had earlier merged with Jitsuyo Motors which was a Kubota company. These were all small-scale companies: Jitsuyo only made 450 cars over seven years, and DAT only made 10 Datsuns in 1931-1932.
Interestingly, during WWII, Nippon Sangyo involved 74 companies including Hitachi. The "new zaibatsu" Nippon Sangyo grew so big during the war that it surpassed the traditional zaibatsus of Mitsui and Mitsubishi. Note that zaibatsus were officially dissolved after the war by the Occupation forces, but ties between related companies still survive. Hence Nissan still relies heavily on Hitachi parts, while Toyota favors Nippon Denso.
The Prince merger in 1966 was the partial result of Japanese government encouragment of mergers in the auto industry in the 1960s. However, this was the only merger that occured due to that campaign. Most likely Nissan chose to merge with Prince to get access to Prince's Murayama factory, as Nissan was expanding faster than anticpated by the mid-60s and even though they had just opened the state-of-the art Zama factory, they needed even more capacity to fulfill the demand of Datsun sales.
One other fascinating fact is how Nissan invested in Fuji Heavy Industries stock. In turn this led to the assembly of Datsun 1200s in the Subaru factory. It is well known that the B10s (Datsun 1000s) were made in Nissan's Zama plant, but "beginning in 1970", 100,000 Sunnys were made in Fuji factories (plant code F).
¤