Datsun 1200 came with an ashtray in the center of the dashboard below the ventilator controls. Rear passenger ash trays were an Option.
Front
ashtrayᴵ
サニー B110 アッシュトレイᴵ

The front ash tray is named the "Instrument Panel Ash Tray".


Interior Colors
Black 1970-1978 96500-H1000
Blue  96500-H2600 PB110 GL option
Brown 96500-H2700 PBB10 GX option
Brown 96500-G1060 1978.04 to 1989.10
Gray  96500-95W00 1989.10 to 1994.3
NOTE: Sedan, Coupe, Van, Truck same part number
      including 1972 facelift models and PB110
fixing ash tray
08510-70112 SCREW 3
08915-43710 WASHER-plain 1
08913-10710 NUT-lock 3

The tray may be re-colored with vinyl spray paint.

Album click to view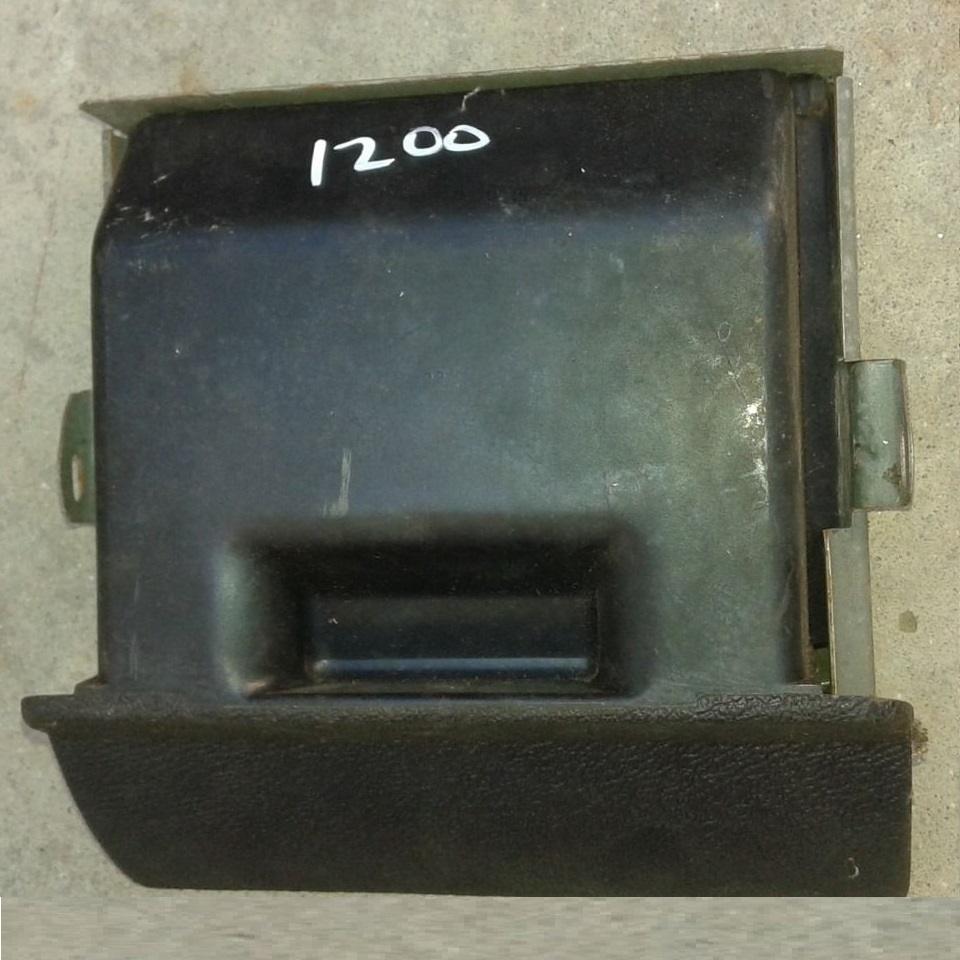 Post click for topic
Post click for topic
Post click for topic
PB110 Sunny Excellent 1400


New
Buy from Bprojects
B210
B210 front ash tray looks similar. However, the upper piece is very different.
B110 two side-fastening screws
B210 two front-fastening screws

Album click to view
26738A 26261-89905 BULB 7702- FOR ASHTRAY LAMP
68196  68425-H7416 BRACKET A 7702- FOR ASH TRAY
68425C 68425-H5000 GROMMET-SCREW
96501 ASHTRAY-INSTRUMENT
 96500-H5000 BLACK -7701
 96500-H5900 GB211 (Brown)
 96500-H7400 Black 1977.2-
 96500-H7401 Black 1977.2- with Illumination
 96500-H7900 Brown 1977.2- with Illumination GB211
96501A 01451-00191 SCREW 3

Rear
Deluxe B110s came with one of these in the back seat area (below the side window). Two are fitted — one on each side — except for STD sedan and STD van 4-door which only have one. B210 & B310 used the same ashtrays.
Album click to view
96502-H1001 ASSY-ASH TRAY, REAR 2 (1 STD, except Van 2-door)
* B110, including PB110
* B210
* B310
08520-51210 SCREW (fixing ash tray, one per ashtray)

The same rear ashtrays were used by Sedan, Coupe and Van.
These were fitted to the interior side trim (2-door sedan, 2-door coupe) or to the rear door cards (4-door models).
4-door sedan - rear door card (ドア内張)


cards
2-door sedan - rear inside trim


2-door coupe

アッシュトレイ
¤