Drum brakes require periodic adjustment for optimal braking performance. Disc brakes require no adjusting.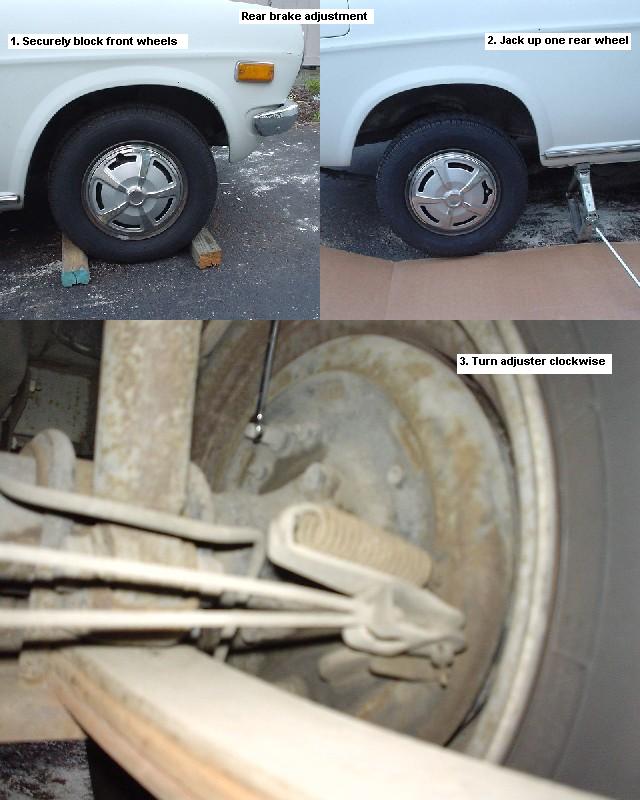 Album click to view
Master Cylinder
See Brake master cylinder for adjustment procedure.
Drum Brakes
Whether you have a 1200 with front disc brakes, or drums all around, keeping the drum adjusted is key. All-drum 1200s stop amazingly well if they are adjusted correctly -- nearly as well as disc brakes. If you keep them adjusted periodically the pedal will be high and tight and stop hard and fast with a minimum of pedal travel.
See main article: Drum Brake Adjustment

Hand Brake
Adjust the emergency hand brake after adjusting the rear drum brakes.
Underneath the vehicle, the cable has an adustable turnbuckle. This is the only adjustment point for the hand brake. Tighten the cable until the handbrake lever can only be pulled to the sixth click with 30 pounds of pull (moderate force).
When the lever can be pulled to the tenth click, it is time to readjust it.
Loosen the locknut (3), turn the buckle (2) to tighten the cable. Then tighten the lock nut.

Album click to view
¤