Caliper for disc Brakes.
Overview
Calipers are used with disc brakes. Datsun B110, B210 and B310 used floating two-piston ANETTE types. These were designed by Lucas Girling which designed the Anette, Babette and Colette series.
1969 Annette: Fixed twin-piston with floating caliper (yoke type), as used by B110/B210/B310
1974 Colette: Single-sided (fist type) floating caliper as typified by S13 Brakes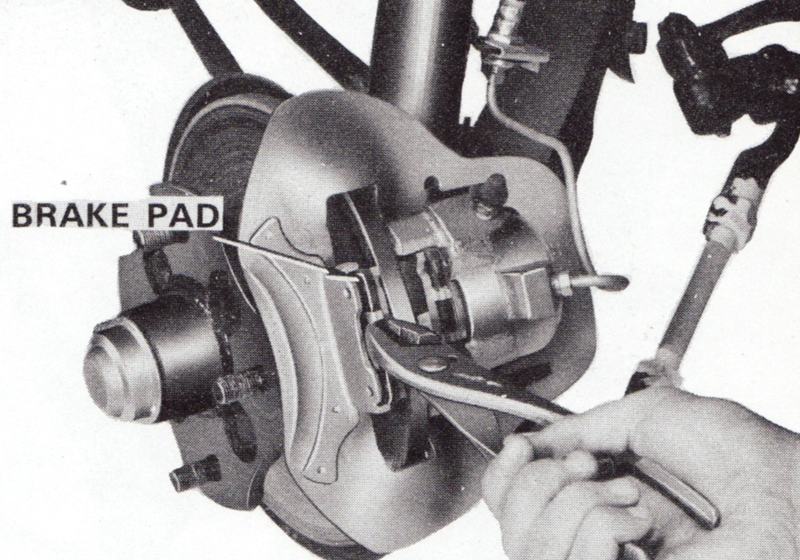 Album click to view
Type
B110: ANNET 12/14A (1.894" cylinder inner diameter)
B310 small: AN-18 (1.894" cylinder inner diameter)
B310 large: Disc-AN20 (2.012" cylinder inner diameter)

Caliper bolt spacing:
84 mm: B110
* and all 12" wheel B210 and B310
88.9 mm: B310 large struts for 13" wheels

Sliding surfaces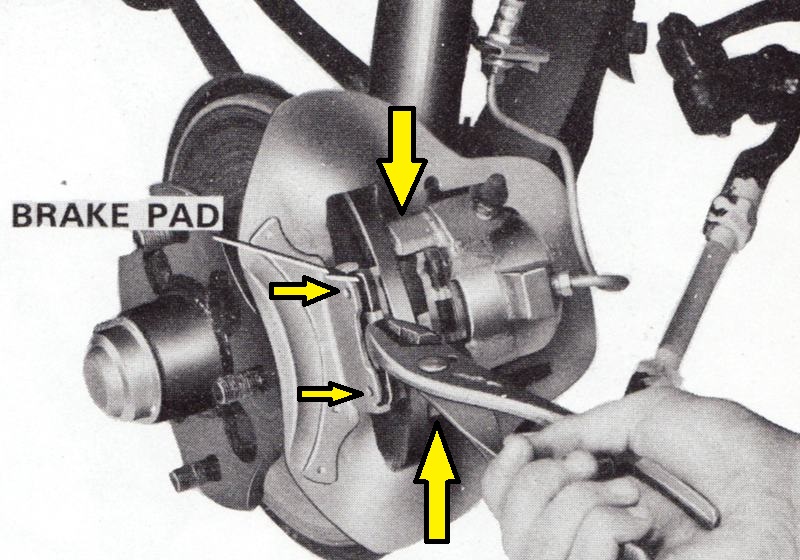 Upload click to view
Anette caliper

Upload click to view
Caliper breakdown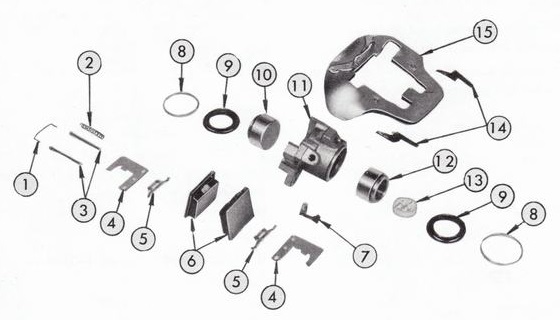 Upload click to view
1 Clip (original type instead of cotter pins) 
2 Springs
3 Clevis Pins, pad-retaining
4 Shim, anti-rattle
5 Hanger spring (anti-rattle Clip)
6 Brake pads
7 Air bleeder
8 Retaining ring
9 Boot, dust
10 Piston B
11 Cylinder block (caliper body)
12 Piston A
13 Bias spring (plastic block)
14 Yoke spring
15 Yoke (caliper plate)

ANNET 12/14A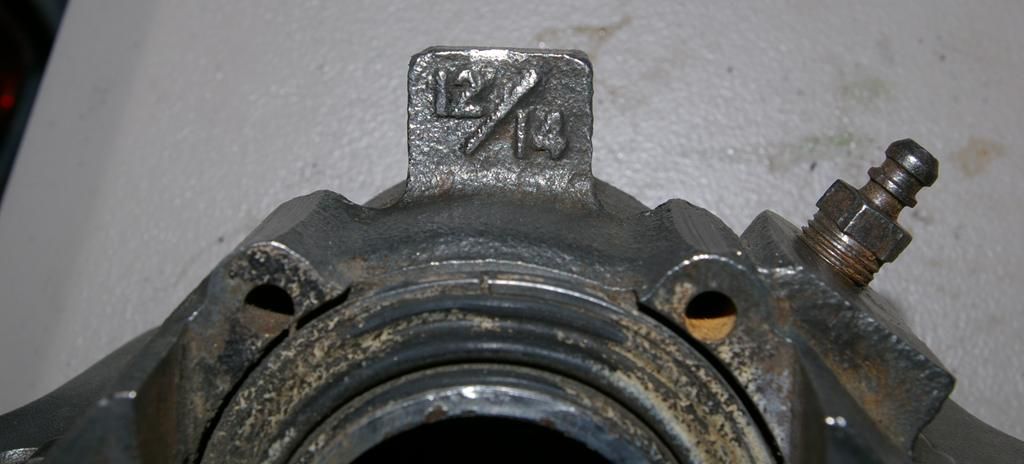 Right & Left differ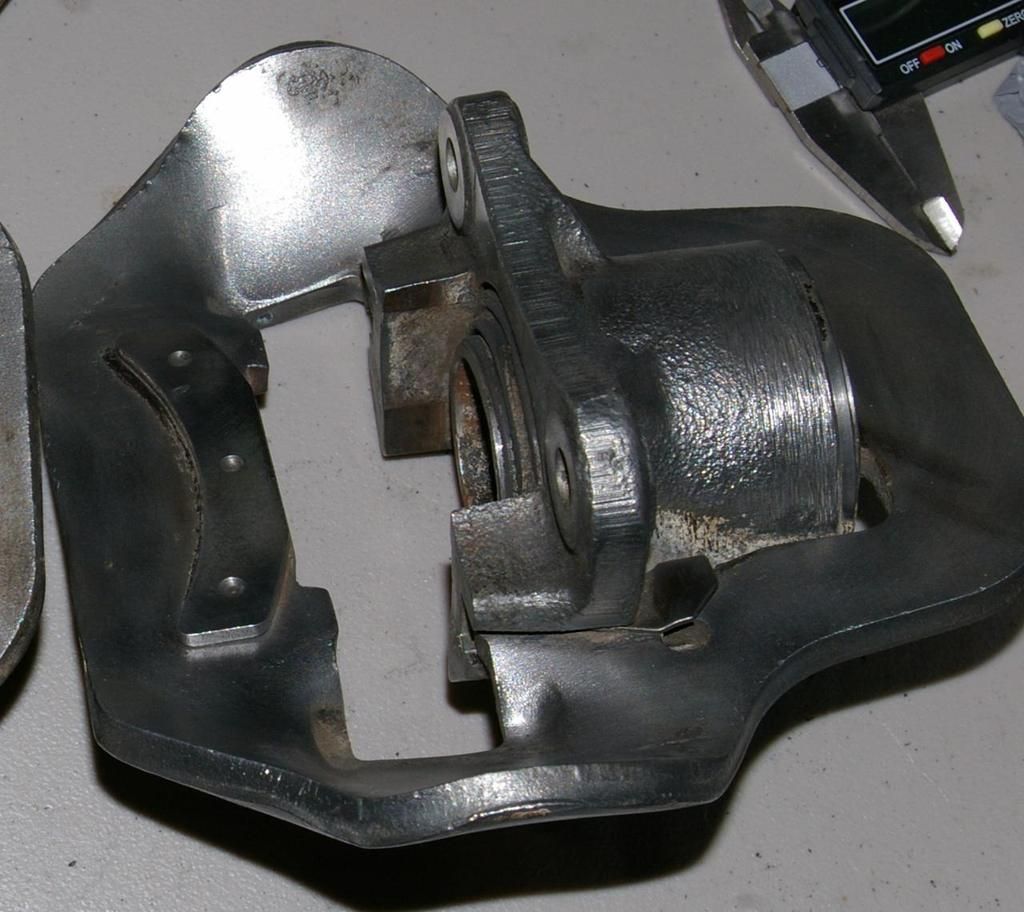 Yoke markings: 7 & E17, F15 (uknown as to what this means)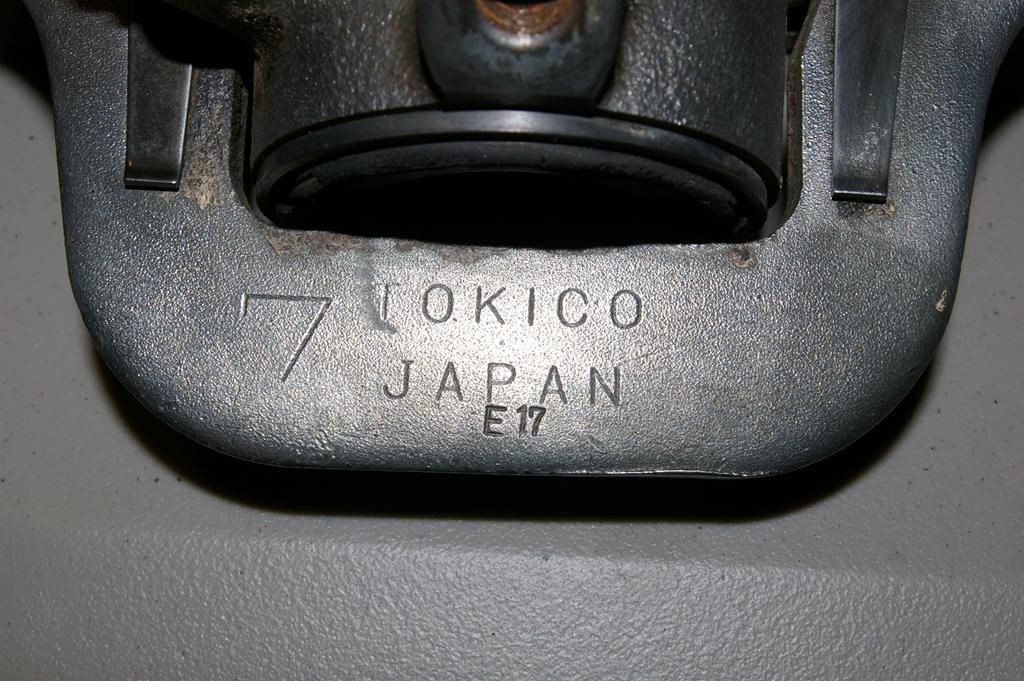 Album click to view
Hardware Kit
When changing the brake pads, the old hardware can usually be re-used. But if the anti-squeal shims are missing or the springs damage, new ones can be purchased.
A disc brake "hardware kit" includes all the small parts (although individual parts are also available at parts stores).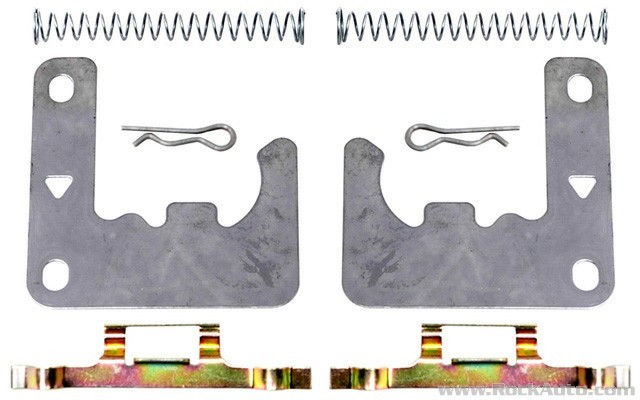 * BENDIX H5564
* EIS H155242
* RAYBESTOS H155242 (dual kit)
* RAYBESTOS H15524 (single kit)
* LEE MANUFACTURING 15524
* KELSEY-HAYES HK956
* WAGNER F96607
* CARLSON 13114
* CENTRIC 11742027
* DORMAN HW13114

Some kits are dual (does both front brakes) other kits you need two of them.
The Wagner kit additionally includes new yoke springs, so you don't have to clean the old ones to make sure the Yoke (caliper plate) slides smoothly.
Nissan small hardware parts
* fits B110 and 120Y with Japan caliper
41040-H1005 SPRING-yoke (2)
41041-H1005 SPRING-yoke (2)
41084-H1005 SHIM [anti-squeal] (4) <> 41084-M6800
41080-H1005 SPRING-hanger [anti-rattle clip] (4)
41217-28500 PIN [retaining pads] (4)
41206-H1005 SPRING-coil [for pins] (4)
41049-H1005 CLIP [retaining wire for pins] (2)

Removal
To remove the caliper, the POST strut must be rotated a little.
Loose the bottom caliper bolt
Remove the top caliper bolt and swing the caliper out slightly in order for the strut bolt to come out past the piston
loosen both strut-to-knuckle bolts just slightly
on the side where the caliper bolt won't come out, completely remove the strut-to-knuckle bolt
rotate the strut a little bit. Now the caliper bolt can be removed
B120
From 1989, Sunny Truck came standard with front disc brakes.
See main article: Sunny Truck Disc Brakes

Fist-type calipers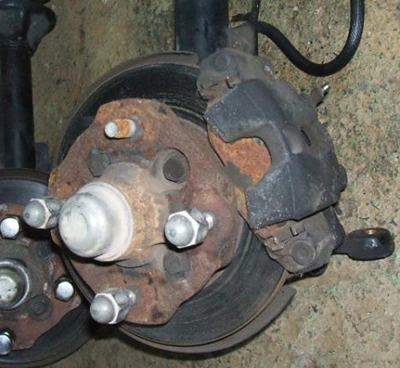 Album click to view
120Y
A12-powered B210 used three different brake systems.
PBR manufactures brake parts & spares
1930 Paton's Brake Replacements, Pty. Ltd., a Bendix agent
1947 sold to Repco Limited
1951 produced first brake booster under Bendix license
1965 produced first calipers under Dunlop license
1976 aluminum caliper under Akebono license
1983 merged with Girlock, another Repco company
1986 PBR parts Sold to BBA Group
     PBR brake service stations remained with Repco
1989 Pacific BBA launched
2013 Repco purchased by Genuine Parts Company, makers of NAPA parts

Parts
Bore Size 1.89" 
Inlet Thread M10 x 1.0
Bleeder Thread M10 x 1.0

Right: 
RAYBESTOS FRC3021 $30.79, RC3021
A-1 CARDONE 19124, 17124

Left:
RAYBESTOS FRC3022 $30.79, RC3022
A-1 CARDONE 19125, 17125

41214-H1007 RING-BIAS
Girling  29-1007 or 67932343



Caliper piston centering bias ring for indirect piston. Fit inside the front Disk Brake Pistons (inner side). Tang of Yoke fits into ring.

¤