The distributor on the Datsun 1200's A12 engine is of the traditional "points" type. A contact breakerᵂ, rather than an electronic control module, are used to switch the coil on and. off thus generating a spark. GX models with the A12GX Engine used the same type of distributor but with different advance curves.
Overview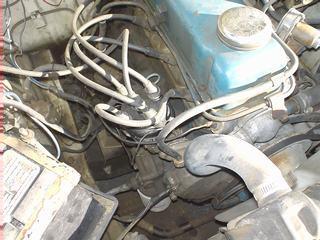 Album click to view
Distributor hole in A12 block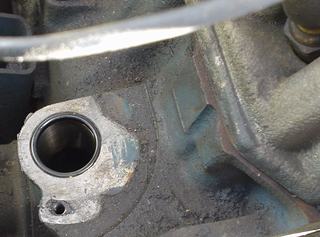 Album click to view
Points

Album click to view
Late-Model Distributor
Late-model 1200 distributor (after 1973).
Some have spade connections for 1) earth and 2) coil

Album click to view
Mitsubishi T3T distributor 22100-G6410

Album click to view
Album click to view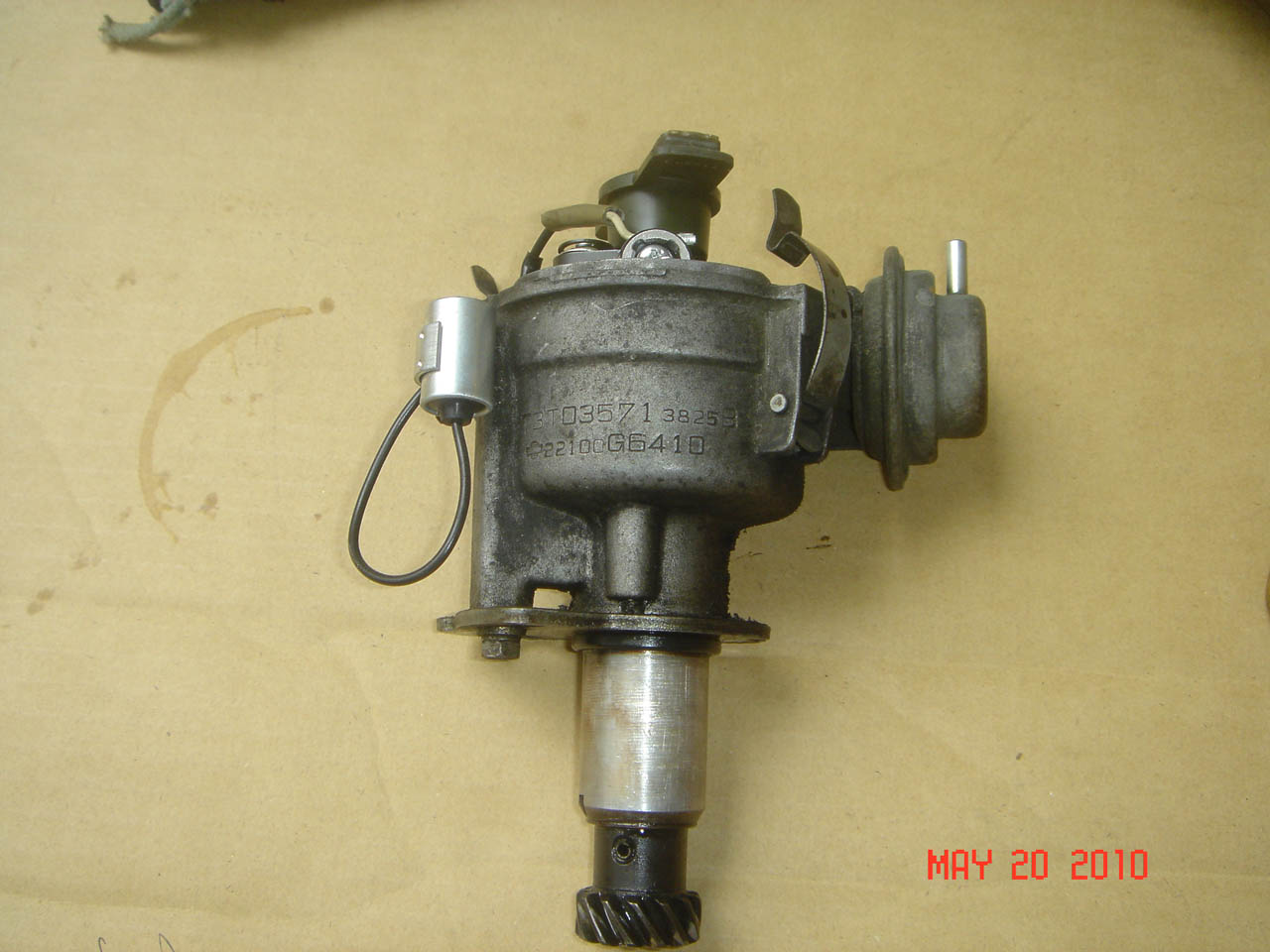 Album click to view
Album click to view
Album click to view
Album click to view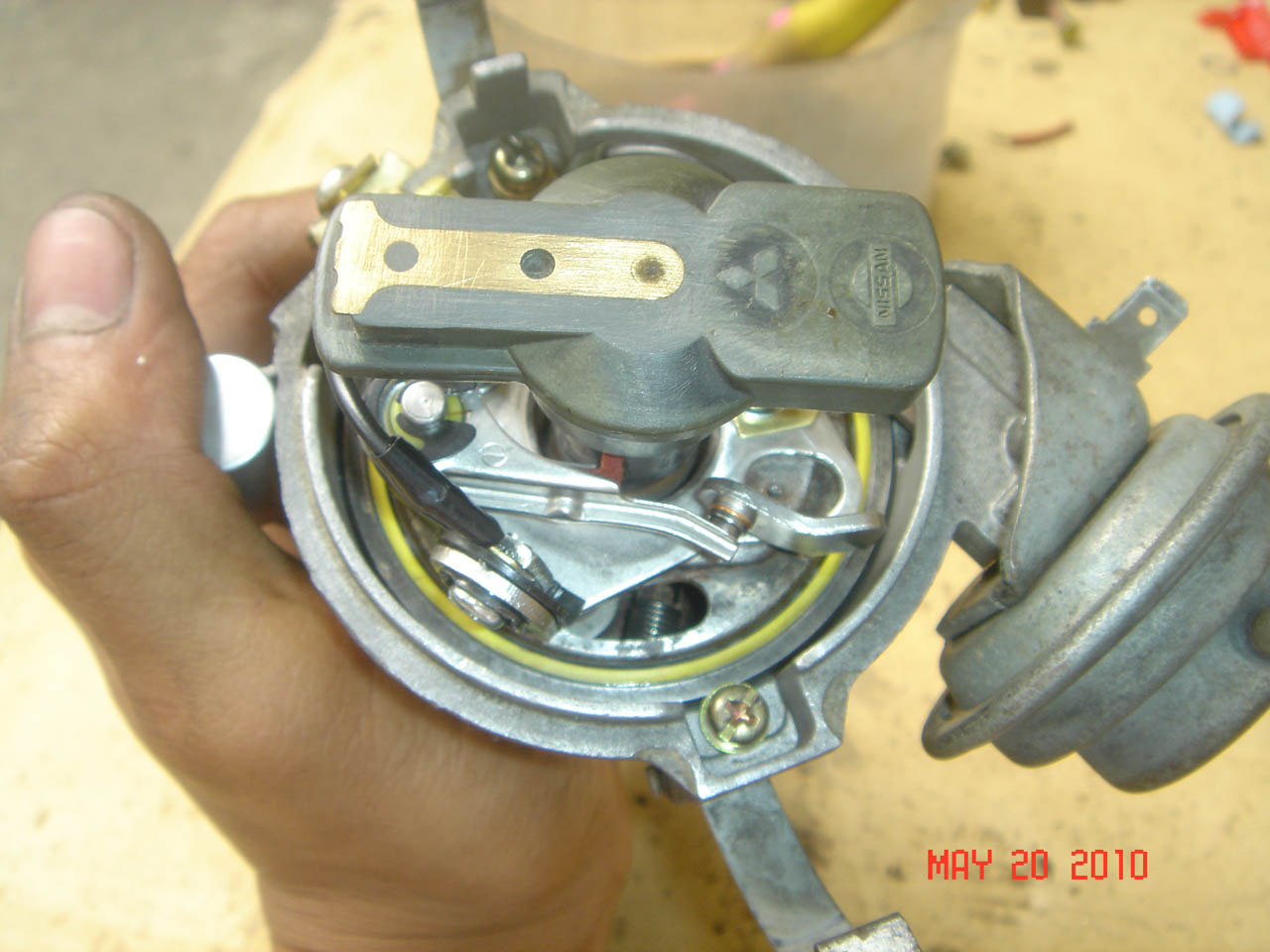 Album click to view
Lucas
Australia-assembled 1200s may be fitted with Lucas Australia distributor.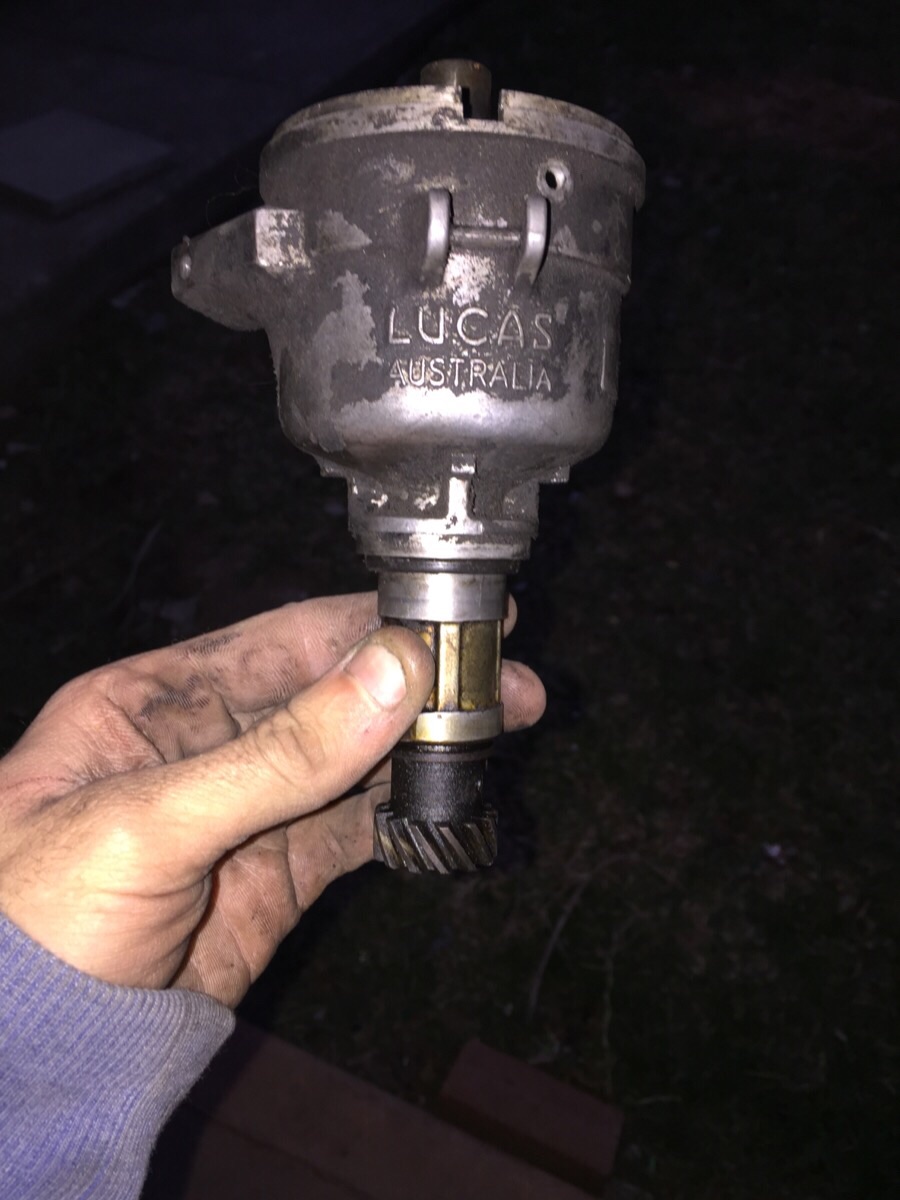 Post click for topic
Post click for topic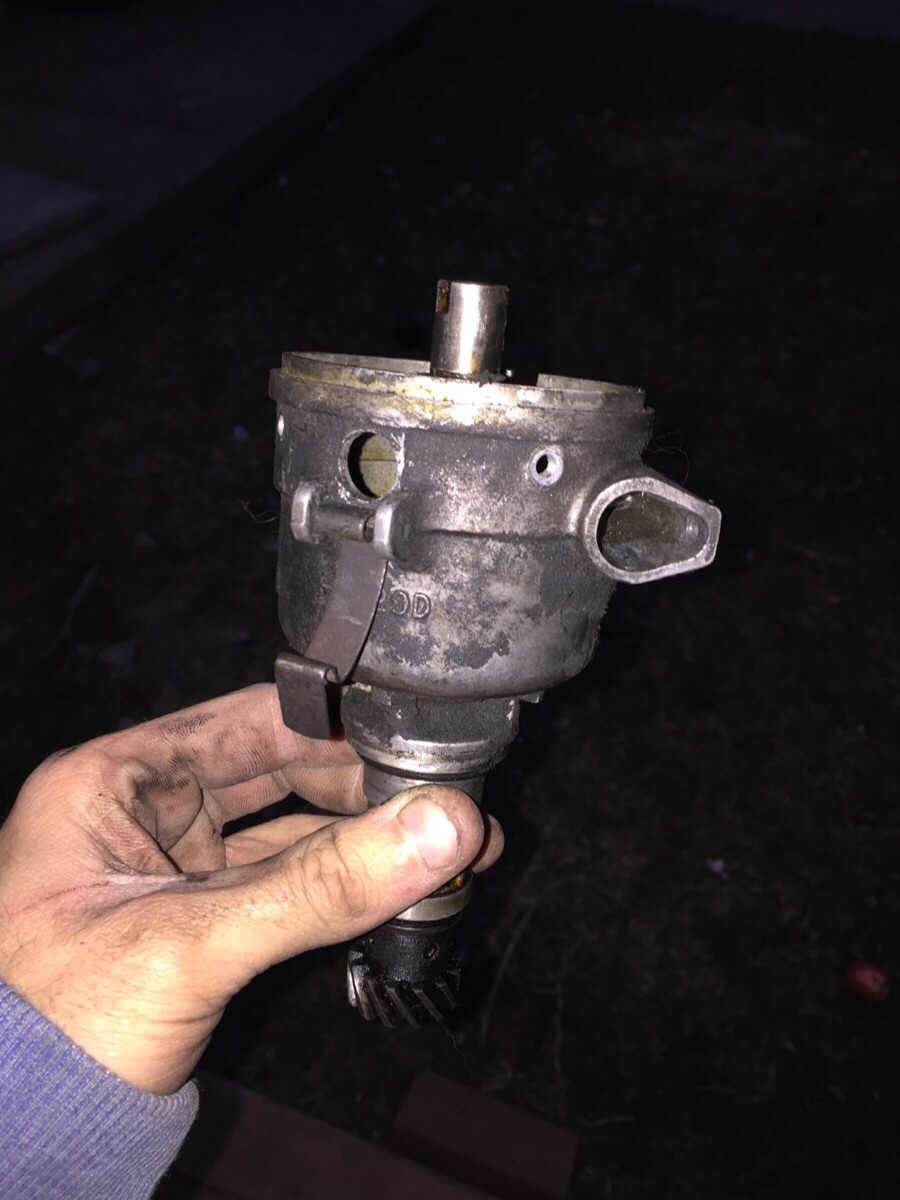 Post click for topic
Warning
Most old distributors have a bad vacuum advance unit. This goes for wrecking yards, and probably the one in your 1200 too, if you haven't checked it recently. On a recent trip to the wrecking yard, 9 out of 10 circa 1980 Datsun distributors had a bad advance.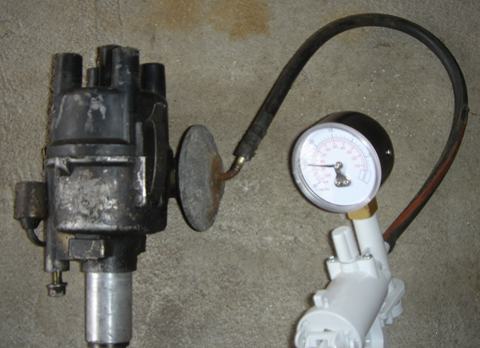 See Vacuum Gun
If your advance is bad, plug the vacuum hose at the carburetor until you get a new unit. It will drive fine plugged, but fuel economy will suffer.
Advance Characteristics
Datsun 1200 uses base (static) timing of 5 degrees or 7 degrees (EXHAUST Emission-controlled engines).
Total Timing is 30 degrees +- 2 degrees (28 to 32 degrees).
See main articles:
Timing
See Ignition Timing
Adjustment
For points gap and other maintenance, see:
Tune-up#Engine_TUNE-UP

Removal & Installation
Identification
See Distributor Types

Interchange
In general you can swap any A-series distributor into any other A-series. Technically, few are a strict interchange do to variations in advance curves used for various years and markets.
When interchanging distributors between 1966-1973 (early A-series) and 1974-2007 (late A-series) engines, minor modification to the mount plate is needed. See Using Newer Distributor or Using Older Distributor.
Part Numbers
Datsun 1200 uses a Hitachi D40/D41 type distributor, with the smaller 70mm I.D. cap. Same as Datsun B10, L-series and many other Datsun engine families. Datsun B210 Van also used this small-cap distributor. A14 did not use this type.
JDM 1200s alternately use a Mitsubishi TVA/TVG distributor. See T3T.
All these distributors are physically the same (will bolt right in and connect electrically). The difference is:
They differ due to differences in requirements for automatic transmission vs manual transmission, and for emission control requirements.
North America B110
* 22100-H1001 ASSY-DISTRIBUTOR (HITACHI D411-61) non-EXHAUST CANADA
* 22100-H1901 DISTRIBUTOR [early] (HITACHI D412-63) EXHAUST 
AT EXHAUST
* 22100-H1902 DISTRIBUTOR 1271- (HITACHI D412-63A) (Hollander 152)
* 22100-H7100 DISTRIBUTOR 0772- (HITACHI D412-89) (Hollander 1060)
MT EXHAUST
* 22100-H3900 DISTRIBUTOR 0671-
* 22100-H3901 DISTRIBUTOR 1271- (HITACHI D412-80A) (Hollander 1059) 

Japan-market
* 22100-H1011 ASSY-DISTRIBUTOR (MITSUBISHI TVG-4FL) Except GX
* 22100-H1001 ASSY-DISTRIBUTOR (HITACHI D411-61) Except GX
  * Also CANADA 1970
* 22100-H2300 ASSY-DISTRIBUTOR (HITACHI D407-54) (High Gas) GX
* 22100-18016 ASSY-DISTRIBUTOR (MITSUBISHI TVA-4F2L) (Reg Gas) GX
* 22100-18006 ASSY-DISTRIBUTOR (HITACHI D412-53K) (Reg Gas) GX
  * Same as B10 sedan, last revision

Hitachi D4n Parts
* 22136-H2300 ASSY-BRAKER (breaker plate)
* 22136-E4600 ASSY-BRAKER PLATE from 1271
* 22145-18005 SET-CONTACT
* 22157-H1000 ROTOR-HEAD, formerly 22157-78500
* 22162-21007 CAP
* 22165-30101 POINT-CARBON
* 22102-00801 CONDENSOR

Competition Distributor
The Datsun Competition distributor had no vacuum advance, as it was designed for full-throttle use.
See main article: Competition Distributor

Maintenance Parts
To identify which cap, rotor and ignition points (or ignitor) your distributor uses, look at the ID number stamped on the side of the aluminum housing.
Nissan Part Number begins with 22100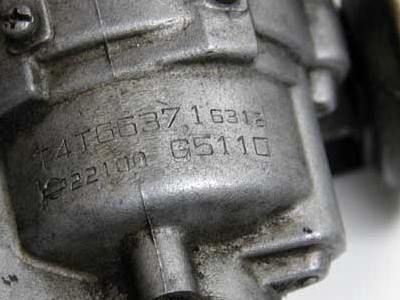 The part number can be search for here using the Fast Search box, and will tell you the exact model the distributor originally came in.
The type of the distributor is the first three letters. Potential Hitachi or Mitsubishi types include:
* Hitachi D410/411/412
* Hitachi D4A/D4F/D4K
* Mitsubishi T3T
* Mitsubishi T4T

See main article: Distributor Types

22403-18005 wire insulator block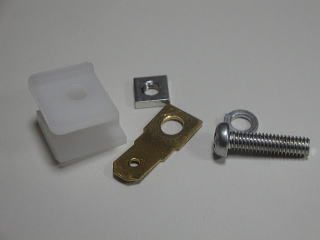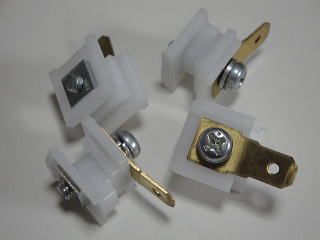 Cap & Rotor
Inspection
normal oxidization. Scrape clean to bare metal and keep using the cap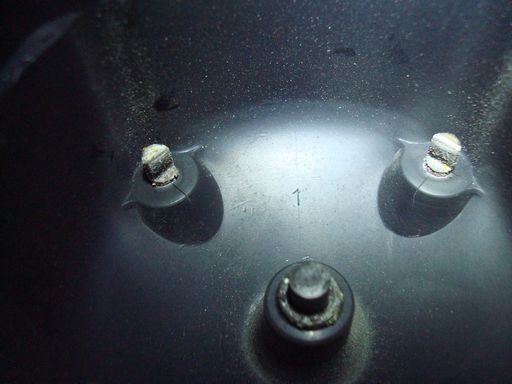 Post click for topic
Electrical tracking. Replace cap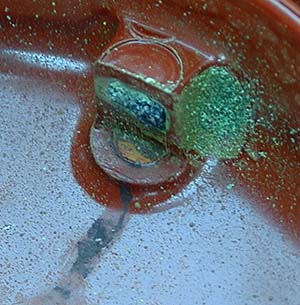 Make sure the rotor button hasn't fallen out (replace cap & rotor if the button is missing)

Missing rotor button

Rotor is missing the metal part, so replace it

Compare to complete rotor (the rotor button rides on the metal at center):

Part Numbers
Album click to view
1966-1986 Hitachi D41 style
 * 70 mm cap
 22157-H1000 HEAD-ROTOR
 22162-21007 ASSY-CAP
also fits: Isuzu Bellett 1970-1973
1970-1985 Mitsubishi T3T
 * same as D41 style, but with Mitsubish numbers
 22162-71311 CAP ASS'Y
 22157-18010 ROTOR ASS'Y

1974-1982 D4A Points or D4F/D4K EI type
 * See 75 mm cap

Cheap - no track-resistant moldings

Better - track resistant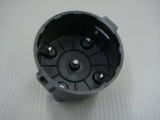 early clip type cap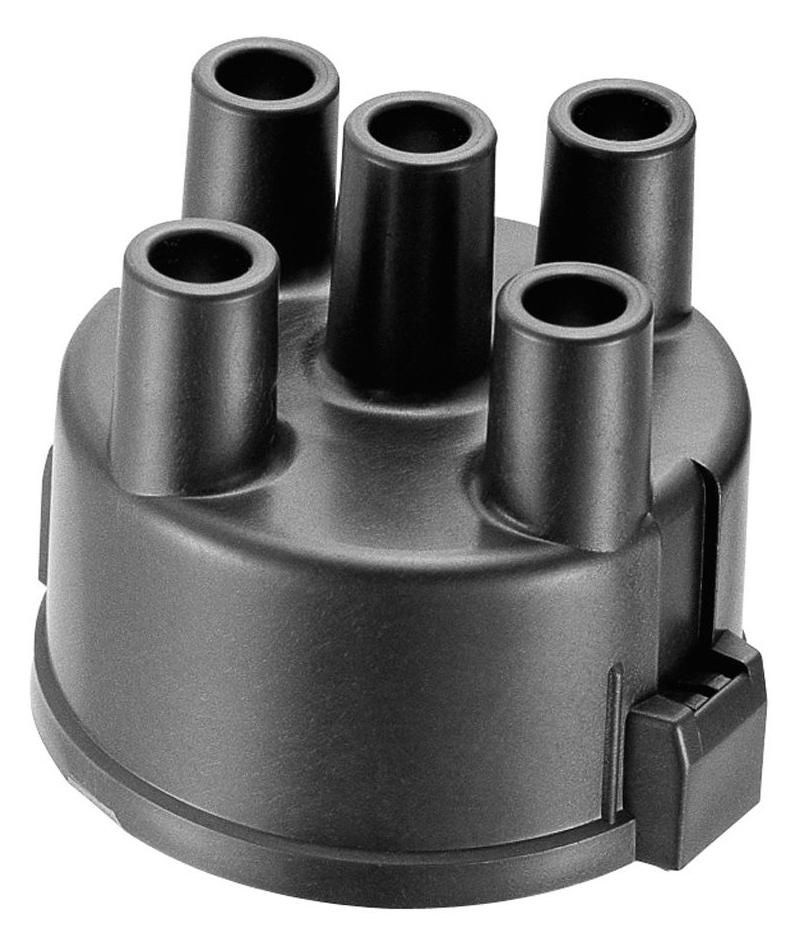 Forklift-style (side terminals)

Bolt-down cap: 1985-1995 Mitsubishi T4T type

1970-1973 cap buy at Rockauto
 STANDARD MOTOR PRODUCTS 133429/JH110
 AIRTEX/WELLS 9D2/5D1077A
 BOSCH 03097
 * Fits:
   Subaru GL/DL/Brat 1979-1988
   Honda Accord/Civic 1979-1983

Points & Condensor
Contact Set include new points (contact breaker) + new condensor.
For Hitachi D40/D41 distributor (1966-1973)
22145-18005 SET-CONTACT 
22102-00801 CONDENSER
 

For Hitachi or Mitsubishi distributor (1974-up): see Hitachi_D4A_Distributor#Points_Set


Condensor Interchange
Isuzu 1.8
Mazda 1972-1973 1.8/1.6
Honda 1973-1979
Nissan A/L/R/U/J
Subaru 1971-1975 1.1/1.3/1.4 H4

Vacuum Advance
Mitsubishi
For Datsun B110 equipped with Mitsubishi distributor, see T3T.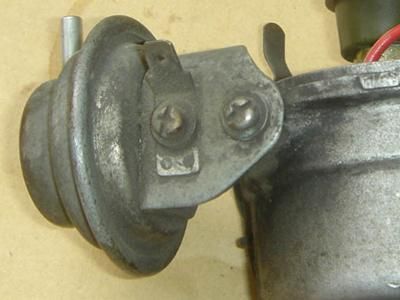 Hitachi
Hitachi D411/D412
Album click to view
ASS'Y-VACUUM CONTROL
* 22301-H1000 non-EVAPO superseded by part number 22301-M1500 $27.25
* 22301-B3000 EVAPO
* 22301-B3001 EVAPO (formerly 22301-B3000) $35.07
* 22301-H3900 EVAPO from 0671 $35.92
* 22301-H3901 EVAPO from 1271 (formerly 22301-H3900) $32.22
* 22301-H1900 EVAPO AUTO from 1271 (formerly 22301-B0300) $30.13
* 22301-E4603 EVAPO AUTO from 0772 (formerly 22301-H1900) $39.13

CARQUEST 57-7656
* Nissan 22301-H1000, 22301-M1500
* AIRTEX 4V1153
* WELLS JV1449
* GM 88925022
* ECHLIN VC4050
* STANDARD MOTOR PRODUCTS VC-460
* BWD V532
* ACDelco E1339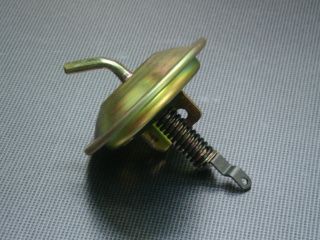 Orange:
* 4mm travel adjustment
* Inside needle height: 21.5 mm (from spring seat)
* Spring 33.5 mm free height
* Diaphragm diameter approx 52mm

The needle/screw height adjust max travel. The spring sets the starting point.
* diameter: 63 mm (cut gasket larger)

Possible Fit:
* Standard Motor Product VC507 Nissan  240Z  71-70  $26
* Nardek NVA-605 Australia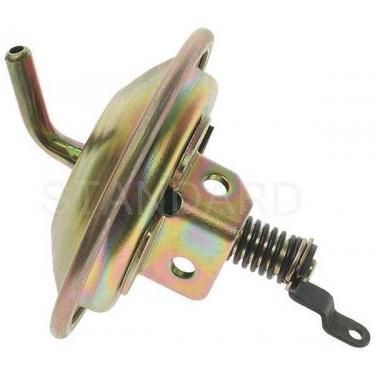 Inspection and Repair
* For inspection and disassembly instructions, see Distributor Repair
* For inspection, see Inspecting Distributor

Distributor Upgrades
See Ignition Modifications Overview

Photo Index
¤