Wiring up a newer engine with its stock EFI involves getting the entire donor engine-room harness, the computer and all connected wiring. Eight wires from the Nissan harness connect to the car's wiring; there are many wires in the new engine harness, but you only need to identify eight of them to connect up. Use severals relays and new fuses. It's a chore but you'll have OEM EFI -- power and economy both with awesome smoothness.
Overview
We recommend you obtain the original wiring harness from the donor car: Engine harness, ECU harness, and Relay harness.
If you only get the Engine & ECU harnesses, you will need to add safety Relays. Nissan uses three relays for EFI.
* Fuel Pump Relay
* ECU Relay
* ECCS Relay

We recommend you use the same. The fuel pump relay is wired so that if the engine stops running, they fuel pump will shut off. This is very important in a wreck to help prevent fires. Additionally, the stock Datsun 1200 wiring harness is not designed to handle the load of the EFI system, so the relays control the high current circuits.
This same wiring is used for 200SX EFI, Nissan KA engine, Nissan SR engine, Nissan CA engine and other Nissan ECCS port-injection systems.
When you buy an ECU it is critical to get at least a bit of the ECU wiring connector with a few inches of the wiring, since it is a special connector. If you only got a bit of the wiring you will need to locate the sensor wires and wire those up (including Injectors, Temp, IAC, TPS, MAP, air temp, Airflow Meter). If you get the entire harness it will already have these figured out.
Relays And Fuses
If you wiring harness did not include the relays, you can add this wiring yourself.
Three relays are used for the fuel pump. This system is designed to prevent pumping if the engine stops running. Apparently there is a relay for Ignition, fuel pressure and oil pressure. Loss of any of these signals will stop the pump.
For example, see B310 Sunny EGI Wiring

You can obtain three typical relays out of a 1990s Nissan, then solder them into the EFI harness, also solder four fuse connectors in. Or you can buy a CAN/AM box that already has this part done (see below).
CA ECU & ignitor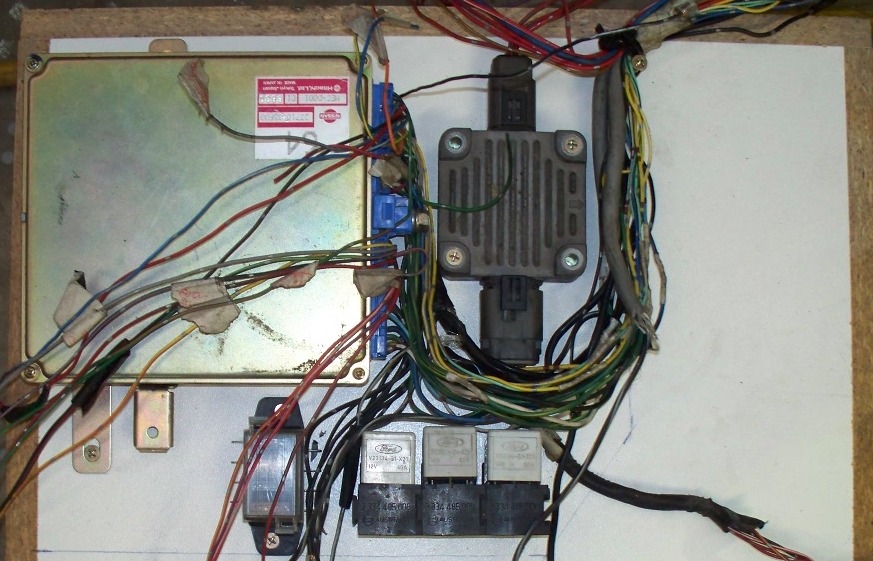 Post click for topic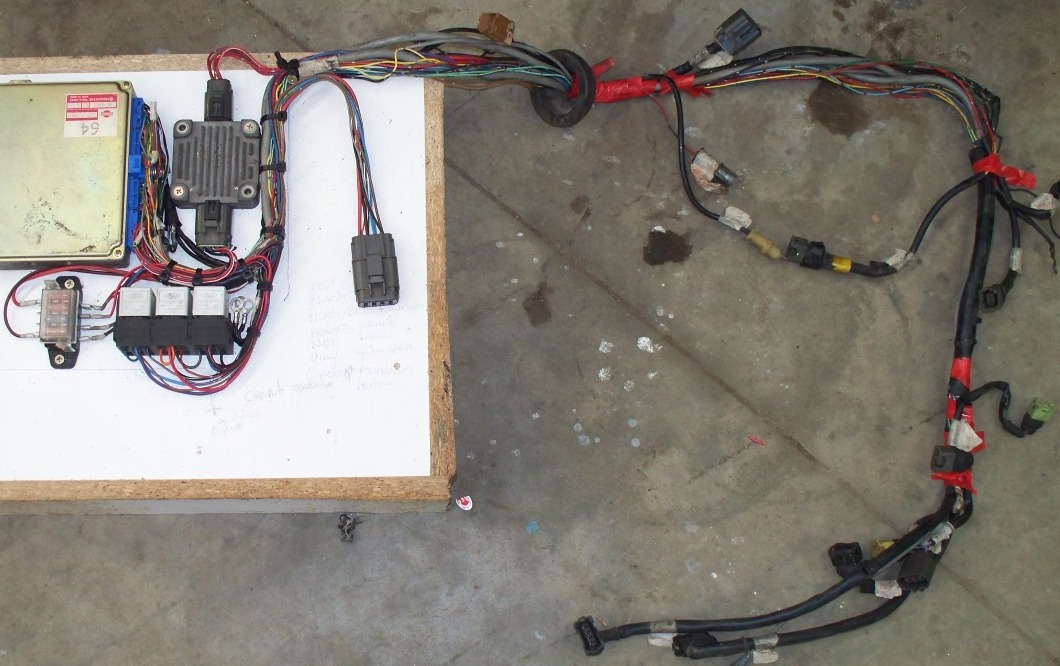 Post click for topic
S13 Wiring
S13 relay/fuse block in Datsun 1200

Album click to view
early S13 RELAY/FUSE BLOCK

Album click to view
Diagram with Relays circled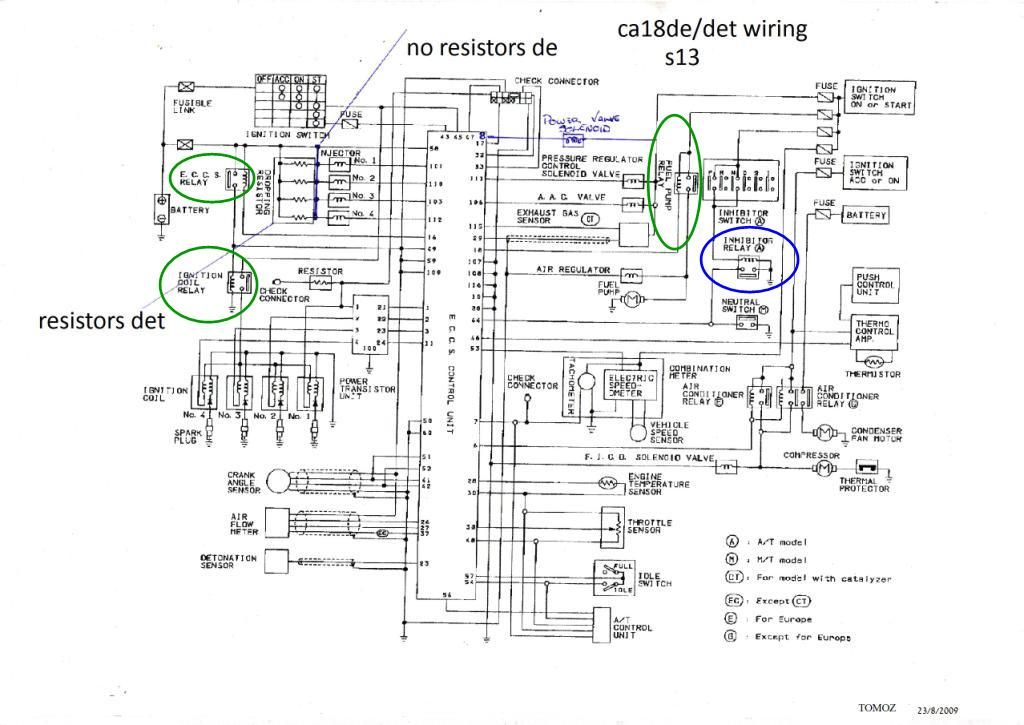 CAN/AM Wiring Box
A CAN/AM Box (engine swap wiring distribution box) makes EFI wiring swaps easier -- and easier to troubleshoot (though not required).
A Can/Am box is a relay board made by a couple of guys in Seattle. Contact: icehouse
It is certainly not needed for a swap -- you can instead use the relays from the S13/S14 wiring harness, or from other 1980s/1990s Nissans. However, the Can/Am box makes for a neat & tidy installation.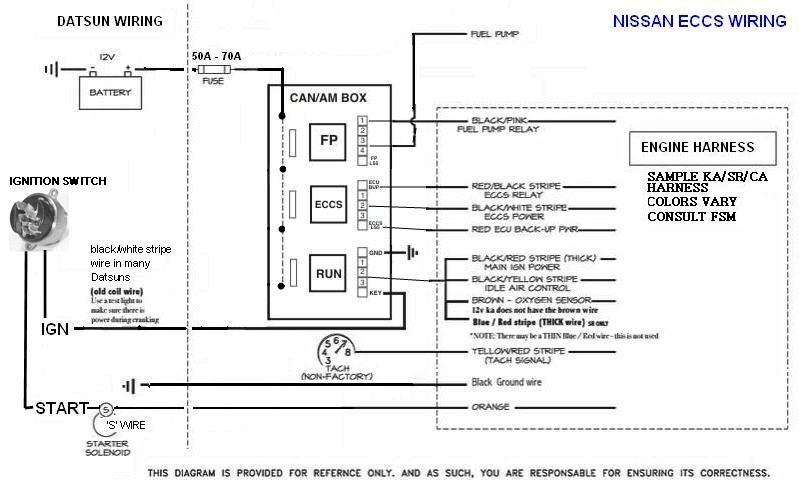 Album click to view
CAN/AM "easy wiring box for EFI"
make wiring newer EFI Nissan engines into our old Datto's, or any cars for that matter, much simpler. These boxes take the place of the point to point wiring that would normally be done by us "do it yourselfers." Making the wiring easier for the new to wiring guys by following the drawings, which are also under construction. Using this box cuts HOURS out of the EFI wiring as well
This circuit board contains three relays and proper fuses. Relay for fuel pump, ECU relay, etc. Has terminal blocks for easy wiring: just slide the wires you need in and screw the terminals down. DONE.
Ratsun: Installation Topic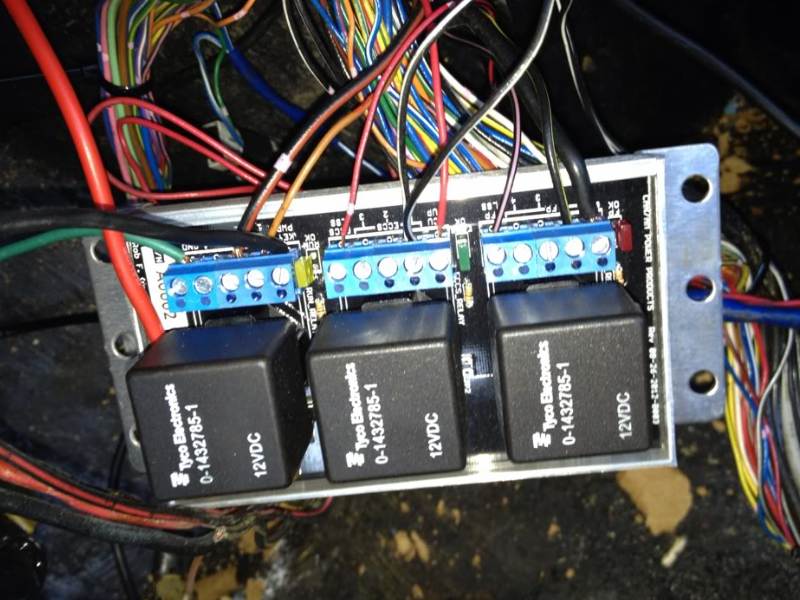 Album click to view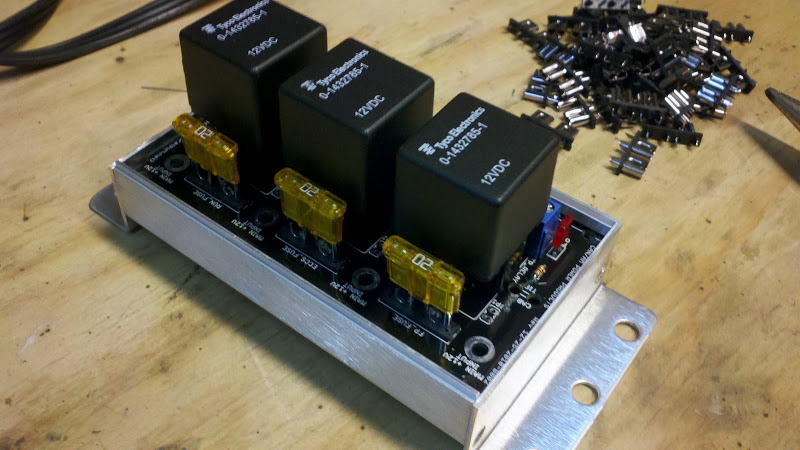 Album click to view
Ignition Switch
Newer Datsun ignition switches fit the 1200 (large size) but work slightly different. When the key is in START position, the original switches cut power to IGN. The new switch retain power to IGN. Some say to use this switch. However if wired correctly this is not needed.
The two Ignition Switch wires to tap into and connect to the EFI relays are:
IGN (B/W wire) You can tap into this at the switch, at the existing Coil wiring in the original vehicle engine room harness, or anywhere else this wire exists.
START B/Y wire. You can tap into this at the switch, at the existing Starter wiring in the original vehicle engine room harness, at the starter 'S' terminal, or anywhere else this wire exists. Connect this via a 10A fuse to the START ECU signal wire in the harness.
some recommended to solder a new larger B/Y wire from the ignition switch to the starter, instead of the original small-gauge B/Y for the 1kw oringal starter.
Alternator
Newer Nissan alternators are wired like a late model 1200 Hitachi LR Alternator, but may not use the familiar T-connector of the older alternators.
If you have an early 1200 (1970-1989), remove and discard the external Voltage Regulator. Insert two jumper wires into the plug as per IR Alternator Conversion Wiring.
If you already have your 1200 wired for Hitachi LR wiring, and the new alternator uses an oval plug:
Connect the alternator thick white wire to battery positive
Connect W/R wire from alternator to dash for charge light. Can use the existing wire in the original Datsun 1200 engine room harness
Optional, but recommended. Solder a 100k resistor across the CHG lamp circuit on the back of the gauge cluster. This will allow the alterator to keep charging even if the lamp burns out.
Starter
Wire the new starter same as the original Datsun 1200 starter:
Wire from Ignition Switch to S terminal on starter solenoid
Ensure large Ground wire exists from engine block to body (the original 1200 battery cable does this). See Battery Wiring
Thick Positive wire from battery to starter motor
Battery
See main article: Battery Relocation

If you relocate the battery to the trunk/boot:
Connect large gauge cable from Battery Positive to starter motor
Connect large gauge cable from Battery Negative to engine block. Resist the temptation to simply connect the battery to the sheet metal. That may work but running a line to the engine is more reliable as the highest amperage load is from the engine starter.
Run large cable from engine to chassis ground
Connect existing 1200 Fusible Link to starter positive terminal
¤