The Rocker Cover covers the top of the Cylinder Head including the Rocker arms and valvesprings. The rocker cover is painted Datsun Blue, which is a darker blue than the air cleaner. The rocker cover is also known as a valve cover or tappet cover.
Also see: Oil cap
Installation
They are prone to leaking like most stamped steel covers. Biggest problem is over tightening. They should be finger tight and retightened at least every oil change.
Hammer the flange flat before installing the gasket.
Remove all traces of old gasket and sealer.
Do not use sealer. Clean & flat will prevent leaks.
The black rubber gasket lasts forever. The cork gaskets tend to tear on removal of the cover.
Tighten all the valve cover screws finger tight. Then go around and re-tighten finger tight. After the engine warms up, finger tighten one last time. Instead of using a wrench which will overrtighten, use a Phillips screwdriver. Use thumb & finger to tighten; using the palm or fist to reef on the screwdriver will tighten too much and distort the metal flange.
Loctite Threadlocker Blue might help. I've never used it ... but the screws do get loose.
Identification
B10 (A10 engine): Black 'Datsun' label on top

Album click to view
Album click to view
B110: Embossed 'Datsun', two threaded bosses for fuel rail, offset clip for throttle cable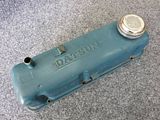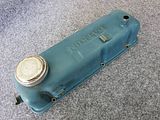 B110 GX, center clip for throttle cable:




B210 early 'Datsun' H5001 - no threaded bosses, two clips for vacuum advance hose


LATE B210
H7201 A14S.Van
H7800 A12S.Van

H8200 A12S.Sedan+Coupe
H8400 A14T

??? 'Datsun' - no bosses or clips


H84 A14T Nissan right-angle vent


Nissan 1

B210 A14: No threaded bosses on side (fuel rail does not bolt to rocker cover)
B310: Embossed 'Nissan'
13264-H7800 B120 7510-7907
13264-W8501 B120 7908-8910
Gold Top for A14E and A15E EGI engines - Factory EFI


Nisan cover, front vent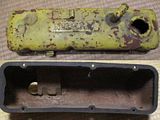 EFI Cover
Gold Top EGI fuel injection tappet cover
* rear vent (early A14E)
* front vent (late A14E + A15E)

EFI front vent
A15E/Late A14E cover with front vent 13264-H9201 7910-
Late A14 with front vent (B310 round headlight models)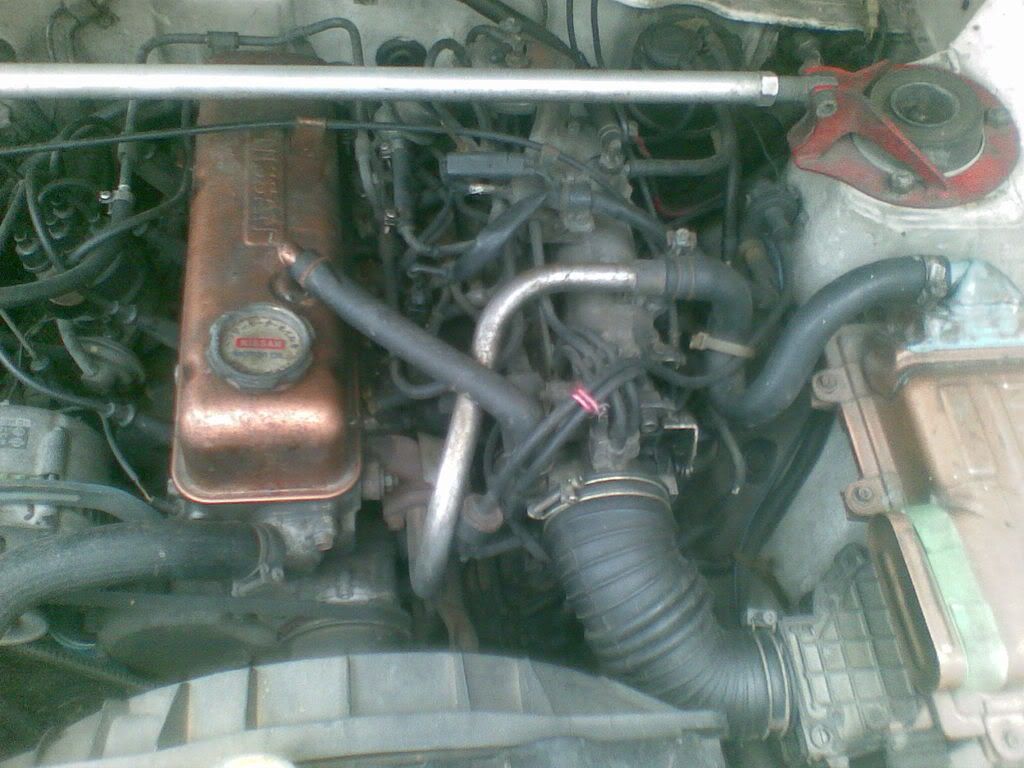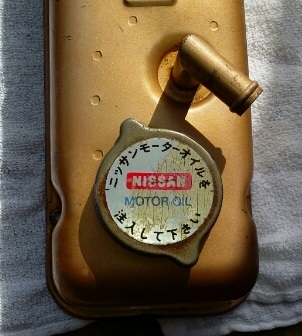 Album click to view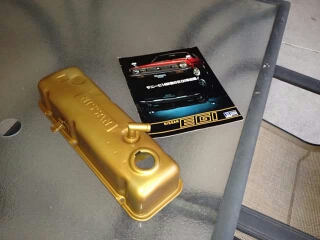 Post click for topic
Album click to view
Album click to view
EFI rear vent
Early A14E cover with rear vent 13264-H9200 -7909
Album click to view
GX Cover
For the twin-carb 1200GX Engine#Rocker Cover:
fuel-rail mounting brackets are in different place
choke cable bracket is in different place
A12T Cover
B210 A12T twin carb
Red paint (B210) instead of blue (B110)
No rail brackets (B210)
Breather
Gasket
The same valve cover gasket (packing) fits all A10/A12/A13/A14/A15 engines. Nissan made several specification of material but the shape and dimensions are the same. The black rubber type is generally reusable, while the cork type often breaks.

B110
13270-18001 PACKING-ROCKER COVER - NLA

GASKET-ROCKER COVER
* 13270-18000/13270-18001 B10, B110, B120, B210 to '74-5
* 13270-H1000 B210 from '74-6, B310 all, B120 - 7803 センタク シヨウ アイチキカイᴳ
* 13270-H1010 B310 [alternate supplier], B120 7804- センタク シヨウ イシノガスケツトᴳ

AFTERMARKET
* BECK/ARNLEY Part # 0360669
* FEL-PRO Part # VS26049R (rubber type, black) RockAuto.com $1
* FEL-PRO Part # VS26049C (cork type)
* MAHLE VS30018 (cork-rubber mix)
* MCCORD VS138
* APEX AVC522

Cork - FelPro VS26049C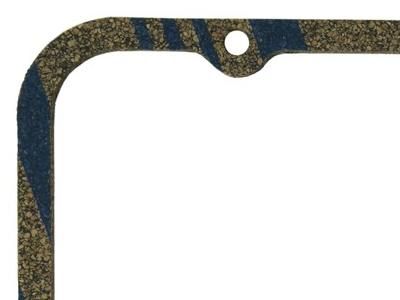 Customizing
Polishing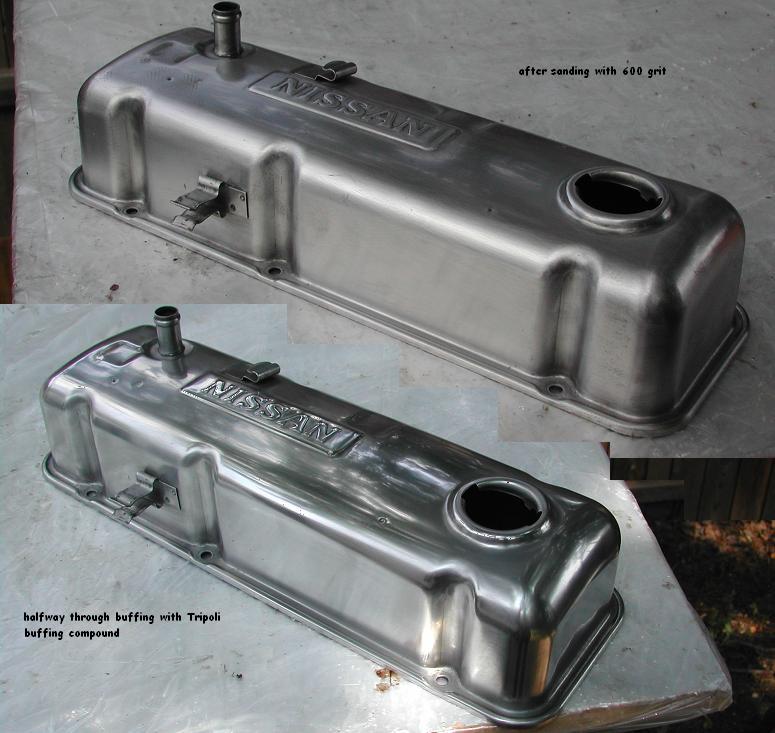 Album click to view
Chrome Plated
Album click to view
Album click to view
Painting
crinkle finish

Post click for topic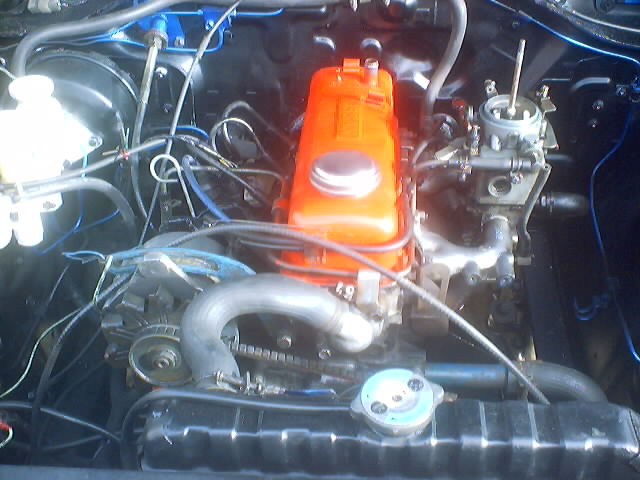 Album click to view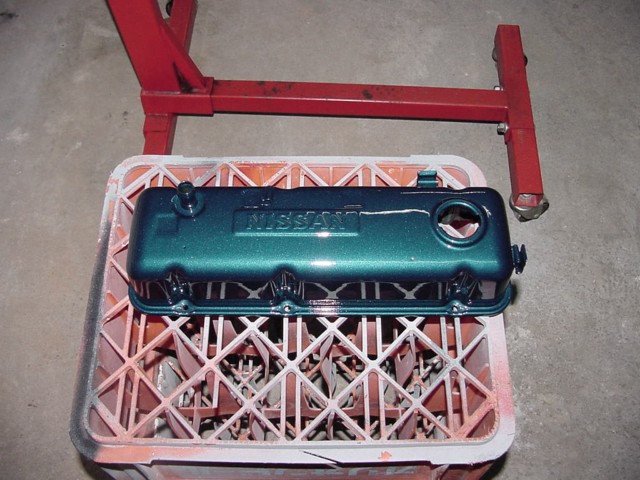 Album click to view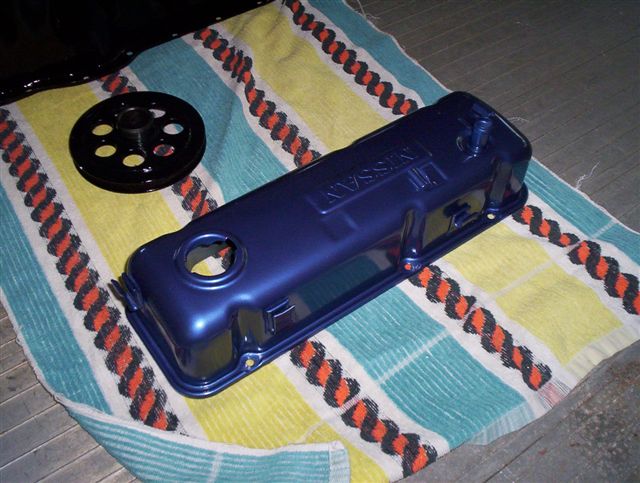 Album click to view
Album click to view
Candy Apple green

Album click to view
flat paint (non-shiny)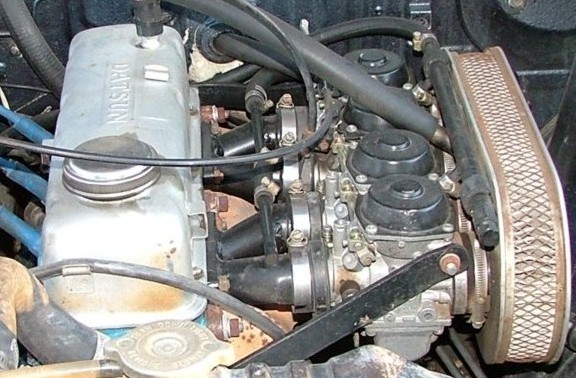 Album click to view
Color matched

Album click to view
Album click to view
Carbon Fiber
Autostyle
http://auto-style.jp

Album click to view
Zero Queue Racing/09 Racing dry carbon cylinder head cover.
Dry carbon head cover for A-type engine 
Blow-by mounting base is M14x1.5 
Etc. your favorite Earl I can be installed 
L-series oil cap for engine is available 
Anyway light dry carbon steel 
Autoclave molding 

CF Skin
Standard rocker cover with Carbon Fiber pattern applied (Water Transfer Printing).
hydroprint@xtra.co.nz or call Shane on 021689599
Album click to view
Album click to view
Alloy Covers
Aluminum light-alloy covers were never shipped on a Datsun 1200, but newer engine covers and aftermarket covers are available.
See Main Article: Alloy rocker cover



Part Numbers
B110
13264-H1000 ASSY-COVER VALVE ROCKER - NLA 
13264-H7000 ASSY-COVER,VALVE ROCKER 0772- NLA 
08915-13610 WASHER-LOCK FIXING ROCKER COVER 6 $1.06 
08360-61612 SCREW-MACHINE FIXING ROCKER COVER 6 > 08310-61612 $0.65

A-series COVER ASS'Y-valve rocker
* 13264-18001 B10
* 13264-18002 B10 from engine A10-173620
* 13264-18003 B10
* 13264-H0100 B10
* 13264-H1000 'Datsun' B110 exc. GX
* 13264-H2300 B110 GX
* 13264-H7800 'Datsun' B120 7510-7907
* 13264-W8501 'Nissan' B120 7908-8910
* 13264-95W00 'Nissan' B120 8910-
* 13264-H5001 'Datsun' B210 A12S
* 13264-H5702 B210 A12T
* 13264-H7200 B210 A14S Van
* 13264-H7800 B210 Van
* 13264-H8200 B210 A12S Sedan, Coupe
* 13264-H8400 B210 A14T
* 13264-H7800 B310 Van to 7909
* 13264-W8501 B310 Van from 7910
* 13264-H8500 B310 A12S, A14S Sedan, Coupe
* 13264-H9200 B310 A14E to 7909
* 13264-H9201 B310 A14E 7910-8010, A15E 8011-
* 13264-G3400 B310 A13S, A15S 8011-

B10 Japan 1966-1970
ASS'Y-COVER-valve rocker
13264-18001 <> 13264-18002          [angle-vented cover?]
13264-18002 from engine A10-173620
<>
13264-18003 < 13264-H0100
13264-H0100                         [straight-up vented cover?]
180 air cleaner v,s,k
154 air cleaner truck
180 hose to rocker cover ? how can this connect to two different-shaped vents
BLOCK 18000, 18001, 257 Coupe

A10 engine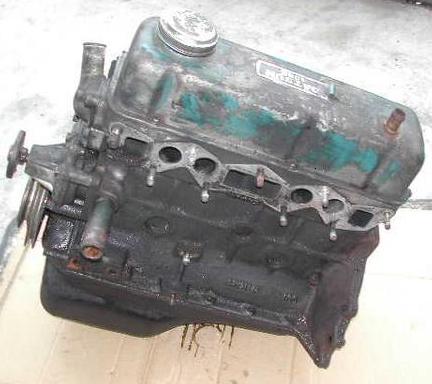 Album click to view
Album click to view
B210 JAPAN 1976-1977
COVER ASSY-VALVE ROCKER
13264-H7201 A14S except V
13264-H7800 V
13264-H8200 A12S.S,K
13264-H8400 A14T

B310 USA
13264-H7201 B310 A12A USA -0780	
13264-H9500 B310 A12A USA 0880-
13264-H7201 A14 FED (KFU), A14 CAN 
13264-H7260 A14,A15 FED (EXC KFU) A14,A15 CAL 	  	
13264-H9500 A14,A15 USA 0880- 13264-H7260

ロッカー カバー タペット カバー ヘッド カバー