The A12 engine in the Datsun 1200 uses traditional coil springs for each valve. The A12GX Engine uses dual springs on each valve.
Overview
Datsun dual springs are installed a special direction. The close-coil end goes next to the cylinder head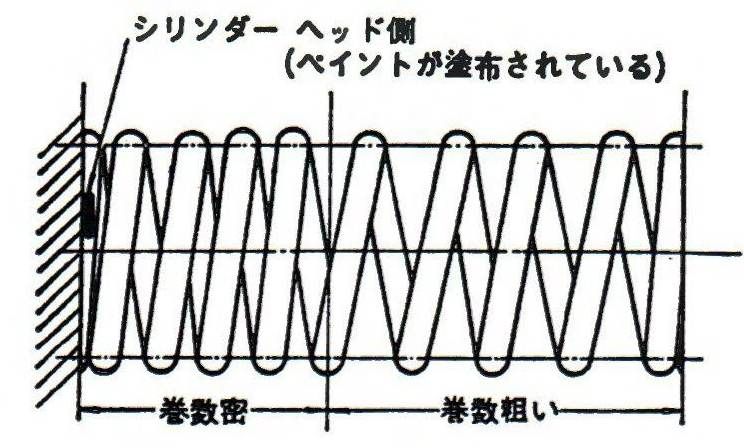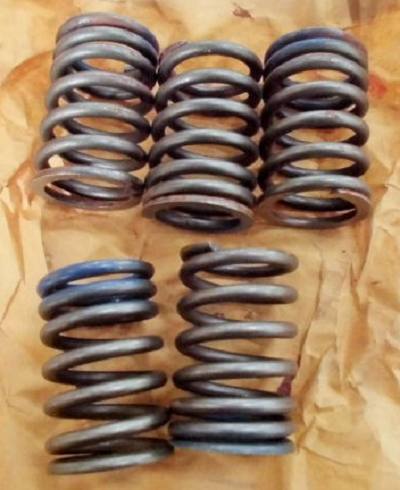 Album click to view
GX springs use the standard valve retainer with a special stepped seat

Album click to view
Album click to view
Specs and Testing
Album click to view
* Free Length: 46.5 mm (1.831 in)
* Valve Closed: 38.7 mm at 23.9 kg (1.524 in at 52.7 lb)
* Valve Open: 30.2 mm at 58.5 kg (1.19 in at 129 lb)

Measure the free length and the tension of each spring. If the measured value exceeds the specified limit, replace the spring.
Check each spring for deformation with a square. Any springs with excess deflection must be replaced.
* Squareness deformation limit: 1.6 mm (1.3 for dual springs)

Part Numbers
Nissan Part Numbers
* 13203-H1000 SPRING-valve, outer ALL except GX
* 13205-18000 SEAT-valve spring ALL except GX
* 13209-H2301 RETAINER-valve spring ALL [all after 1973]
* 13210-73400 COLLET-valve
* 13210-H1000 COLLET-valve (from 72-2)
* 13210-U0100 COLLET-valve (from 71-10)
** All three collet PNs interchange
* 13219-H1000 SHROUD-valve, inner ALL except GX

GX-specific
* 13203-H2300 SPRING-valve, outer GX
* 13203-H2301 SPRING-valve, inner GX
* 13205-H2300 SEAT-valve spring GX
  

collets (half-circles) lock the valve assembly to the valve stem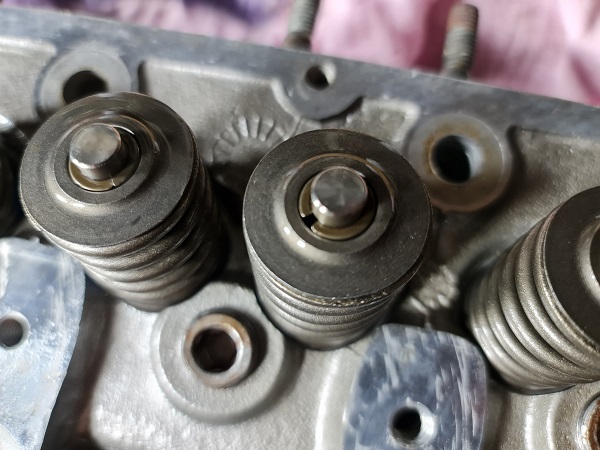 Post click for topic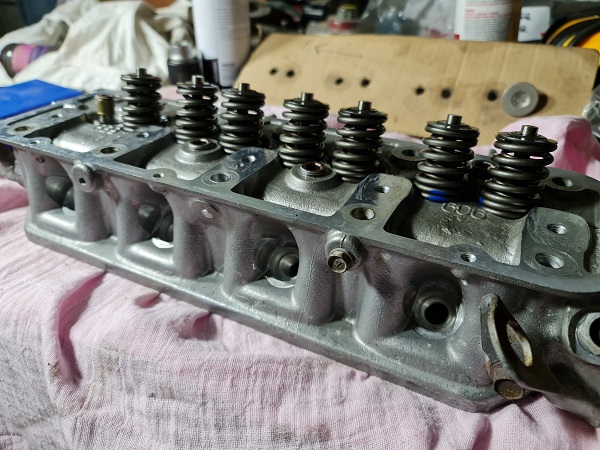 Post click for topic
Valves & Seals
Racing Valve Springs
For RPMs in excess of stock (higher than 6400 RPM) use racing valve springs.
V I D E O
resorte de valvulas filmado a 9200 rpm valve spring (click to view)
Stock springs are redlined at 6400 rpm, and will often go to 6800 RPM
Factory GX springs are good to about 7500 rpm (higher than the points distributor will rev)
Dual Valve Springs
Large valves work best at high RPM. When revving over 6000 RPM, dual valve springs are called for. The stock A12GX springs are good for 6600 RPM (and some report higher RPMs).

Racing/aftermarket dual springs are usually good for 9000 RPM and shouldn't be used in a street engine as they cause accelerated wear on the valve guides.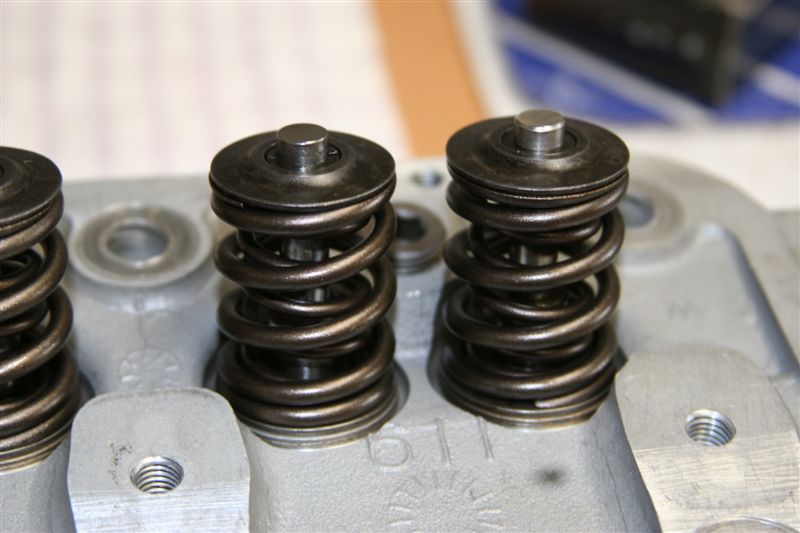 Album click to view
Album click to view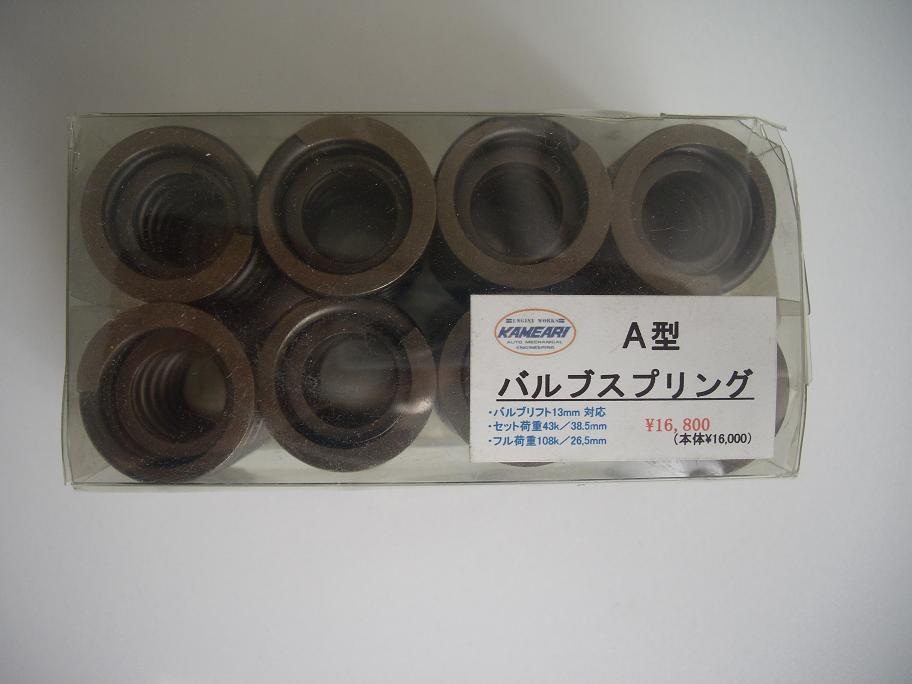 Album click to view
Album click to view
Album click to view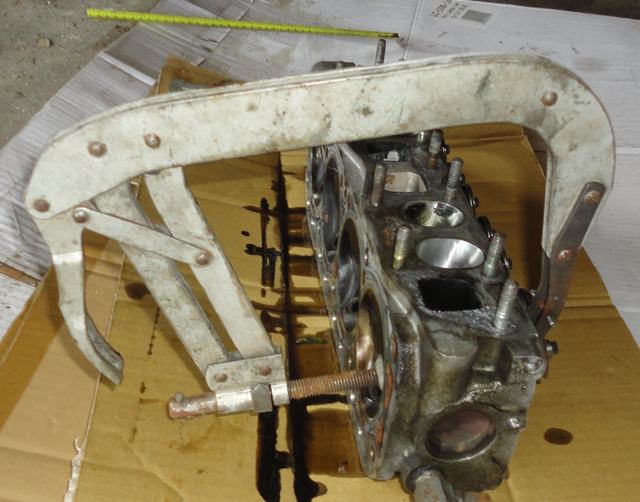 Album click to view
Album click to view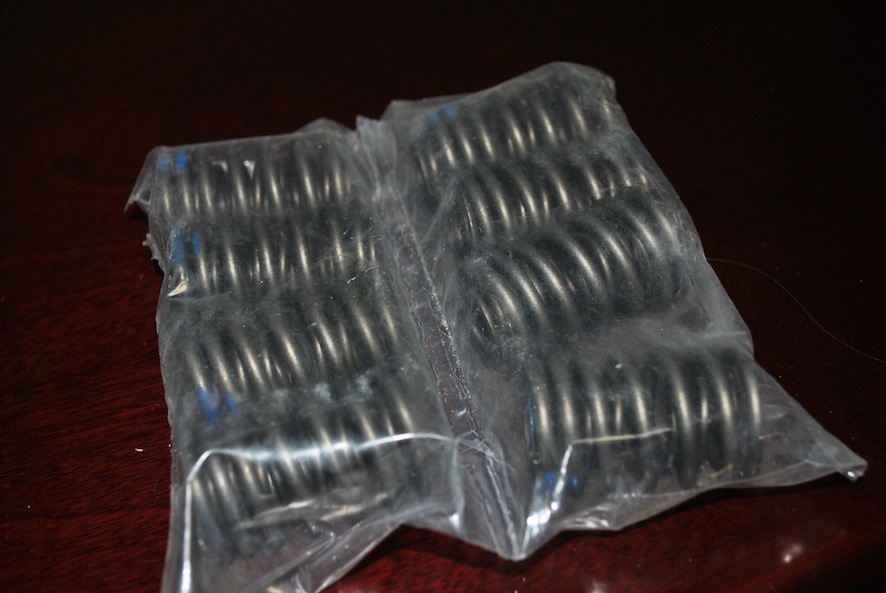 Album click to view
Triple Valve Springs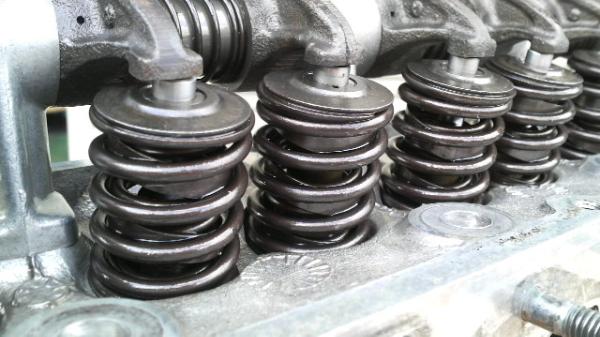 Album click to view
Iskenderian 455-JA-006 needs dual spring retainers, MAX RPM 10,000
Possible
Toyota Dyna inner valve springs

L14 dual valve springs
L-series is slightly taller, 
and compresses slightly more
* L-series 1.98" free length, 1.524" at 52.7 lb
* A-series 1.83" free length, 1.575" at 46.9 lb

Holden Six dual valve springs

ISKY 455-D/JA-006
MAX RPM 10,000
Outer     455-D
  O.D.   1.210"
  I.D.    .925"
Inner    JA-006
  I.D.    .635"
Spring rate 225
Coil bind .850"
installed height   1.500"
Max net valve lift  .450"
1.500"  79 lbs
1.200" 145 lbs

Photo Index
Click any thumbnail to see it full size in our
Club Photo Album
. Read details or post a comment!
¤