The Datsun 1200 uses a Hitachi carb, model Hitachi DCG-306 (manual choke) or DCH-306 (automatic choke). This is a modern, two-barrel progessive linkage carburetor. It used bore sizes of 26/30 and venturis of 20mm (primary) and 26mm (Secondary). However, the Datsun 1200 GX models used twin Hitachi 38 sidedraft carburetors with a manual choke system.
Model Numbers
Hitachi DCx model numbers indicate the primary bore * secondary bore sizes:
Hitachi DCG306
  G = manual choke | H = automatic choke
 30 = 30mm secondary bore
  6 = 26mm primary bore

Links
Hitachi DCx carbs were used on, among others:
* #DCG286 1967-1970 Datsun B10
* #DCG306 1970-1975 Datsun B110
          1973-1980 Datsun B210
          1977-1983 Datsun B310
* #DCH306 1972-1973 Datsun B110 North America
*         1973-1975 Honda Civic EB (1200) & EC (1500) engines
*         1970-1985 Mazda 323 TC (1300) & UC (1500) engines
*  DCH340 1973-1980 Datsun L-series
*  DCF306 1981-1983 Datsun Japan B310 (starting October 1980)
          Australia Datsun B310 Sunny A15
*  DCR306 1981-1982 Datsun USA A12A/A14/A15 (B310 USA)
*  DFP306 1983-1984 Nissan USA Sentra "MPG" E15
*  DCZ306 1983-1988 Nissan Japan C22
          1986-1987 Holden Astra E16
          1982-1984 Nissan Prairie M10.E15
*  DCT306 1983-1985 Ford Laser
* #DFC306 1989-1994 Nissan Sunny Truck

ID boss:

See Also:
NOTE: The B10 Datsun 1000 used a smaller carb, the Hitachi DCG-286.
DCG286
Small bore carburetor for Datsun B10 A10 engine
DCG286-3 (see ID numbers

DCG306
DCG is the manual-choke series.
Album click to view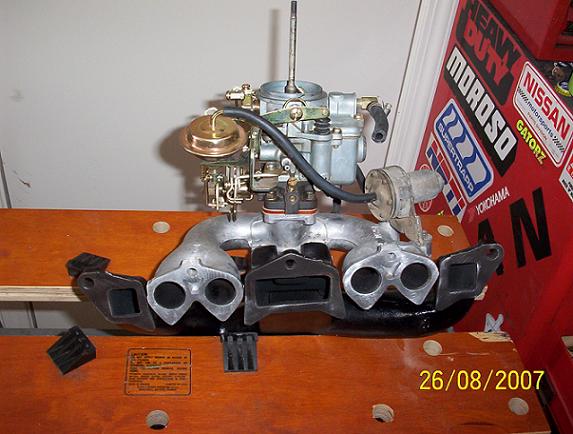 Album click to view
Album click to view
DCG306-51 120Y 1976 with anti-diesel Valve

DCG vs DCH (1971 vs 1972 USA)

Album click to view
DCH306
1973-1982 DCH is the Automatic Choke series. It had mechanical secondary linkage.
DCR306
DCH-306 with vacuum-operated secondary throttle. 1981-1982 USA models.
New features
* Removable fuel bowl sight-glass 
* Vacuum-Secondary linkage
* Externally-vented fuel bowl

DFC306
Feedback carburetor DFC306 is the carburetor on 1989-1994 JDM A12 engines. It requires a special water heated Intake Manifold and ECU control for the electronic feedback (closed-loop mixture control).
See main article: DFC306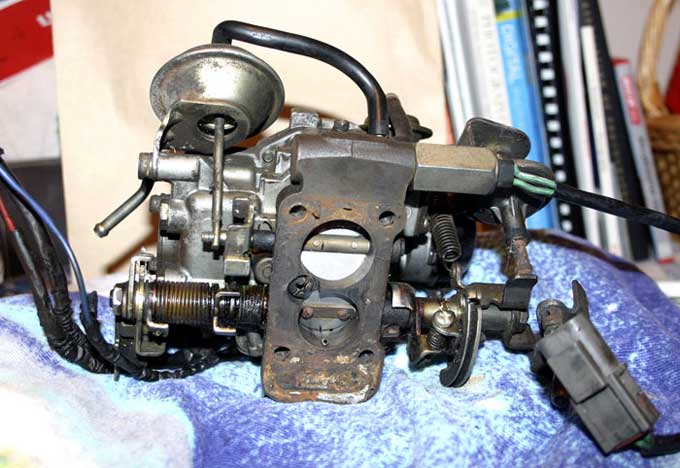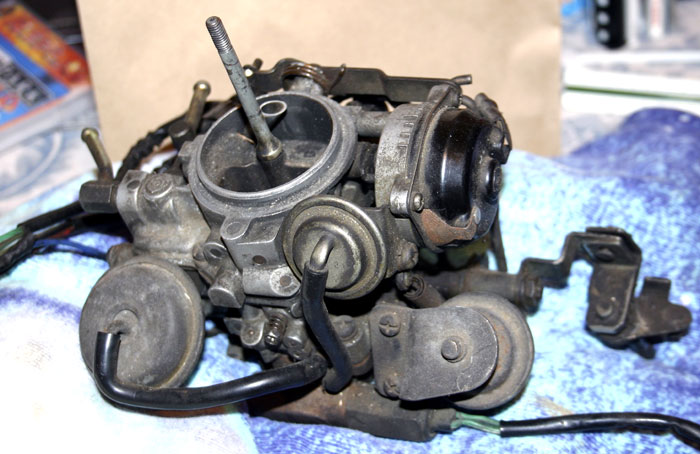 DCK
1967-1970 Datsun 510 (1300) DCK looks similar to DCH340 with a large bolt-on glass float cover.

Album click to view
¤