Which Carburetor should I use?
Also see: 
Weber 32/36 Carburetor
Parts Reference

Which is better? Sidedraft or downdraft?
In a way, downdraft is very good and inexpensive -- all A-series engine come with a carburetor, so it's all ready to go.
With most inline engines sidedrafts are better because the air/fuel mixture goes more straightly into the cylinder. The air-fuel mixture doesn't have to go down the carb, then make a 90 degree turn in the manifold to get into the cylinder. This helps the airflow, but more importantly fuel doesn't turn as fast as the air, which can cause mixture distribution problems when the path isn't straight. But on a V8s or flat engines with the engine at an angle, the downdraught might have the advantage of a straighter path (this is why all-out V8s and Porsche engines often use Weber downdrafts).
Additionally, with twin dual-throttle sidedrafts on an inline four cylinder, you get the extra advantage of a tuned-port intake path for each intake port. This is just like the individual tuned-port runners used in fuel injection, which is good for low-speed torque, and good for high-end power. Though few if any sidedraft manifolds use long runners, but are instead designed for higher rpm (short runners), the individual throttles give good low speed torque.
discussion: Downdraught? Sidedraught
Consider Fuel Injection
Think about Fuel Injection, which can use the sidedraft carburetor manifold or factory Datsun parts. It's easier than most think. By removing the venturi required by a carburetor, maximum airflow and thus maximum horsepower can be obtained. See the main article Fuel Injection.
Single or Twin?
Which is better a single carb setup, or a twin-carb kit?
Definitely the twin two-barrel gives best performance for a 4-cylinder engine. Twin Weber/Dellorto/Mikuni = 4 throttles.
From a cost standpoint, single carburetors are better -- about half the cost
For reliability consideration, single carburetor is superior. Most of the performance without the hassle
Contrary to what you might think, twin carbs don't give twice the airflow of single carbs -- because the twins are feeding one or two cylinders, they are only being used half the time.
With twin dual-throttle sidedrafts on an inline four cylinder, you get the extra advantage of a tuned-port intake path for each intake port. This is just like the individual tuned-port runners used in fuel injection, which is good for low-speed torque, and good for high-end power. Though few if any sidedraft manifolds use long runners, but are instead designed for higher rpm (short runners), the individual throttles still give good low speed torque.
Downdrafts
The Downdraught carburetors used on A-series engine are nearly always one of these:
Hitachi DCG306/DCH306: This is the stock carburetor for Datsun A-series engines, and was also used by Honda and other auto makers
Weber 32/36 Carburetor (DGV) a progressive secondary throttle design. It is a bit large for A-series engines but will pick up the HP above 5,000 RPM.
Weber 38/38 DGAS (synchronous throttle, i.e. both throats open at the same time). This is too large for most A-series, but can work well on heavily modified A14/A15
Of course downdraft carbs of other brands can be used, but these are the popular ones.
Stock Hitachi 306
The stock Datsun 1200 carburetor has the:
best fuel economy
best driveability e.g. smoothness of throttle response
Although properly jetted and synchronized Webers can be made to run just as well, they will take some special tuning effort to equal this.
See the main article Carburetor Overview.
Weber DGV 32/36
The Weber DGV series downdraft carb is an excellent choice for the daily driver stock or lightly modified A-series engine. See the main article Weber 32/36 Carburetor.
Note that the Holley G180 and Holley 5200 are the same carburetor, as commonly found on Ford engines and others. These are made by Holley with a license from Weber of Italy.
Least expensive upgrade choice
can use stock A-series engine manifold by using a simple adapter plate
Uses the Solex two-barrel bolt pattern
Weber IDF
Downdraft carbs of exotic car fame
Post click for topic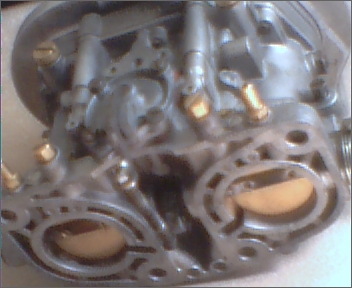 Album click to view
IDF44s on F.E.T. manifold (POST more pics)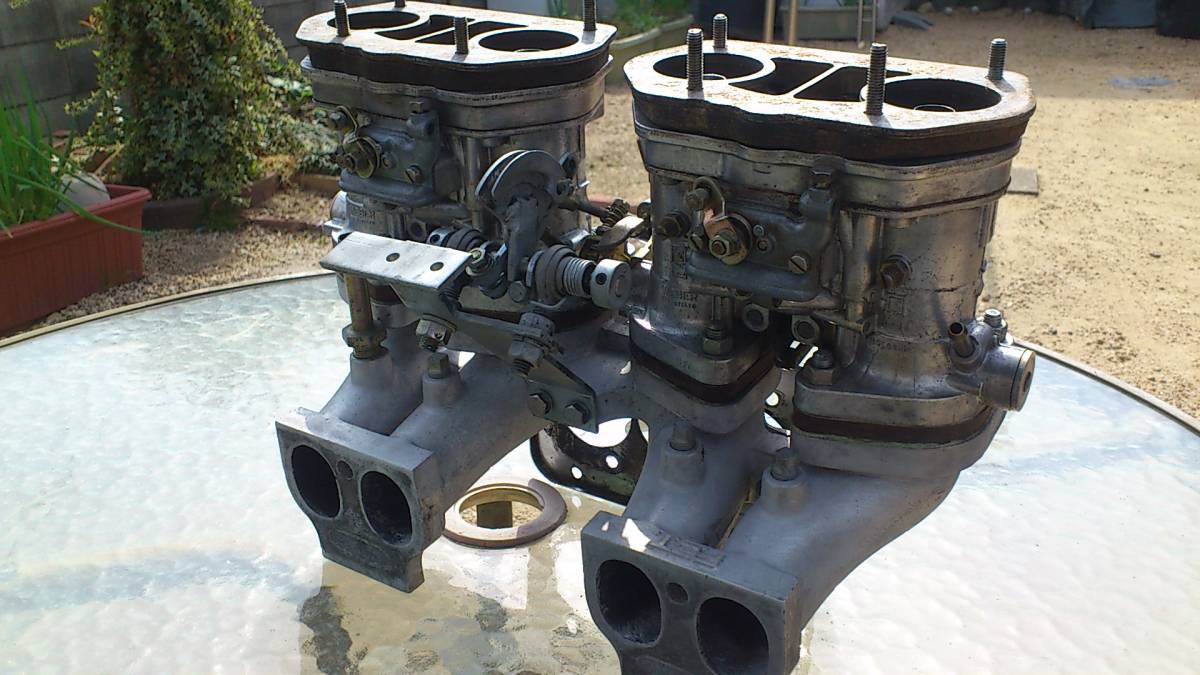 Post click for topic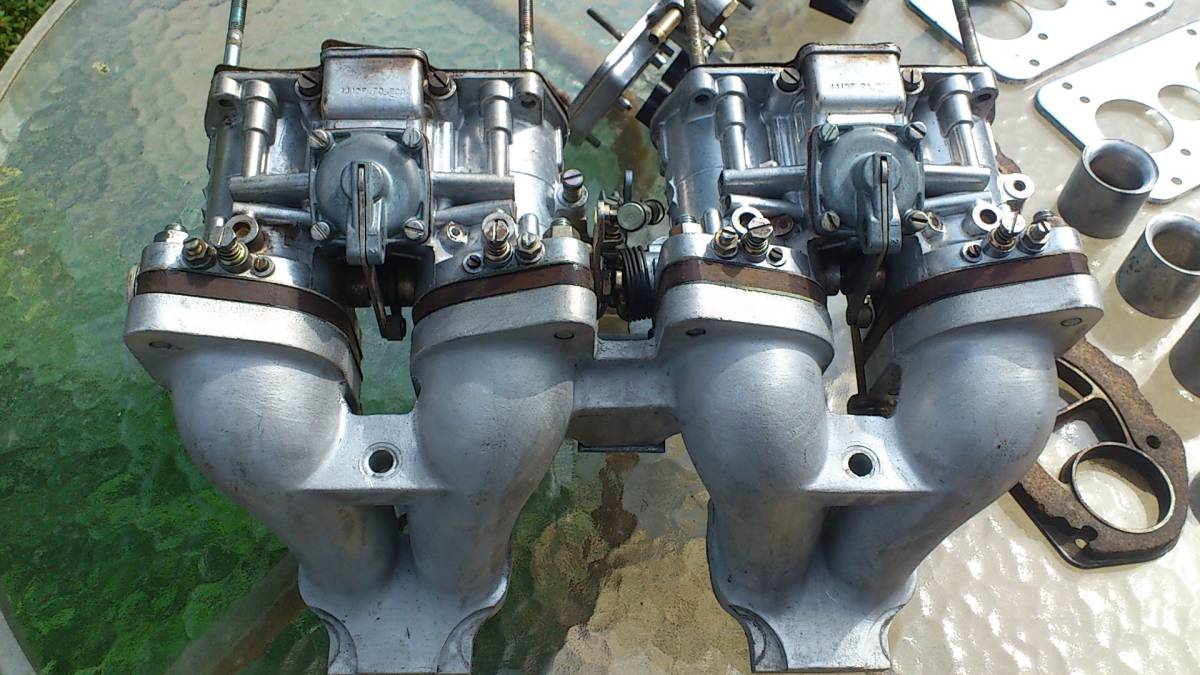 Post click for topic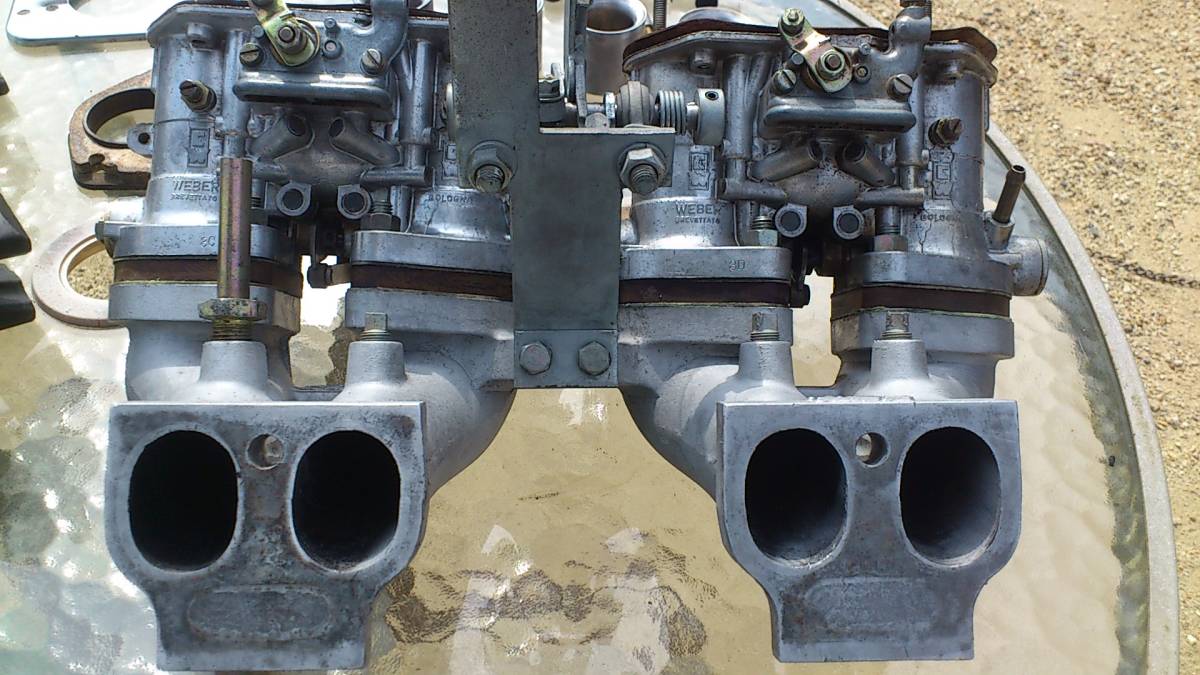 Post click for topic
IDFs on A12GX manifold

Album click to view
Album click to view

Album click to view
Sidedrafts
Sidedraught carburetors are more performance-oriented as they feed the engine ports is a straighter line. But they are generally more expensive and require a special intake manifold. By contrast, a traditional downdraft caburetor will fit your existing manifold.
There are two basic kinds of sidedraughts:
Constant Vacuum: SU, Hitachi and Stromberg types
jetted carbs: Weber DCOE, Mikuni/Solex PHH and Dellorto DHLA

The constant vacuum carburetors all fit the same manifold
Hitachi (SU-style): stock GX carburetors
SU carbs - made in England (not used by factory Datsuns)

These conventional sidedraft carburetors are all use the same intake manifold (same bolt pattern):
LHD Considerations
NOTE: Dual sidedrafts of the Weber/Mikuni-Solex/Dellorto type hit the brake master cylinder on LHD 1200s. Hitachi Twin Carb fits better, or you can use various means to make them fit.
See main article: LHD Sidedrafts

HJE38W Hitachi Twin Sidedrafts (GX engine carbs)
These variable-venturi carbs are the factory setup for Datsun 1200 GX cars (twin SU-type Hitachis). Not sure if these are swappable with the SUs and Solex/Zenith-Stromberg carbs, but are of similar design. These were also fitted to the Bluebird 411 SS and SSS, 240Z/260Z, B110GX, B210GX, PE10, 180B SSS, P510 SSS, and 311 roadsters.
Available in "dome-top" through 1972 and then "flat-top" versions in 1973 and up. Most use the 38 (38mm bore), but there are 46s on the 2000cc Roadster.
Angled runner design is generally a plus, although the a-series heads don't have angled runners to match
continuously variable venturi design (slides)
single throttle is a minus, compared to the dual Weber DCOEs (four throttles total)


The Hitachis are tuned in a manner similar to SU carburetors. Here are links to tuning information:
Mikuni PHH
Mikuni bought the Solex PHH license in the early 1970s and thoroughly redesigned it since then. The only parts in common between these two carbs are the diaphragm accelerator pump arrangement. The Mikuni now resembles a cross between a Weber DCOE and a Solex. They are the "set and forget" sidedrafts. Their flow rates aren't quite as high as the Webers, which is why they're not favored by racers, and jet availability is not as good. (Mikuni North America is the primary jet supplier).
Reference: bimmers.com
See main article: Mikuni PHH

Nissan Competition used to sell Mikuni jet parts.
Weber DCOE
See main article: Weber DCOE carburetor

The great thing about these carbs (as well the Dellorto DHLA) is that the jets are externally accessible, even when the air filter is on. This makes jet changes at the racetrack a snap.
These are available in 40, 42, 45, 48, 50, and 55mm sizes. Most Datsun A-series street engines run the dual 40s. Note that there are different size venturis for the 40s. This "barrel" size (40 or 45) doesn't determine the airflow, which is determined by the size of the main venturi (choke). The 28mm venturi might work best for a street A12, while a 38 venturi would be good for an 8,000 rpm A14.
Single carb

album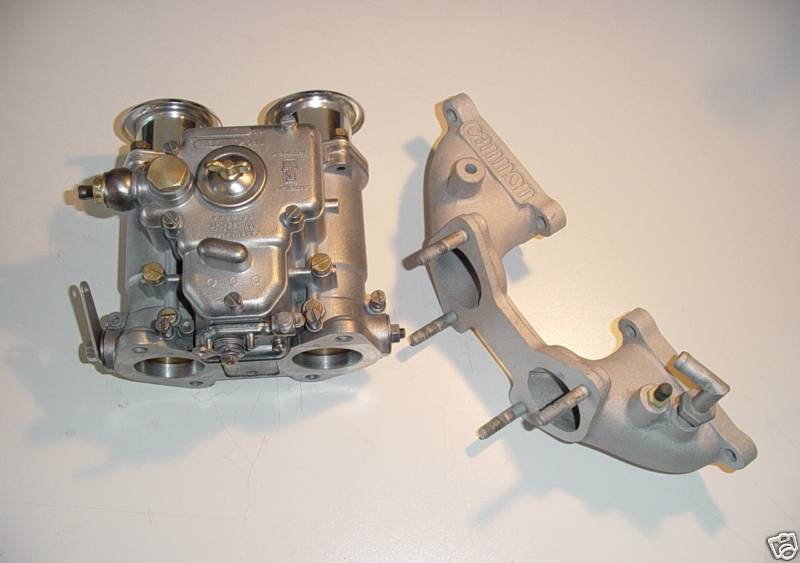 album
Dual DCOE

album
Dellorto DHLA
Twin Dellorto sidedraughts were used on the Datsun_1200_SSS.
See main article: Dellorto

You can identify the venturi side by looking down into the carburetor for the ID marks.
Other Variable Venturi Carbs
These "slide venturi" carbs have the advantage of at full throttle, there is minimal restriction to airflow compared to a traditional fixed-venturi carburetor. Vacuum and airflow regulate the venturi movement, and excellent fuel metering is achieved with tapered rods that move with the venturi, allowing more or less air to flow.
Mikuni motorcycle carbs
SU - all types
Solex/Zenith-Stromberg
Hitachi sidedrafts e.g. GX, A12T, A14T and Blubird SSS
Motorcyle Carbs
See main article: Bike Carbs


Air filters
Cold air is very important. Instead of hot underhood air, bring in cooler fresh air from outside. It makes a big difference, and is a nearly free -- no "intercooler" needed.
See main article: Cold Air Intake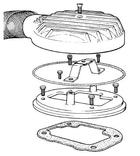 Suppliers
Carburettor
Redline Weber North America: Making the Right Weber Choice
Redline Weber North America - Weber 32/36 DGV & DCOE carbs, adapters, and intake manifolds
A-series 40 DCOE kit: K 625
A-series Cannon single DCOE intake: 99003.821
A-series DGAV performance kit: K 624
A-series California smog-legal DGAV kit: K 8625
linkage, manifolds, adapters, air filters, gaskets available

Cyberspace Auto - Sells Redline Weber kits. Complete DCOE kit for A-series $514.
Racetep sells Redline Weber kits. Complete kit for A-series DGEV 32/36: $376.95 USD.
jetting
Remanufactured Carbs by Holley: http://www.holley.com - Nissan
http://www.carburation.com/nisnistruc.html Includes prices
See the club's Classifieds forum.
Intake Manifolds
See Main Article: Aftermarket intake manifold

suppliers:
Lynx single (PN M041) and dual (PN M042) DCOE/DHLA manifolds, dual SU manifold (M137)
TWM Induction intakes, carbs, etc
Ramflo Lynx manifolds & Kay C (KC) adapter, Ramflo filters and Weber carbs
Ram intake downdraft manifold
Cannon/Canon
Redline Auto (Australia) makes single and dual DCOE manifolds and linkage, for A12 through A15 motors.
Same parts are available from Holley (Australia)
Stewart Wilkins Motorsports GX manifold - only $260 AUD
Aftermarket manifold finish quality can be really poor so check for flat flanges, port overlap. See Jason's Weber page.
Exhaust System
Headers (extractors) are a natural compliment to a bigger carb. Now that your 1200 can breathe better, got to let it exhale better too. Replacing the stock cost iron exhaust manifolds with a tubular headers (extractor), along with a bigger exhaust system will acheive this. An alternative is the Datsun 1200 GX or EGI exhaust manifold, which is cast but similar to headers.
4-into-1 headers are good for keeping torque up
Tri-Y. These are dual 2-into-1, then going into one again
Equal-length (bundle of snakes)
"shorty" headers, around the same length as the original manifold are easy to install, but not optimum for HP or torque. I don't know of any commercial version for 1200s, but here's a custom-made one:

The stock exhaust system used 1.5 inch tubing. Here are the recommendations:
Stock with Weber 32/36 carb: 1.75 inch exhaust Higher-rev Camshaft (up to 7000 rpm use): 2 inch exhaust Racing engine (10,000 rpm): 2.5 inch exhaust
Exhaust System Suppliers
You can make your own exhaust system. If you know how to weld, You can make your one out of some steel tubing and a bit of 10mm plate for the flange.
suppliers:
AUSTRALIA
New Zealand
Coby Manufacturing in Hamilton, NZ make 2 sets of different extractors to fit the A series motors
Euclid Ave, Hamilton Phone: 0-7-849 1765
Autopia in Christchurch
Tuning -- Making your Carb run right for YOUR engine
NOTE: For in-depth info on carb tuning and performance, buy or borrow a book the type of carb you have. Try your local library or http://www.amazon.com.
If you are getting poor fuel economy, unacceptable low speed bog (hesitation) when accelerating suddenly, overly loud induction noise, or the carbs getting hot enough to boil over fuel, the carbs need tuning or proper installation fitting. See Jason's Weber page

For a general tuning guide to Webers, see:

For Carb-specific tuning data, see:
A/F Meters
Air/Fuel ratio meters use a Lambda sensor (oxygen sensor) to tell you if the carb if running rich or lean.
See main article:
Oxygen Sensor Gauge