The Ford EDIS (Electronic Distributorless Ignition System) is a digital ignition system that can operate independent of an ECU. This makes it a great low cost system for swaps. Because it doesn't need a camshaft position sensor, EDIS is a particularly easy way to replace distributors when retrofitting older engines with a modern crank trigger ignition.
Overview
EDIS parts are abundant in American, Australian and UK wrecking yards, or are available from online shops such as Boost Engineering or eBay. The 4-cylinder version of EDIS is used on many Ford models worldwide. You can make your own crankshaft wheel, or adapt one a Ford wheel. Unlike other similar system that require a Camshaft Phase Sensor, this uses a simple crankshaft toothed wheel. This system has been successfully used on vintage Beetles, recent BMWs, Datsun Roadsters and just about everything else. Total cost is about $220 - $300 depending.
Trigger wheel and sensor (as found on most 1990s Fords) can be controlled by most modern after market ECU for example the $200 MegaSquirt I in spark-only mode. No fuel injection required.
Or the triggers & sensors + EDIS controller from certain Fords can be used along with MegaJolt Lite Jr.
Album click to view
Parts Needed
The parts from the wreckers needed are about $25-$100 (about $70 on Ebay):
Crank trigger wheel
Crank sensor
4-tower coil pack
Spark plug wires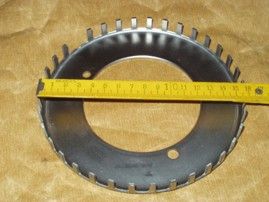 AND either:
ECU of you choice (starting new at $200 USD)
or
EDIS module with a bit of the wiring + MegaJolt/E ($145 and up)
A brand new EDIS module is about $85.
Quality Refurbished EDIS kits and more available from Boost Engineering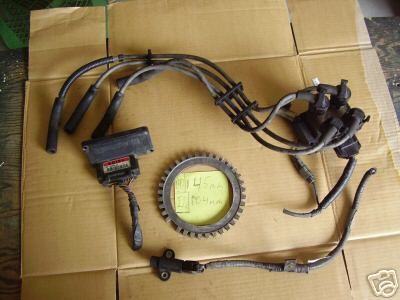 Using EDIS alone, it outputs a fixed spark timing of 10 degrees BTDC. You can drive the car like this! But it won't be very fuel efficient or particularly powerful. Using a relatively simple timing controller completes the picture -- wire it in and go. Optionally you can re-program the timing controller with a custom spark curve map using a standard PC.
For detailed technical information, see Ford EDIS technical information
Discussions
Our own club member sundat1200 has used EDIS on a 1975 VW Rabbit and a 2002 BMW with "great success".
ddgonzal runs EDIS on his bone-stock Datsun 1200 sedan.
Club member datto1000wagon also was using EDIS:

Album click to view
Album click to view
Album click to view

Album click to view
Album click to view
Album click to view
Distributor Trigger Wheel
EDIS is designed to use a crank or flywheel trigger, using a 36-1 trigger wheel. However, for nostalgic or sleeper look, some might choose to fit a wheel into the old distributor. In this case, since the distributor runs at 1/2 speed of the crankshaft, use a 72-2 wheel.
In general it is not recommended to use distributor trigger:
More work, needing special wheel and custom mounting
Will still be affected by gear lash timing inconsistencies (but will work as well as a stock ignition system)
A low profile (sheet metal) trigger wheel takes almost no space on the front pulley, so there is almost no technical reason to use a distributor trigger wheel.
Crank Trigger Wheel
The trigger wheel on the crankshaft has 36 teeth, with one missing -- the 36-1 style. Any wheel of this style can be used.
You can make your own crankshaft wheel out of sheet metal
or adapt one from the Escort, F-150, Falcon, Mustang, Taurus, or other Ford models starting from around 1991
Ford UK trigger wheel Part No 1078767 is only 13 UK Pounds, and can be glued or bolted to most crank pulleys
Ford F7CZ6316BA is a nice looking cast aluminum trigger wheel and an appropriate size for Datsun A-engine. For more info see below (section Dimensions)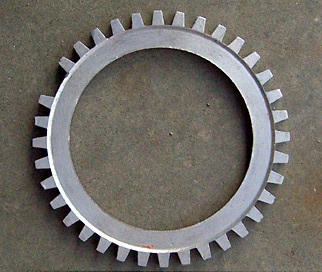 Bolt-on Method
Album click to view
See detail below in section A-series Kit
DIY Auto Tune wheel - low profile (1/8") sheet metal type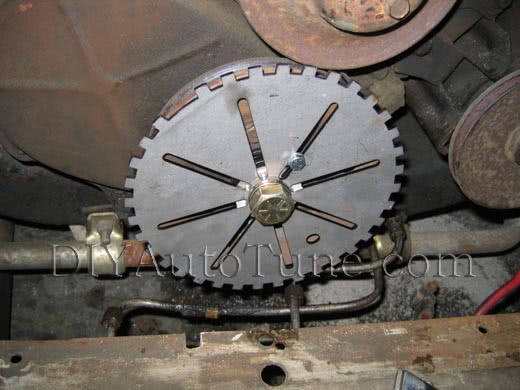 Post click for topic
Super-simple to install, needs no machining as the crank bolt alone will hold it in place. The photo shows a set-screw/bolt, but it is not needed.
Machined Method
Method 1: A new hub is created out of mild steel and is placed in front of the stock pulley

Album click to view

Album click to view
Album click to view
Method 2: This one was made from a stock A series double-pulley machined down and a Ford trigger wheel ring fitted in place of the front belt groove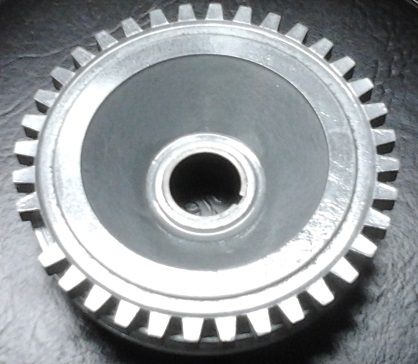 Album click to view
Method 3: Teeth cut into Stock pulley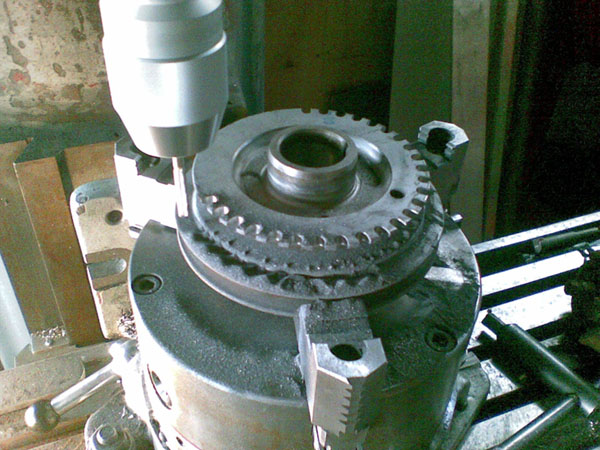 Album click to view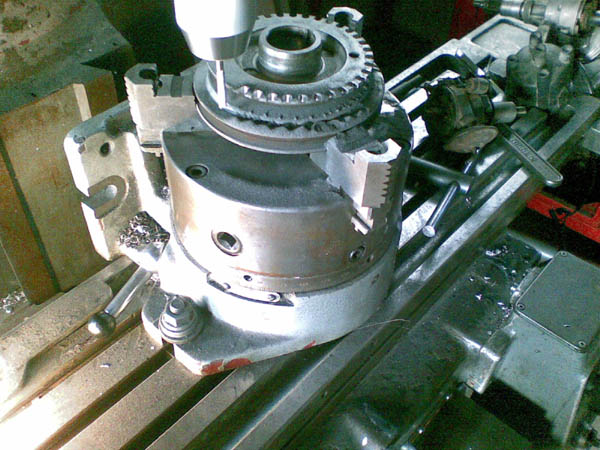 Album click to view
Dimensions
As the Datsun A-series crank pulley is 5.5 inches (139 mm) outside diameter, you need a trigger wheel at least this large.
Ford F7CZ6316BA is a nice looking cast aluminum trigger wheel. Actually it is the entire harmonic balancer (serpentine belt pulley with trigger wheel pressed on), but the ring can be removed by heating it.
Ford part number F7CZ6316BA
1990-2001 Ford Escort/Mercury Tracer with 1.9 SOHC engine
* ATP part number 102026
* DORMAN 594033
* DAYCO PB1101N
$30 USD RockAuto.com
* 144.30 mm OD
* 102.80 mm ID
* 9 mm thick at teeth, 7mm thick where it meets the flange
* Cast iron hub: ~28mm crankshaft diameter


UK Ford: 1078767. Ford Germany: 98XM 6K339 AA
* 160mm OD 


Other Ford parts are too small for the A-series I think.
UK Ford
* 120mm OD

Early Mustang (pre-2000) pressed steel
2008 Ford F-150 5.4 liter 
2012 Ford E-150 5.4 liter
Ford XW1Z-12A227-AC (slightly less than 5 inches in diameter)
$12 RockAuto.com
* DORMAN 917060

Late Mustang wheels are one piece with the crank hub.
* cast wheel PN F2LZ-12A227-BB

Taurus 3.8 Turbo wheels are smaller diameter than the A-series pulley:
* 120.65 mm (4.75 in) OD
* 70.36 mm (2.77 in) ID

Ford Modular V8 4.6/5.4 - PN F2LE-12A227-BC
* 126mm OD
* 32mm ID
* 1999 Ford F-150 4.6 liter part number F2LE-12A227-BC 
$17 USD RockAuto.com
* STANDARD MOTOR PRODUCTS part number PC614
  "Camshaft Position Sensor Interrupter" $17 USD
* AIRTEX / WELLS 5S6695


A-series Kit
With the standard Escort pulley, use hacksaw to separate the grooved-belt section from the toothed section. You will end up with a steel hub with toothed aluminum wheel.
Album click to view
Use a standard 5/8 inch type bushing. Pound the flange a bit to enlarge it. A longer crank bolt fits. (Alternatively you can machine a custom bushing from solid aluminum).

To fit this wheel:
Using a hacksaw, cut the trigger wheel from the pulley hub. I think it is cast iron. This leaves the wheel on a flat part of the hub. If the cut is not straight, grind/file it flat so that it is correctly balanced.
With the 139mm A-series pulley, just take two extra pulley bolt washers to space the wheel in front of the pulley. There is no room to mount it behind the pulley.

Stock A-series pulley bolt washer is 34.5mm OD, 0.64 in (16.2mm) ID, 8mm thick.

Part Number: 12308-H1000 ($1.25)

They can be bigger on Outside Diameter if needed.

Fit a spacer inside the Escort pully hole:

ID: 0.61 in (15.5mm)
OD: 1.07 in - 1.09 in (27.1 - 27.6 mm).

You may need to drill/file the hole out a touch to fit over the bolt

no more than 0.37 in. (9.3 mm) thick.
Drill the ID (0.54 in) out using a 19/32 in drill bit to fit tightly over the bolt. Some filing with a round file will be needed. This is just to fit the pulley laterally. The Bolt will fasten it tight. Better yet, have a machinest make a tidy aluminum spacer.

Fit the longer pulley bolt and the last washer.
Torque: 15-16 kg/m (108-116 ft. lb.)

The stock A-series crankshaft pulley bolt is:
Stock Part Number: 12309-78200 ($4.58)

M16 x 1.50 (fine) pitch

15mm diameter
27mm long
The head is 27mm hex and about 15 mm thick.
Torque: 15-16 kg/m (108-116 ft. lb.)

The new pulley bolt needs to be 55 mm long.
M16 x 1.50 x 55 mm. ($3.15)
Will Grade 8.8 be OK? Or does it require Grade 10.8?
Torque: 15-16 kg/m (108-116 ft. lb.)

Fitting the Trigger Wheel
Fit the trigger wheel on the crank pulley
Make the sensor bracket. The more rigid, the better
Turn the engine to TDC on #1.
Mark the tooth that is 6 teeth anti-clockwise from the "missing" tooth.
Center the marked tooth over the sensor.
Bolt the crankshaft pulley bolt tight (108-116 lb. ft. torque)
Album click to view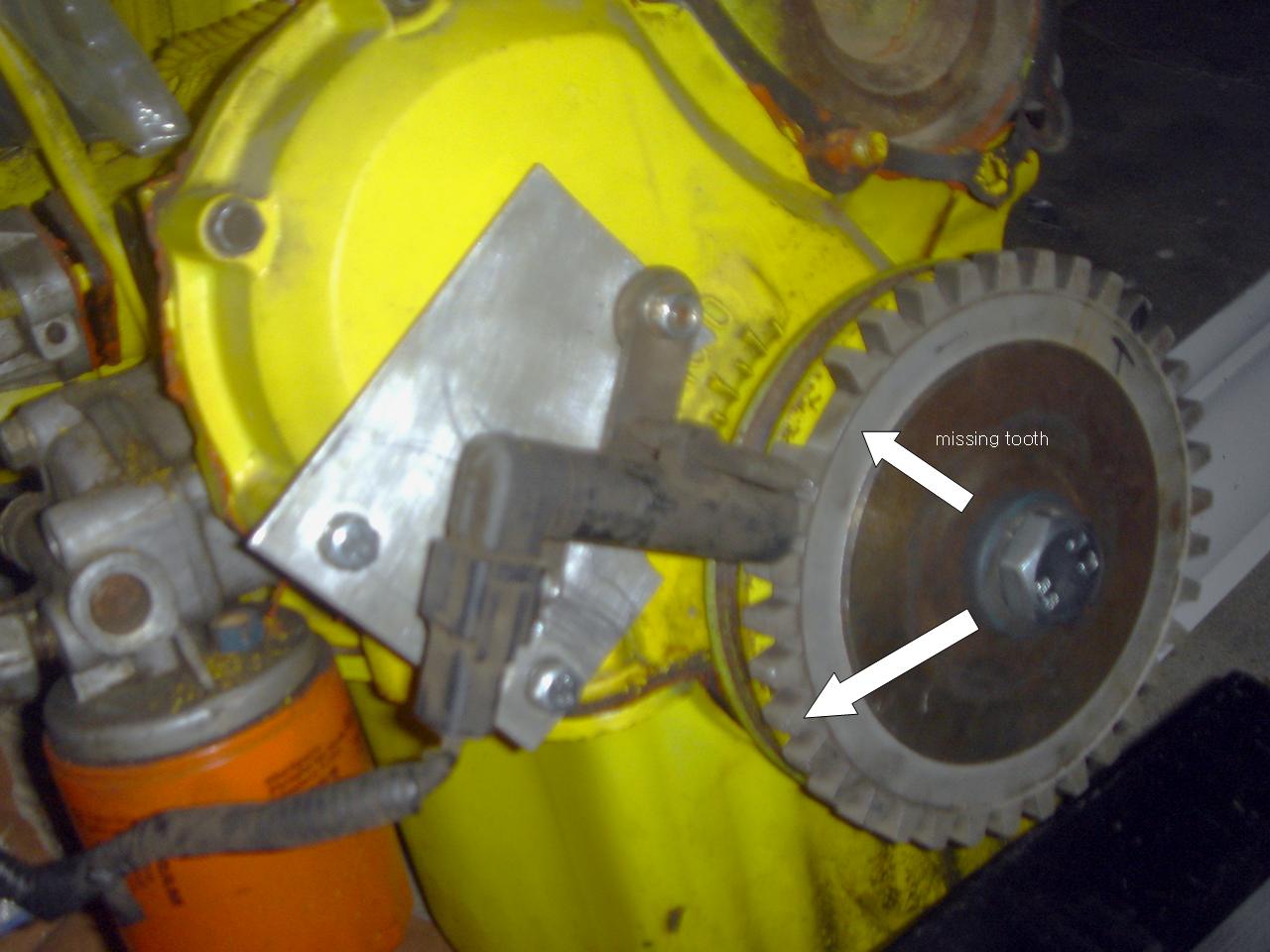 Album click to view
make a plate to bolt the sensor to the front of the engine. Sensor-to-tooth clearance is 0.040 inch or less.
This sensor is from a Ford Aerostarᵂ van, but any sensor can be used. They come in many shapes and orientations
Audio of first run (timing retarded, but very strong and smooth spark): video (202k)

Album click to view
Album click to view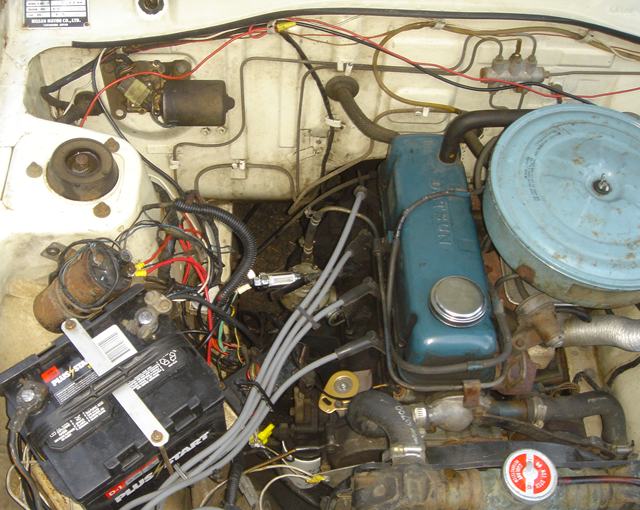 Album click to view
Coil Pack Mounting
You can mount the coil pack on the core support next to the radiator: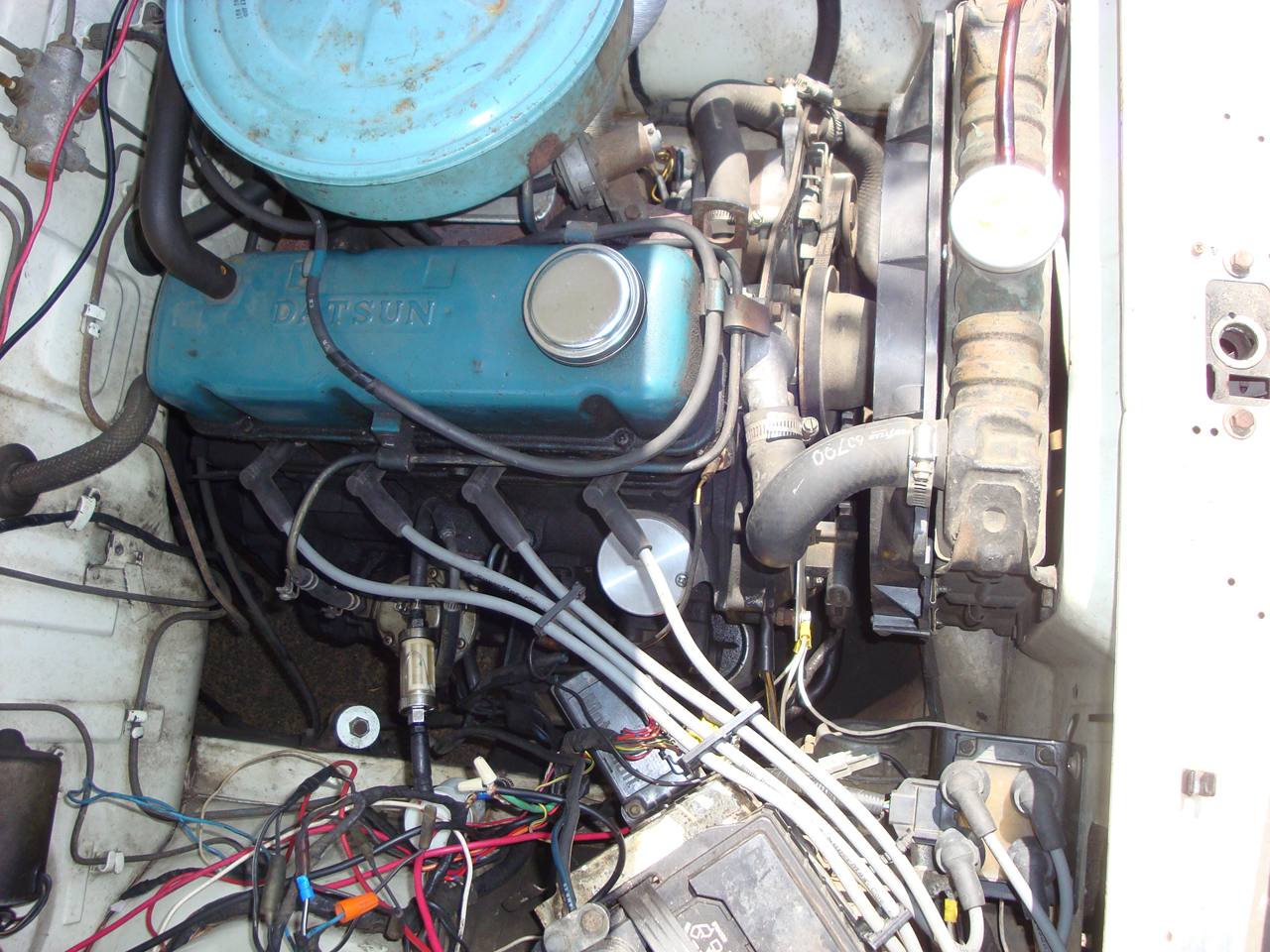 Album click to view
For late 1200 utes, with the battery in front, the stock coil location works well:

Album click to view
But not so well for an early 1200:

Album click to view
Distributor Plug the Hole
For a no-cost option, use a large washer and the stock distributor O-ring: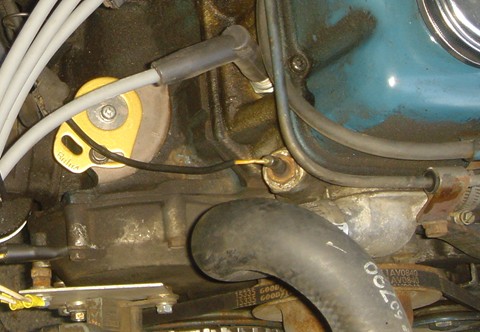 Album click to view
A flashier option is to fabricate an POSTAluminum plug. It also uses the standard distributor O-ring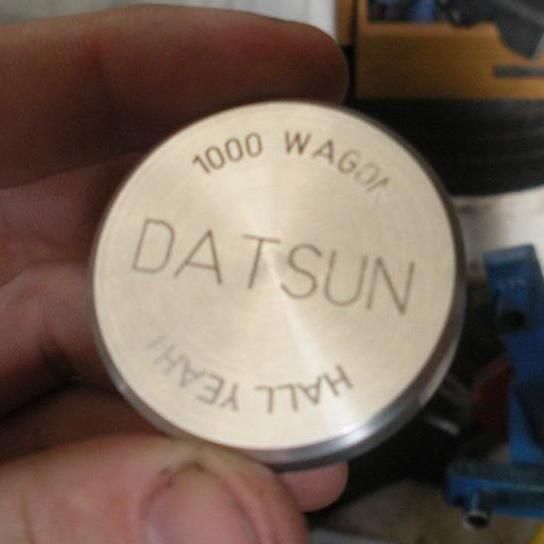 Aluminum plug: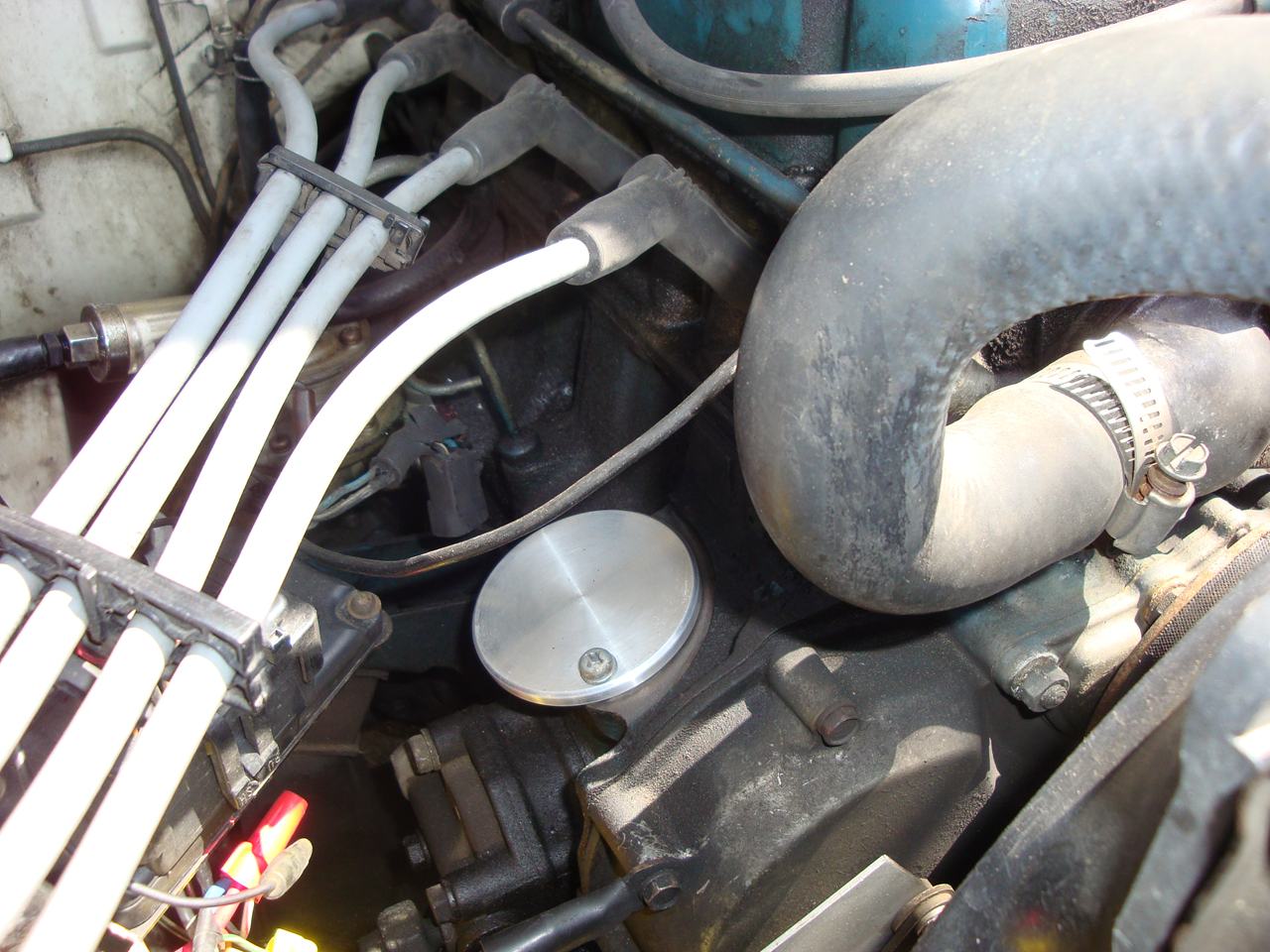 Album click to view
Aluminum Plug: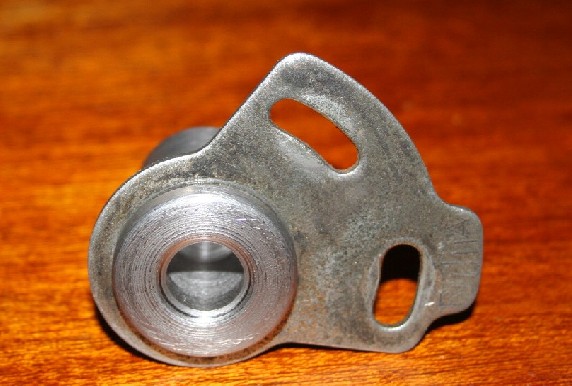 Album click to view
Album click to view
Album click to view
Controller
Most installs will use the Ford spark controller (EDIS4) along with a programmable timing controller (MegaJolt Lite Jr.).
You can also use a modern ECU without the EDIS controller, in which case you aren't really running EDIS per se, but rather an ECU-based Crank Trigger ignition (which can use the Ford style 36-1 trigger wheel and/or Ford-style VR sensors). For example, you can use MegaSquirt to control EDIS. Cost: $187 USD kit, about double what #MegaJolt Lite Jr. costs. If you are going to run aftermaket EFI, MegaSquirt is is the way to go. Otherwise, use MegaJolt Lite Jr.
Ford EDIS4
Many installs use the Ford spark controller (EDIS4) + a simple timing controller such as #MegaJolt_Lite_Jr.. The EDIS4 controller can be obtained from a wrecking yard, purchased from eBay ($25) or new from auto parts suppliers like RockAuto.com ($100 + $12 connector).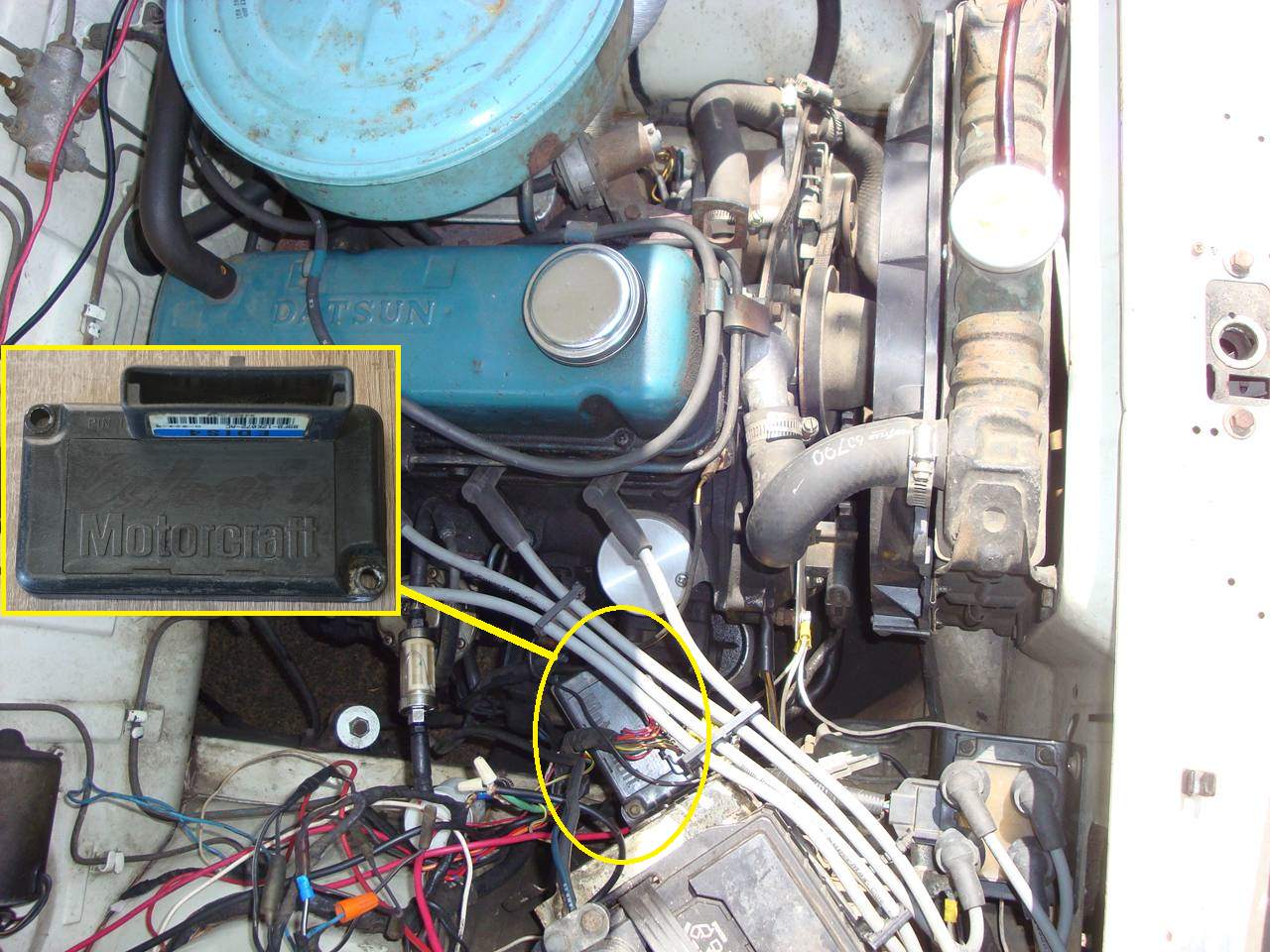 Album click to view
Speeduino
Speeduino can use any EDIS-style 36-1 #Crank Trigger Wheel in "ignition only" mode. Speeduino fully assembled starts at $160 USD (2022) or $10 for the bare PCB board and $23 for the CPU (Arduino Mega 2560).
Configure Tuner Studio for a "Missing Tooth" Decoder☁.
Use a common Ford #VR Sensor with a $25 add-on Speeduino VR Conditioner board. Or, use a more expensive 3-wire Hall Sensor without needing an add-on board.
MegaSquirt 1 v3
Megasquirt works with EDIS system using the Ford EDIS controller.
You can also use it without the Ford controller but requires modification of the wiring or purchase of an external spark Ignitor such as Megasquirt's QuadSpark ignition module to drive the coil packs.
MegaSquirt 2
Megasquirt II works directly with EDIS system -- no Ford EDIS controller required. See EDIS Ignition Control with MegaSquirt-II.
MegaJolt Lite Jr.
MegaJolt Lite Jr. can be purchased from several vendors in USA and UK, including AutoSport Labs. The ready-to-run unit is $168 as of 2015 (Megajolt/E with MAP). The complete kit is $89 USD [EDITOR: Kit No Longer Available] complete with MAP sensor. It has everything needed except the EDIS parts themselves, and external wiring.
Album click to view
The kit is fairly simple and might take about 1 hour to complete, if you are good at this sort of thing. It took me three hours to solder up, but then again, I haven't soldered up a kit since 1982. After I was done, it worked with no problems.
Get the MAP sensor version. It is better. However, if you have a lumpy idle from big cams, then you won't have a good vacuum signal. In that case, use the TPS version (which requires a carb throttle sensor).
After completing the kit, wire it into the car and drive off.
Wiring
MegaJolt Lite Jr. requires mounting in the passenger compartment because it's not weatherproof. That's OK since that's where you can easily use a laptop should you wish to tune it live.
For wiring instructions and pictures for the EDIS modules -- which should apply to both MegaJolt Lite Jr. and MegaSquirt controllers -- see EDIS And Coil Pack Installation
Four wires:
Ground (earth) 16 gauge
IGN (hot) 18 gauge
PIP rpm sensor (double-wire shielded cable)
SAW feedback wire (double-wire shielded cable)
For power and ground, I used some wiring cut from an old car.
The MJLJ control wires requires Shielded Twisted Pair (STP) wire. I used an ancient electric guitar cable with small wires (22 gauge, I think). It seems to work OK, although the VR sensor itself uses 18 gauge wires.
I used 10 ft of sensor wiring, so that I can move the sensor from one side of the dash to the other, and to route it along the edge of the engine compartment. Four feet would be the minimum needed.
4-Cylinder EDIS module pinout
| Signal | EDIS Module Terminal |
| --- | --- |
| PIP (EDIS output signal) | 1 |
| IDM (diagnostic signal to ECU) | 2 |
| SAW (ECU spark control signal) | 3 |
| IGN GND (signal return) | 4 |
| VRS - (crank sensor negative) | 5 |
| VRS +(crank sensor positive) | 6 |
| VRS shield (crank sensor shield) | 7 |
| VPWR (ignition switched 12 volts) | 8 |
| PWR GND | 9 |
| COIL 1 (coil drive) | 10 |
| CTO (clean tach out) | 11 |
| COIL 2 (coil drive) | 12 |
Optional: MegaJolt Lite Jr. has extra outputs:
Tachometer
Four outputs designed to drive LED lights, such as a shift light. You can also use them to drive a beeper, or other things.
PC Interface
You don't need a computer or laptop to test or tune MegaJolt Lite Jr. However you can test it on your desk using a serial cable:
guide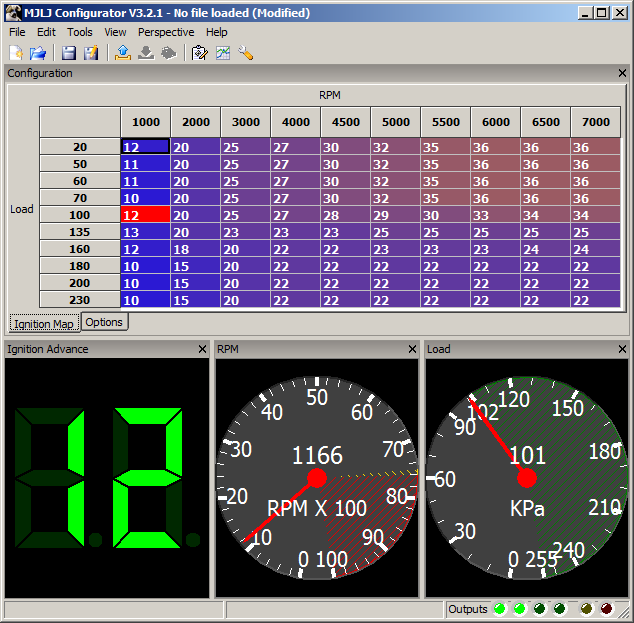 Apparently you can tune it while the engine is running, but there is no need to do so.
Again, no laptop is needed. MJLJ comes with a built in map suitable for "all" engines (including Natually Aspirated, Turbo and Supercharged).
Timing Maps
I downloaded the "Naturally Aspirated" map to it (it comes with a dual-purpose NA/boosted map), then bolted it in the car and it worked right off the bat.
More maps can be downloaded:
click "Ignition Map Library"
click your choice

the "Default Ignition Map" works fine on A-series engines
the "Datsun 1200" map (on page 3 or thereabouts) is a stock-spec map (not a high-performance map)
Parts
Spark Plugs
I used stock A12 plugs (points type) with my EDIS installation -- it ran great. However you can use extra large gap for better fuel economy with lean fuel mixtures.
The spark plugs in the EDIS4 cars use a 0.054 inch gap. Spark plugs for A-series engine require:
13/16" Hex
Thread: 14 mm
Reach: 19 mm
Seat: Gasket
Tip: Power
Supressor/Non Resistor: Suppressor
Heat Range Chart: F12 nominal (factory heat range varies)
Hundreds of vehicles use this type of plug (in same heat range). See Spark plugs for more information.

Gap 1.0-1.1 mm (0.039-0.043 in) for Datsun A-series Engine
Same as 1979-1982 Datsun B310 USA models
NGK BPR5ES-11(7634) standard type
NGK BPR5EIX-11(2115) Iridium IX
NGK BPR5EGP(7802) G-Power (platinum)
NGK BPR5EY-11(6937) V-Power (grooved electrode)
Champion 322 (RN11YC4, standard)
Champion 3322 (platinum)
Champion 7332 (RN10PYP4, double platinum)
Champion 9804 (iridium, with platinum tipped V-Trimmed Ground Electrode)
ACDelco R43XLS (standard)
ACDelco 41802/41-802 (Professional Platinum dual platinum)
Bosch 7907 (WR8DCX Super Plus)
Bosch 4219 (platinum)
Bosch 4019 (WR8DPX Platinum Plus)
Nissan 22401-27T65(PGR5A-11)
Nissan 22401-N8715(BP5ES-11)
Can re-gap to 1.3 mm (0.054 in)

Gap 1.2mm (0.050 inch), can be gapped to 1.3 (0.054)
Autolite 64 copper
Autolite XP64 (Iridium, with platinum ground electrode)
Autolite APP64 (Double Platinum, including platinum bottom on the ground electrode, 100K mile plug)

"preferred technology for DIS engines"

Autolite AP64 (Platinum)

1961-1965 Chevrolet 409 V8
1969-1970 Chevrolet 396 V8
1985-1988 Chevrolet Nova 1.6
1985-1986 Chevrolet Spectrum 1.5
1985-1988 Chevrolet Sprint 1.0
1990-1993 Chevrolet/Geo Tracker 1.6
1986-1989 Honda Accord 2.0
1985-1990 Honda Prelude 2.0
1988-1997 Isuzu 2.3/2.6
2001-2004 Kia Optima 2.4
Etc, toyota, mazda, volvo ...

Gap 1.2-1.3 mm (0.054 in) for Datsun A-series Engine
Nissan 22401-HC000 (BPR5ES-13) [original fitment: non-USA, non-A-series]
NGK BPR5ES-13(3154)
Denso W16EXR-U13 (standard)
Denso IW16 (5305, Iridium Power) 30K mile plugs, non-iridium U-groove ground electrode
Denso VW16 (Iridium Tough) 120K mile plugs, platinum button ground electrode
Mazda FEDK-18-110

Mazda 323 with

1985-1986 B3 EGI engine 1.3L 1324cc L4 FI
1987 E5 EGI engine

If you can find them (Japan, Europe sales)
Coil Pack
These Ford coil packs work with EDIS controller:
Any Ford 36-1 trigger wheel and VR sensor, e.g. Falcon
1997 V8-fitted LTD with EDIS
Zetec engine VR sensor (which is aimed at the flywheel instead of the crank pulley)

These reportedly also with with an EDIS controller. Any coil pack without internal drivers:
Toyota
Mitsubishi
GM DIS coil pack (typical Holden 2-spark coils, a la GM 3800)
Chrysler coil pack
Bosch coil pack
Measure the resistance and check to make sure it compatible.
The EDIS coil pack is negative switched, with the center wire being a common 12V. It is a three wire coil. When using GM DIS 2-wire coils, tie the 12V lines together.
GM 3800 coil packs 1986-2009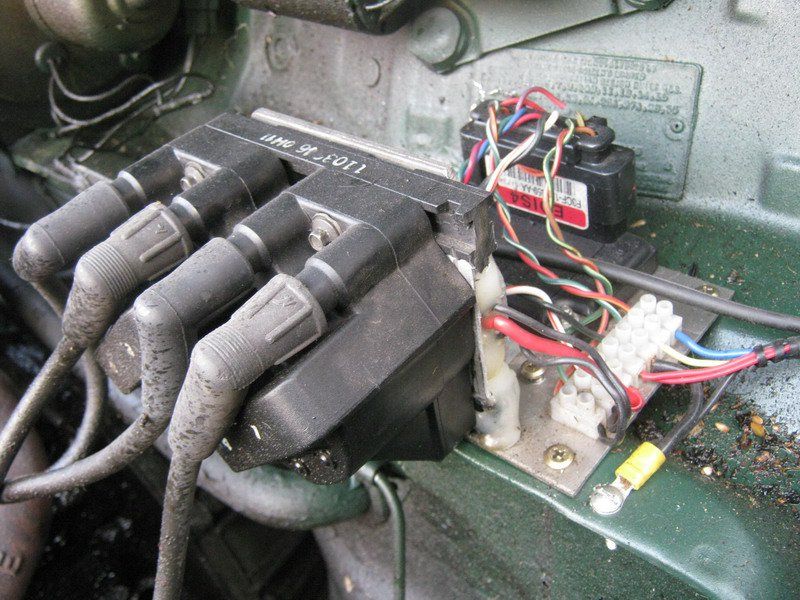 Album click to view
FORD EDIS-4 from 1990 Escort/Tracer 1.9L. Part Number: F1CZ-12K072-A
new Accel 4-Tower coil pack $56.95 at Summit Racing]

Most European and USA Fords from circa 1990 up use 36-1 crank trigger wheels and EDIS-type coil packs. You can also buy them aftermarket.
Most '90s Fords use a compatible crank sensor (VR sensor)

The "standalone" EDIS module is limited to a few models, most other Fords have the EEC engine module control both the EFI and spark. In other words, they all use EDIS.
VR Sensor
Here are a variety of VR Sensors used with EDIS, they vary by how they mount and where they point. You can also use GM or Chrysler VR sensors and probably a lot of other brands. Notice the Crown Victoria unit mounts in a hole, with a tab to bolt it down.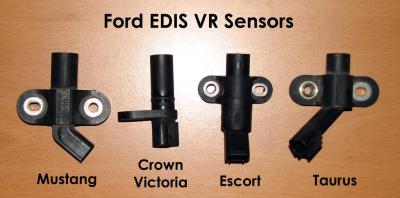 PC19 straight type, 1991-1996 Escort/Tracer with 1.9 engine

PC27 (F0CZ 6B288A) down style
PC51 (1F2Z-6C315AA) straight Windstar, F150, Freestar, Explore V6 4.3/V8
PC74 (1F1Z-6C315DB) straight Ranger/Taurus/Mazda/Windstar V6 3.0
Connectors
S-744 edis module pigtail
S-755 coil pigtail
S-812 crank and cam sensor pigtail
S-674 tps pigtail

TH169 throttle position sensor

LX239 EDIS-4 module

FD-487 coil pack

Australia
MegaJolt Lite Jr. are available mail order, so they are very easy to get. You can buy a completed unit. Self-solder kits are no longer available.
EDIS parts from Australia-built Falcons and other Fords can be used, such as trigger wheels, sensors and coil packs. The EDIS 4 controller (if needed) can be purchased mail order. If you use MegaSquirt MS-III it is not needed.
¤