The FU engine came on the "GFU", "FU" and "MPG" cars (USA-market B210 and B310 fuel economy champion models). F means Five-speed. G means GX trim (not dual carb). U means USA (FEDERAL, except California). They got up to 50 mpg (21 km/liter).

1977 B-210 50 MPG (US gallon = 3.78 liter)
B210
The FU model was a B210 Coupe fitted with A14 engine and 63a Five-speed transmission. The 5-speed was introduced to USA models from 1976-1/2, and to Canada models for 1977. 65 HP A14 with round ports.
5-speed models were only available in Coupe body style. All 5-speed models were fitted with FU engine. So for America, 5-speed was for fuel-economy, not performance option.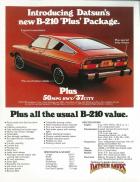 1977 B-210 Plus
KHLB210FU: FEDERAL 5-speed
KHLB210FUV: CALIFORNIA 5-speed
KHLB210FUN: CANADA 5-speed [1978]
---

NOTE: When the FSM refers to the "FU models" apparently it is excluding Canada FUN vehicles.

---
B310
A14 or A15 with 60-series five speed transmission. Available in all body styles: 2-dr, 4-dr, Coupe and Wagon.
0278-0780 HLB310FU 4-dr sedan, DX, A14
0278-0780 HLB310RFU 2-dr sedan, DX, A14
0278-1179 KHLB310FU Coupe, DX, A14
0278-1179 WHL310FU Wagon, DX, A14
1279-0780 PLB310RSFU 2-dr sedan, Standard, A15
1279-0780 KHLB310FU Coupe, DX, A15
1279-0780 WPLB310FU Wagon, DX, A15
0880- PLB310FU 4-dr, DX, A15
0880- PLB310RFU 2-dr, DX, A15
0880- HLB310RSFU 2-dr, STD, A14
0880- KHLB310FU Coupe, DX, A14
0880- WHLB310FU Wagon, DX, A14

65HP - Economy A14 Engine. This engine got 47 MPG in the B310 with 5-speed transmission.
1976-1977
B210 engine was A14. Standard A14 was 80 HP, but FU engine was 65 HP. Round ports contributed to superior low-rpm operation.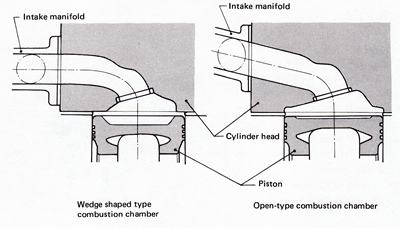 Round ports
Open chamber
Passive air induction (non-FU has air pump)
1977 compression ratio: 8.5 (5.37 mm dish)
1977 FU engine used 1978-style electronic ignition
1977-1978
The ports were lowered for increase swirl, and quench-type combustion chamber was utilized. These have quench chambers (not open chambers) but instead of being used in high-compression engines, they are designed for high swirl (for better fuel economy and improved emissions). They are used with dished pistons. Unlike the later H95 swirl-port heads, these have unobstructed ports. The ports are lowered so that the charge is forced to swirl as it enters the chamber.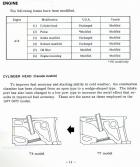 Round ports, low with swirl (non-shrouded)
Closed chamber (previously open chamber)
1978 USA compression ratio: 9.0 (4.08 mm dish)
Static Ignition Timing of 5 degrees (versus the normal 10 degrees of non-FU models)
NOTE: All 1978 Canada models used this engine, even non-FU Canada cars.
1979-1980
1979 FU engine was A14, changed from 1978 by the addition of water ports on the intake manifold face (for wet manifold). In 1980 either A14 or A15 was fitted. Curiously, the A12A engine was not used in the fuel-economy models.
Cylinder head features:
quench wedge chambers
round 28mm (?) lowered ports
Has round intake ports (like the A12 head). It has two small coolant holes below the intake ports, to provide heat for the intake manifold.
1981-1982
FU models for 1981-1982 did not have a special engine, but instead ALL 1981-1982 US models, including A12A, A14 and A15 used the same high-efficiency engine design with small oval ports and smaller intake valve. However the FU engine:
used the smaller Datsun 1200 sized cooling fan (not the larger typical A14 style)
1981 A15 engine with 5-speed
1982 MPG model: A14 with 5-speed
See main article: 1981 Engine.
Spark Plugs
For 1978 and 1979, FU engines were fitted with NGK "Multi-gap" spark plugs with the larger gap of 1.3 mm (0.051 inch). The FU engine locates the spark plug closer to the center of the cylinder, which is superior to the regular head.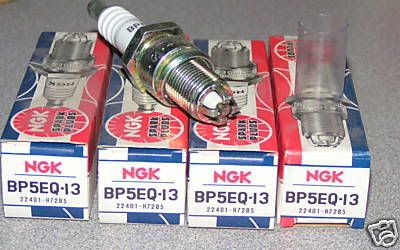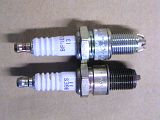 These plugs use a special distributor and static timing, but uses the same 12V coil as other Electronic Ignition models.