Electronic Distributor Upgrades are considered the BEST upgrade you can make to your A-series engine -- it increases reliability considerably. A Datsun EI dizzy replacement is highly recommended for enhanced reliability + better performance, but a points conversion system may also give better reliability than stock.
Overview
There are many type of Electronic Ignition (EI), but the most common choices seem to be:
Benefits
Advantages of electronic ignition include:
Relibility: Nissan EI is nearly foolproof as failures are extrememly rare. Points will always end up giving you trouble eventually.
High-energy spark -- uses full 12V coil (no ballast resistor), and can drive large gapped spark plugs for better firing
Additionally, Nissan EI distributors have this advantage of using a Larger Cap -- less chance to crossfire (important in humid or dusty climates)
A low-energy EI system won't increase HP over a correctly adjusted points system. However, high-energy systems can better fire lean mixtures (by using larger gap spark plugs) and more easily fire dense charges (think turbo or supercharged engines).
Even a low-enery EI system is better than points, which for top performance requires regapping every 3 months/3000 miles and replacement every year -- See Periodical Maintenance and Lubrication Schedule.
Counterpoint
Why go to all the trouble upgrading to electronic ignition?
Points distributors make the same HP as long as you adjust the points every months/3000 mi (5000km)
Points are reliable as long as you replace the points & condenser every 12 months/12000 mi (20,000 km), and keep the cap clean & dry
Point sets are inexpensive. No need to buy a different distributor, just $25 every year or so
Performance
Use an EI coil (designed for electronic ignition) and wire it correctly. See EI Wiring.
When using an EI coil, regap the spark plugs to 0.044 inches for maximum spark performance.
For best performance, get your dizzy recurved. This applies to stock dizzies or EI dizzies. You can do this yourself if you are patient and methodical. Or you can pay a distributor shop to recurve it. In any case, start with Timing.
---

Question: Is it reasonable to expect a (slight) increase in power?


Answer: No. Just expect top spark performance, but no horsepower increase -- unless you had a spark problem with the old ignition system.


Electronic Ignition will make your engine run at peak spark month after month with none of the losses that points have as they wear. Thus you should get performance equivalent to a newly installed and correctly adjusted set of points. Add to that differing vacuum and mechanical advance curves and the difference is probably a wash. However if your tune was marginal before it may pick up a few HP -- but so would new points and properly adjusted fuel mixture w/o Electronic Ignition.

---
A-series EI Distributors
All these are drop-in plug and play distributors for 1974-up A-series engines. Minor wiring changes and matching coil are required, but are very simple to install. Will also fit A10 and early A12s by simple modification of an early dizzy hold-down plate.
EI Distributor Conversions
For converting your A12 to electronic ignition, with some modifications see:
Points Replacement Units
The following are "points replacment" using your existing A-series distributor. You don't get the benefit of the crossfire-free larger caps, and they cost as much as a good used EI distributor. They are often easy to install, but sometimes not if you have an odd factory distributor.
Pertronix Ignitor
The Ignitor series is a a standard energy module (not a high-energy system) but is well reported on.
Hot-Spark
Hot-spark is a standard energy module (not a high-energy system) but seeems to work well.
Crane Ignition
Crane's points replacments for use with external ignition module
Lumenition
http://autocar-electrical.co.uk/lumenition
Lumenition optical trigger conversion for Hitachi D4n & D4A distributors
Autocar Lumenition points-replacement

Album click to view
Album click to view
Lucas
Lucas sold aftermarket kits that replaced the points in a standard Datsun distributor.
Album click to view
Album click to view
Album click to view
Programmable
Use a factory distributor with a programmable ignition controller box.
Crank Trigger
The following is a premier system, cost around $300 but eliminates all moving parts, and is optionally programmable to custom match a spark curve for the highest performance.
EDIS Coil Pack setup crank trigger system
* works with MegaSquirt or MegaJolt controllers

Nissan optical CAS/CPS unit. See D4P

Nissan optical CAS can be used to trigger MegaSquirt ECU for electronic spark control of coil packs. CA18DET and E15ET use similar CAS units.
HEI Modules
An HEI high energy module conversion is useful if you already have an EI distributor, but don't have a control box.
See main articles:
* GM HEI
* Bosch 021

Mitsubishi J121 "Power Unit" will also work.
CDI
Keep the points distributor, but use it to trigger a high-performance CDI ignitor.
ULTRA CDI
Works with standard points distributor.
Model 9150 by Nagai Electronic Instru. Co.

Album click to view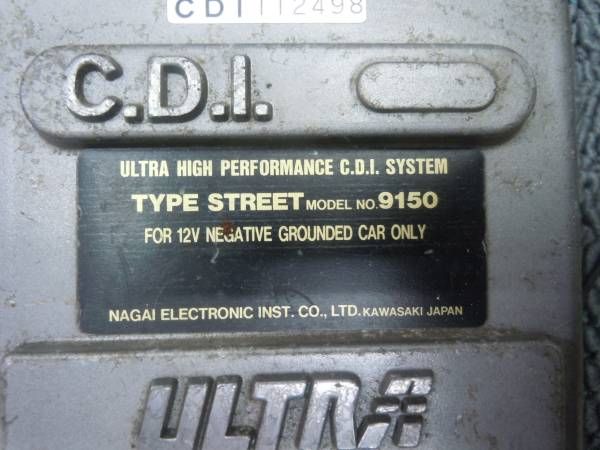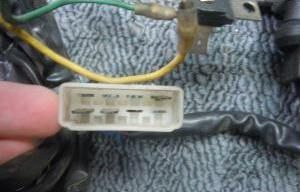 Album click to view
Ultra CDI 9100 and distributor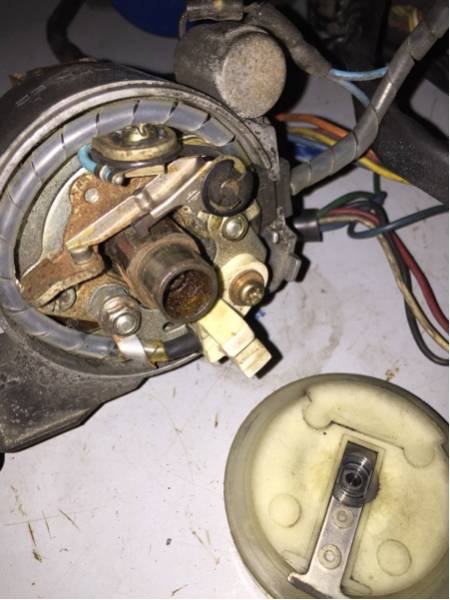 Album click to view
Album click to view
ULTRA MDI
Ultra 9702/9702 is a multiple-spark discharge ignition. Works with a standard points distributor to control the coils. Similar to MSD units?
Ultra 9905 M.D.I.-Dual is distributor-less version of MDI.
Identification
Nissan distributors usually have two OEM suppliers:
Hitachi: 日立 (ヒタチ)
Mitsubishi: 三菱  (ミツビシ)
Use the google Fast Search box on the left side of this page to search for the distributor number. Or use the photos below to identify the generic type.
On the body of the distributor should be the part number. Clean the grease off the side of the body and read the numbers:

Album click to view
Top line: Distributor Model Number (e.g. D4R). This will tell you the kind of EI it is so you can identify the cap & rotor parts.
Lower line: Nissan Part Number. You can look up the exact part number (e.g. "22100-P4000", most are in the club wiki. If not, post your number and we can help identify the exact model.
The same types of EI systems used in Nissan distributors are also used in Honda and Mazda engines. After removing the cap, look at the type of Ignitor used to identify the technology:
Bosch
Nissan Australia fitted Bosch distributors to 910 Bluebird. These can be modded for use in the A-series engine (see Bluebird EI).

22100-V9600
22100-V9610

Rotor view


Boxy ignitor


Hitachi D4P
See main article: Hitachi D4P Distributor
It is the same as Mitsubishi T4T with Nissan optical CAS.
D4P: no visible ignition parts, no vacuum advance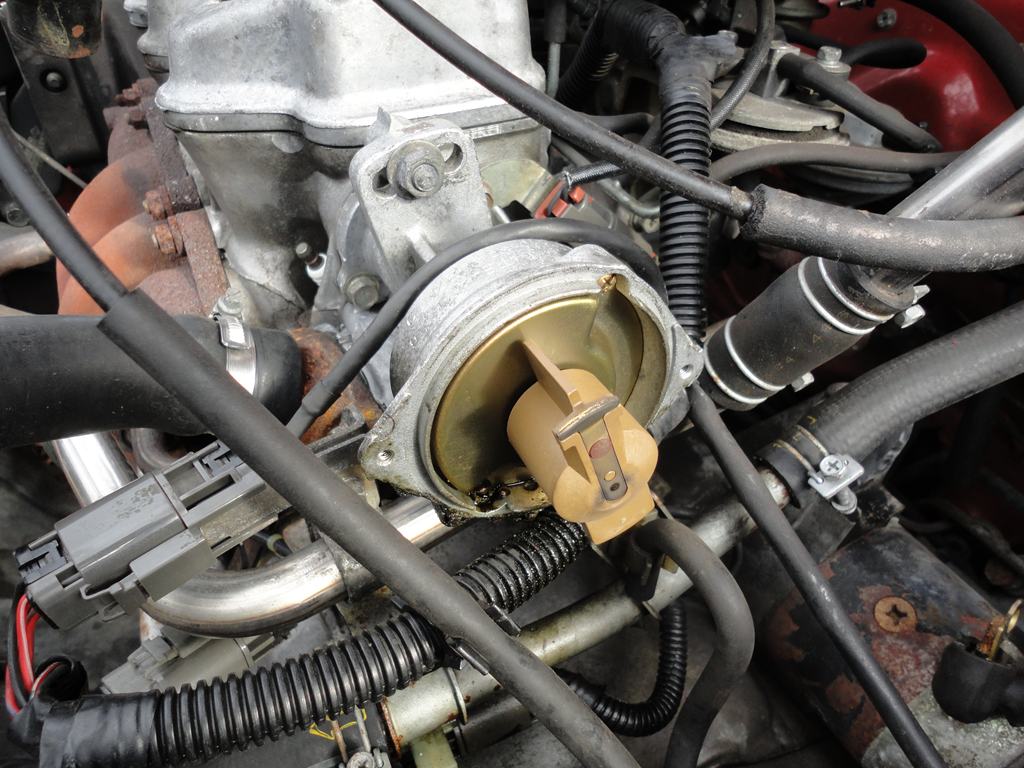 Upload click to view
Upload click to view
Mitsubishi Two-Piece 1
Electronic (two pieces: ignitor and pickup)
terminals on far edges (not clearly seen when assembled)

Album click to view
Album click to view
See main article: Mitsubishi T4T Distributors.


Album click to view
8-plug version (CA16/CA18/CA20 SOHC)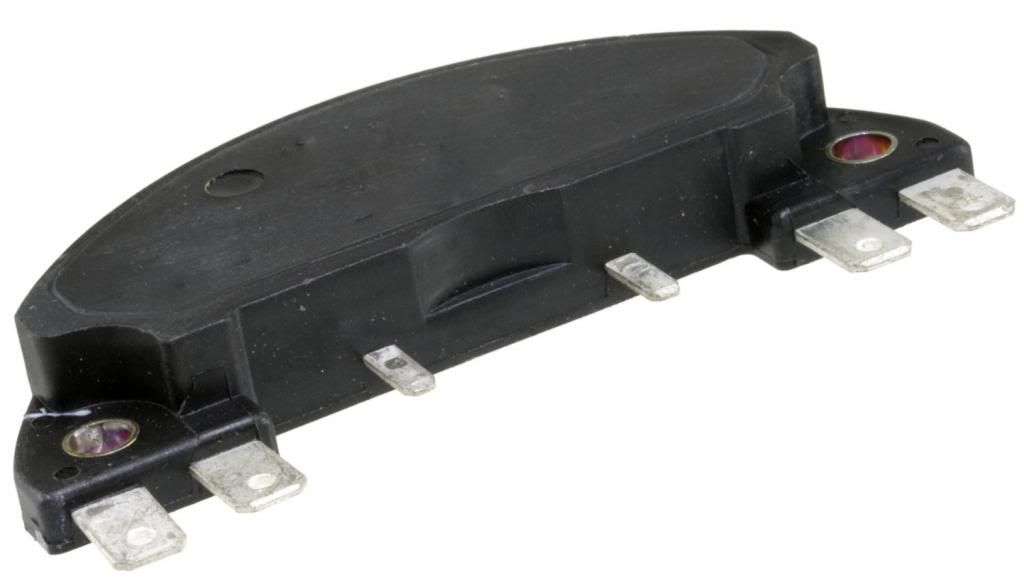 Mitsubishi Two-piece 2
two-piece ignitor + pickup, terminals off to one side

Album click to view
Album click to view
See article Sunny Truck Distributors

Album click to view
Mitsubishi Transistor Ignitor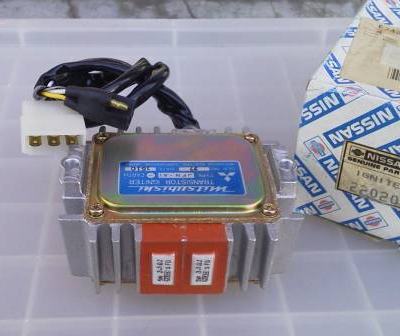 Hitachi one-piece type
(ignitor + pickup in one)


Album click to view
Hitachi D4N module for 8-plug distributors (3,4,or 5 terminals)
Hitachi D4R for E-series distributors (2 terminals)


Album click to view
Datsun Matchbox
Hitachi MATCHBOX type - bolts to outside of distributor body

Album click to view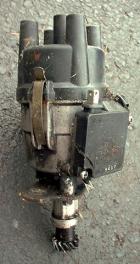 Album click to view
See main article: Hitachi D4K Distributor
Full TR
Datsun OEM FLTR used in Japan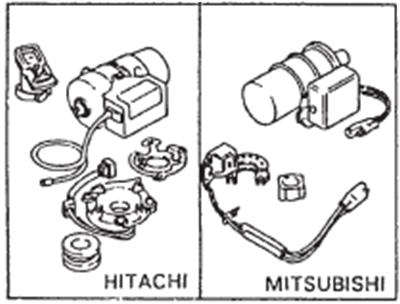 Album click to view
B-210 USA
D4F type
B-210 Electronic Distributor Swap USA-style electronic ignition

Album click to view
Pertronix
Points replacement unit - Pertronix Electronic Ignition.

Album click to view
Hot Spark
Points replacement unit - Hot-Spark Ignition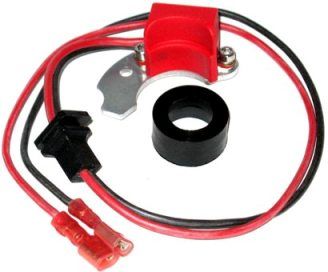 Ford 1.1
1986-1989 Ford of Europe Escort/Fiesta 1.1 engine used an A-series compatible electronic distributor.
Ford 87BF 12100 HA distributor
Ford 1641861

Bosch Type JGF FUX 4 (4-cylinder) '0 237 601 013'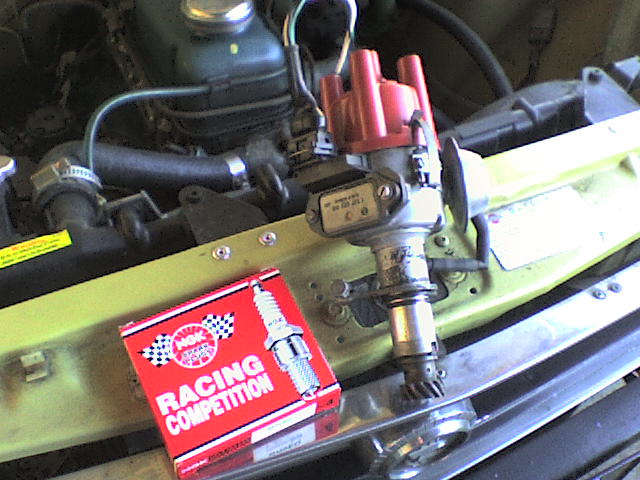 Album click to view
Ignition Switch module '1 237 010 028ᴳ'

UK Fiestas got electronic ignition starting in 1986 (Fiesta Mk II) using the Valencia FWD version of Kent engine.

Post click for topic
Post click for topic
Post click for topic
Bosch '0 237 601 013' distributors
NOTE: differing housings, does not fit A12
* Volvo FUX 6 (6-cylinder)
* VW/Audi

Nissan Optical CAS
Nissan CAS converted for use with A-series engine. The CAS unit can be used to trigger ECU for electronic spark control of coil packs.
See main article: Nissan Optical CAS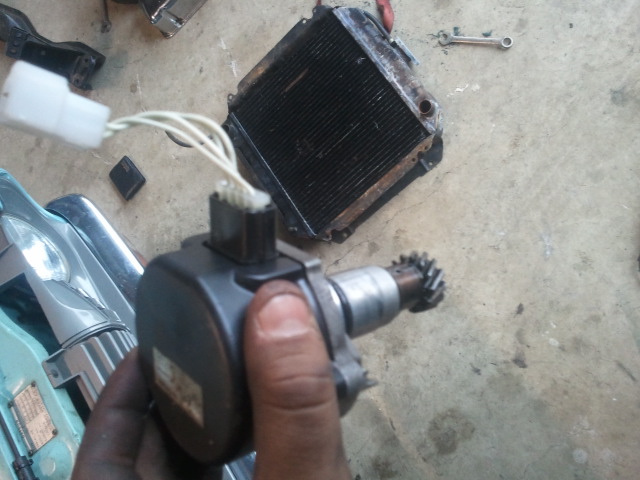 Upload click to view
¤