Sunny model series B110 has a McPherson strut front suspension. This is lighter, less expensive, and allows more engine compartment room than the previous B10 model's double A-arm front suspension. In the rear, conventional leaf Springs and and a Live axle are fitted. Both are lightweight systems well matched to the size and weight of the Datsun 1200 car. The heavier next-generation Sunny B210 use a medium-duty duty front suspension appropriated from the Datsun 610. This means that most B210 front suspension, front axle and front brake parts do not interchange with B110.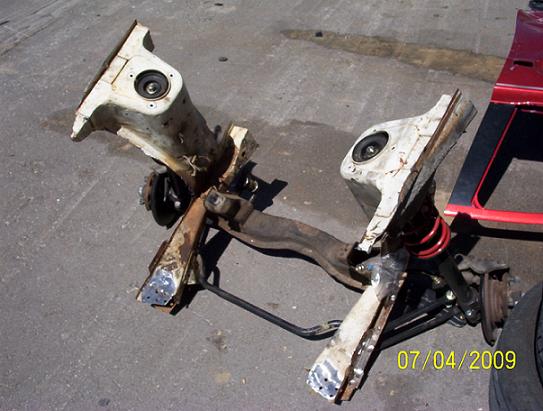 Album click to view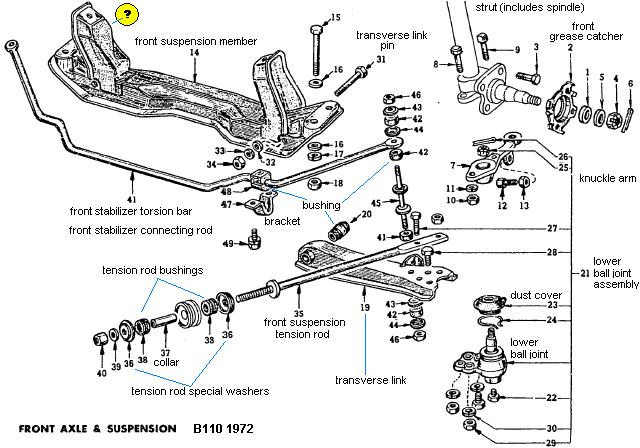 Album click to view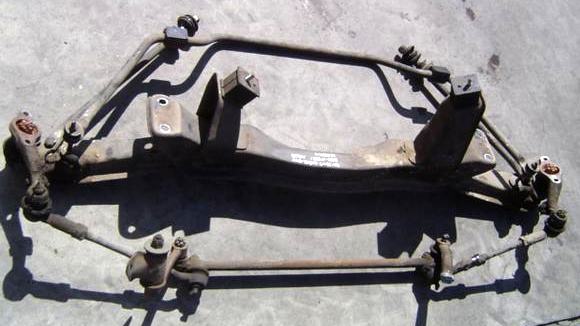 Album click to view
In the Nissan parts catalog, the Brakes and Front Axle (strut, hub) are in different section. The Ball joint assembly includes the Knuckle Arm, however most part suppliers sell the ball joint by itself.
Also see:
Transverse Link
Sometimes called a "lower control arm" (LCA), the transverse link is the lower suspension member.
See main article: Transverse Link
Suspension Parts
Here are the suspension parts:

NOTE: All parts are identical for 1971-1973 models (including sedan, coupe, wagon and truck). GX bar is different.
Asterix: Part fits 1974-1975 B210 w/A12 engine. Perhaps identical to earlier B110 unit.
54401-H3900 (formerly 54401-H1000) Front Suspension Member assembly (engine crossmember)

Fits A-series engines up to 1973

54110-H1060* Transverse link ass'y R.H (formerly H1000)
54111-H1060* Transverse link ass'y L.H (formerly H1000)
54131-H1000* tranverse link bushing $10.83 USD
40160-H1000* Lower Ball joint ass'y $77.83 USD
54611-H1002 front stabilizer torsion bar (except GX)
54611-H2300 front stabilizer torsion bar (GX)
56125-18100* stabilizer link rubber bushings (4 per side) $3.18 USD
54618-H2300* stabilizer connecting link (formerly H1000)
54616-H1001 stabilizer bar to body bracket (formerly H1000)

Also fits all B210

54617-H1000 stabilizer bar to body bushing (except GX)
54617-H2300 stabilizer bar to body bushing (GX)

Also fits B210 GX

1974-up B120 Truck
Asterix: Fits 1976-1978 B210
54401-G1600 Front Suspension Member assembly (engine crossmember) to 8503

Fits A-series engines from 1974-2007

54401-G1601 Front Suspension Member assembly (fits earlier) from 8504
54110-H7400* Transverse link ass'y R.H -7711
54110-H8500* Transverse link ass'y R.H 7712-8503
54110-W5851 Transverse link ass'y R.H 8504-
54131-H1000 tranverse link bushing (Same as B110)
40160-H1000 Lower Ball joint ass'y (Same as B110)
54611-H1002 front stabilizer torsion bar -7907 (Same as B110)
54611-G1600 front stabilizer torsion bar 7908-8503
54611-G1600 front stabilizer torsion bar 8504-
56125-18100 stabilizer link rubber bushings (4 per side) (Same as B110)
54618-H2300 stabilizer connecting link (Same as B110)
54616-H1001 stabilizer bar to body bracket (Same as B110)
54617-H1001 stabilizer bar to body bushing (Same as B110)