Lowering your 1200 by use of custom springs is the most elegant method. Full control over rate and length.
Overview
Also see Coilovers which, though not lowering springs, are often fitted with an adustable spring perch for lowering/raising the Front Coil spring itself. You can also lower/raise the stock spring perch.
Many spring companies will make springs for the Datsun 1200 on request.
King Springs is one of the few companies that still list 1200 springs in their catalog. "Custom-designed coil springs can be made to order in most cases within 2 weeks."
King "low" spring versus 1200 springs

Front
Standard Front Spring Specification
110 mm: coil outer diameter
100 mm: coil inside diameter
338mm +- 10: Free length
90 lb/in: Spring constant (including ute)

General recommendations:
Comfort: stock rate (90 lb/in) with stock ride height
spirited street: 125 lb/in with upgraded anti-roll bar

LOWERED 2" (needs stiff springs to prevent bottoming out)
Nissan Competition: 112 lb/in with stiff anti-roll bar
street/race: 175 lb/in with stock anti-roll bar
banzai: 225 lb/in with no anti-roll bar
dedicated high-speed smooth-tarmac racing: 275 lb/in

Nissan Competition Springs
The Nissan Competition springs (PN 54010-H1070) are 110 lb/in rated and lower the front of the 1200 about two inches (see Front Suspension Specification). A 1/2 thick bump rubber stop must be installed on the shock rod. These can be made by cutting down the stock rubber bumpers.
Measuring
Free Length: with coil out of car
Static Length: With car at standard height
Trapped Length: With car jacked up & suspension allowed to fully drop

King Springs
King lists these for 1200:
* KDFL-17 Front STD
* KDFL-57 Front Low

King's "Front Low" springs lowers vehicle approximately 30mm below standard.
KDFL-17
* 1970-1979 Datsun 1200/120Y Front STD (including ute)
* 1990-1992 Toyota MR2 ZZW30R Rear Low
* 1978-1981 Datsun Stanza Front Low
* 1979-1982 Datsun Sunny Front Low

Post click for topic
---

L18_B110: Kings KDFL-57 are the 1200/120Y lowered coil (approx 30mm) ... Progressive rate and DO remain captive at full droop on 120Y struts. From the very limited test drive down the street and back - they are quite soft. KIngs say they are at least 35% stiffer than stock. If its a road car they're nice and comfortable.
Progressive spring on B310 Sunny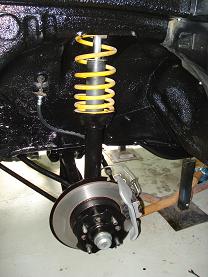 Album click to view
Spring Rate
The length of the shock travel completely determines the spring rate. If you shorten a strut 2 inches you now have to arrest the car from bottoming out 2 inches quicker.
If I have 5 inches to arrest 500pds of corner weight, then using 110 pound/inch springs is fine. After 4.54 inches the springs will support the weight.
If I've changed the suspension travel to 3 inches, I'd want to be supporting the weight after in 2.5 inches, that would need 200 pound springs.
So by removing 1/2 the travel (or bump), I'm required to double the spring weight.
I'd recommend 250 pound/inch springs at 225mm free length for a 1200 with shortened struts.
Rear
Flipped Springs
See main article: Flipping

King Springs
1200 Coupe: Low DAT-501R 
* U-bolt fitting kit PRO/UB-01 required

Maddat Leafs
LS1200 Lowered Rear Springs, Heavy duty leaf springs, king spring, reverse-eye lowered.
They are a combination lowering spring and traction spring:
Flipped half-leaf to control torque windup
Reversed eyes for lowering
King Springs lowering base
Album click to view
JC Whitney
JC Whitney sell the "DIRECT FIT LEAF SPRING" by "JOHN R SPRING" for $58 USD.