Lowering the car makes it handle transitions better and reduces aerodynamic resistance. And it looks cool.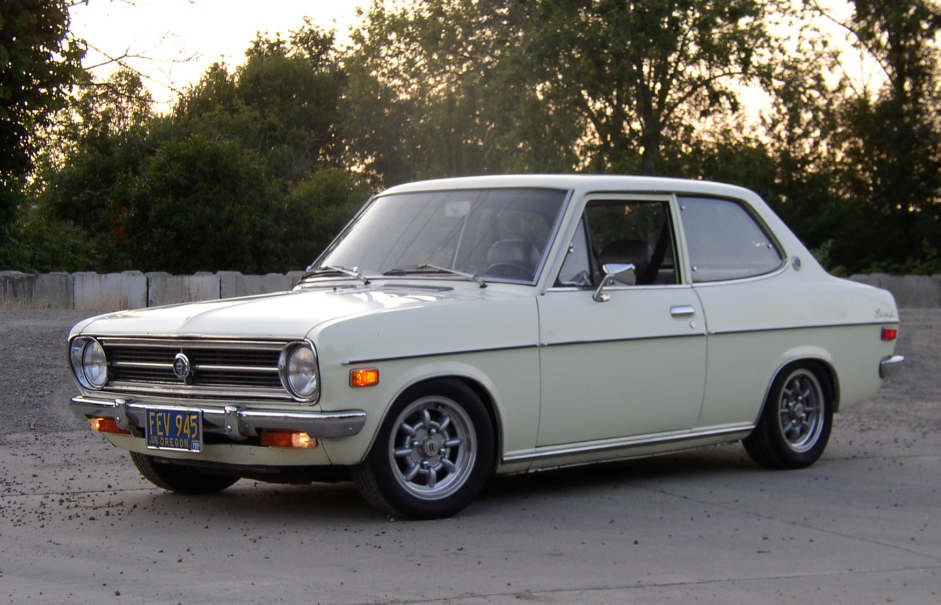 Album click to view
Overview
Common ways to lower the 1200:
Fit ready-made lowering front coil springs or lower the spring perch
Re-arch the rear leaf springs or fit lowering blocks.
These and more advanced lowering methods are discussed below.
NOTE:
Springs are under tension. Follow your repair manual for the safe procedure for removing and reinstalling springs.
Reduced Travel
Lowering leaves less room for the suspension travel. This means the suspension is more likely to bottom-out on bumps. So for maximum comfort and load-carrying capacity, do not lower the vehicle.
When lowering 1 inch, reduced travel is not much of a problem. When lowering 2 inches, reducing the length of the Bump Stops will restore some travel.
A stiffer spring rate will reduce the occurrence of bottoming out, and will make for a more sporting ride but at the cost of additional harshness.
Extreme lowering - no suspension travel left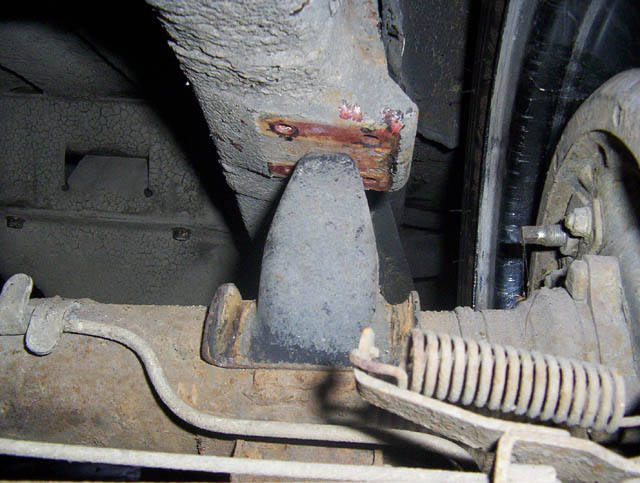 Album click to view
When lowering more than 2":
Modify the Bump Stops
Struts should be shortened. See Shortening struts
Coil springs should be tied for positive capture (see below)
Rear Shock Aborber need to be replaced with shorter unit

Lowering with blocks does not affect the shock placement so no worries. Exception: Sedan shock mounting.
Lowering Tires
By fitting smaller-diameter tires, the car is lowered at the same time, while performance increases due to lowered center of gravity and reduced aerodynamic profile.
Lowering tires (lowers 1.5" from stock, yet wider & grippier than stock)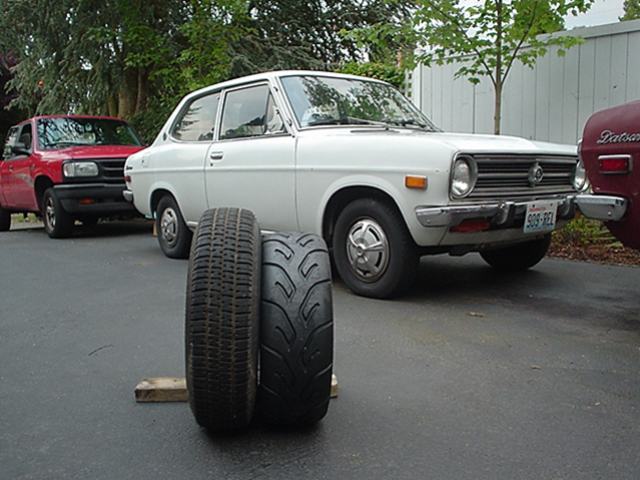 Album click to view
Front
Using shorter springs can lower the car further, as can precisely cutting a small portion of the coil. Another alternative is to lower the spring perch.
With extreme lowering (more than 2 inches), steps must be taken to keep the spring captive (keep it from falling out of the lower seat at full suspension droop). The end coils of the spring must be securely wired to strapped to both the top and bottom seats.
Lowering Springs
The best, but most expensive way, to lower the front is to fit custom spring, of a certain length and rate. King Springs is popular vendor for 1200. Also Nissan Competition made lowering springs.
Lowering the spring perch
You can carefully cut/grind the lower spring perch off the strut tube, and then fix it lower.
See Main Article: Fastening Spring Seats

METHOD 1: The perch can be re-welded in the new position.
METHOD 2: The perch can use commercial-grade shaft collars to fix it.
METHOD 2: Threaded sleeves can be fitted to the strut tube, along with a threaded ring. The spring perch is placed above the ring. This can be adjusted after installation to suit height.
Softened Springs
Softening the springs with a heating torch is not recommended. It is sometimes done in USA, but care must be taken to not overheat the spring. In any case the results are unpredictable, and you end up with a softer spring.
Poor softening job lowered this 1200 2 inches: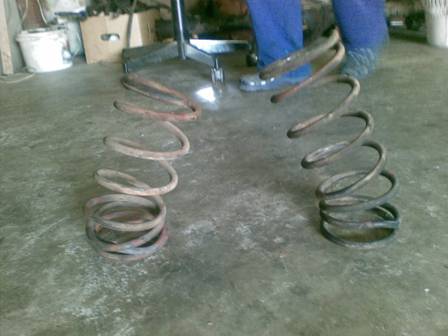 Album click to view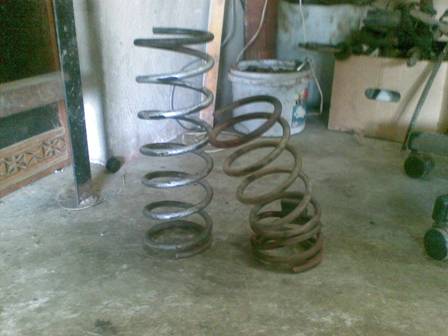 Album click to view
Album click to view
Cut Springs
NOTE: In Queensland, suspension coil springs must not be shortened by cutting or heating. You can use #Lowering Springs instead.
Datsun 1200 springs are constant rate, so either end may be cut. Cutting them does change the spring rate, and will make them stiffer.
Variable rate springs (Top) will become stiffer if you cut the tight end, and much stiffer if you cut the loose end.
Bottom: 1200 springs (constant-rate)

Album click to view
Cut Springs Yourself, or Pay a Professional?
If you need extra stiff springs, or want to carefully match the springs to an intended result, you can't go wrong by working with a professional, reputable spring company. Since their business is springs, they presumably won't make stupid mistakes like cut the springs too far
The big no-nos:
Using a cutting torch
Cutting the spring too short to remain captive in the strut
A professional spring company will use a cut-off grinder (not an oxy-acteline torch). The torch weakens the springs and changes the rate, so is a terrible idea. Spring cut with a torch will be defected by the police in many countries.
1200 do not use a special end-finish or tang on their coils, so cutting them is OK. However it is dangerous if cut down so much they fall out under supension rebound. It is far safer to buy a longer spring (such as B310 coils) then cut them down to length. Even when cut to standard 1200 length they will be firmer than stock 1200 specs.
You want a cold cut, basically quick 1-2mm cut with a grinder, then drop into a bucket of water to cool, then cut through another 2mm and repeat. Don't cut for more than a couple of mm as it will start to heat the spring up, which is bad.
Coil Spring Swap Candidates
B110 uses 110mm O.D. diameter coils 100mm I.D. B210 & B310 rates are only 1% to 2% higher than rate of B110 -- but they are longer.
280ZX Springs
280ZX rear coil springs fit in the front of the B110, cut to suitable length, are a good way to get firmer springs -- just right for a sporting street 1200.
S130 1983 280ZX
 Front 150mm coils
  127 lb/in
  S130: 12.1" long (white/yellow)
  GS130: 12.4" long (white/white)
  S130J: 12.8" long (red/blue)
 Rear 100mm coils
  126 lb/in
  S130: 14.5" long
  GS130: 14.8" long (also S130J)

Since 280Z rear coils are 100mm, they would be good for extra-firm upgrade. Cut them down more than 2 inches to use in the 1200.
B110 stock coils: 13.3" long

S30 1975 280Z 100mm front & 100mm rear
 front GS30: 8.5 coils @ 115 lb/in (16.7" long)
 front S30 : 9.5 coils @ 103 lb/in (16.0" long)
 rear coils: 8.5 coils @ 198 lb/in (15.4" long)

Gemini Springs
1977-1982 Holden Gemini/Isuzu Gemini/Buick Opel/Isuzu I-Mark front springs stiffer and longer than 1200 coils. Cut down to use on a 1200. These are progessive rate springs, some prefer cutting the soft end to make it extra-stiff, others prefer cutting the stiff end to keep some ride quality. Either way the springs start out about twice the stiffness of 1200 springs.
Leave all the tapered wire (variable rate) part of the spring intact, and cut from the other end to achieve the ride height. Make sure the springs you got are standard Gemini coils. Heavy Duty Gemini coils spring rate is way too high.
King Springs
King Springs for Stanza/B310/Excel/260Z are longer and stiffer. Cut approx 1 full coil off them. That means they are just barely captive (but safe) with a stock ride height, and have a firmer spring rate, but still soft compared to racing springs.
For King Springs that do not require cutting, see #Lowering Springs.
Short Springs
For springs which are not captive at full droop, you may want to select a strut shock inserts with less travel can be fitted so the suspension won't droop as far. Or use keeper springs. Or lockwire them in.
Keeper Springs (Helper Springs aka Tender Springs)

Album click to view
Album click to view
Roll Center Spacers
When Lowering the front suspension, if going ultra-low, strut spacers (roll center adapters) are used. They are intended to correct the lower arm angle when the vehicle height is dropped, to correct the roll centre.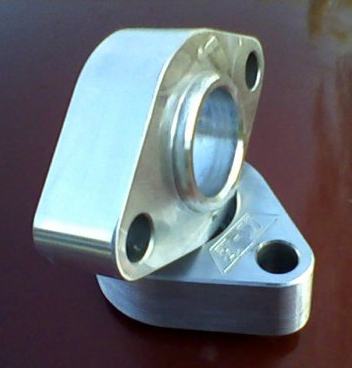 Rear Suspension
Lowering blocks are the low-buck solution, but using modified springs is a better way. The spring eyes can be "reversed" or the leaf(s) can be flattened (re-arched).
* discussion: Lowering rear end of a 1200

Here's what they do in USA and Japan, from "best/most expensive" to "less expensive"
Fit special-design lowering springs
Re-arch the leaf springs
fit lowering blocks
Flip main leaf
Leaf Designs for Lowering
Reverse Eye

Album click to view
Flat Leaf Pack
Re-set Leaves. A spring shop can reset them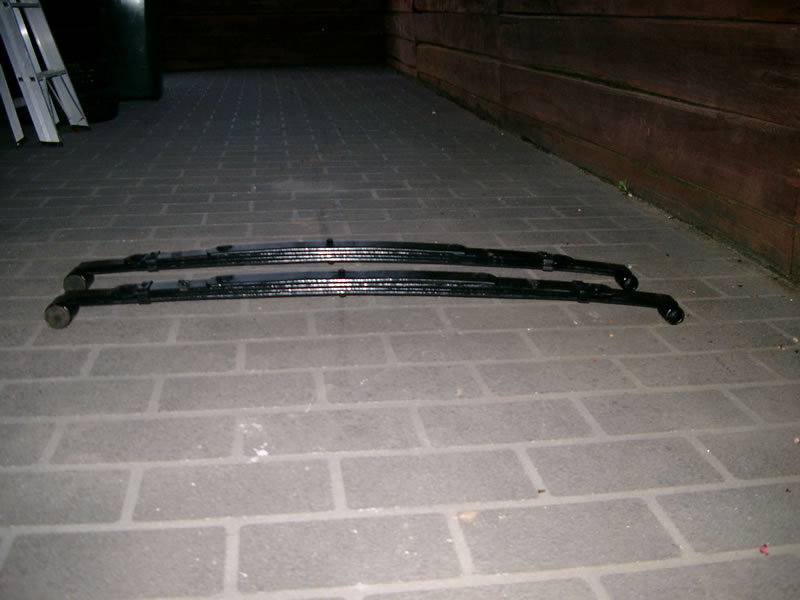 Album click to view
Purchased flat Lowering Leaf vs normal leaf

Album click to view
combination of reset springs (2") and 1.5" lowering blocks (see POST discussion)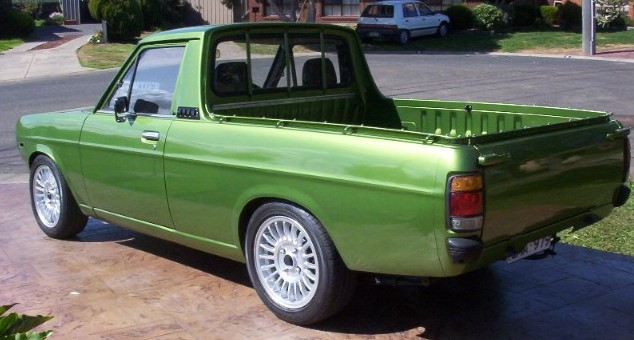 Album click to view

I have flat springs in the KB10 , the ride is harsh and tends to jump around on uneven surfaces
not a smooth ride, i have the back jump off the ground the other day round a corner on a ditch/bump
Lowering Blocks
Flipping
One way to lower the rear is flip the 2nd leaf. Add another spring to your rear leaf spring pack and reverse one onto the top of the pack, while flipping it. This should lower and stiffen the rear end slightly.
Legality
Some states limit lowering. For example in most of Australia, the car must have a ground clearance of 100mm for sprung parts of the vehicle. Since stock 1200 clearance is 170.0 mm,to stay within 100mm clearance, a lowering of 2" is fine. But 3" lowers the car too much -- although with taller-than-stock tyres you can still have 100mm clearance.
See discussion: POST Lowering blocks...... Legal???
* NSW Yes
* VIC Yes
* SA  Yes
* QLD Yes
* 100 mm clearance required

From the National Code Of Practice (NCOP):
The ride height measured between the rubber bump stop and the corresponding metal stop may be reduced by no more than one third
lowering blocks must be either steel or aluminium
rebound travel may be reduced by no more than one third
the normal relationship between the front and rear suspension heights must not be unduly affected
So no lowering the front and leaving the rear high -- lowering must be evenly done.
¤