When overhauling the engine due to low compression or excessive blowby, new piston rings are installed to bring it back to specification. Normally a re-bore and new pistons are not required -- it is not part of an overhaul. All other parts are inspected and measured (but only replaced if damaged or out-of-specification). To finish the overhaul, new gaskets are installed.
Overview
If your engine is requiring an overhaul, consider saving time and money by purchasing a good used engine. Often one can be found on trader sites or by asking in the Classifieds. This is also a good time to upgrade to an A14 or A15 engine.
Also see:
*  Engine Overhaul & Service Data (in Japanese)

If you are only trying to fix oil leaks, a re-gasketting is called for and an overhaul is not needed
If the engine has a rod knock or main bearing knock it probably needs and overhaul. But you may only need to replace the bearings if the engine is in otherwise good shape.
If the engine sometimes doesn't run right, don't start with an overhaul but instead troubleshoot it. It may an ignition or carburation issue -- which an overhaul won't fix
Engine overhaul includes:
* New piston rings
* New Rod bearings and Main bearings (if required) 
* New gaskets
* Replacement of any out-of-spec parts

Parts that are unlikely to last another 100,000 miles/160,000km are often replaced even if still in working good condition, including the Water pump. Bolt-on Accessories such as Smog Pump and alternator are not part of an engine overhaul.
Not normally part of an overhaul unless out-of-spec or damaged:
* Cylinder Block
* Cam bearings
* Camshaft
* Head milling
* Bolts, including Rod bolts and Head Bolts
* Carburetor, Distributor or Alternator

Installation
When installing an overhauled engine, it is customary to replace these parts:
Overhaul vs Re-manufacture
A re-manufactured engine is a used engine restored to as-new condition. As such, ALL service parts are replaced even if they are working fine or within factory specification.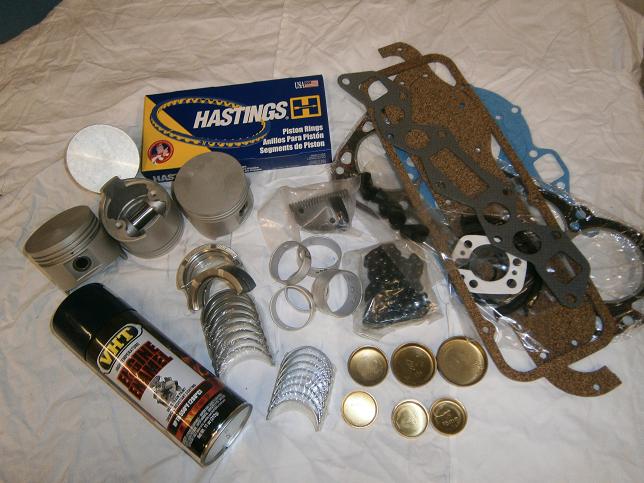 Post click for topic
* Pistons
* Piston rings
* Bearings
** Main Bearings
** Rod Bearings
** Cam bearings
* Camshaft and Lifters
* Cylinder Head:
** Valve springs
** Rocker arms
* Timing Chain and tensioner 
* Gasket
* Oil pump
* Welch Plugs
* Acessories including:
** water pump

Non-service Parts
Non-service parts do not require periodic service, last indefinitely, and are not normally replaced unless damaged. They should of course be inspected at overhaul or remanufacture time:
* Pushrods inspected for straightness
* Bolts including
** Head Bolts
** Rod Bolts
** Main Bearing Cap bolts 

¤