Datsun 1200 was available in pickup (truck) form as the B120. It is a Coupe Utility form of pickup, and so is properly called a "ute" in Australia. In Japan it was marketed as the Datsun 1200 Sunny Truck and nicknamed "Sunny-tra" (サニトラ). In South Africa is was called the Datsun 1200 Bakkie, and morphed into the B140, later called Nissan LDV 1400. It was also produced by the Ecuador factory, and in some places in South America is called the Datsun 1200 "camioneta".
See main article: B120 Datsun 1200 Truck
Others
Other Datsun and Nissan pickups include ...
North America Market
North American sales started 1958. The Datsun 1200 pickup (B120) was never sold in North America. Also called "Datsun 1200" was the Datsun pickup 320 series sold in the early to mid 1960s, which was based on the Datsun Truck family, and not on the Datsun 1200 (B110).
220/221 Datsun Pickup
320 Datsun Pickup
NL320 - Datsun Sports Pickup (Coupe Utility pickup)
520/521 0465- Datsun Pickup 1966-1972 Model year
620 0372- "Li'l Hustler" 1973-1978
720 0179-1285 Datsun Pickup/Nissan Pickup (from 1182)
D21 1185-0894 Hardbody
D21U 0894-0897 Hardbody
D22U 0997- Frontier

520 2-headlight & 520 4-headlight

WIKI click for photo
521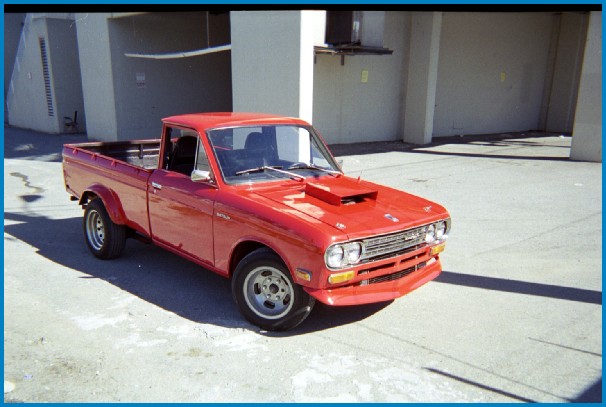 Album click to view
D21

Post click for topic
Other commerical vehicles
jeep-type
60 "Patrol" [jeep]

Truck-based SUV
WD21 0786-1095 Pathfinder 
WD22 0599- Xterra 
R50 1095- Pathfinder
Z50 0902- Murano

Minivans
C23 Nissan Van
V40 0492-0998 Quest
V41 0998- Quest

Engines
320/NL320 
E12 

520/521 
J13 0465-0669
L16 0769- 

620
1973 L16
1974 L18
1975-1978 L20B

720
L20B 0679-0680
Z20 0679-1282 4WD, 0183-
Z22 0679-1282 
Z24 1182- 2WD, 0183 4WD
SD22 0679-1082
SD25 1182-1285

C23
Z24 engine

D21
Z24 1185-0889
VG30 1185-0889
KA24E 0889-0894
VG30E 0889-0894

D22U
KA24E 0994-0196
KA24E 0196-0897
VG30E 0994-0196

WD21
Z24I 0786-1095
VG30I 0786-1095
VG30E 0786-1095

WD22
KA24DE 0599-
VG33E 0599-
VG33ER 0701- [supercharged]

V40 0492-0988
VG30E

V41 0998-
VG33E

R50 1095-
VG33E 1095-0702
VQ35DE 0500-
Z50 0902-
VQ35DE WITH CVT

Frontier
1998-2000 D22 Frontier
* Nissan RL4R01A/RE4R01A
  JATCO 4R01 4-speed automatic
* KA24DE L4
* VG33E (1999-

2001-2004 D22 Frontier facelift
* added VG33ER supercharged V6

2005-2019 D40 Frontier
* Nissan RE5R05A 5-speed automatic
  JATCO 5R05 (variation of Subaru 5EAT)
  low-first with single overdrive
  3.842 2.353 1.529 1.000 0.839 2.765
* QR25DE L4
* VQ40DE V6 

¤