Your Nissan A Engine is built for spritely power with maximum longevity. If you want to trade off reliability for wear-time, you can increase the horsepower significantly. The following applies to all Nissan A engines: A10, A12, A13, A14, A15 and A12A. Buildups are fun and a great learning experience.
Baseline Tuning
Tuning your car to factory specification -- without buying a hotrod parts -- can double the horsepower of your car. Even when relatively new, cars with carburetors and distributors could be far out of tune.
Be sure to start with the baseline tuning. Adding aftermarket "performance" parts won't help an engine that has basic tuning flaws in the first place.
Cost: FREE
Gain: 72% on test car (used Datsun 1200)

Stock A12: 58 hp (39 rear-wheel hp)
Average A12: 22 rwhp


Biggest Bang for the Buck
Consider that the biggest acceleration gain is to be had by changing the rear axle ratio. Going from the stock 3.9 to 4.2 makes a stock A12 rev a lot faster, so fast you'll have to shift sooner, but that's kinda the point, innit? And you can still do 75 mph (120 kph) top end. If you have taller-than-stock tires then the need for a steeper rear gear is even more important.
Do you want performance? or fuel economy/quietness? -- see what is the best ratio.
Swapping center units is easy and inexpensive

click
First Upgrade
Engine buildups require high RPMs to make more power. So, the biggest change you can make is to rev your A12 engine up higher before shifting. The factory stock A12 can be run to 6400 RPM before it gets to the red zone. It will cruise (run all day) at 5000 RPM.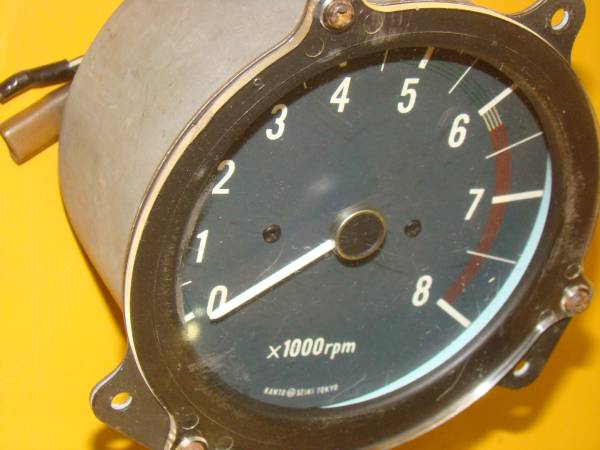 Album click to view
Then once you are used to running the engine at high RPMs, if you add a larger carburetor it will make more HP.
A larger carburetor:
won't make the engine run better below 4,000 rpm
From 5000 to 6000 RPM, hp will improve significantly
Adding a carburetor is relatively easy. The most popular swap is the Weber 32/36 DGV family. See Weber 32/36 Carburetor.
Of course at higher RPMs your engine will wear out faster. It is a trade-off you need to decide on.
Engine Swap
Before you go farther, decide whether you should swap in a larger engine. For example, going from an A12 to an 80HP A15 may cost around $500 for a good used engine, but will equal about $2000 worth of "buildup" for an A12.
A15 with larger carb: 85 hp. Cost: $
A12 build lots of work: 85 hp. Cost $$$

And the A15 will still have an acceleration advantage, having more average horsepower (25% more power at low RPMs). The 80HP A15 is less expensive, easier to drive, and will last longer. On the other hand the 80 HP "built" A12 will be more exciting and sound gnarly when run at high RPM.
Now consider bigger engines:
Stock A12: 58 hp cost $0 (you already have it!)
Stock A14: 80 hp cost $500 for good used engine
Stock SR20DE: 140+ hp only $1400
Stock KA24DE: 156 hp

A stock 2.4 liter engine swap in a 1200 can be as fast as a common V8 sedan (860kg/2.4-liter equal performance 1800kg/5-liter).
KA24DE pickup engine in B210 (and some red paint)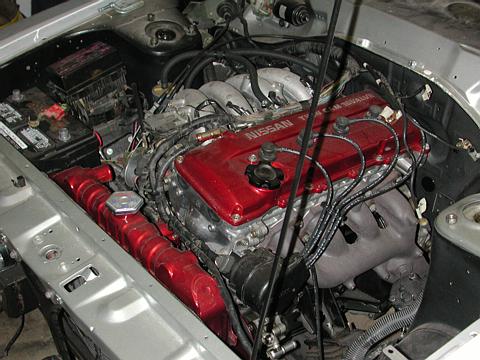 Album click to view
Stage One Buildup
Stage one is all about bolt-on induction improvements. This is relatively easy -- it doesn't involve removing the engine.
Cost: $ (about $500)
Gain: noise and fury

Larger carburetor, e.g. Weber 32/36 Carburetor
4-into-1 exhaust, like the stock exhaust manifold
Stock 1.5 inch diameter exhaust
On an A12 engine, this might make, what? 75hp? (compared to 69hp stock). This is measured on an engine dyno (Factory specs are *not* measured by rear-wheel-horsepower -- see Performance). Use the Datsun 1200 GX exhaust system.
Or:
Cost: $$ (about $1000)
Gain: noise and fury, plus movement

Sidedraft inlet manifold
Twin sidedraft carburetors (see Choosing A Carburetor)
Exhaust headers (extractors or GX 4-into-2-into-1 cast iron header)
1.75 inch diameter exhaust (entire exhaust, including muffler)
On an A12 engine, this might make, what? 80hp? This is measured on an engine dyno, as "gross" hp (with no/minimal exhaust, no accessories such as alternator). The stock factory rating is 69 HP, so this would be a 16% increase. 80 HP is someone around 64 RWHP (rear-wheel horspower, as measured on a chassis dyno). See Performance, horsepower section).
Free flowing, Quiet, Long Lasting. Factory tri-y exhaust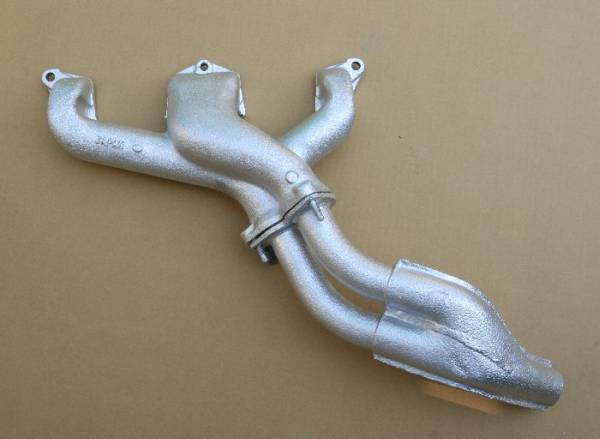 Main
Datsun had a factory 83hp A12 engine. It had the large-port cylinder head, twin carburetors, a high-RPM camshaft, 3-into-2-into-1 exhaust manifold, flat-top pistons (pistons alone were probably worth that extra 3 hp). Same size valves as regular A12, same size 1.5" exhaust. No need to move to larger exhaust, though at this level it will help top-end power a tad at the expense of lower RPM power.
Stage Two
Stage Two requires engine work on the inlet and exhaust side. It builds on Stage 1 by adding:
Cost: $$$ (about $2000)
Gain: A little faster, vastly faster sounding

Performance Camshaft, such as A12GX camshaft

with mid-RPM dual valve springs, such as A12GX springs

Cylinder head work:
On an A12 engine, this might make, what? 90hp?
Twin-carbs, extractors and 5-speed

Album click to view
70rwhp (about 90bhp)

Post click for topic
Stage Three
Stage Three is a high-dollar option that includes new pistons. It with all buildups, it makes power by revving higher. At 5000 RPM it may have less HP than stock, but at higher revs will have more HP than stock.
It builds on Stage 2 by adding:
Cost: $$$$ (about $5000)
Gain: impressive

Flattop pistons (for A12, use Datsun 1000 coupe pistons from KB10 model), or Forged dome-top high compression pistons
High RPM (7000 RPM or more) camshaft

High RPM dual valve springs (stiffer than GX springs)

Big Valves: Larger valves than A14/A15 with Head Porting
High Compression pistons can add 3% horsepower, but you will need to buy premium fuel.
POST COUP1200: My A14 makes 140hp & its not EFI or turbo. I have twin 40mm webers, good extractors the head flowes 141hp. All your power gain is in the head big valves extencive amounts of porting good spark ... I dont run roller rockers & have not had a problem.you dont need to go to big with the cam mine about 74deg ... Mine makes power to 7500rpm.

feral: COOPS 1200 SEDAN AFTER RUNNING A 2:11 AT PHILLIP ISLAND CIRCUIT ... The car sounded awesome and handled very well. In typical 1200 fashion showed alot of more exotic machinery including a Porsche 924 turbo and a lotus elite a clean pair of tailights :-)

Short Block
Upgrading parts to the block (rods, rod bolts, studs, forged crank, etc.) does not make more HP, although it may enable to engine to last longer. A totally factory-stock A12 short block can make 140 reliable HP with the right top-end parts.
Forged pistons are generally called for at power levels in excess of 140 HP
ARP rod bolts can be used for RPM usage above 8500 RPM
Main studs will not increase the reliability -- the A12 already comes with the same tough main cap bolts as the L18 engine. It's overkill right from the factory.
The stock crankshaft is plenty strong for 8500 RPM use
For 10,000 RPM use forged pistons, custom rods, ARP bolts, and dry-sump lubrication
Forced Induction
Alternatively, adding a turbocharger or supercharger will make equivalent maximum horsepower but with more low-speed horsepower. It's generally less expensive than a traditional build-up too.
See main articles:
* $1200 EFI Turbo A12
* Forced Induction

Example Builds
A-series engine build-up samples based on rumours, reports and sometimes dyno sheets.
42 RWHP/69 engine HP
A12 stock

75 RWHP
A15 + overbore
Port Polished
8500 rpm

93 RWHP
A12
IHI vj26 turbo
2.5 exhaust
Factory EFI 

99 RWHP
A12 + overbore (1286 cc)
mild cam
A12 GX head
Twin  Dellorto 40s (32mm chokes)  
Extractors and 2" system 

137 RWHP
A12
14:1 compression
40mm dellortoes
steel rods
crank fire ignition

143 RWHP
8800 rpm redline
A12 .040 overbore (total = 1204 cc)
Ported head
40mm Webers
competition cam and valve train

154 RWHP
A15 
25 mm inlet restrictor
7500 rpm

160 RWHP
A12
stock pistons, crank and rods
stock and unmodified H89 head
standard headgasket
E85 fuel, intercooled
Cam: 256Deg at .050
Turbo: GT2860R 

214 RWHP
A12
Turbo

kale
109hp: "My a15 made 81 kw at the wheels which was made around 7000 rpm"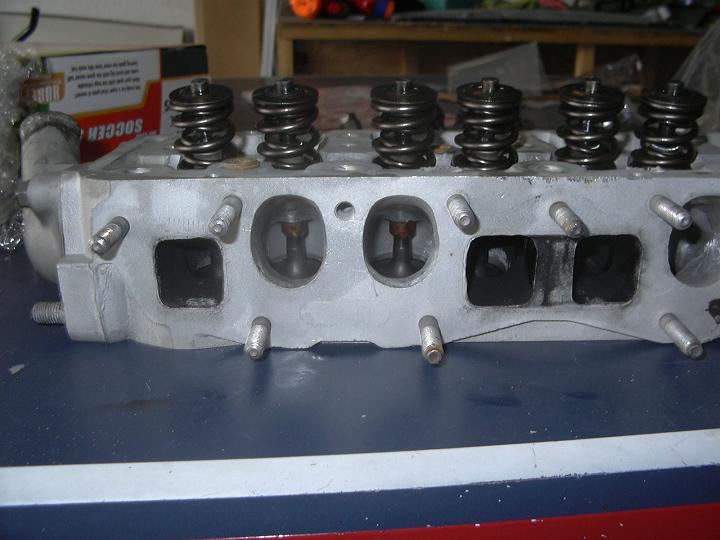 Album click to view
"POST this is what you want for an a15 - 42mm inlets and 33mm exhaust valves this head allows 81kw at the wheels"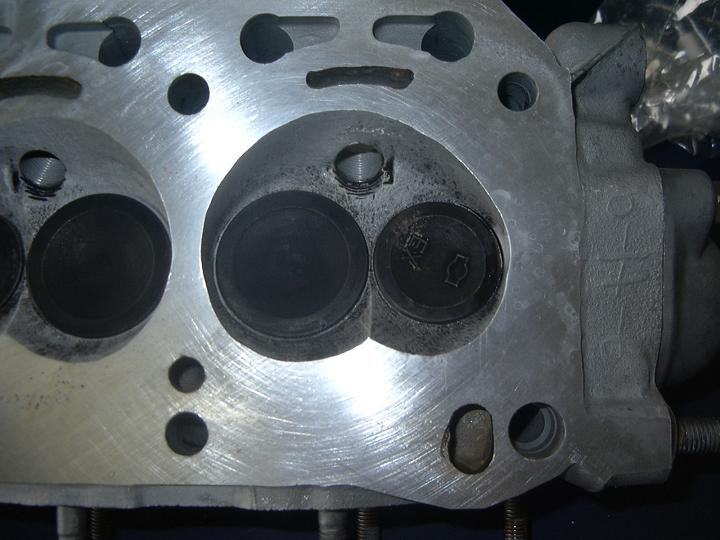 Album click to view
Album click to view
kale: She got dynod today to set the webers up and it made 81kw at the wheels
A15 bored 0.080 inch 
12:1 compression via Daihatsu dome-topped pistons
45/70 cam with 0.480 inch lift
shotpeened rods
lightened crank
3-angle valve job (standard factory treatment)
42mm inlets 33mm exhaust valves with sculptured chambers
match ported and polished
dual valve springs
A12 flywheel [won't affect HP but lighter weight means faster acceleration]
fully balanced [as is the standard Datsun 1200 factory treatment]
twin 40mm Weber DCOE
extractors
electronic ignition

12:1 compression from domed piston

Album click to view
Album click to view
Album click to view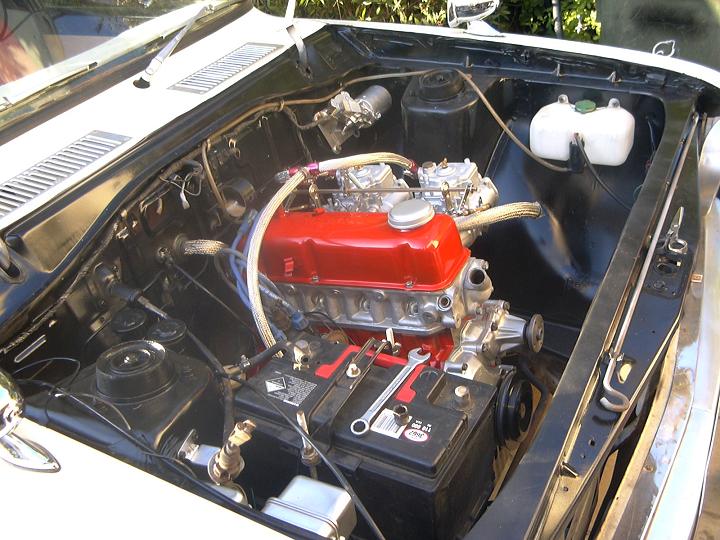 Album click to view
¤