The Nissan A Engine design is a refined, quiet and durable gasoline engine. This engine family is one of the most successful engine designs ever, powering millions of cars manufactured from 1966 to 2010. Most notably they were fitted to the Sunny family Datsun 1200 (B110), B210, & B310 chassis. It is a small-displacement inline four cylinder engine. It uses a lightweight cast iron block and an aluminum cylinder head, with overhead valves actuated by pushrods. These gasoline engines have been used not only in and Nissan brand cars, but also in Premier brand vehicles, as well as in boats and Nissan forklifts. Displacement variation of this four-stroke engine family ranged from 997 cc 1497 cc. The A15 is the engine in the 2009 Nissan C22 Vanette in from Nissan Malaysia. "A" series engines are produced in Aichi Machine held in Aichi plant.

A12 Engine ID Mark
See also:
* Engine (overview of Datsun 1200 engine)
* A-series Engine Changes

Displacements
A10 998cc
A12 1171cc
A12A (1980) 1237cc
A13 (1974) 1288cc
A13 (1980) 1270cc
A14 1397cc
A15 1488cc

Made By Aichi
The A engine was made by Aichi Machine Industry Co., Ltd. of Nagoya Atsuta Plant where also made the HR, CG and CR engines. Matsusaka, Mie Plant cast the heads and block. Tsu, Mie plant machined the heads.
See How Aichi makes an engine

New Design with Austin Legacy
The Nissan A engine is a replacement of the earlier iron-headed Nissan E engine and is of similar dimensions. The 1960s E series was an all-new design inspired of Nissan's improvements to the BMC A-Series engine design in the 1950s (Nissan was a licensee of Austin Motor Company technology).
1974 Redesign
All A series engine blocks, from the 7/73, were modified to make it easier to fit multiple accessories such as air conditioning and air pumps to the engine.
This means tha all 1974-up A engines -- including A12 -- has mounts that are different from earlier A10 and A12 engines.
See main article: A Engine Redesign

A10 - The First A-series Engine
The A10 Engine is a 988 cc engine, released in September 1966 in the 1967 model year Datsun 1000. The A10 featured a three main bearing crankshaft. Bore was 73mm and stroke was 59mm (same as the older Nissan C engine). With a 2-barrel Hitachi carburetor and an 8.5 to 1 compression ratio this engine produced 62bhp (46kW) @6000rpm and 61.5 lb.ft of torque (83 Nm). The Datsun 1000 Coupe introduced in Sept 1968 was equipped with an uprated A10 engine boasting a free flow dual-outlet exhaust manifold with increased compression ratio, now 9.0:1. With a revised carburetor, this Coupe engine produced 66hp (49kW). Later versions of A10 produced 59 hp (SAE).

A10s have "Datsun 1000" valve cover
Applications:
* 1967-1970 Datsun 1000 B10
* 1968-1970 Datsun 1000 ute B20
* 1971-1976 Datsun Cherry E10 (Datsun 100A)
* Oct 1978-Jul 1981 N10 Europe

A12 (1200) - Further Refinements
The A12 is a 1171cc engine with 73mm bore, like the previous A10 engine, but the stroke is increased to 70mm. With upgraded five main bearings on a forged steel crankshaft, the A12 is extremely smooth and durable. The 2-barrel Hitachi carburetor was significantly improved with the addition of a power valve circuit. It produced 69hp (51.4kW) and 70 lb.f.t torque (94.9Nm).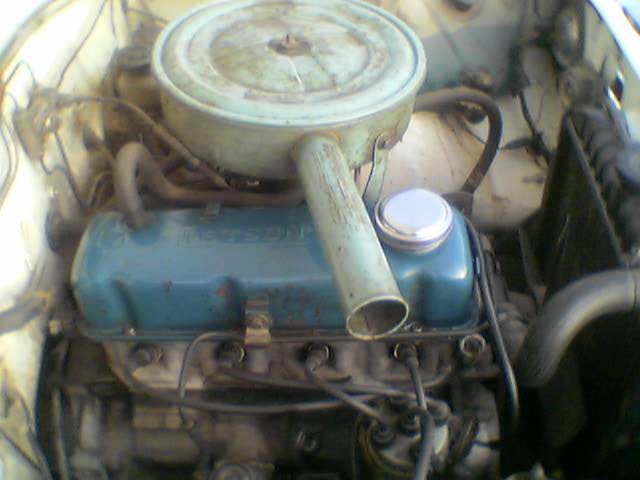 Applications:
* 1970-1973 Datsun Sunny 1200 B110
* 1971-1973 Datsun Cherry E10 (Datsun 120A)

A12 Twin-Carb Engine
A special version of the A12 was the twin-carburetor version, which Nissan called the A12 GX in the Datsun 1200 and A12T in the Datsun Cherry. With twin Hitachi sidedraft carburetors, a longer duration camshaft and 10:1 compression ratio, the engine provided 83hp @ 6400rpm, up 20% from the standard A12 engine. The GX engine was offered in Japanese Domestic Market Datsun 1200 GX sedans and coupes. The identical specification A12T engine was offered in the front-wheel-drive Datsun Cherry X-1R Coupe.
Horsepower
1971 JDM E10 A12T 80PS/6400rpm
1971 JDM B110 A12GX 83PS/6400rpm, 10.0kgm/4400rpm, 10.0:1

A12 Works Engines
Works (factory sponsored) racing cars used an overbored 1300cc A12, or the special hemi-head AY12 engine.
1300cc A12
An overbored version of the A12 was used in period race cars, including Nissan factory "works" racing Datsun 1200s. Many A12s were bored from the original 73 mm to 76.76 mm and fitted with Tomei forged pistons for a displacement of 1296 cc while others used the Datsun Competition forged pistons of 76 mm to displace 1270cc. These legendary engines competed in Japan's Touring Sedan (TS) class races against the 1200's archrival Toyota Starlet.
See Racing History

AY12 Engine
Perhaps the most interesting variety of A series engines was the AY12 engine. This was a special race-only Nissan factory (works) racing version with a crossflow cylinder head.

AY12 was used in under-1300cc class racing with 76 to 76.8mm pistons. Intake valve was 40-41mm and exhaust valves that have been used are 33mm and 34mm. The piston was also special design. Because of the hemi combustion chamber, the pushrod-activated valve rocker system was different from the regular A12.
1974 Redesign
For the 1974 model year, the A engine was modified and all subsequent A engines use the new block style. Since there was increasing need for accessories like air conditioning, anti-pollution air pumps and the like, the distributor was moved from the front side of the engine to the middle of the block to make room for these accessories. This means the motor mount positions has to be moved, making life more interesting for future engine swappers.
New A12
This "new" A12 for 1974 retained the same bore, stroke and most other specifications of the previous A12.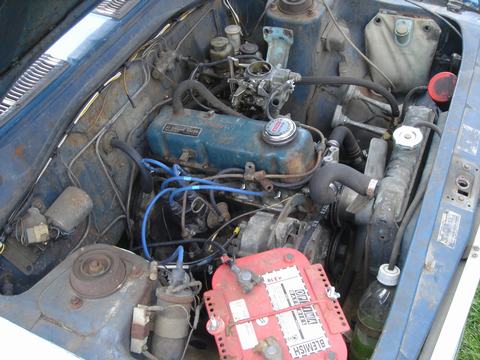 Applications:
* 1974-1978 Datsun B210 (Datsun 120Y) 
  (not used in the US model "B-210")
* 1974-1976 Datsun Cherry E10 (Datsun 120A)
* 1980-1982 Datsun B310 (Datsun Sunny/Datsun 120Y) 
  (not used in the US model Datsun "210")
* 1974-1994 Nissan Sunny 1200 pickup B120 (Datsun 1200 ute)
* Premier 118NE sedan out of India

Horsepower
1979 JDM B310 68PS/6000rpm, 9.7kgm/3600rpm, 9.0:1
1975 JDM B210 A12T 80PS/6400rpm, 9.8kgm/4400rpm, 9.0:1

Comparison with Original A12
New A12: Distributor by #3 cylinder


Old A12: Distributor by #1 cylinder


A13 (1974) - the First Tall-Deck A Engine
The 1974 A13 is a 1288cc engine with 73mm bore like the A10 and A12 before it, but with stroke increased to 77mm. This one-year-only model was designed for the American market, to keep the same relative performance with new B210 which was considerably heavier than the B110. Compression ratio reduced to 8.5:1 to help meet US emission control standards, yet the increased displacment resulted in 75hp. To accomodate the longer stroke, the 1974 A13 features a "tall-block" casting with a deck height 15 mm (0.59 inch) higher than previous A-series engines.
Applications:
* 1974 Datsun B-210 (USA and Canada)
* 75 HP @ 6000 RPM

A14 - The Engine that Powered Millions
The A14 is a 1397cc engine produced from the 1975 Model year through 2007. The bore was increased to 76 mm, up from 73 mm of every previous A-series engine. Like the previous A13 engine, the A14 is a "tall-block" variant.
Notice how the block extends above the timing cover by about 1 inch
Applications:
* 1975: 70 HP Federal USA
* 1975: 68 HP California
* 1976 Datsun F10 80HP @ 6000 RPM, 83 torque @ 3600 RPM,
* 1975-1978 Datsun B210 (140Y/B-210)
** 1975 USA 80hp @ 6000 RPM, 75 torque @ 3200 RPM, 8.5:1 compression ratio
** A14: 80 PS @ 6000 rpm, 10.2 kg-m @ 3600 rpm 
* Japan B310: A14E: 92 PS @ 6400 rpm, 11.7 kg-m @ 3600 rpm 
* 1979-1982 Datsun B310 (140Y/210) 65hp and 80hp variants
* 1977-1982 Datsun Pulsar N10 ("Datsun 310") 92hp
* 1977-1982 Datsun Violet A10 (Stanza/510/Auster/Violet)
** Note most A10 were PA10: L16-powered
* 2007 Nissan 1400 "bakkie" B140
* Nissan Forklift models (including turbocharged variant)

Horsepower
1980 JDM B310 80PS/6000rpm, 11.5kgm/3600rpm, 9.0:1

A14T
A twin-carburetor version of the A14 engine, called by Nissan "A14T", was available in the Japan domestic market.
Horsepower
1976 JDM B210 A14T ?

See main article: Hitachi Twin Carb

A14E
A14E was a fuel injected version of the A14 offered in Asian markets in the Datsun Sunny B310.
Horsepower
1980 JDM B310 92PS/6000rpm, 11.7kgm/3600rpm, 9.0:1

See main article: EGI

A13 Short-Deck Engine
The 1980-1982 A13 used the same block as the A12 and same stroke of 70 mm, but with a 76 mm bore for a slight increase in displacement to 1270cc. Aside from powering Datsun cars, this engine was used as the base for TS Cup racing and a number of Formula Pacific & Formula 3 race engines
Applications:
* 1980-1982 Datsun Sunny B310 Asian markets 
  (Japan and Southeast Asia)

Horsepower
1981 JDM B310 74PS/6000rpm, 10.5kgm/3600rpm, 9.0:1

A12A
The A12A is a 1237cc engine. It used a casting similar to the A12 and same stroke, but used a 75 mm bore (up from 73 mm) for an increase of 66 cc capacity. The A12A shared a common block and crankshaft with the redesigned A12 and A13 engines.
Applications:
* 1980-1982 "Datsun 210" B310 USA and Canada
* 1980-1982 Datsun Sunny B310 Japan and Asian markets

Horsepower
1980 JDM B310 70PS/6000rpm, 10.2kgm/3600rpm, 9.0:1

A15 - Stroker Motor
The A15 is a 1488cc) engine produced from 1979 through 1985. The stroke was increased by 5 mm from the A14 engine's 77 mm to measure 82 mm. It produces 85hp. It used a different block casting but the same "tall-block" deck height, measurements and BMEP as the A14. In the Roadstar it is capable of 49 mpg (17,3 km/L).
See main article A15 Engine
Notice how the block extends above the timing cover by about 1 inch
Applications:
* Datsun Sunny B310 (Datsun 210/Datsun 150Y)
* Datsun N10 (310/Pulsar/Cherry)
* Sportstar and Roadstar utes (B120) from Nissan New Zealand 
* Nissan C120 Vanette Japan June 1980-
* Nissan C22 Vanette Japan Sep 1985-
* Nissan GC22 Vanette (long wheelbase) Japan May 1986-
* Nissan TC22 Japan Nov 1988-
* Nissan C23 Vanette 1980 - 1999

Horsepower
1981 JDM B310 83PS/6000rpm, 12.2kgm/3600rpm, 9.0:1

A15E
A fuel injected version of the A15 (A15E) was offered in Asian markets.
Horsepower
1981 JDM B310 92PS/6000rpm, 12.3kgm/3600rpm, 9.0:1

See main article: EGI

Vehicles
List of Vehicles factory equipped with Nissan A-series engines
Australia
Europe
C120 VANETTE 0681- A15
GC22 VANETTE 0986- A15S LHD market only
N10 0878-0781 A10S
N10 0880-0781 A14S
N10 0878-0781 A12S

Japan
B110 1970-1972 A12, A12GX
B210 1973-1975 A12S, A12T
B210 1976-1977 A12S, A14T
B310 1978-1981 A12, A13, A14, A15, A14E, A15E
B120 1971-1994 A12S
E10 
F10 
N10 
A10 1977-1981 A14S
C22 8509- A12+A15
GC22 8605- A15S
TC22 8811- A15S
TC22 8811- A12S
C120 7810-8509 A12
C120 7810-8006 A14
C120 8006- A15

USA
B110 1971-1973 A12
B210 1974 A13
B210 1975-1978 A14
B310 1978-1982 A12A, A14, A15
F10 1974-1978 A14
N10 0878-0780 A14S
N10 0880-0781 A15S

India
Premier NE118 

See Also
Nissan A Engines: Overview | A10 | A12 | A12A | A13, old | A13, new | A14 | A15