The Nissan A14 engine is a 1.4 liter (1397 cc) engine produced from the 1975 Model year through 2007, produced in various ratings from 50 Horsepower to 91 hp.
Overview
A14 is the most common A-series engine available in the United States, although in some other markets it is relatively rare due to continued use of A12 engines through 1994.
Like the previous 1974 A13 Engine, the A14 is a "tall-block" variant with the block dock 15mm higher than the A12.
It has the same 77mm stroke of the A13 but the bore was increased to 76 mm, up from 73 mm of the previous A12 and A13 engines.
An Hitachi Twin Carb version of this engine (A14T) was available in some markets.
Being introduced after 1974, this engine has the features of the A-series Engine Redesign.
In 2002 new A14s are still available from Nissan commercial business (e.g. forklift engine)
As of 2007 new A14s are available in the South African B140 Nissan LDV Bakkie (Sunny Truck).
Nissan part #1010B-H19100RE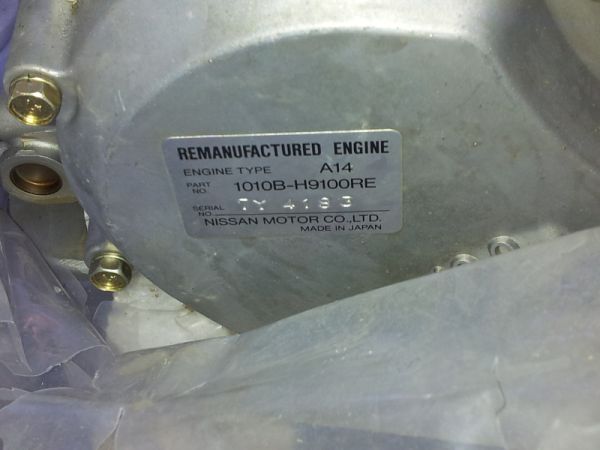 1979-1980 B310 H72 USA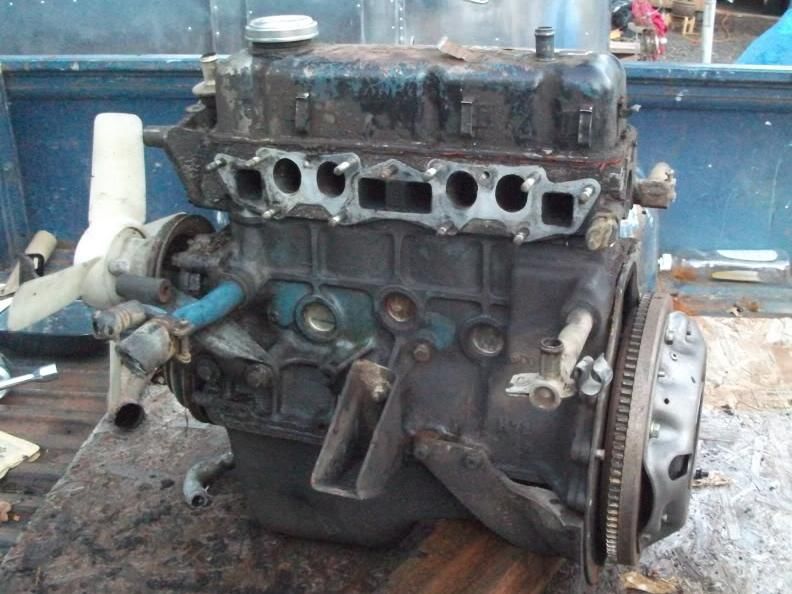 Identification
Look for the stamped ID either:
A14 stamped on pad below Spark Plug #4 and 'A14' cast above fuel pump
A14 stamped on pad above fuel pump
Album click to view OR
Album click to view
Album click to view
Album click to view
Notice how the block extends above the timing cover by about 1 inch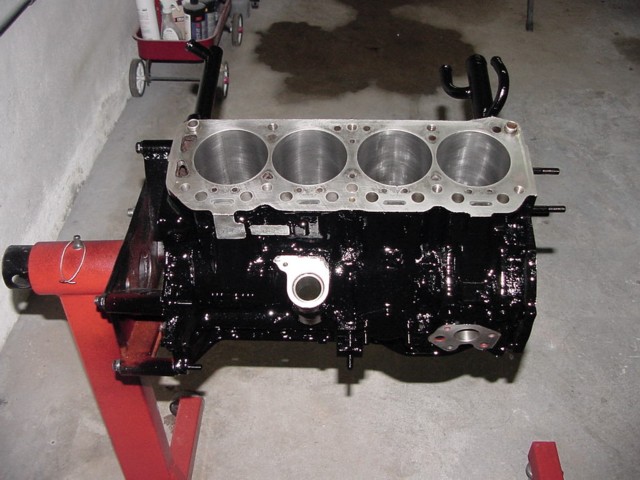 Album click to view
G30 block

Album click to view
H72 block

Album click to view
Album click to view
Applications
See main article: Nissan_A_Engine#Vehicles
1975-1978 Nissan Sunny B210 (140Y or B-210)
1979-1982 Nissan Sunny B310 (Datsun 140Y or "Datsun 210")
1975-1977 Nissan Cherry F10 ("Datsun F10" or Datsun Cherry F-II)
1977-1982 Nissan Pulsar N10 ("Datsun 310")
1977-1981 Nissan A10 ("Nissan Violet/Auster/Stanza") used F4W60 4-speed
1980-2007 Nissan LDV 1400 (model B140)
7810-8811 Nissan C120 Vanette
Datsun Forklift models (including turbocharged variant)
A fuel injected version (A14E) was offered in Asian markets in the B310.
Details
Engine block has extra mounting boss on left side (now 3 bolts for mounting accessory)
A-series Cylinder Heads with medium-oval ports of 28 x 34mm

Smaller than the A12GX Engine's monster 30 x 34.5 ports
Larger than the 1974 A13's 28 x 30 small-oval ports

New four-bolt water outlet (thermostat housing) instead of former 2-bolt design
Longer conrod
New larger conrod small-end piston pin (now 19mm, 1.6 mm larger)
New large valves (larger than A12GX)
3mm larger bore: Now 76 mm

requiring new head gasket with large bore

3-belt crankshaft pulley (for Water pump, Air Pump, and Aircon)
Heavier flywheel increased by 2.2 lbs (1 kg) for smoother idling
Rubber Engine Mounts now stiffer 1092 lb/in, up from 1008 for 1974 A13.
Stronger, light Starter (80mm), starting wih 7404 vehicles
Distributor improved by moving condensor inside the housing
3-bolt exhaust pipe-to-exhaust manifold connector

stainless front tube (USA only?)
aluminized pre-Muffler (USA only?)
HP Ratings
75HP @ 6000 1975 USA B210, 77 ft-lb @ 3600
70HP        1976 USA B210
65HP @ 5600 rpm 5-speed USA 
68HP        1976 CAL B210
78HP @ 6000 1977 FED 5-speed
80HP @ 6000 rpm 4-speed USA , 83 ft-lb @ 3600 RPM
80PS @ 6000 rpm, Japan-market Datsun B-HB211

80HP - HLB210 H72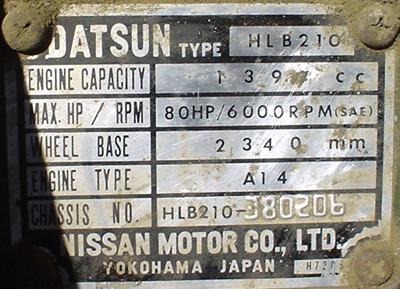 Album click to view
80PS - HB211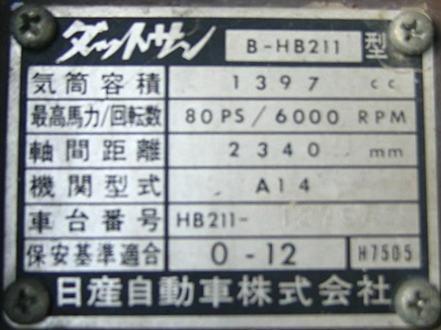 Album click to view
保安基準適合 Safety standard conforming 0-12
78HP - H73 B210 USA

65HP - Economy A14 Engine. This engine got 47 MPG in the Coupe with 5-speed transmission. The engine has round exhaust post rather than the usual oval-shaped A14 style. 1976-1980 A14 with 5-speed FU Engine
65HP WHLB310 H93 (1981 FU Engine 8.9 compression torque 75@3600)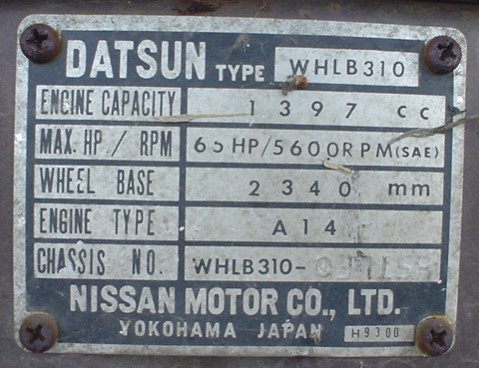 Album click to view
H92 92 hp A14E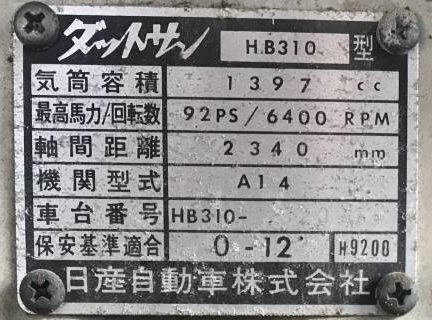 Post click for topic
Post click for topic
Mild Build Upgrade
To get to 100 HP at the wheels takes about $5000. For a less expensive "mild" build here are some thoughts:
First make sure which A14 you have. 80HP or 65HP (from 5-speed cars). If you have the low power version, change to the high-power version.
Recurving the distributor can gain up to 15 HP. Tell your distributor shop to make full advance by 2400 RPM. Then after installation, set the timing to 34 degrees total.
The next biggest bang for your buck is to rev the A14 to 6000 RPM, which it will do with the stock parts.
A weber 32/36 carburetor will make a small difference. It certainly will be louder so it will seem like a difference.
If the stock 35 year old carburetor is worn out then a new or good used carb can make a huge difference in driveability, power or fuel economy.
Raising compression 1 point by fitting custom-order flat top pistons ($400) will gain 2HP. Shaving the head can gain up to 1HP.
Better than raising compression is changing to a closed chamber cylinder head. Both power & fuel economy are upped. They came from Nissan Competition but can sometimes be found used on "used import" engines, heads with casting "H89" or "H891". Or have a round port head with same chamber design ported and large valves fitted to make essentially the same thing.
Fitting 0.20 oversize pistons will gain 18cc or about 1% HP gain.
Upgrading to an aftermarket camshaft can increase HP if you rev engine over 6000 RPM to take advantage of it. Using larger carburetor and 1.75" exhaust completes the high-rpm upgrade.
A high-lift, fast-opening camshaft will help HP with RPM below 6000 RPM. View the Camshaft Comparison section of the wiki to get a rough idea of what you want from your engine (be realistic), and call and discuss this with your cam vendor (e.g. Iskenderian). High-lift may require special non-binding valve springs.
Photo Index
Album click to view
Album click to view
Album click to view
Album click to view
Album click to view
Album click to view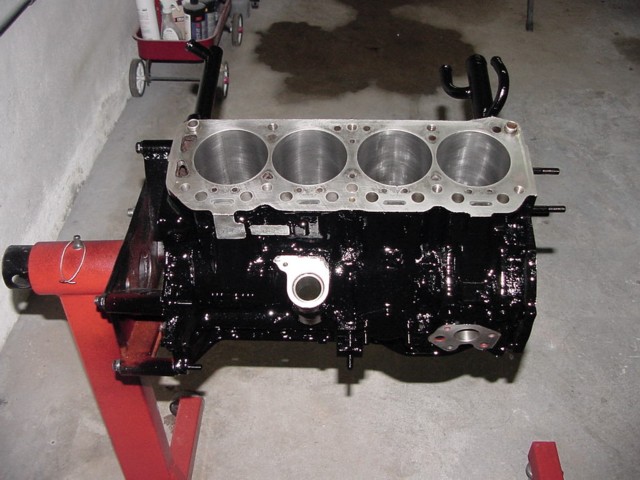 Album click to view
Album click to view
Album click to view
Album click to view
Album click to view
Album click to view
Album click to view
Album click to view
Album click to view
Album click to view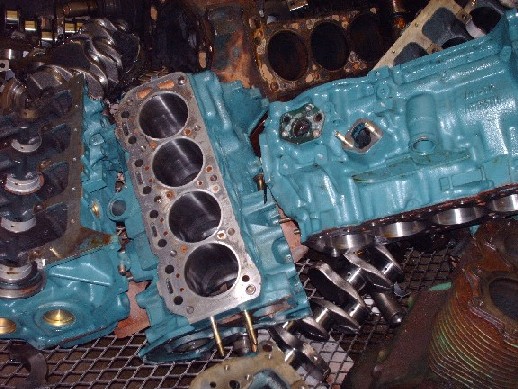 Album click to view
Album click to view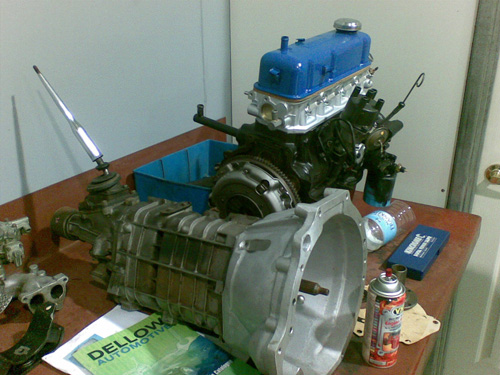 Album click to view
Album click to view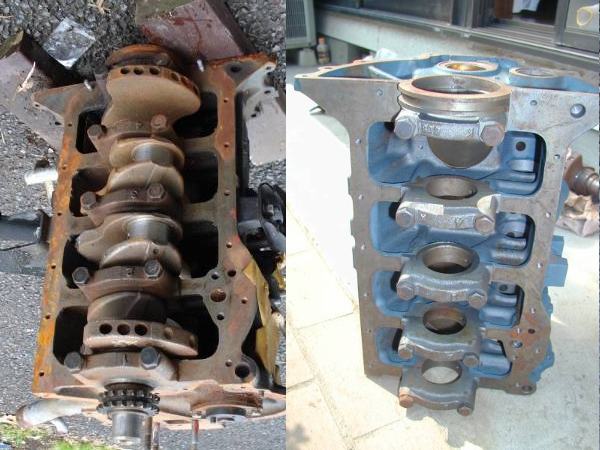 Album click to view
Album click to view
Album click to view
Album click to view
Nissan A Engines: Overview | A10 | A12 | A12A | A13, old | A13, new | A14 | A15
¤