Just about anything can and has been used! Brake and strut assemblies from Fiat to Ford have been fitted to 1200s.
Swap them!

Album click to view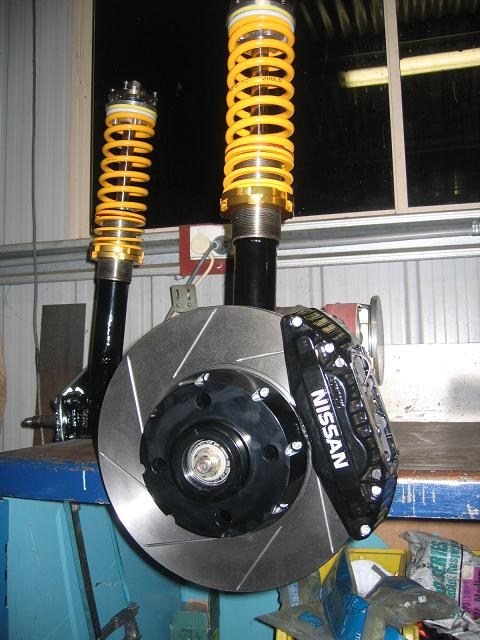 Album click to view
Overview
Reasons to swap struts:
To swap from front drum brake to front disc brakes (a must-do)
To fit bigger brakes
To lower car (and still permit sufficient suspension travel)
To allow greater choice of high-performance strut shock inserts
Brake Comparo: 9.5" disks of the B310 vs. 8.5" disks of the 1200

Album click to view
Counterpoint: There are some good reasons not to change your struts.
The stock struts are very light, which is good for acceleration and susension control (unsprung weight)
They also have a good damping qualities for the smoothest ride
You can lower/shorten the stock struts
You can fit different spring rates to the stock struts
Less work to keep them. Less expensive to keep them
You can fit very large brakes to stock 1200 struts. See Brake Upgrades
Most swaps increase the offset. Stock struts won't do this
This article focuses on swapping struts. For simpler brake upgrades, see Brake Swaps. For general information on better brakes, see Brake Swaps.
Nissan Strut Swaps
Mods Needed
With any swap, use the 1200 strut tops (not the tops from the donor car) with the 1200 upper spring seat.
Only B110, 120Y and B310 are bolt-in strut swaps for the 1200.
All other require some modification. The usual strut-swap mods are needed:
A strut-accepting package of parts. The A10 SAP (lower bits) works with many 2.0" struts
shortening the struts depending on how low you want the car

These are NOT required:
aftermarket coilovers
camber plates
Coilover conversion
With stock Datsun 1200 struts or upgraded struts, you have the option to use the stock coilover configuration (which can be lowered), or convert them to aftermarket small-diameter coilover springs. Advantages include:
Many spring rates are available for customizing
If using small-diameter springs, you gain:

more room to move the strut inward for extra negative Camber
more room for tires, or wider tires
Stock springs can be lowered and different size and rates of spring are available, so there is no advantage there to the small-diameter springs.
Turnkey Strut Packages
Datsport
200B budget strut/brake package $1695 AUD/pair☁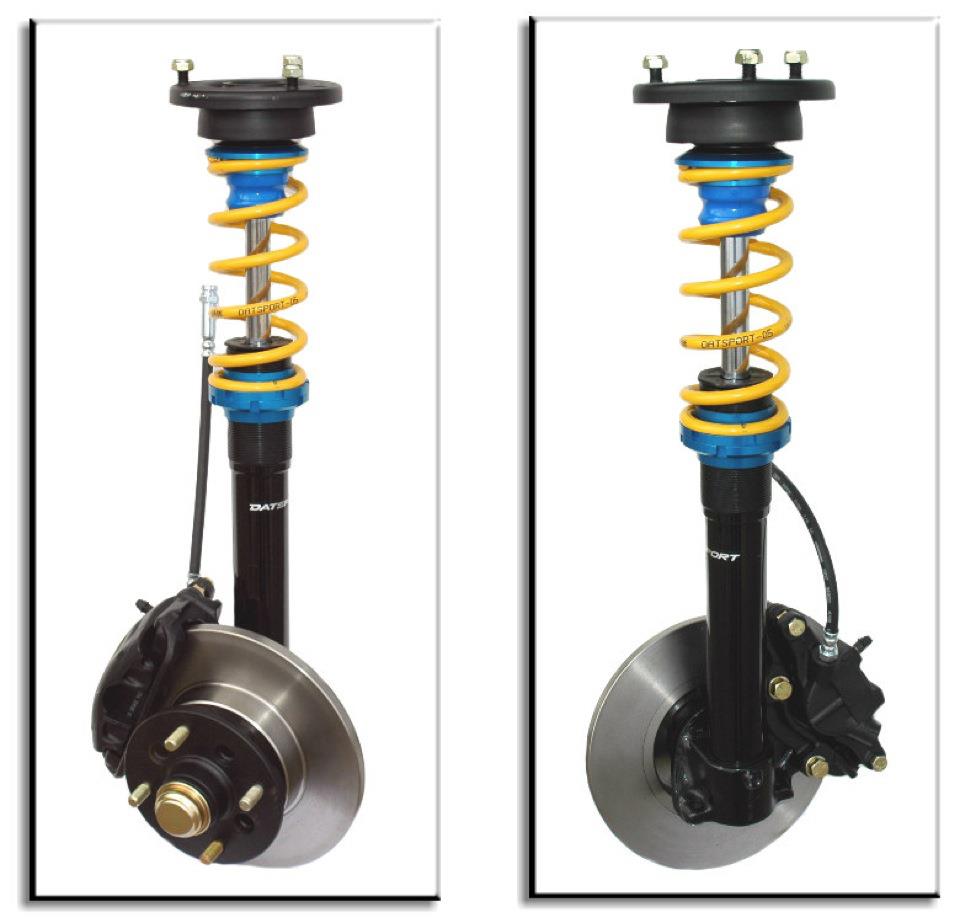 Post click for topic
Post click for topic
Struts are 200B or stanza shortened & remachined to take heavy duty 25% uprated 300ZX KYB inserts. Fitted with adjustable platforms and DATSPORT custom hi-tensile 250lb pro sport springs. Progressive urethane bump stops fit neatly into the top spring hat. A budget strut to suit 1200,120Y, Sunny, Stanza, 180B, 200B & 510/1600. Designed to take 13" rims for that sleeper look.
R31 struts with Z 4-pot calipers $2990 AUD/pair☁ for 15" wheels
Maddat
Maddat parts for 1200
Shortened 200B struts fitted with KYB inserts, 250lb lowered king springs & bump stops. WITHOUT BRAKES $1400 AUD/pair☁
BRAKES for above: 280mm vented disc rotors, RX7 S6 Calipers (new seal kits fitted), adaptor brackets, bolts, washers. wheel bearing kits, new rubber lines. Kit is designed to fit 200B or late Stanza struts. $1265 AUD/pair☁
Popular conversions using Datsun donor parts
B310 strut swap brake upgrade. A great bolt on. Larger brakes.
280ZX strut swap brake upgrade. Great for lowered cars, or racing with its big vented brakes. Requires cutting the spring cup and fitting the 1200 spring cup
A10 (1978-1982 510/Stanza) Strut swap brake upgrade. Very large brakes possible.
A no-machining/no-cutting/no-welding solution is the 280ZX brakes on stock 1200 strut. See 280ZX Brake Upgrade.
1200 Disc-brake Strut Swap
B110 "Standard" models used front drum brakes (most Aussie sedans are STD models). You can simply bolt the disc-brake struts together with brake assembly directly onto a STD car. You will also need the master cylinder and brake lines. All coupes came with disc brakes.
120Y Strut Swap
1. Japan-built 120Y (A12-powered B210)
For the Australia market 120Y, the bare strut is the same for the 1200 coupe & the 120Y [Australia built sedans excepted] and so are the disc brakes. Springs too if i'm not mistaken, so these parts will provide you with a stock upgrade, but use the 1200's upper spring seat [the bit that bolts to the body] to avoid raising the front. The hub may have a slightly different offset.
1974-1975
* small spindle/large bearing/212 mm rotor
1976-1978
* large spindle/small bearing/220 mm rotor 

2. Australian-assembled 120Y uses PBR caliper and adapter plate
Late model 120Y with PBR brakes pull up hard!! For a CA18DET conversion 120Y or 1200 coupe struts & discs are legally sufficient and have great stopping capablities, just not repeatedly in a short period of time the 120Y Brakes have suprised us a couple of times as to how well they stop. See POST Time to get this datto stopping and turning!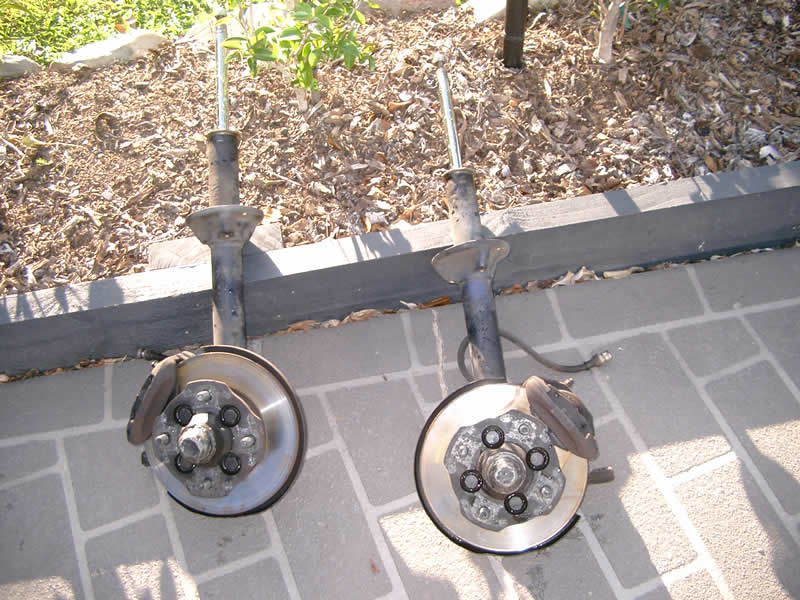 Album click to view
The basic swap process is exactly the same as 1200 Disc Brake Swap.
For more information on the brakes used by late Aussie-spec 120Y, see Brakes#120Y
B210, B310
B210 or B310 with 13" wheels - add bigger brakes (245 mm, up from the 1200's 212 mm), this is the easiest upgrade, but are still light in performance compared to modern cars. Good for street use, and can be modified for racing use. They are almost as big as S13 brakes, but are solid (non-vented) for light weight.
NOTE: Datsun 1200 (B110) uses 45mm diameter strut tubes, while HB210/HB310 uses 2.0" (as with almost all other Datsuns). This means the strut itself is not interchangeble with B110, but as a whole assembly it can be done.
Rotor Sizes
| | | |
| --- | --- | --- |
| Dia. (mm) | Part Number | Source |
| 212.5 | 40206-H1006 | B110, B210 with A12 1974, 1975 |
| 220 (AN18) | 40206-H7500 | B210 A12 1976-1978,B310 with 12" wheels |
| 232 | 40206-A1155 | B210 A13, PB110?, PB210 early? |
| 245 (AN20) | 40206-U6700 | B210 A14, B310 A14/A15, PB210 late? |
You can swap USA HB210 struts onto a 1200, to get larger brakes. Use the 1200 spring.
B210 (1974-1978)
B210 with A12 & A13 engine have larger strut/brake assemblies that will fit under 12" wheels
If you are moving to 13" wheels, do the B310 swap instead for even better brakes for no extra work
Australian built 120Y's from July 1976 used a completely diferent disc brake setup. 1976-1978 120Y struts use an Aussie-sourced PBR caliper, same as Mitusbishi Sigma

reference: Marty's 120Y brake swap☁

B310 Swap A14/A15 B310s have a larger brake than B110, these B310s use a 245 mm disc, the same size as the largest B210 brakes.
B310 on left, B110 on right

Album click to view
Stanza
Australia-assembled Stanza (1980-1981) is a version of B310 suspension but with beefy Girlock calipers (on the later Stanza) ... so the parts fit with only small modifications.
280ZX Struts
Keep the lightweight 1200 struts! No machining required.

1979-1982 280ZX (S130) front strut/brake conversion:
10" vented rotors
solid, single-piston caliper
shorter strut height
will clear certain 13" wheels
decrease in track allows wider wheels/tires
Better than Z-car (S30) parts, because it has the correct camber angle. And can fit under some 13" wheels, while 240Z/260Z/280Z requires 14" wheels
This is nearly a bolt-in, using A10 (stanza, H510) or B310 (sunny) lower control arms, steering arms, balljoints and outer tie rod ends.
S13
Nissan S13 model series (Silvia, 240SX, 180SX, 200SX)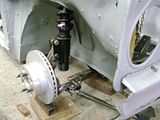 Nice smaller vented rotors and beefy single-pot calipers, fits over 14" wheels (13"?). Adds ~30mm to the track.
Less Popular Swaps
Z-car
car: Fairlady 240Z/260Z/280Z (Datsun model series S30 chassis code)
This is not a good swap, because it adds positive camber (and you want negative camber for performance):
Kingpin Inclination
* 240Z: 5° nominal
* B110: 8° nominal

Instead, do the 280ZX swap.
240Z is also not a good swap because they use an extra-wide bolt pattern where the strut connects to the knuckle arm.
Data Points
Add adustable camber strut tops to bring it back to 0 camber
240Z brakes on 1200 Strut. This involves welding, and fabricating new parts. See Datsun 1200 Competition Suspension Manual
For stiffer spring rate, use 280ZX rear coil spring on Z-car strut on front of B110
retrorally used a cut-n-weld method to lessen the positive camber

Album click to view
Album click to view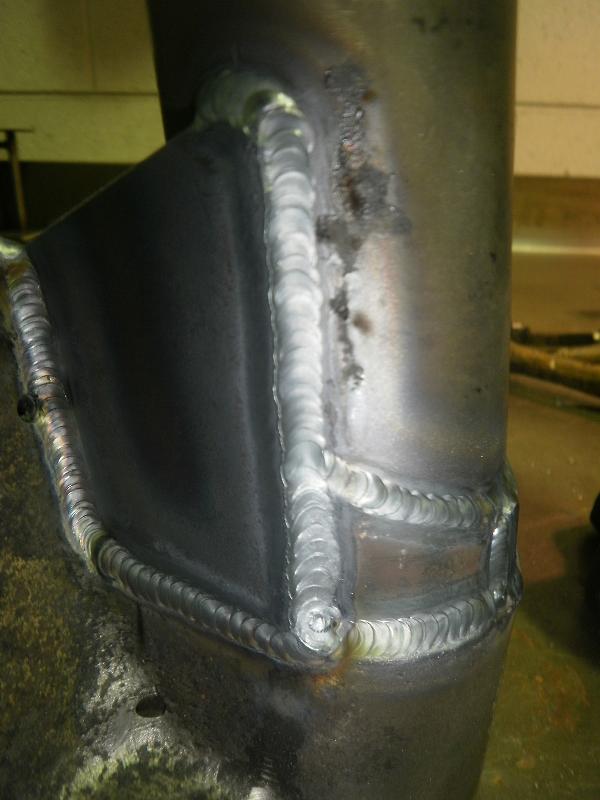 Album click to view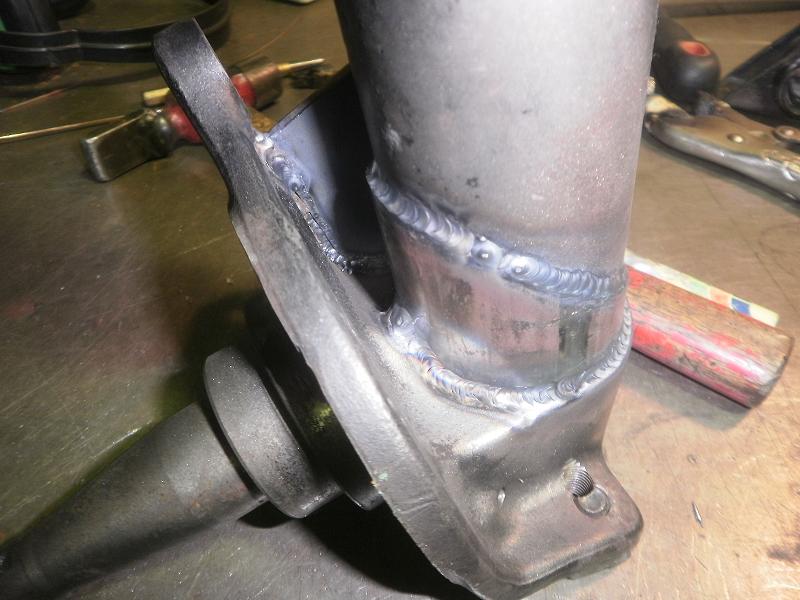 Album click to view
Album click to view
Album click to view
610
Datsun model series 610 is marketed as 610, 180B, or Bluebird U.
This is not a conversion for someone without a mig welder and a workshop. The springs are larger diameter in the 180B. They will NOT fit in the 1200 strut tower. You will have to remove the spring perches, and weld on stanza or 1200 ones. Stanza ones are better because the Stanza strut tube diameter is the same as 180B. You will also need to swap the top of the struts too, including the mount, 1200 springs and thrust bearing.
discussion: POST Installing 180b struts
NOTE: PB210 and USA B210s use 610 parts. 1967-1973 510 also may be the same.
810
Datsun model series 810 (1977-1980) was marketed as Bluebird, or as 200B in right-hand-drive export markets.
200B Calipers

Album click to view
Because the 810 struts are Datsun 2" struts, use 2" strut-accepting package.
2" strut support from large-B310/late-B210/late-B120:
* Knuckle Arm
* Balljoint 
* LCA 

You can use the stock 810 brakes, or fit/modify other brakes to it.
For example, shortened 810 Struts with 280z strut cartridge inserts, 300zx rotors with Toyota 4piston calipers
---

front crossmember is a stock 80 210 [North America B310] piece.

810 Struts I belive are the same lenght as 210 but they have large spring perches and a different Caliper bolt pattern. They are also the same geometry and bolt to the same lower ball joint. Mine have been shortened to exept the 280z front shocks and the small 210 perches Have been welded on. Once you have done this they will bolt in using the 210 springs and upper bearings. At least a 79-82 210 I'm not sure about earlier models. The brake Calipers will the bolt on(89 toyota 4X4 Pickup). The rotors are 300zx turned down appx. 1/8" Mounted on 280zx Front hubs with a rotor spacer. The only problem with this setup is you must run a 1/4" wheel spacer so the 300zx wheels don't hit the struts. I'm currently looking for a sulution to this But until then the spacers work fine. It's really not as hard as it sounds. I enjoy answering your questions and am looking forward to more!!

Good Luck;

SunnyGX

---
910
Model series 910 a.k.a. Datsun 810, Datsun Maxima, Nissan Bluebird
910 struts fit the usual A10/B310 lower parts -- except you need a 5x3 mm ring (30mm diameter) to properly seat them. And use the Sunny strut tops.
Roll Center Adjusters with R30-R31 locating ring

Album click to view
The usual strut-swap mods are needed:
Bluebird struts with custom brakes

Album click to view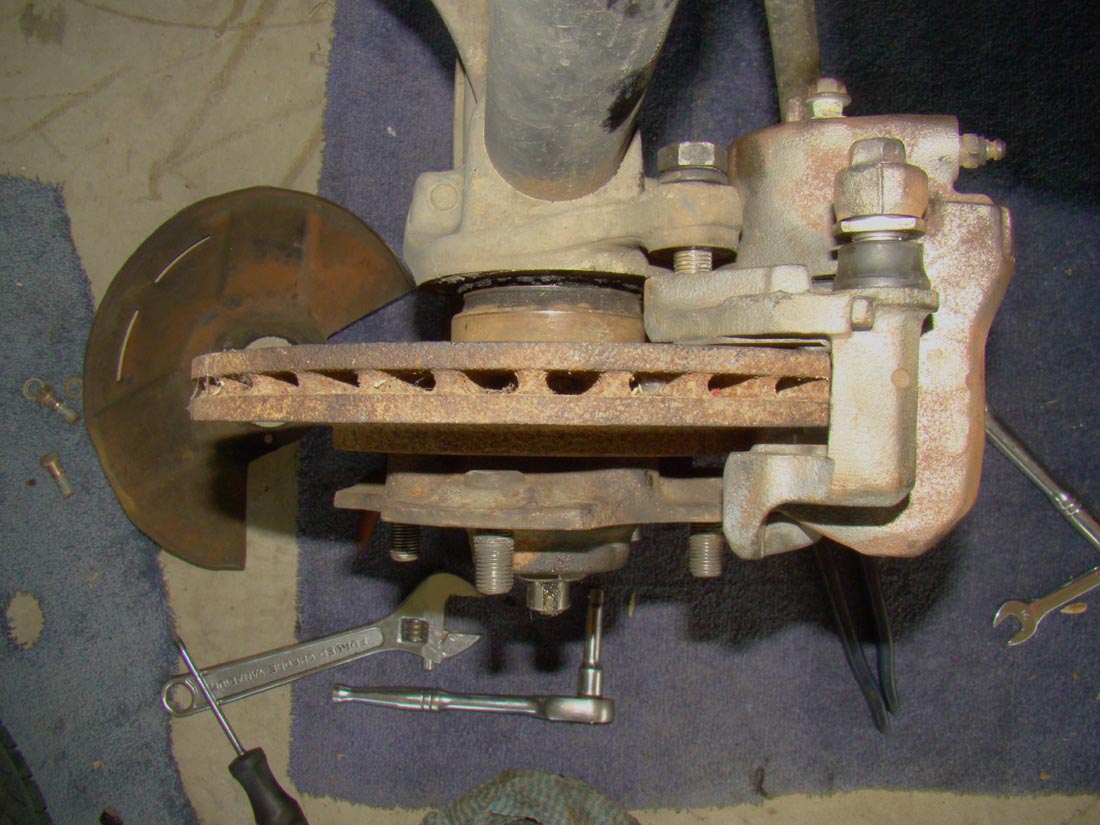 Album click to view
Bluebird struts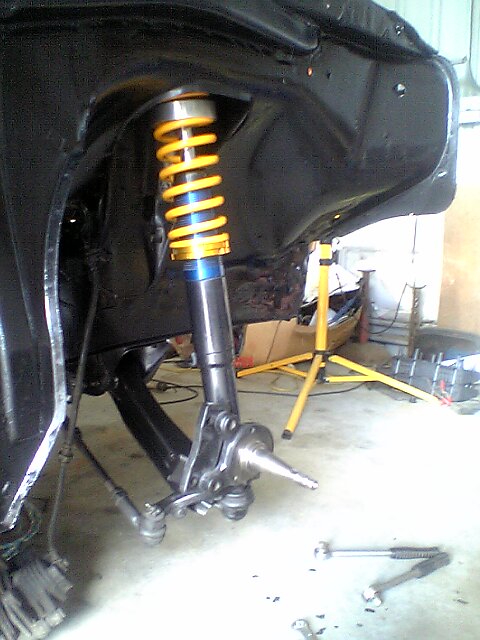 Album click to view
Bluebird strut with King Springs

Upload click to view
Mitsubishi Lancer
Subaru
Subaru rotors & calipers

Album click to view
Skyline R30, R31
Most likely, you would have to change the whole strut assembly, which will require control arms, balljoints and such from late 1200, B310 or A10 (Stanza).
Has the wrong spindle again, resulting in increased camber (positive camber, not good)
The Skyline R31 strut does not exactly fit on a B310/A10 arm, so a small ring spacer needs to be machined up.
Fit over 14" rims. Some 13s may fit also
Fits perfectly with 6.5 rims with a 38 mm offset
R31 fitted to Datsun 1200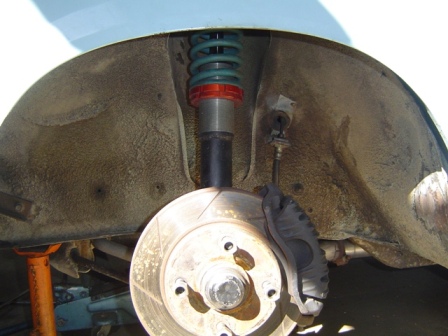 Album click to view
Album click to view
R30

Album click to view
TRD
TRD struts are often used on 1200s. See how-to pictorial on strut shortening: TRD Race Height Suspension Conversion Guide☁.
AE86 struts can be used with a strut-to-knuckle arm adapter (which also doubles as an RCA):

Album click to view
Suspension Principles
Important considerations:
Bump Steer

It literally causes the car to turn one directly or another when you go over bumps. Not so good, but in small amounts can be acceptable. Some factory car setups have a little bumpsteer, so it's OK but not ideal.
To prevent bumpsteer, the bottom lower control arm needs to be the same length as the steering arm. This is because of the relationship of the arcs described by the lower control arm vs the steering arm. If the arm pivots are not concentric, you generate bump steer when there is vertical suspension movement.
Moving the holes in the crossmember outwards may mean you end up with a steering arm longer than the suspension arm, resulting in bumpsteer that you cant fix with spacers.

Instead, to gain more negative Camber, consider moving the top of the strut inwards to give yourself more camber. It doesnt give you as much increased track, but wont mess your bumpsteer around as much.
For increased track width, consider using modified (longer) steering arms with your longer lower control arm.

Road Racing: with the high spring rates and limited suspension travel involved, having a little bumpsteer is not as critical as on say a gravel or offroad racing car.
Scrub Radius

You can make small changes to scrub radius with positive results to steering behaviour, but like a lot of things a little can be good and a little bit more disastrous!
For 0 scrub radius, the tyre contact patch centre should be at the same point on the road surface as the extended strut axis from upper pivot through ball joint to the road surface
Reference: POST Dropped my 1200 onto its new S13 front suspension
Unsprung Weight
Car performance is all a matter of balance. The harder it goes, the harder you need to be able to stop. This increased stopping power comes at a price, and that seems to be increased mass of the unsprung weight.
Road cars usually travel slower than race cars and ride quality is more important, so a lighter brake/suspension could be justified. It's all a matter of balance.
Others don't mind a rougher ride as long as it corners better with less dive under braking and less body roll. But this is potentially disastrous for a race car running at 10/10ths grip.
The good news is that you have large brakes AND lightweight suspension -- by upgrading to large brakes on the stock 1200 struts or 120Y stuts. See Brake Swaps for details.
I remember talk about S13 calipers and rotors on a 120Y strut, which is some pretty serious braking power - well above that offered by a set of girlocks on the Stanza strut - meaning maybe it's possible to get a whole lot of braking power out of a 120Y strut....which would mean top brakes and lower unsprung weight!
Short-ratio Steering Arms
The problem with most strut swaps (except 1200 or 120Y struts) is that they will make your steering slower. Some guys don't mind this, but if you to retain the faster steering read on.
180B steering arms may be shorter than A10. B210 large-size are shorter than A10.
POST Grunterhunter: stanza steering arms are longer (146mm) than the 120y ones (138mm) ...This will give a slower steering response ...Total strut length for both the stanza and 120y, from the surface of the strut hat(?) that bolts into the tower, to the bottom of the strut where the steering arm bolts on, is 660 mm. The stanza struts are longer in total, because the bearing goes up through the tower (like the 1200), whereas the 120y sit flush.
Also see discussion: POST Shorter steering arms (stanza alternative)
For modified 1200/120Y quick steering arms modified to take a larger strut, see Knuckle Arm.
Photos
¤