Datsun 1200 came in several trim levels from basic to sporty and on to luxury. Trim packages names vary by country, but include basic Standard (STD), better Semi-Deluxe (Semi-DX), Deluxe (DX) luxury GL (Grand Luxury) and sporty GX (Grand Luxury Twin-Carb).
Also see Interior

Overview
Japan-market trim levels for B110 (1200) and PB110 (1400)

Album click to view
In order of prestige:
basic     STD (Standard)
better    Semi-DX
normal    DX (Deluxe)
best van  Super-DX
luxurious GL (Grand Luxury)
sporty    GX (GL Twin Carb)

Model Availability
Coupe
* DX
* GL
* GX

4-door Sedan
* STD
* DX
* GL
* GX

Van Trim
* STD
* Semi-DX
* Deluxe
* Super-DX

Truck Trim
* STD (early models)
* Deluxe (option early models, plus all late models)

Standard
STD models were your poverty pack model. Like other stripper models it was the lowest cost.
* Dog dish Hubcaps instead of full wheel covers
* No heater 
* Cigarette Lighter delete (plug for dash, no lighter)
* Radio delete (Blank Plate)
* Antenna delete (a-pillar plugs)
* Heater delete (Firewall and cylinder head plugs, different lower radiator hose)
* Air intake plate under dash (non-heater models)
* Package Tray cap (OPTION)

Standard trim was not available for Coupe.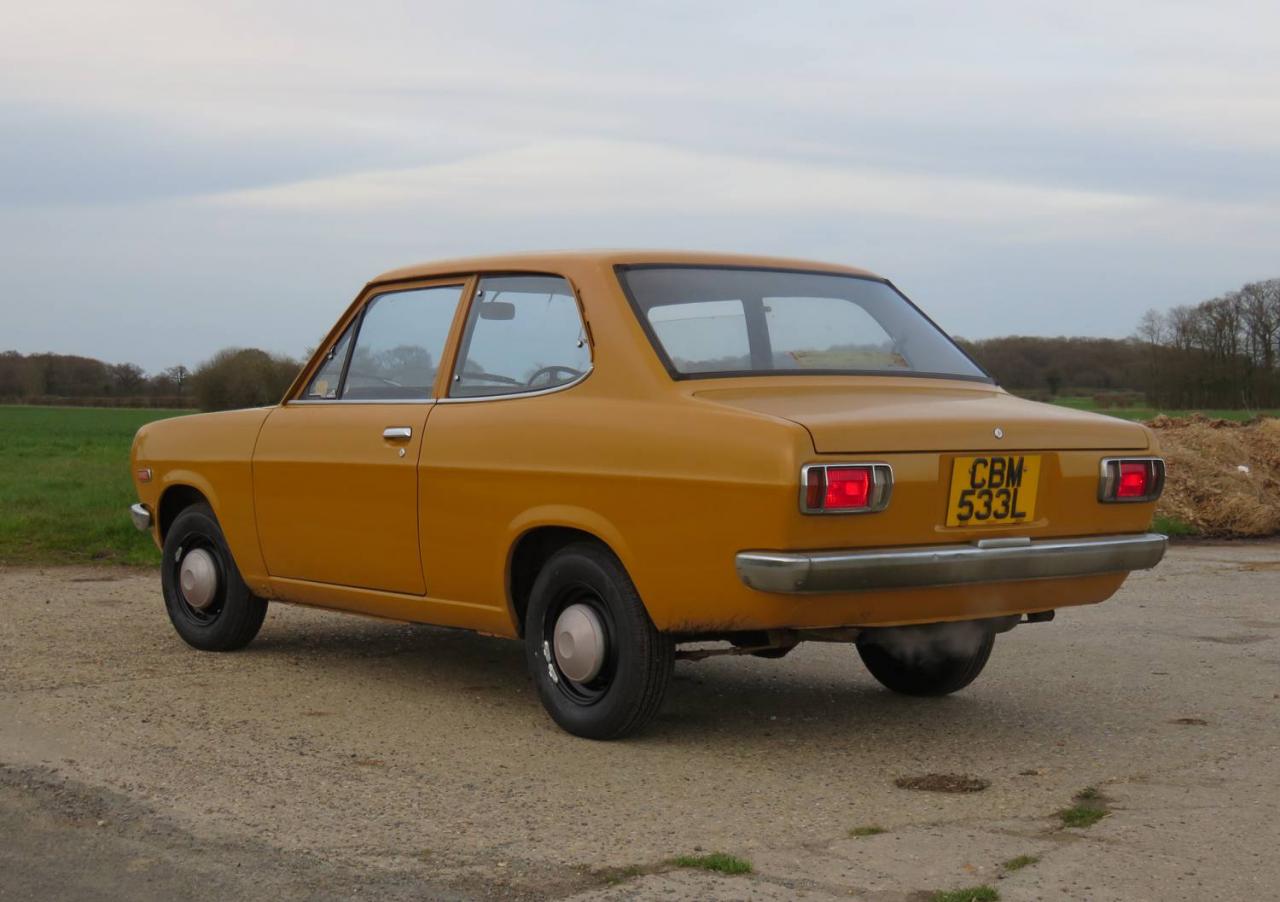 Album click to view
Deluxe
DX trim is your basic model. Deluxe in the car industry usually means a basic model, not a luxury model, and the 1200 is no exception. DX (Deluxe / デラックス) was available on all Japan Market 1200 models including pickup. It was also the only available Trim level in USA.
DX (Deluxe) was the base Coupe trim, and one step up for Sedan and Truck.
all STD features including drum brakes and rubber floor mats
chrome bumpers
roof rain-drip moulding
DX models could be fitted with Options equipment.
Deluxe standard fitment included all features of STD, plus:
* DX Coupe is the lowest level Coupe trim, so it has no special badges
* DX Grille Badges -- none on Grille, just like STD
* DX Sedan boot lid
  
* DX Sedan C-Pillar 
  
* Roof drip moulding rails (stainless)
* Body side moulding (stainless)
* Rear window chrome moulding
* Rear fender badge 'Sunny' (Sedan DX/GL)
* Gauges: Round in DX Coupe, Rectangular for DX Sedan
  * Rectangular cluster lids & cases differ STD vs DX
* Brakes: Disc for DX Coupe, Drum for DX Sedan
* Seats: Reclining on 2-dr & 4-dr Sedan (2-dr STD is only folding)
* Seat colors: Black STD, other colors DX
* Colors: Exterior color choices
* Colors: Interior color choices in addition to black
* Interior: Rear ashtray
* Hubcaps: Full covers
  
* Hubcaps: Van DX (VP): dog dish (same as 4S STD, differs from 2S STD)
* Mirrors: Trapezoidal (same as GL)
  
* Transmission: Optional automatic with sedan (not offered on STD sedan)
  3-speed or 4-speed available on DX Sedan.
* Engine: A12 (not A12GX)
* Heater: DX (optional on STD)
* Room Lamp
* Sun Visor assistant side DX/GL
* Package Tray
* Rear Tunnel Floor insulator
* Rear Floor insulator
* Rear Seat under floor insulator
* Carpet
* Rear wheel house cover (except 4D STD)
* Rear wheel house pad 
* Seat riser trim (plastic cover between seat and door jamb)
* Side cover: front, rear and lower rear seat
* Finisher: A-pillar CLOTH & PAD
* Finisher: B-pillar CLOTH & PAD
* Finisher: C-pillar CLOTH & PAD
* Door Lamp Switch (for room lamp)
* Roof insulator
* Glass front windscreen/windshield chrome trim
* Horn, Low - DX Sedan. Coupe has GX-type Low Sports Horn
* Radio, speaker and antenna
* Speedometer with tripmeter from Jan 1971 (STD is w/o tripmeter)
  USA DX is without tripmeter. Glass differs.
* Cigarette Lighter 
* Brake-hand control
* Brake master cylinder twin-cylinder type (drum brake Sedan DX)
* Brake master cylinder single-cylinder type Van DX
* Wheel is different somehow (perhaps missing the tabs for dog dish covers)
* Steering Column collapsible saftety type: USA DX (same as GL/GX, except LHD)
* Cowl Top Grille Sedan DX/GL
  
* Parcel Shelf on 4DX 
* 2nd rear ash tray
* Glass differs from STD somehow 
* 2S DX rear side window hinge cover
* Trunk Lid Spacer
* Trunk Room Mat
* Special Door panels (Door Finisher) with enclosed pattern
  DX: 
  STD: 
* Arm Rest instead of door pull

Sedan DX
* B110 (4D) Sedan 4-dr DX
* B110T (4DT) Sedan 4-dr DX with 4-speed
* B110A (4DA) Sedan 4-dr DX with Automatic
* B110R (2D) Sedan 2-dr DX
* B110TR (2DT) Sedan 2-dr DX with 4-speed
* B110AR (2DA) Sedan 2-dr DX with Automatic

Coupe
Coupe base trim was DX, so it carried no special badging
* KB110 (CD)  2-dr Coupe
* KB110A (CDA) 2-dr Coupe Automatic

Coupe DX was similar to Sedan DX, except:
* Coupe DX had round-gauge instrument panel
* Coupe DX had no side vents (except for 1972)

This brochure shows that Coupes only came in the higher trim levels, that is to say, there was no STD coupe.

Album click to view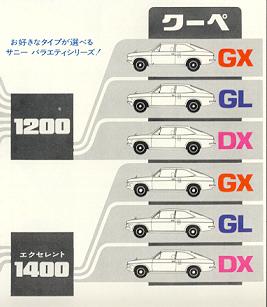 Album click to view
USA Deluxe
For USA, all 1200s are Deluxe.
* Coupes have no trim badges -- as is usual with the base trim
* Sedans are DX level, with higher specification than Japan-market DX
  * fitted with disc brakes (GL-spec)
  * fitted with round gauges (Coupe DX-spec)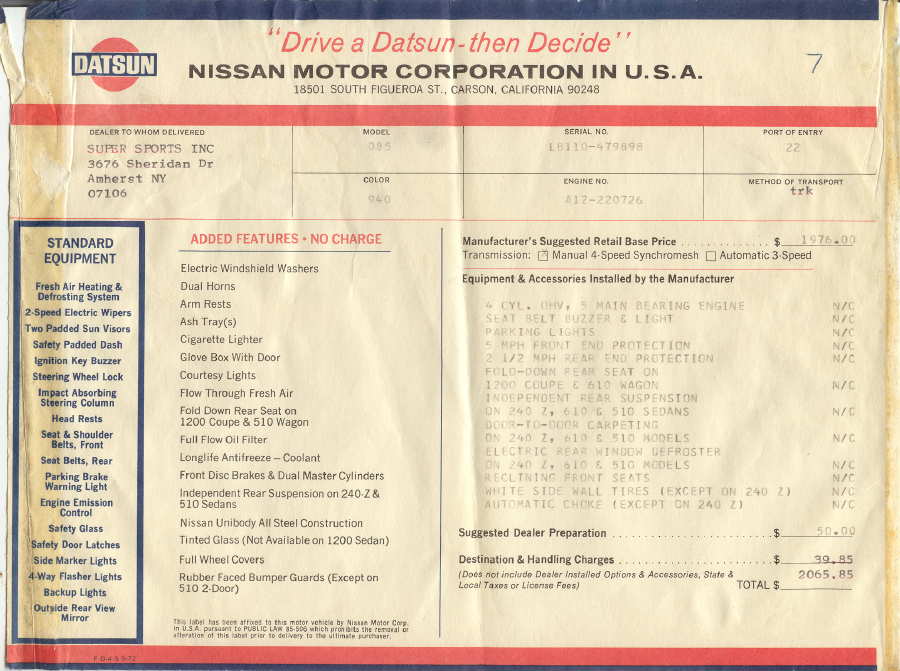 Album click to view
USA standard equipment (Deluxe)
* 4 CYL, OHV, 5 MAIN BEARING ENGINE
* SEAT BELT BUZZER [ALL] & LIGHT [1972-1973]
* PARKING LIGHTS
* 5 MPH FRONT END PROTECTION [1973]
* FOLD-DOWN REAR SEAT ON 1200 COUPE
* RECLINING FRONT SEATS
* WHITE SIDE WALL TIRES
* AUTOMATIC CHOKE [1972-1973]

STANDARD EQUIPMENT
* Fresh Air Heating & Defrosting System 
* 2-Speed Electric Wipers
* Two Padded Sun Visors
* Safety Padded Dash
* Ignition Key Buzzer
* Steering Wheel Lock
* Impact Absorbing Steering Column
* Head Rests
* Seat & Shoulder Belts, Front
* Seat Belts, Rear
* Hand Brake Warning Light
* Engine Emission Control
* Safety Glass
* Safety Door Latches
* Side Marker Lights
* 4-Way Flash Lights
* Backup Lights
* Outside Rear View Mirror

ADDED FEATURES - NO COST
* Electric Windshield Washers
* Dual Horns
* Ash Tray(s)
* Cigarette Lighter
* Glove Box With Door
* Courtesy Lights
* Flow Through Fresh Air
* Fold Down Rear Seat on 1200 Coupe
* Full Flow Oil Filter
* Front Disc Brakes & Dual Master Cylinder
* Nissan Unibody All Steel Construction
* Tinted Glass (Not Available on 1200 Sedan)
* Full Wheel Covers
* Rubber Faced Bumper Guards

Options
* Radio
* Carpet

Van DX
The van (wagon) was offered in Semi-DX, Deluxe, and Super-DX.
* VB110 (VD) Super Deluxe
* VB110 (VDT) Super Deluxe with 4-speed
* VB110P (VP) Deluxe
* VB110PT (VPT) Deluxe with 4-speed

Truck DX
B120 (Deluxe) and B120T (Deluxe 4-speed)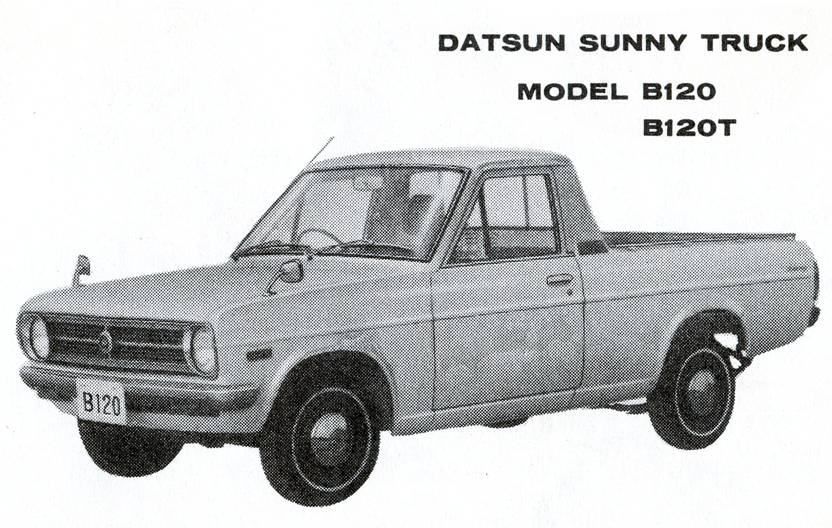 Early deluxe features include:
* Whitewall tires
* Trapezoidal mirrors
* Radio & Antenna
* Chrome window moulding
* Chrome bumpers
* Chrome hubcaps
* Sunny side badges

All those features are missing from the B120S (Standard) model:

GL
GL グランド・ラクジアリ
GL Grand Luxury was offered on:
* Coupe
* 4-door Sedan
* 2-door Sedan GTR (1972 only)

Grand Luxury has all the features of DX, plus:
* Disc brakes
* Round gauages
* 3-spoke steering wheel
* Better seats (cloth and reclining/folding)
* Better interior with unique colors & fabrics
* Exhaust finisher (chrome tailpipe extension)

GX
Grand Luxury twin carb (GX) was the top of the line for Datsun 1200. All the options for GL trim were standard fitment on the GX. Both 4-door sedan and Coupe were offered in GX Trim. Automatic or 4-speed was offered and 5-speed was only available in the GX5. GX trim was offered only in Japan and in South Africa.
See Main Article: GX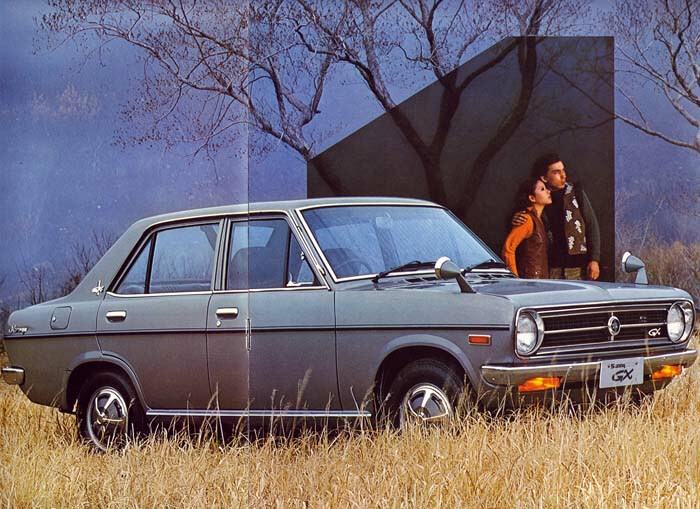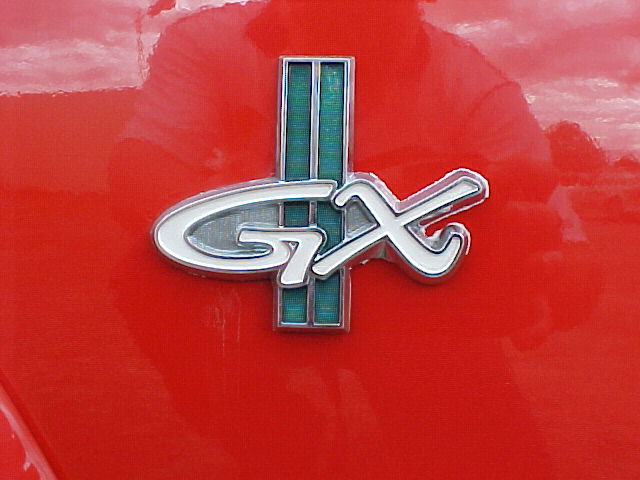 GX-5
The GX-5 was a new model for 1972. It was a GX model fitted with a direct-fifth 5-speed Transmission, high-back seats and special GX-5 badges.
1972
In Japan, a minor facelift was applied to all 1972 B110s, including a "power bulge" hood on Standard and Deluxe trims.
¤